Day of the Dead Is More Than Just a Celebration of Death
And no, it's not "Mexican Halloween."
Culture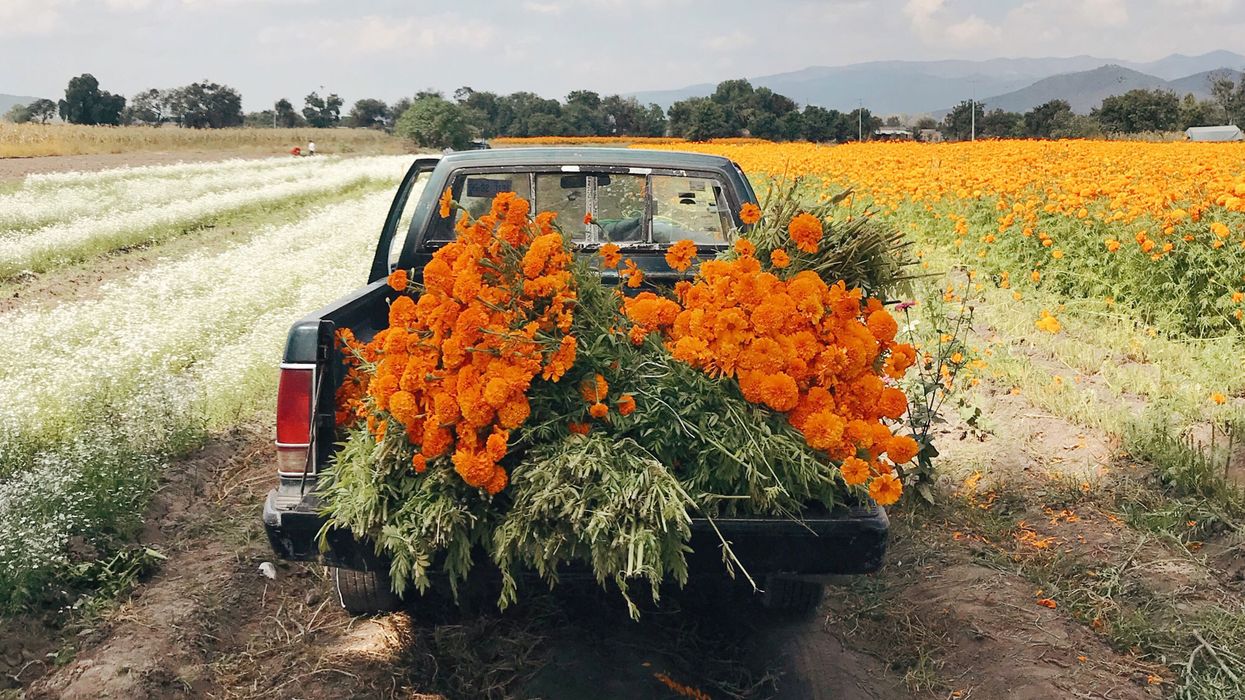 Around this time last year, I was back home in Mexico with my grandmothers and *very* eager to see Coco, which came out just before Día de Los Muertos. I spent all morning picking out cempasuchiles (Mexican marigolds) and bought myself an extra large chili-and-lime popcorn at the theater (it's not every day that I get to indulge in treats I can only get back home). I went in, helped my grandmothers take their seat, then took mine.

I laughed. I cried. I sang.

"Wow," I thought. "Why do I feel so happy? So satisfied? So relieved?" In just 109 minutes, the film was able to illustrate a tradition I'd been trying to explain for years. Mexico's idea of celebrating death was being normalized, and it felt like my country's traditions were finally being accurately told. By now I've watched Coco 16 times (and counting).

 
---
What exactly is Day of the Dead? Why is it celebrated the day after Halloween? And why would you make food for someone who's passed? First things first, this holiday is *not* "Mexican Halloween," as some assume and mistake it for. Though some of the holiday's practices may seem spooky (like staying up late in a graveyard with a mariachi band, or talking about a deceased relative like they'll be in town next week), Day of the Dead is meant to honor and remember the lives of those who have passed. More important, it's a cheerful way of coexisting with loss.


Dia de Los Muertos dates back to over 3,000 years ago. It began with the Aztec tradition of honoring death and the fall harvest around the ninth month of their solar calendar, which is at the beginning of August. Similar to Halloween, the holiday initially marked the transition to the fall season. When Spanish conquistadors later came to Latin America, it was then adopted as a Catholic tradition. It was later pushed to October/November and combined with All Saints' Day and All Souls Day. Still with me? Day of the Dead is essentially a cultural syncretism between indigenous and Catholic ideologies that, although different than its original concept, remains significant.

From October 31 to November 2, Mexicans prepare and create ofrendas (altars) to celebrate the lives of deceased relatives. Each altar has items the person enjoyed throughout their life, as well as their favorite food, references to their favorite music, and even alcohol. Pan de muerto, an orange zest sweetbread with two crossed bones at the top, is also incorporated. Families gather up cempasuchil flowers (known as the flower of the dead) to decorate their homes and help guide spirits from their graves to their ofrendas.

Unlike in Coco, I wouldn't say we necessarily feel obligated to make altars for each relative, nor do we believe that if we don't add a photo on someone's altar they won't find their way back home. We usually honor someone who has recently passed, but in my case, my grandfather was such a big part of my life that I do feel like making his altar every year really does bring him back for a few days. His ofrenda is always filled with his favorites: conchas (sweetbread), flan, tres leches (he had a sweet tooth) and Trident cinnamon gum he wouldn't leave the house without. It also has baskets of Mexican avocados, representing the influential role he played in establishing NAFTA. All of these small things are not necessarily ways to bring him back physically, but rather to keep his spirit and memory alive and well. It's a time when we can tell funny stories about him—stories where we felt he lived life to the fullest. I'm not saying we don't shed a few tears, or that it's not a little painful at times; opening a box of my grandfather's things is still difficult, and it's been five years since he passed away. But if anything, it's a slow dose of subconscious therapy. Time passes, each year gets better, and within that mourning and sadness, we believe that celebrating his life with music and laughter (like he always did) is the best way to welcome him back home with open arms.


It's great to see how different cultures embrace and appreciate
Dia de los Muertos
, but
wearing sugar skulls and flower crowns as Halloween costumes
takes away from the true meaning of the holiday, commercializing it in a way that it's not intended to be. (This also applies to Cinco de Mayo, but that's another story.) It's not our version of Halloween; it's a tradition, and it's sacred.
While some may find a celebration so closely linked to death taboo, Day of the Dead helps my family—and countless other Mexican families—cope with the sadness, denial, and anger that comes with losing someone. It's remembering that happiness can exist amid sorrow; it allows us to relieve the sadness in a way that benefits the entire family and makes it feel complete again. It's our way of keeping that initial cultural tradition of remembering, and starting a new season with them in mind. In the great words of Papa Hector (which was coincidentally my grandfather's name) in
Coco
: "Know that I'm with you the only way that I can be, but until you're in my arms again, remember me."
Want more stories like this?
Coveteur Does Cabo
If You Take One Trip This Year, Make It This One
The Fashion Insider's Guide to an Under-the-Radar-Mexican Surf Town