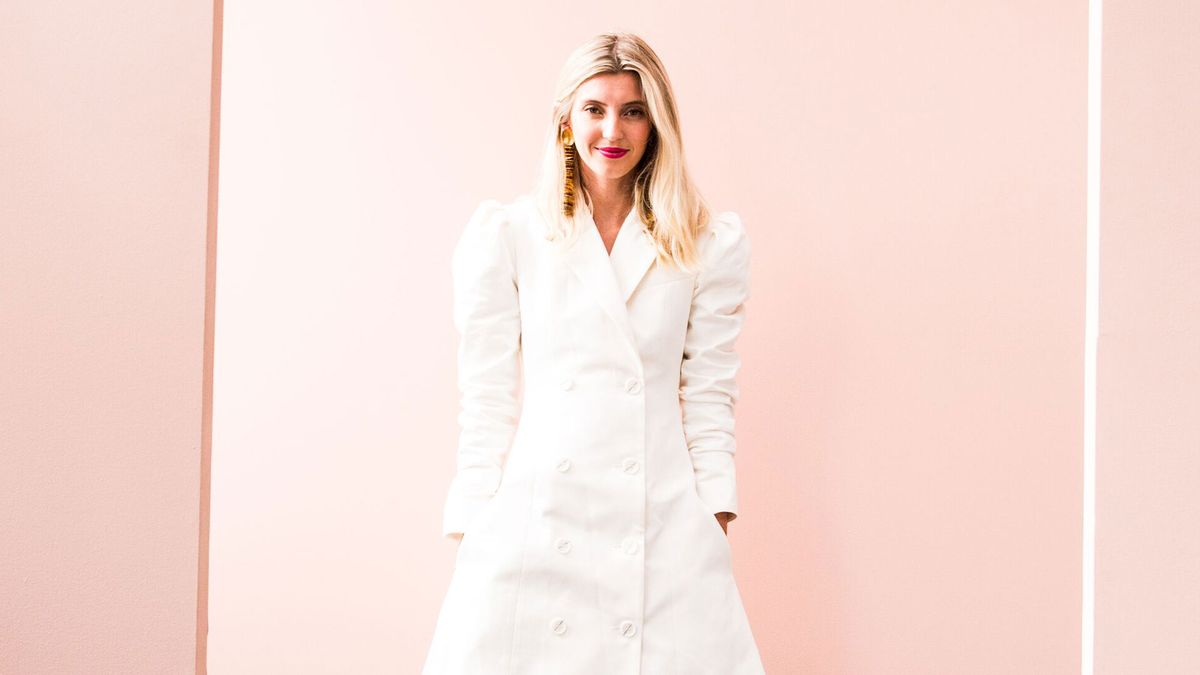 Designers
Maggie Marilyn Is the 24-Year-Old Changing Fashion and the Environment
She's 24 and on her sixth collection. What have you been doing?
Alec Kugler
The list of Maggie Marilyn's accomplishments is LONG. Based out of New Zealand, she has launched a globally recognized fashion label in its sixth season. (
Meghan Markle just wore one of her blazer dresses
, NBD.) Her first collection was picked up by Net-A-Porter. Oh, and did we mention she is only 24 years old? If this isn't enough to make you feel like you need to hustle harder, the aforementioned are only a precursor to the work she is doing for the environment and community. Marilyn has set out to create an entirely sustainable clothing brand and to reinvigorate the manufacturing community in her native NZ, and after chatting with the designer after her NYC
Resort and Spring 2019
preview, we can honestly say she is MORE than achieving her goal.
To be truly #inspired, read below to hear Maggie's take on sustainability, why she wants you to buy less of her clothes, and how we can all be held accountable for our impact on the environment.
---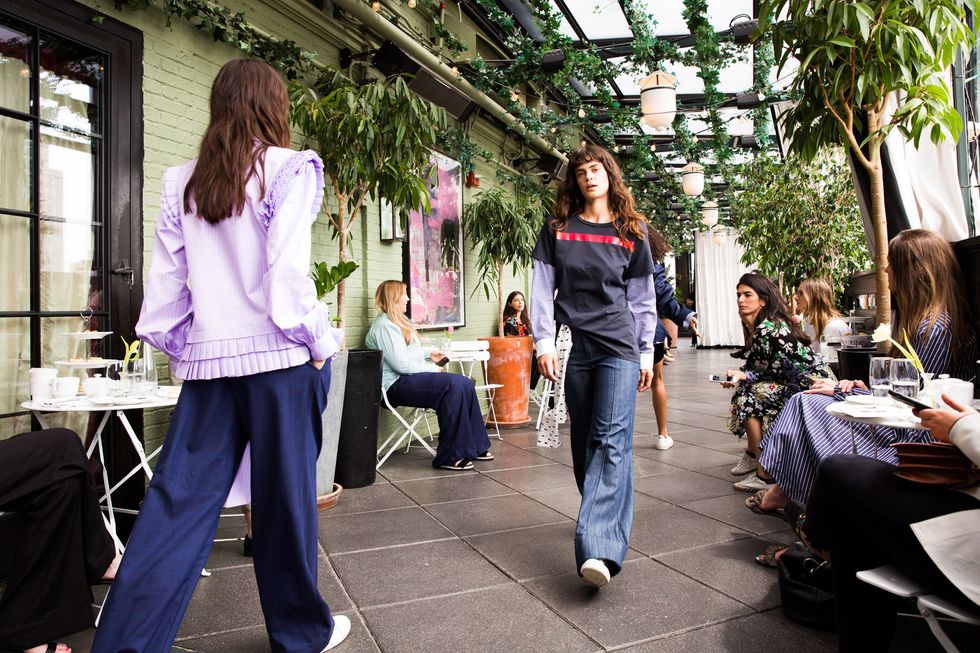 On executing her passion sustainably:
"When I started my brand, the intention was to always be sustainable and ethical. My whole graduate collection at university, I spent a year researching the negative effects that the industry has, not only on the environment, but also the people. For me, I knew I loved design, and I loved this industry, so I wanted to be in it and I wanted to have my own brand. But the only way I was going to do it was to be able to make some sort of positive change."
The importance of focusing on New Zealand:
"I think, for me, the first thing that was important was how could I sustain making in New Zealand and building up the community
—
all factories and makers
—
and really support that. Because in the late '80s, we had a lot of amazing factories and big brands, like Levi's used to manufacture in New Zealand. And then I guess towards the early '90s, everyone went offshore and went to China, India, and the industry came to this crashing halt, and we have so many amazing, talented people. And it was just so sad to me. I thought, 'I love New Zealand. I want to be based there. How can I be based in New Zealand but export overseas and not really contribute anything to the economy or the community?' So for me, I always just had to be made in New Zealand. It was non-negotiable."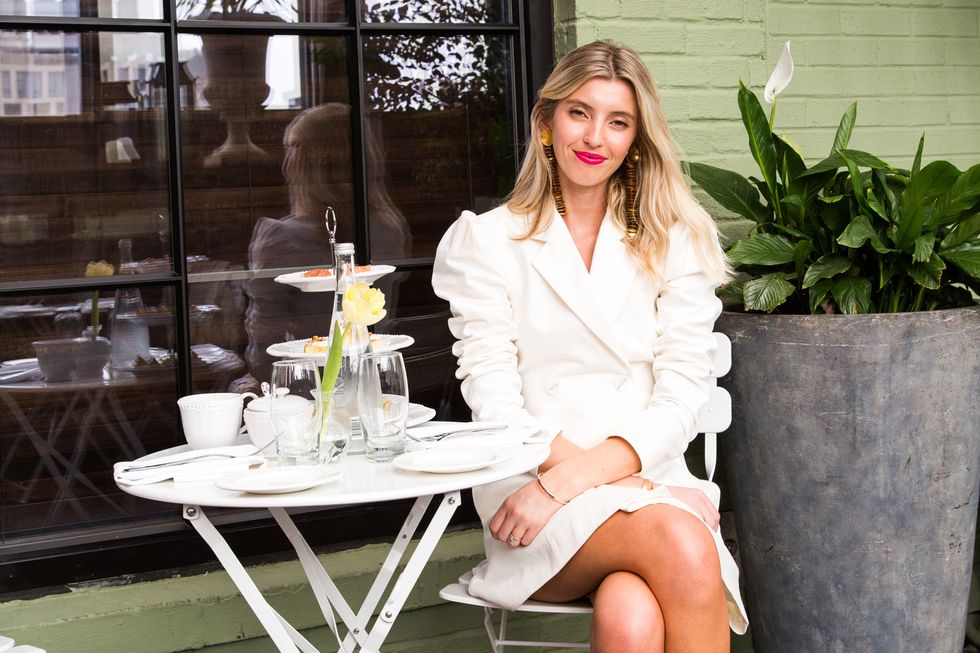 She wants your investment to be worthwhile:

"Obviously it's an investment to buy one of our dresses, especially for a younger customer, so how can she wear it three or four times throughout the week to work and style it differently? We have detachable belts and things that you can wear back to front. I think that's always my inspiration. And then, obviously, the sustainability element every season, finding new suppliers and mills to work with and also contribute to the fabrications that we're using."

The inspiration for spring/resort 2019 (hint, it's you):

"Really the inspiration was and always is the customer and the girl that I'm designing for. Always that there's a sense of lightness and optimism, not only in the color palette, but also in the fluidity of the fabrics and that every piece is just so easy. I think I don't design a full collection, I design each piece individually and think about how easy it is for our girl to wear and how the styling can be."


Why she's OK with you buying less:
"I guess it's interesting, anti-fashion, very anti-business essentially to encourage the customer to buy less. It has an effect on your bottom line, but I think for me, it's just a bigger-picture approach. We can't keep going on the same road that we know is just not working. Something has to change, and I feel like I am so optimistic and believe anything is possible, that you still can have a commercially viable business but also be sustainable and ethical at the same time. It's just a journey. I feel like every season you're just finding ways of being more sustainable and ethical, but also being more profitable. How to find those bigger margins and things, and everything like that, you know? It's just a journey."
How we can ALL make a difference:
"I think all of us deep down want to make some sort of positive impact. We want to contribute something that's of meaning, and sometimes it's hard to figure out what that is. One of the biggest things I think people can do is just question where their food comes from, question where their clothes are made, and really start to do their own research surrounding that. I think little things like
—
It sounds so cheesy, but it would make a big difference if everyone would stop using straws or would use biodegradable packaging, or doing composting at your home. Those are really small steps that people think, 'I'm not going to do it, because I'm just one person.' But if everyone does think like that, we can make a massive change. Those are easy things to start off with."