WWWRN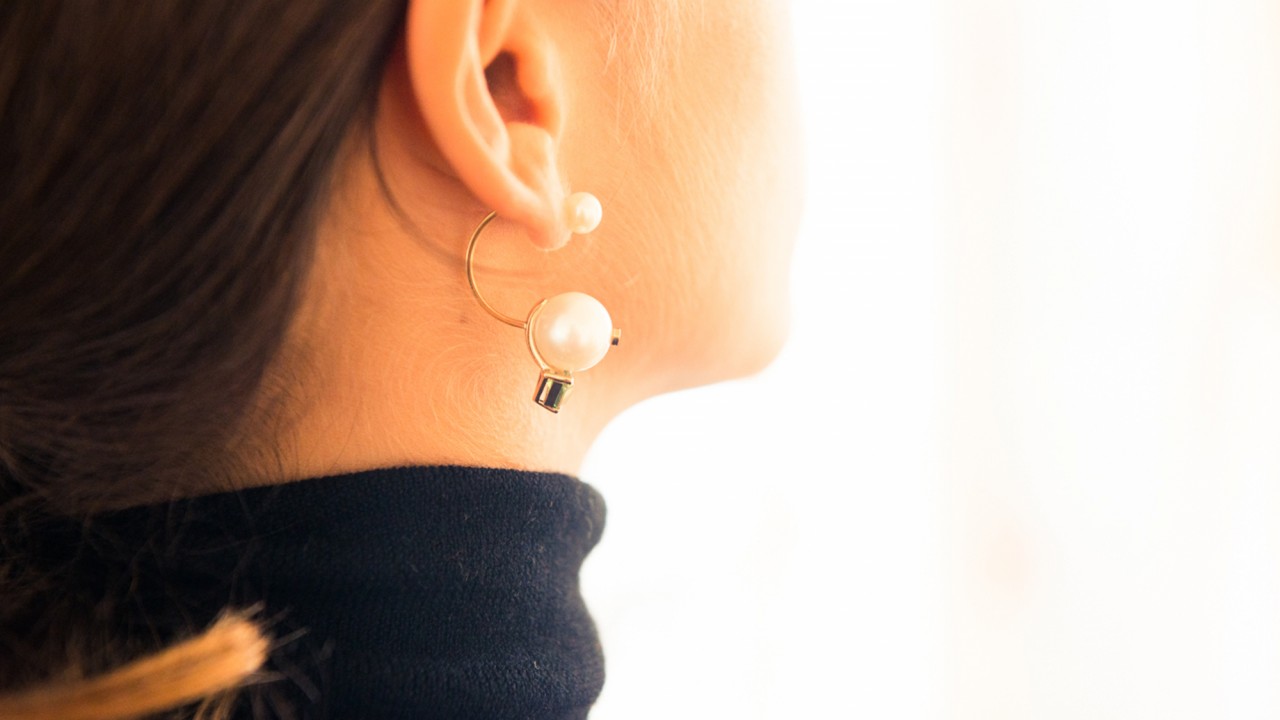 21 Pairs of Earrings Our Editors Are Buying This Week
Because we deserve a treat, and so do you.
We've already established that there's something of a jewelry obsession at Coveteur HQ (just take a look at our favorite rings), which means we're all guilty of the occasional online shopping binge. There's nothing like picking up a sparkly treat-yourself present, and what better way to show self-love than with a brand-new set of earrings? You know we love a good piercing—it's essentially an opportunity to line your ears with jewels! So whether you like them delicate and minimal, or ornate and over-the-top, here are the 21 pairs of earrings we're adding to our carts this week.
---
Hannah Baxter
Editor
1. Pamela Love Inlay Beaumont Earrings: My favorite everyday statement earrings are these chain-links, but I love the shape so much that I've been searching for a high-end alternative. Enter this pair of gorgeous abalone inlay earrings from Pamela Love. Seriously, my heart stops just looking at them.
2. Wendy Nichol Small Tall Charm on 12MM Single Hoop Earring: I have roughly seven piercings per ear, and most days I just want to wear a stack of delicate jewelry that all goes together. This Wendy Nichol charm earring has been on my wish list for years, and I think it's time to finally scoop it up as a pre-Thanksgiving gift to myself. That's a thing, right?
3. Agmes Max Earrings: If I'm going to stray from my preferred yellow gold, I usually want a sculptural sterling silver option. You can't go wrong with any of Agmes' designs, but this pair of Max earrings is my current favorite.
---
Noah Lehava
Director, Lifestyle & Talent
1. Silvia Furmanovich Marble Mosaic Earrings: I tend to keep my outfits pretty simple and monochromatic so that I can go a little wild with my shoes and jewelry. Which is why I was so drawn to Silvia's collection. I found her in an Instagram black hole a few years ago. Her pieces are like tiny little works of art, and I've never seen anything like them. Go to her page, and see for yourself! Hopefully one day I can own a piece of my own.
2. She Bee Drop Earrings: How fun are these?
3. Mizuki Pearl Fluid Gold Earring: I tend to always fall back to the classics, but I love when they're reworked in genius ways to make them feel fresh.
---
Jordan Guskind
Senior Manager, Brand Partnerships & Special Events
1. The Last Line Pave Beaded Safety Pin Earring: I'm completely hypnotized by the playfulness of The Last Line Jewelry. It's like Lucky Charms meets Harry Winston, and I'M HERE FOR IT. I absolutely love this sparkly take on the everyday safety pin with diamonds, tsavorite, rubies, and blue sapphires. Definitely at the top of my holiday wish list.
2. Foundrae Disk Earring: Foundrae is currently one of my absolute favorite jewelry brands. Their pieces all tell a story like modern heirlooms. My dream list has the fob link base earring paired with the black arrow symbol disk. Please, Santa?
3. Maria Tash Opal & Diamond Spike Eternity Ring: Maria Tash Jewelry is taking over Instagram right now with their #curatedear hashtag, and I'm HOOKED. I'm a curated ear beginner (just got my fifth ear piercing with our very own Hannah Baxter this week), and I'm dying to add this opal-and-diamond spike eternity ring to my little ear collection.
---
Katie Becker
Beauty Director
1. Faris Playsway Earrings: Put a hold on your savings account before you click into Faris's website—you'll want every single earring she makes. This dangly pair happens to be my current favorite.
2. Rachel Comey Bond Earrings in Malachite: I can no longer walk into the Rachel Comey boutique near our office without becoming paralyzed by *needing* every single item. I consider her lightweight, bold earrings a small pacifier to keep me from a complete Comey meltdown.
3. Azlee 2 Strand Lone Burst Earrings: As I mentioned last week, Azlee will be designing my engagement ring someday (OK, I should probably ask first), so naturally I need delicate little drop earrings to complement it. Bonus: The company supports ocean-related causes.
---
Anna Buzbuzian
Editorial Intern
1. Jennifer Fisher Mini Jamma Gold-Plated Hoop Earrings: I'm a firm believer that a hoop can be worn with any outfit on any (OK, *most*) occasions. Teensy-tiny or just straight-up massive, there's a hoop for you somewhere out there. I find these in particular to be so great because they're a good, wearable size, but it's their thickness that makes them super chic.
2. Anita Ko 18-Karat Gold Diamond Ear Cuff: Ear cuffs are great when you want a full-ear jewelry look but maybe don't feel like taking multiple needles to the ear. (I mean, I do not blame you.) I like to slide one on every now and then to up my ear game, and I've especially got my eye on this sparkly one.
3. Oscar de la Renta Double Beaded Ball Hoop Earrings: Large, dangly earrings such as these are usually outside my comfort zone—I lean towards smaller ones that don't stand out too much—but there's something about these Oscar de la Renta beauties that are really resonating with me. Worn with hair tied back and clean, and simple makeup, these earrings would be the perfect addition.
---
Carolina Dalia Gonzalez
Editorial Fellow
1. Shikama Ama Earrings: I've worn studs for most of my life, but I'm ready to jump into elegant, long dangly earrings. These Shikama earrings are the definition of long and dangly, but have a couple of pink pearls to add another dynamic.
2. Laura Lombardi Curve Earrings: Who doesn't love a good ol' gold hoop earring? These lovelies have a wonderful sculptural design that go a little beyond the traditional, which makes them both unique and classic. I can just throw on a black turtleneck and these earrings, and walk out the door, ready as ever.
3. J.Hannah Baroque Pearl Drop Earrings: A more sophisticated update from the baby pearls I wore when I was three, these gold baroque pearl-drop earrings exude the kind of chic class I aspire for. Simple, elegant, and always a safe go-to for any kind of look I might have in mind.
---
Daniella Deutsch
Producer
Part of the series:
WWWRN