The Kardashians' Skin Expert on the Sneaky Thing That's Making You Age
She made a tool to give you Kylie lips without the injection, too.
Skin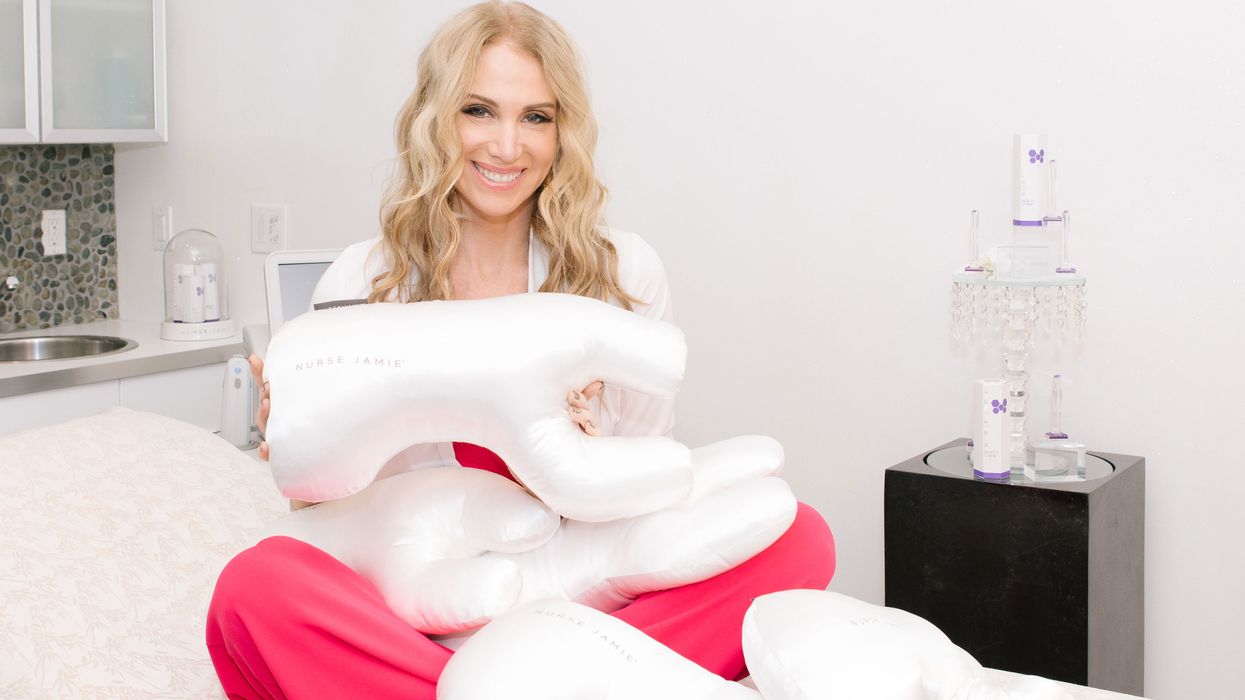 You've seen her lasering off sunspots on 
Keeping Up with the Kardashians
at her beachside Santa Monica-based spa, sliding into the Instagram stories of other skin-obsessed Cov-alums like
Shani Darden
, and have most definitely seen everyone from
Emily Ratajkowski
to
Jessica Alba
rolling her metallic pink face wand, UpLift, along their foreheads and cheeks.
Nurse Jamie
is *the* skin-care veteran of Hollywood. And the reason everyone races for a spot in her chair isn't only because her completely customized skin-care procedures yield incredible results, but because she's a revolutionary—creating cult-y beauty tools and an at-home skin-care line that actually works. We caught up with the skin specialist to know why she thinks we're all sleeping wrong (and what it's doing to our skin), the wild time she had filming with the Kardashians, and the cringiest request she ever got from a client. 
---
How she became obsessed with skin:

"I grew up in a small town [in] Indiana (pre-iPhone era ), and fashion magazines were my only connection to the latest skin-care and makeup trends. I was obsessed with skin care from an early age, and I started working for a dermatologist when I was 18. He was a pioneer in laser therapy, and we were a test site for the largest laser company in the world—at that time, nobody was using lasers—so I learned the importance of innovation in aesthetic medicine."

The way you're sleeping is causing wrinkles:

"[I tell my clients not to] side-sleep. Poor sleeping habits are a major cause of premature aging. Side-sleeping on a cotton pillow causes you to crush your delicate skin and can also lead to those necklace lines. Ideally we would all be sleeping on our backs; however, I know not all people can do it, which is why I created the Beauty Bear—a shaped [pillow] that will help you train to back-sleep, or at least keeps the opening for your face so that the most delicate areas around the eyes, cheeks, and neck do not form permanent wrinkles."


Exfoliating too much can wreak havoc, too:

"It's not one [exfoliation] treatment specifically, it's the combination. Exfoliating can be good, but adult acne is on the rise because we're constantly stripping the skin of needed oils. Any exfoliating scrub or serum can be harmful if you abuse it. We need to treat our skin like a silk fabric, not a piece of leather. When you over-exfoliate (physically and chemically) and with over-frequency, it destroys the protective barrier [of] your skin, exposing it to environmental toxins, sun damage, etc. Chemical peels administered by a professional can be beneficial in the right situation."

The procedure everyone is obsessed with:

"Tightening never goes out of style. There is no exercise for the skin, and we stop making new collagen naturally at 25 [ years old], so sometimes you need help from your friend the laser. Especially on the back of arms, inner thighs, above the knees, and elbows. There are a number of tightening lasers that can thicken those collagen fibers and cause the skin [to] adhere."

Why everyone comes to her:

"The thing that makes us different is that we do combination therapy. You could essentially be doing a body treatment, a facial, and an injectable treatment all at the same time."


She sometimes gets cringe-y requests (brace yourselves):
"I was asked by one of my patients to extract a blackhead from a dog
'
s penis, [to] which I responded, 'You will have to take him to a vet!'"
The crazy Kardashian fans she encountered while filming
KUWTK
:
"Before filming for
KUWTK
 when Kim, Kourtney, and Khloe visited the spa, we prepped the spa for a week to make sure it was sparkling inside-out. There were so many paparazzi and people that you couldn't tell what the place even was. They were here for almost two hours, and it became mayhem. I have never seen anything like it. How they make it through their day, I don
'
t know.
"The next day [after filming], we had teenage girls come and reenact [what the Kardashians were doing] and come in and out of the door. It was kind of strange. [
Laughs
]"
The strange facial treatment Kim Kardashian loves:
"The cupping facial encourages blood flow to the tissue and stimulates the lymphatic system to help reduce inflammation, which in turn smooths fine lines and wrinkles. Using cups of different sizes strategically placed on areas of the face, the skin gets drawn up into the cup, creating a vacuum-like effect. Almost immediately, you will feel your muscles start to relax and any facial tension melting away. You
'
ll also notice plumper, fuller skin right away."