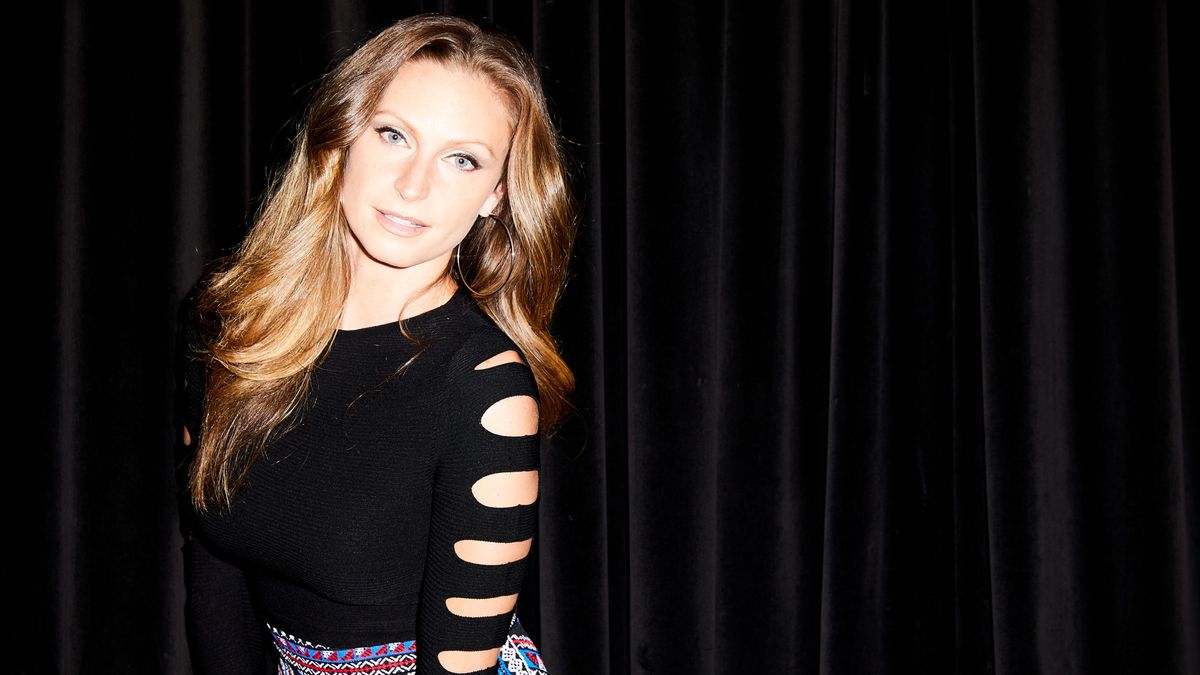 Living
Lauren Hashian's '90s Throwback R&B Will Send You Into a Nostalgic Spiral
The singer gave us the details on her upcoming project and what she likes to sing in the shower.
Tristan Kallas
When Boston native Lauren Hashian isn't moving around the world or spending time with her boyfriend and their two children, you'll find her in the studio. Although she has only dropped two professionally produced singles to date, she's currently hard at work on a throwback '90s project (right up our alley, tbh). 
Hashian
is no stranger to the industry, though. She grew up in a musical household—her father, Sib Hashian, was the drummer in the rock band Boston. Hashian tells us over the phone that although her father was in the industry, it wasn't his first choice for his daughter to pursue a career in music, and for a while she didn't think it would be her path, either. Instead, Hashian kept up with her passion as a hobby, writing music with her sister (they're loyal fans to R&B), and started recording with a group of friends in her university dorm room. It was only after winning a school award (more on that later) that she gained the confidence to pursue it full force.
Now she's mastered the whole work-life balance thing and heads to the studio in whichever city she's currently living in with her longtime partner, Dwayne
"
The Rock
"
Johnson. Keep reading to get to know her a little bit more—because we bet this is just the beginning.
---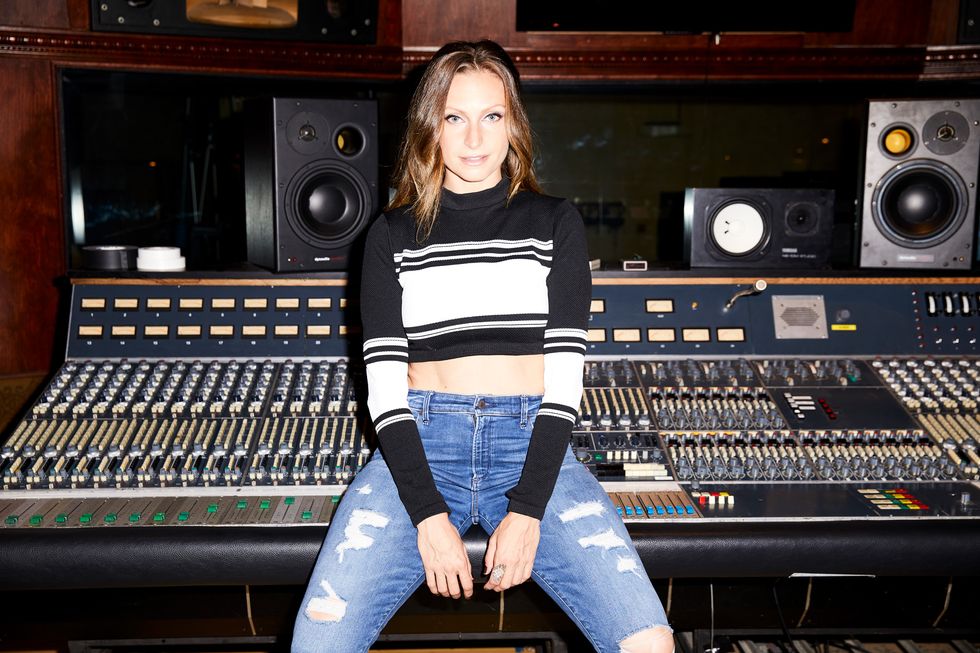 A college awards show helped her realize that she wanted to be a singer:
"There was a group of kids that went to the same school as me—to Emerson College in Boston. They were from Brooklyn and had formed a rap group and were producing their own music. We formed this little collective and started turning our dorm rooms into recording studios. Our school was big into the arts, and it supported kids' creativity. There was a [school] show called The Emmy Awards, and it was a version of the
Grammys
or the
Emmy Awards
. Myself and this kid who called himself 'Reality' recorded a song—I sang and he rapped—and we ended up winning the award that year. I felt really proud that we had been acknowledged and recognized for our writing, so that's when I thought, 'OK, maybe I should start seriously looking into this.'"
Growing up in the R&B era continues to influence her writing today:
"I've always been drawn to the same type of music: beautiful R&B music. Being born in the '80s and growing up in the '90s, we had the best classic R&B groups—that's when R&B was at its pinnacle. It stuck with me and my sister, so her and I started writing music together. It's been 15 years that we've been writing music together, and we still write R&B. We've tackled other worlds; we've done a little pop, we've tried blues—even a folky indie rock. But [R&B is] the anchor of what we love to do."
Her father played in a rock

'

n

'

roll band, yet he wasn't eager to see his daughter join the industry:
'There's a lot of irony here. My father was downstairs playing the drums when I was growing up. Every day. I would go up into my room, turn on the karaoke machine, and [sing]. We were a musical family, but he would constantly say things like, 'You guys don't want to get into this business,' because he had faced a lot of challenges and a lot of distrust between some people he had worked with in the past.
"I grew up thinking that we wouldn't go in that direction. I really thought that I would go off and get a normal nine-to-five, but I don't know; if you love doing something, you just find a way back to it no matter what, right?"
How she describes her music:
"I haven't put out that much yet—I only have two songs that have been professionally released—[but] I would say there's an R&B undertone to everything, and it goes from pop to hip-hop to trap. Right now we're working on a cool '90s throwback project. Myself and some of my colleagues are going to put out three or four tracks before the end of the year if we can finish them up, and one person who will be on that with me is Naz Tokio."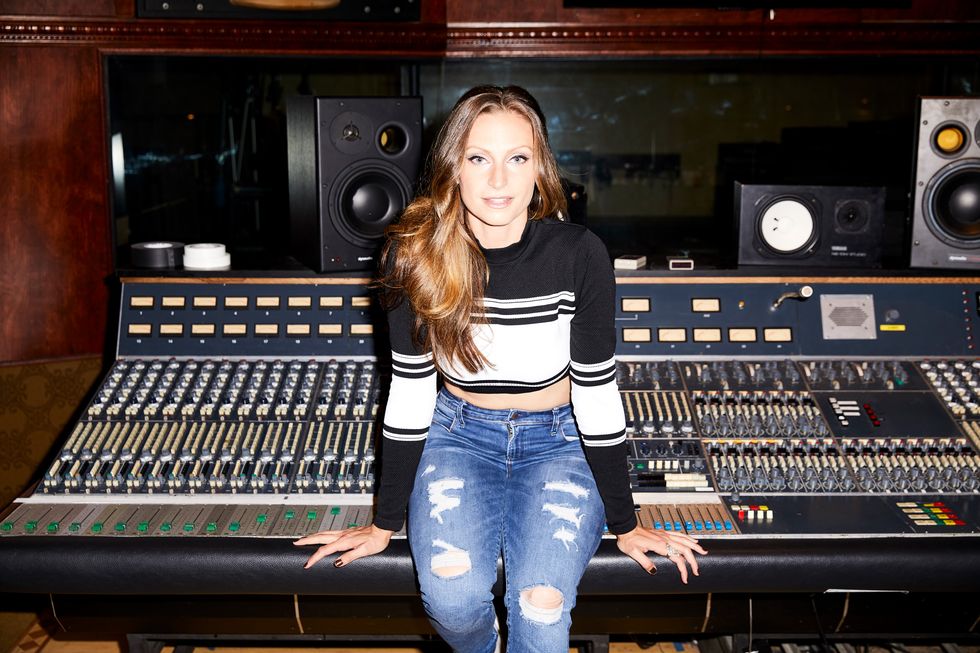 Her dream collaborators:
"Right now, my top three would be three solo female artists. I love H.E.R., she's amazing. Kehlani is so talented. She's got a killer voice, she's got a cool style, [and] I like her energy and what she stands for. Number three—who's actually number one—is Beyoncé, because whose dream wouldn't be to write with Beyoncé? She's the queen."
What's on her current playlist:
"With two kids, you don't get a lot of time to listen to music. I'm one of the people who still buys music in this world. Let's see.
Ariana Grande
,
Teyana Taylor
—I also discovered this new young girl [named] Billie Eilish. I love Dua Lipa, I love Bazzi, and then I have a few friends putting out projects right now: Mike Zombie, Adonis [Bosso], Naz Tokio, Ashlee Simpson, and Evan Ross—so I've been putting some personal stuff on my playlist, too."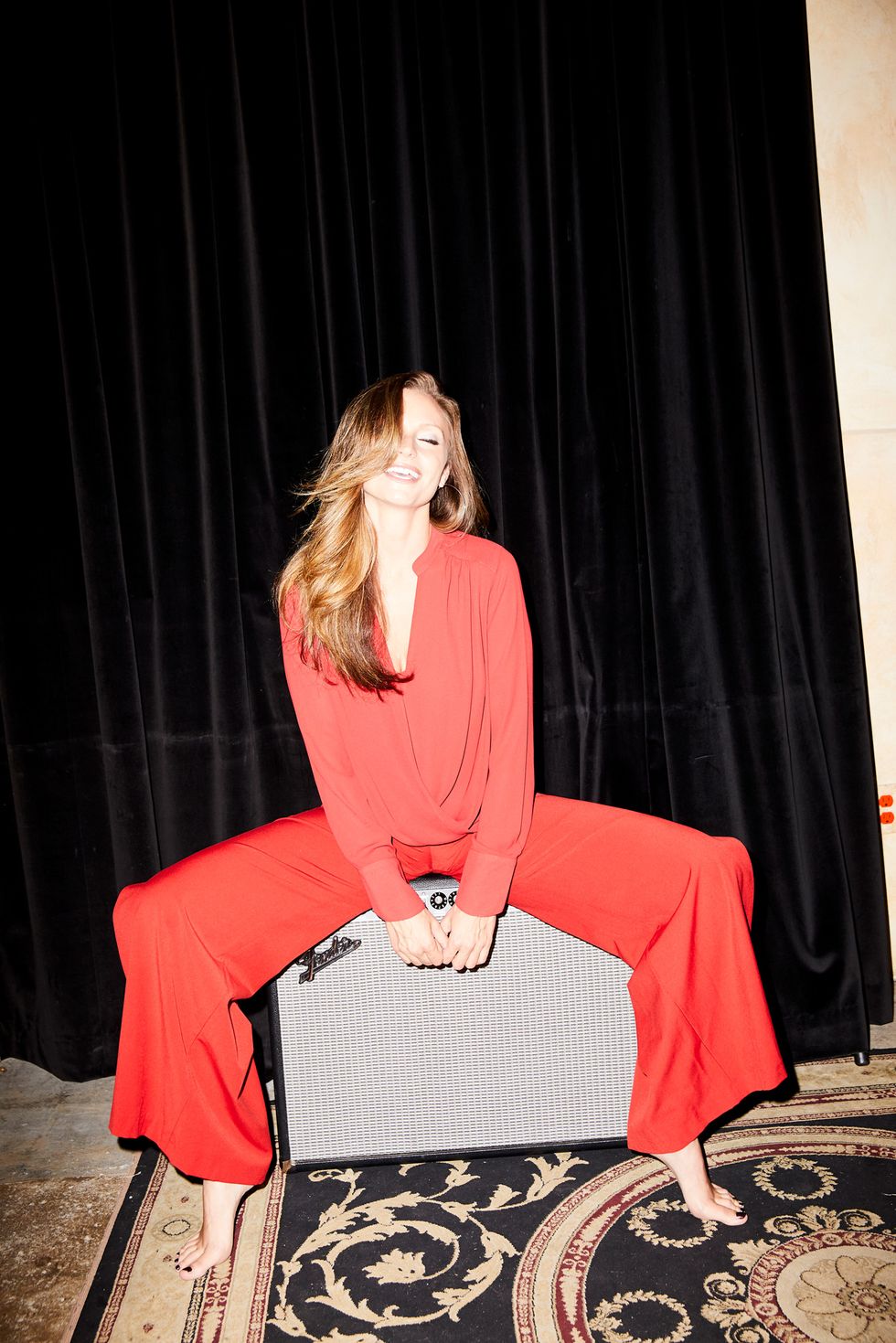 Her go-to shower song:
"It's so funny, I haven't talked about these people yet, and we've been talking about music the whole interview. There is a singer named Amel Larrieux—she used to be one half of the group Groove Theory—and I'm really obsessed with her stuff, so I love practicing [to it] because her range is crazy. And I like to sing Aaliyah and Beyoncé in the shower. It's female power in the shower."
On managing work-life balance:
"Having babies definitely does change the landscape of your life, [and] you have to figure out what works for you. In my case, we travel so much for work. We're moving sometimes five or six times a year. We moved to London, which is where we are right now. I do feel like I have to be the one constant and the one foundation in the girls' life, so every single day I'm with them from the time they wake up until nap time, which is like, 2:00 to 3:00 PM for Jazzy. If I'm going to work that day, I wait until she goes to sleep, then I go to work for four to five hours. She naps for three hours, so when I come home I've only missed an hour or two of her day. I try to go to bed as early as possible. It's amazing when you have kids and you have goals, you just find a way to fit it all in, and you don't necessarily work harder with your time, you just work smarter and find a way to get it all done."
Want more stories like this?
How This Couple Dated, Broke Up and Then Started a Band
Charlotte Lawrence Is About to Have a Meteoric Rise to the Top of the Charts
How This Model Went from the Dolce & Gabbana Runway to Your Spotify Playlist