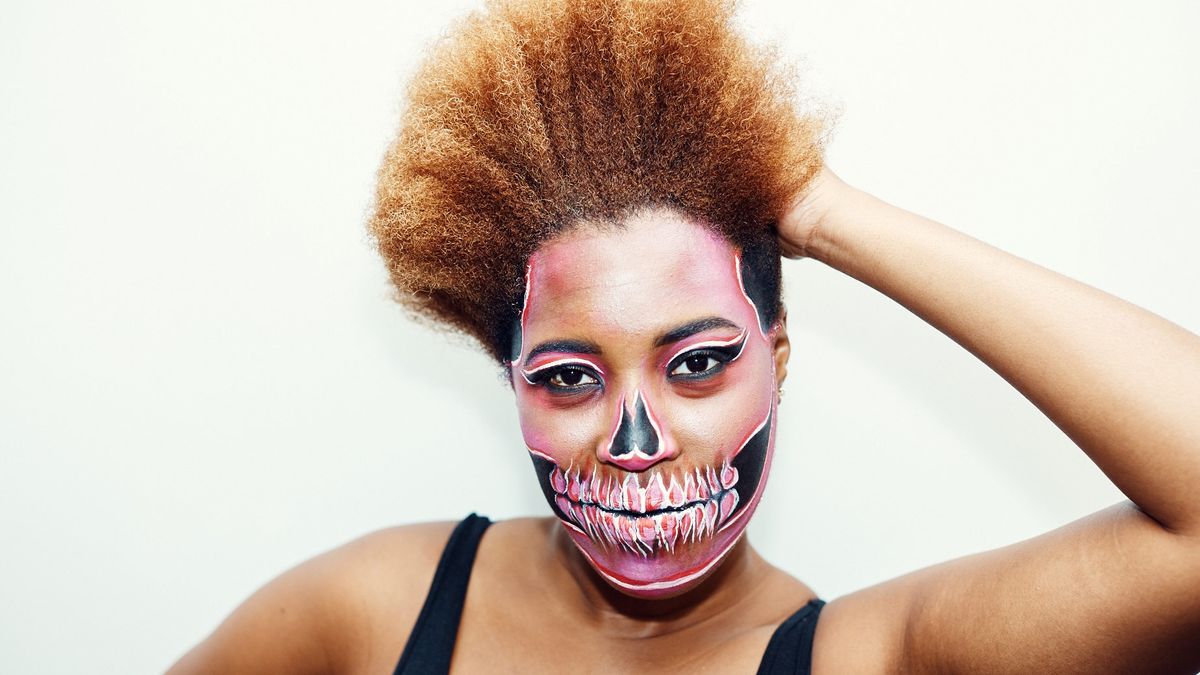 Makeup
This is how you make yourself look like a GOT white walker.
Weston Wells
Makeup
Rachel Estabrook
Nothing screams "Best Costume winner" like topping off your
carefully crafted Halloween ensemble
with complementing over-the-top makeup. In fact, the three extreme makeup looks we created here can essentially stand on their own as full-out costumes
—
and you don't have to be one of those Instagram makeup pros who appears to spend half their day turning their head into an optical illusion. We asked pro-beloved makeup brand
Mehron
and makeup artist
Rachel Estabrook
to show us how to create viral-level
Halloween
looks that any of us could pull off at home. She did all three looks ahead using just one epic
Mehron 30 Color Paradise AQ Pro Face Paint Palette
: a set of super-duper pigmented shades that you use like watercolor. Dip your brush in a cup of water (sound familiar?) and then dip into the palette—play around a bit to get the saturation you want.
---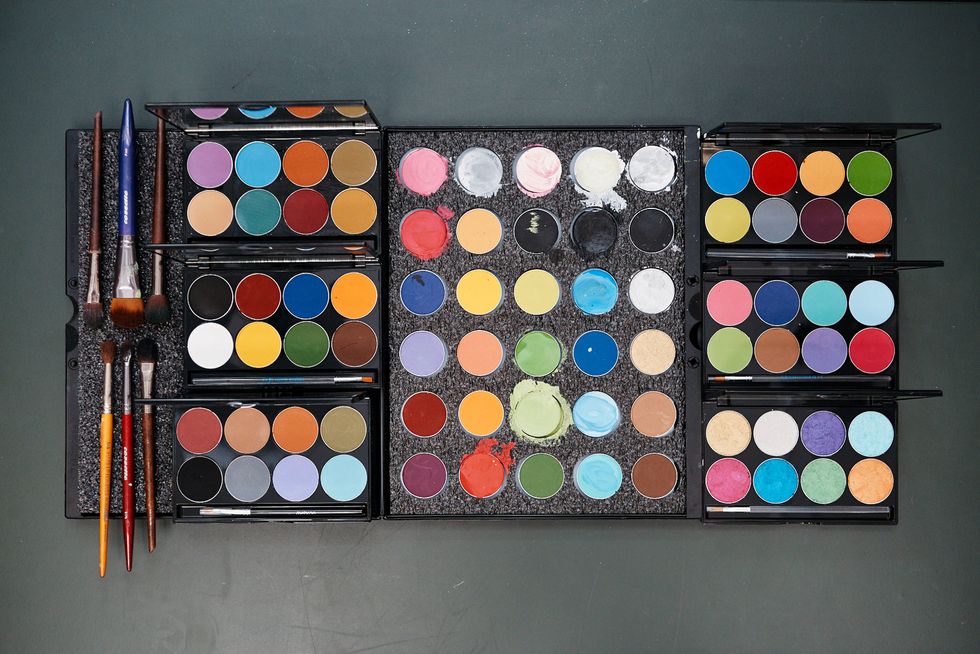 Below, Estabrook explains how to recreate a pretty-yet-freaky radioactive skull, a GOT white walker (gotta do it!), and the badass emerald-complected Gamora from Guardians of the Galaxy.


---
White Walker from Game of Thrones

Sure, the real actors who get to play white walkers have a whole prosthetics team and CGI, but you can still be terrifyingly on-trend with this genius painted eyelid trick. (Grab a black eye pencil for this one.)

1. Sketch out the contours of the face and an angry, furrowed forehead with a black eye pencil.

2. Fill in face with a light grey.

3. Add 3-D dimension to the pinched-looking face by drawing lines with darker grey and white on the forehead and from the mouth up toward the temples. The dark and light gives a contour effect. (Even a white walker can't escape

contouring

!)

4. Fill in the hollows of the face with black. That means the temples, under the cheekbones, and around the whole eye (including up to the eyebrow and over it). Also use the black to create a dragon-like shape for the nostrils and a turned-down frowning mouth.

5. You might call on a friend for the final step, as you'll be painting over closed eyelids. For the glowing irises on top of each lid, use bright blue that will stand out, fleck it with white, then dab that piercing black pupil in the center.
---
Radioactive Skull
This year, we're putting the candy skull to rest. This glowing neon skull look is way cooler and, more importantly, totally scarier.
1. Sketch out the skeletal shape first with black, including the hollows in the cheeks, temples, and nose. Look at an actual skull from Google images to get the anatomy right.

2. Take a lighter pink shade and outline around the sketch, creating a haze around the lines by buffing outward. Use the pink to draw teeth around the lips, too.

3. On top of that, right next to the black, outline with a really intense magenta pink. Use this shade to create 3-D shadowing on the teeth.

4. Finally, draw a thin line of white over the magenta, right next to the black. Use the white to also exaggerate all the teeth.


---
Gamora from Guardians of the Galaxy

Instead of figuring out a boring costume and trying to make it sexy, just start out with a character who is inherently smoking-hot. Only Zoe Saldana can make green skin look completely sick—in a good way.

1. This is the easy part: Paint your whole face green. Including the brows. If you want, you might "block" the eyebrow with a layer of glue stick on top so that the paint applies smoothly on top. However! Do leave the eyelids clean, as you'll do actual normal eye makeup.

2. Contour the cheeks, nose, and eyes with a dusting of the teal pressed powder shadow. Keep it dry, rather than using the water.

3. Now wet a thin brush and paint Gamora's signature face designs with silver metallic. For a 3-D effect, trace them lightly with black for a shadow.

4. For the lip, mix together the blue and green. Yes, the Mehron formula works on lips, too!

5. Trace black eyeliner around the whole eye, including the waterlines.

6. Add gold eyeshadow to the lids in your usual going-out style. Swipe on mascara.

7. Knock 'em dead.

Rachel's Pro Removal Tips:

When it's time to take it off, Mehron makeup is water-based, so you can start with a makeup wipe to get off the first layers, then use a cream cleanser to break down the rest. If you're an oil cleanser fan, that will do the trick, too.

Want more stories like this?Halloween Costume Inspiration from Makeup Artist VioletteA Spooktacular Halloween Nail Art TutorialYour Halloween Skin Care Recovery Guide