The Best Part of My Spa Vacation Had Nothing to Do with the Spa
I went for ultimate rest and relaxation—I ended up doing so much more.
Travel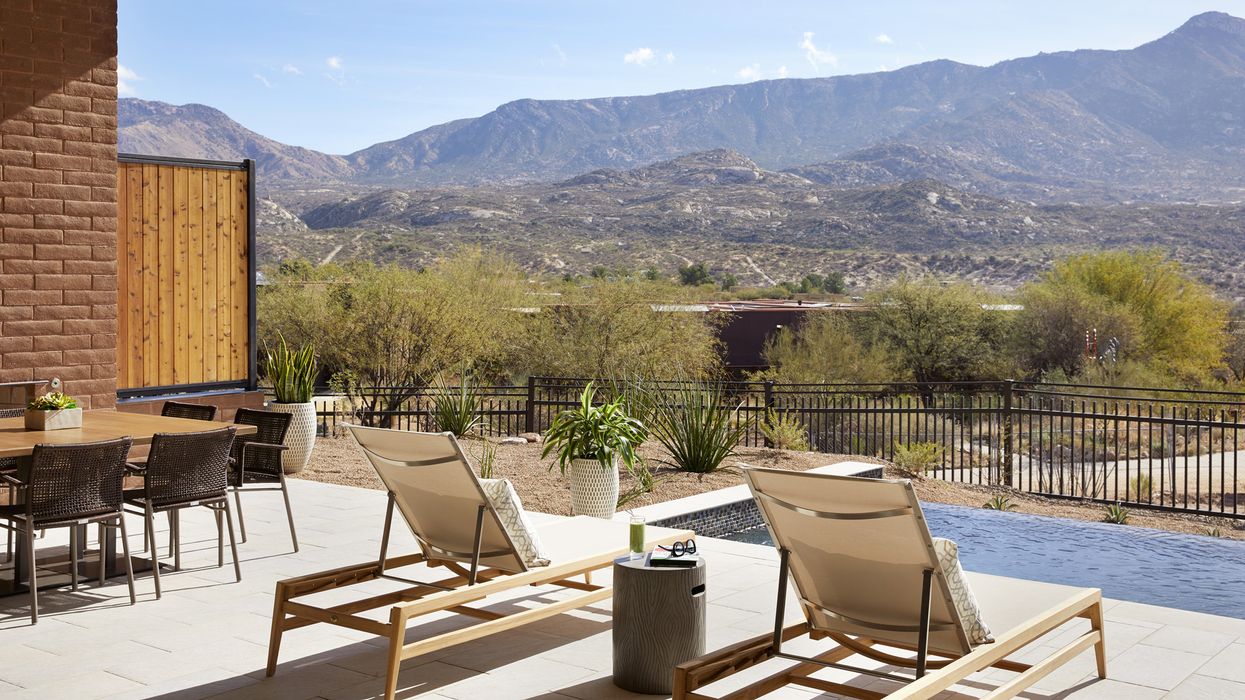 I had been craving solitude for months. Not the kind that I experience daily as someone who lives by themselves, but a scenario where my surroundings would be stunning, pampering options abundant, and my daily physical activity would be nothing but walking from a sauna to a plunge pool. A trip to an Arizona spa could not have been better timed or more fortuitous, but then I got there and something odd happened: I wanted to do so much more than relax.
I arrived at
Miraval
—a gorgeous expanse of stone paths and blooming cacti—and went over the treatments I had pre-selected for my stay: a facial, a massage, and a yoga practice aimed at improving sleep. As I thumbed through the catalogue of offerings, though—pages and pages describing fitness sessions, wellness lectures, outdoor excursions, and
spa treatments
—a few things I'd ordinarily
never
want to do jumped out at me. I thought, "I'm here, and I may never be here again; I might as well step outside my comfort zone and try something different. Worst case scenario, I do something outdoorsy, hate it, and go back to the spa." With that, I asked to add three activities to my trip. Here's how it went. 
---
---
Equine Photography
---
I'm not great at taking photos, and I don't enjoy being around animals, so roaming around a horse ranch and documenting it on my iPhone was an unlikely way to start the trip. After a short drive from the main Miraval property to the resort's ranch, my small group was given safety guidelines and iPhone photo tips by our group leader, Nancy Schroeder. Key takeaways were that horses only have peripheral vision, so we needed to be mindful of where we stood (always in their line of sight), and that the rule of thirds was a good method to rely on when framing photos.

This was my first trip to Arizona, and one of the things that always intrigued me about the state was the idea that it's a hotbed of healing energy vortexes. I rarely make an effort to connect with nature (with the exception of lying out at the beach), but as I roamed the ranch, I felt like every ounce of stress and tension melted away from my body. The scenery was stunning, but beyond that the air was fresh and crisp and calming—the opposite of what I inhale daily in NYC. In that setting, I finally took some nice photos and even bonded with a sweet horse.


---
Out on a Limb
---
Anything that involves a helmet and a harness is usually a no for me, but again, when in Arizona. One of several activities on Miraval's challenge course, this one entails traversing a log that's suspended 25 feet in the air. There were about five people in my afternoon session, and before putting on our gear, we did brief introductions. There was a mother of four from Chicago, a woman from NYC who had tacked a Miraval stay onto a work trip, and two friends whom I think lived in California. Our initial exchange wasn't particularly warm or enthusiastic, but as soon as the first person started climbing, we all became very invested in encouraging one another to make it all the way across, shouting from the ground below, "You got this!" 'Take your time!" "You're almost there!"

I'm not afraid of heights and have decent posture, so I didn't think walking across the log would be that challenging. Of course, when I attempted to walk, my legs turned to Jell-O. What ultimately helped me steady myself, I think, was accepting that I didn't have to rush, and allowing myself to take the time that I needed. Another antithesis to my life in NYC, which often revolves around rushing: rushing to appointments, rushing to meet deadlines, rushing to a sample sale before it ends. By the middle of the log, I hit my stride and was basically Gabby Douglas. I made it all the way across and felt so accomplished.


---
Quantum Leap
---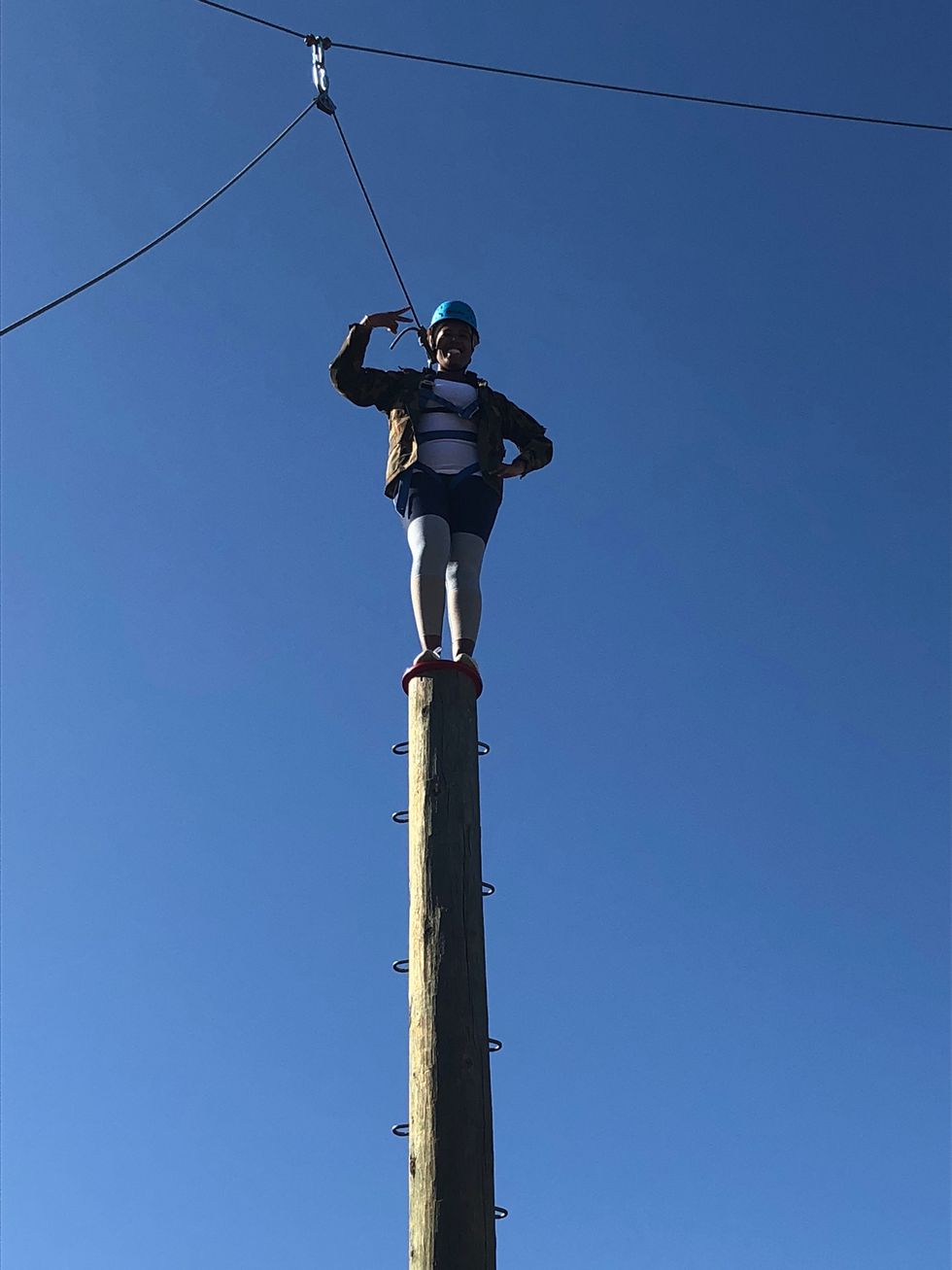 Had Out on a Limb been a disaster, I likely would have canceled this and had a drink at the pool instead. But given how much I was enjoying the outdoor activities, I went for it. Designed to help you "expand the boundaries of your comfort zone and relearn trust," this one is pretty straightforward: Wearing a helmet and a harness, you climb up a 25-foot pole while the group belays your rope from below. Once you reach the top, where you stand on a red disk about the size of a dinner plate, you leap off, the group tugging on the rope so you stay suspended in midair. (I realize how crazy this sounds, but I felt totally safe in the gear and under the instructor's watch.)
The most difficult part was figuring out how to stand on top of the log. Once again, my legs turned to Jell-O, and something that you don't realize until you make it to the top is that, while the disk is nailed to the log, it's not nailed tightly, so it spins and wobbles. There I was, legs shaking like crazy, gripping a disk that was also shaking, trying to steady myself enough to step on it. Eventually, the voice that had told me not to rush the day before reemerged, and I was able to do it.
Jumping was
terrifying
. Very, very terrifying. But when I finally did it, it was so liberating. I'd do it again in a heartbeat.
Want more stories like this?
Where to Find Whiskey, Paris, and Style in Portland
9 Places to Find Great Fashion in Seattle
Reason #532 You Should Visit Canada