WWWRN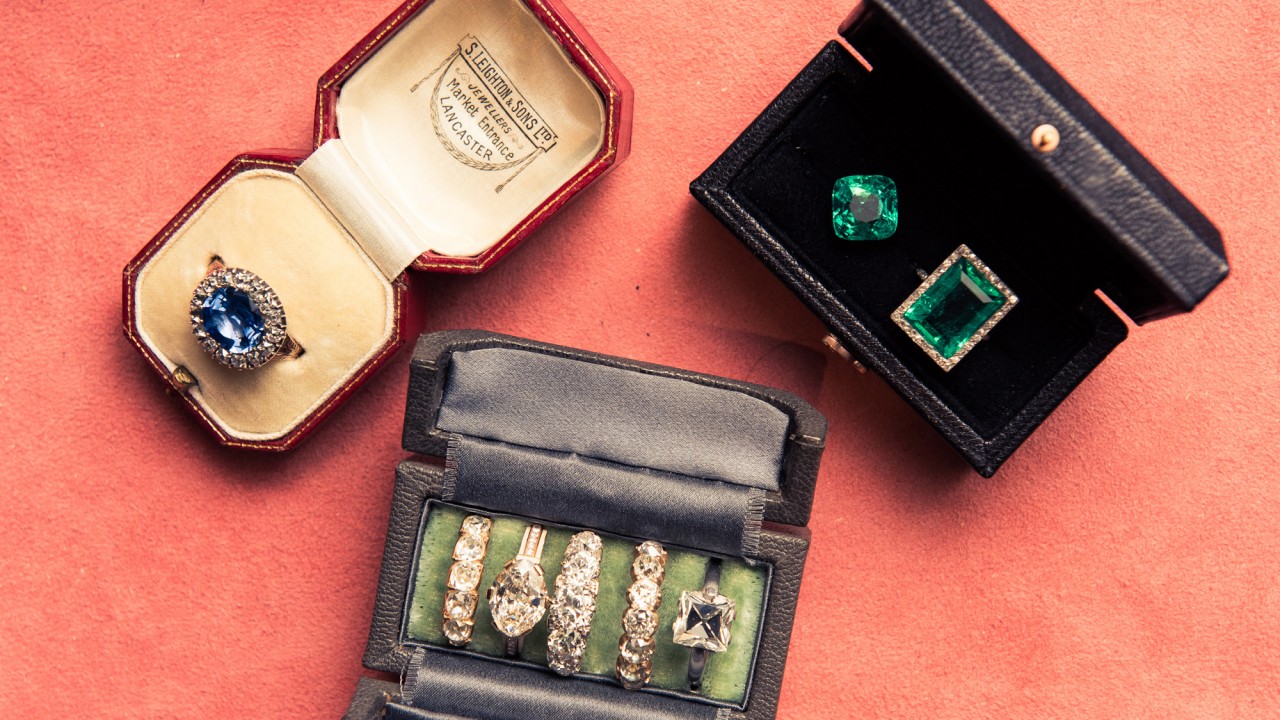 24 Rings We Want Right Now
From simple, to statement-making, to totally over-the-top. Shop them all right here.
Much of our job entails editing. Editing stories… editing headlines… editing down our favorite fashion picks to present the best of the best. What you're about to read was a *very* hard edit. Some of us really love necklaces, and others have great bracelet collections, but across the board, we all love a great ring. What constitutes "great" in our eyes? It varies: It could be a simple silver band, an eye-popping solitaire gem, or a five-figure beauty covered in diamonds. Ahead, 24 of our current favorites, which you can shop right now.
---
Leah Faye Cooper
Editorial Director
1. Sophie Ratner Diamond Edge Tag Ring: I'm currently drawn to delicate, understated jewelry (the easier to stack, the better), and this NYC brand is very in line with that aesthetic. I'd love this as a pinky ring, engraved with my initials or a short meaningful word.

2. Third Crown Prizm Eclipse Ring: I've always found chain-link jewelry to be the epitome of cool, and in this case it's really beautiful, too. I love this ring's geometric details and that it's equal parts simple and statement-making.   
3. Bario Neal Ray Emerald Ring: If the day comes when I can own this and still manage to pay my rent, my credit card will be swiped at record speed. Emeralds are hands down my favorite gemstone, and nothing beats an emerald solitaire. Nothing.
---
Noah Lehava
Director, Lifestyle & Talent
1. Nak Armstrong Triple Ruched Ring: I love jewelry! Truly, it's an obsession. When it comes to material objects, nothing gives me more joy than precious metals and gemstones fused into wearable pieces. Nak Armstrong is one of my favorite designers—how he uses custom-cut irregular laborite, tourmalines, and diamonds to create these crazy, beautiful pieces makes my head explode. Just look at this ring!
2. Mahnaz Collection Vintage 18k Gold Hermès Ring: There's only one thing I love more than gold: vintage gold. And this vintage Hermès ring, which is meant to look like a scarf wrapped around your finger, is hitting the spot. Take my money!
3. Prounis Green-Blue Tourmaline Calda Ring: Picking just *one* of Prounis' rings for this story was torture. I love the rich 22k gold and deep-hued gemstones that remind me of the antiquities I've seen behind the glass at the MET.
---
Ivanna Martinez-Gonzalez
Social Media Associate
1. Daniela Villegas Crab Ring, Yellow Gold: I love that Daniela Villegas takes a lot of her jewelry inspo from nature. Though I am obsessed with her signature insect jewelry, I was specifically drawn to this crab ring. I love zodiac jewelry (I'm a cancer, can't you tell?), so wearing this ring always makes me feel more energized and in sync.
2. Mejuri Square Open Ring: I love how Mejuri has simple and minimalist styles without having to break the bank. Wearing a few of their minimalist rings in and of itself is a statement. The design versatility also lets you wear them as everyday jewelry. I love this one in particular because it's a little more extra than their other designs, but the intricate open style makes it a classic and timeless piece.
3. Parpala Jewelry Dainty Cross-Caged Ring: I've been obsessed with Parpala Jewelry ever since I fell in love with their coin necklaces. It's handmade jewelry from a Mexican designer based out of San Diego, and each piece is done with care. I love how intricate but simple this cage ring is and that it's something you can throw on every day to complement your other statement rings.
---
Nandi Howard
Editorial Production Fellow
1. Johnny Dang Diamond Band Ring: Johnny Dang is the go-to guy when you want a blinged-out grill, but his jewelry collection is top-notch as well. Considering stackable rings are on trend right now, it wouldn't hurt to add a few diamond rings to the collection, right?
2. If & Co. Aiden Gold Ring: You can never go wrong with gold jewelry, and this simple gold band is a classic. This is the perfect go-to ring to wear every day.
3. IceBox Single Row Diamond Band: This ring is dainty, but the diamonds across the front make me want to purchase two or three. You can wear it stacked or alone, because diamonds.
---
Katie Becker
Beauty Director
1. Azlee Emerald and Baguette Diamond Ring: I fully intend to ask Azlee designer Baylee Ann Zwart to design my future engagement ring/self-love ring. Until then, I'll *settle* for this emerald number.
2. Jessica Biales Rainbow Band: Jessica's Instagram is one of my faves (not to mention her classic signet rings), but I could see myself wearing this colorful band every day no matter my outfit.
3. Marni Resin and Metal Ring Set: These modern primary-color cuties will quickly dress up a cozy sweater this fall. And I've never seen two-for-one Marni, so… *purchase.*
---
Carolina Dalia Gonzalez
Editorial Fellow
---
Monique Kamargo
Editorial Producer
1. Shami Rainbow Row Dainty Ring: What my wardrobe lacks in color, I make up for in jewelry. I wear multiple colorful bracelets stacked around my wrists every day, so it seems only natural to add some colorful bling to my fingers, as well. This little dainty ring from Shami does just the trick.
2. David Yurman Venetian Quatrefoil Ring with Ruby and Diamonds in 18K Gold: I've always wanted a strong statement piece with my birthstone, ruby. This David Yurman ring is very simple, yet has so many intricate details that I can't stop staring at it. I think it's time to just do the damn thing and add it to my cart.
3. Bing Bang Smiley Face Ring: Last year I purchased a smiley face pendant necklace from New Top Jewelry here in NYC, and I have worn it every day ever since. This Bing Bang ring feels like the perfect addition to the collection.
---
Anna Buzbuzian
Editorial Intern
Part of the series:
WWWRN