WWWRN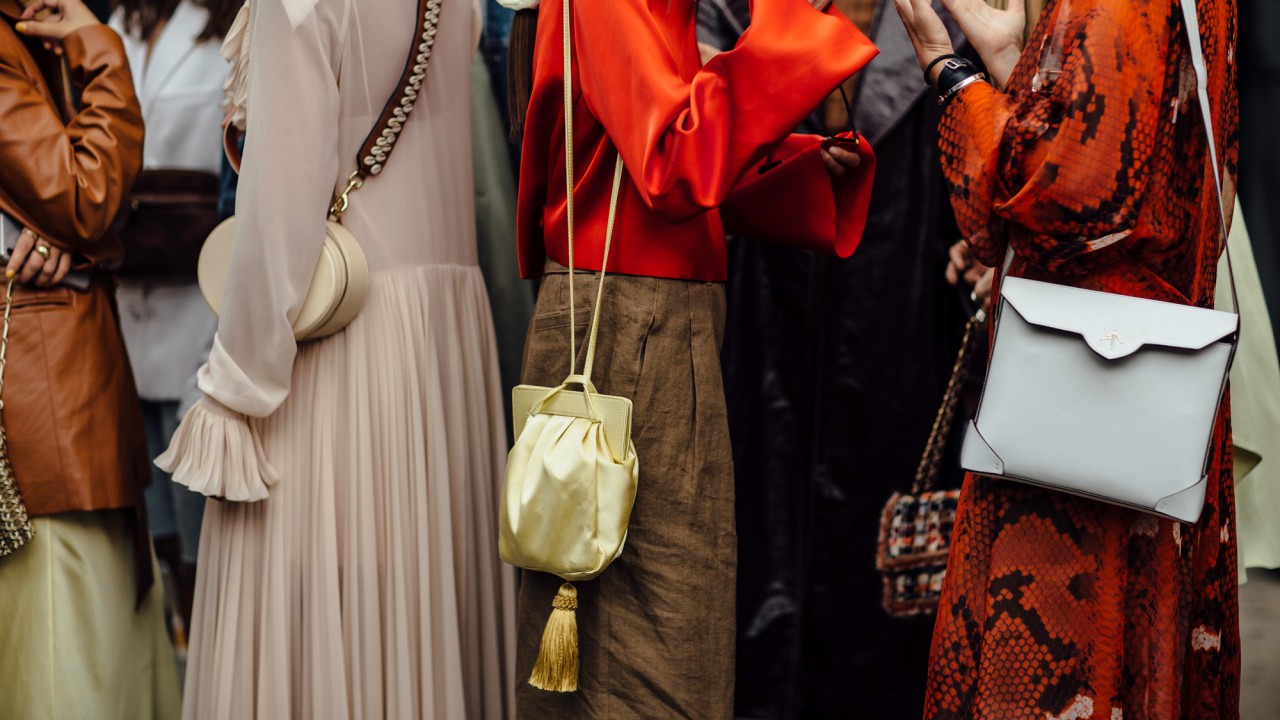 The 5 Outfits Our Editors Are Wearing for Fall
Cool-weather dressing for the sartorial set.
Although the weather in New York City has oscillated a good 20 degrees in the last few days, the fact remains that fall is here and it's time for autumnal dressing. Does anyone else relish clearing out your closet of sweat-stained summer clothes (that part might just be me) and replacing them with turtlenecks, ankle boots, and leather jackets? It's cleansing for the soul, if not your wallet. So in the spirit of fall, I polled my co-workers to see what their ultimate seasonal outfits would be in hopes that you, too, will feel inspired to refresh your wardrobe, wherever you live. Check out the 15 pieces we're adding to our online carts this week.
---
Hannah Baxter
Editor
1. Nanushka Africa Wide-leg Pants: I tend to get dressed pants-first, everything else second, which means I have a lot of statement trousers in my wardrobe. My newest obsession are these vegan leather Nanushka pants in burnished red. They're buttery soft and will go with approximately 10,000 other things I own, meaning they're an investment worth making.

2. The Elder Statesmen Cropped Cashmere Cardigan: If I could afford to wear The Elder Statesmen sweaters every day of my life, I 100 percent would, but alas, my bank account will only allow for one. I've also recently renewed my interest in cardigans after many years, specifically a lower-cut style with a crop, in (what else?) cashmere. Fall dressing, done and done.
3. Aeyde Shena Ankle Boots: I gasped when I saw these shoes. AUDIBLY GASPED. A perfect mule-boot hybrid in shiny patent with just enough of a collar around the heel to make your foot look sexy. It's true, don't @ me. Aeyde, please make more colors so I can collect them all.
---
Noah Lehava
Director, Lifestyle & Talent
1. Alanui Jacquard Cashmere Sweater: Fall is confusing. One minute it's so cold even your leather jacket isn't enough, and the next, summer makes a comeback—sometimes in the same day. I struggle with the concept of layering, so I love a chunky cardigan that can double as a jacket if the temps drop unexpectedly, and can be easily stripped off when the sun breaks through. It'll take me all the way through to spring, too.
2. Haider Ackermann Leather Trousers: I'm a denim girl through and through (and season to season), but my goal this fall is to expand my bottom selection. I'll start with these.
3. Marlo Laz Shaman's Eye Earrings: I've officially retired my puka shells and am trading them in for Marlo Laz's gold-and-garnet talisman earrings. Dripping in gold has no seasons.
---
Daniella Deutsch
Producer
1. Proenza Schouler Tie-Dye Turtleneck: My absolute favorite fall item is a turtleneck. I have started to slowly incorporate the mock neck back into my wardrobe rotation, but I'm feeling ready for the real thing. As tie-dye was a fashion week favorite, it feels only appropriate to go for this bold pattern.

2. Agolde Crisscross Jeans: Agolde designs the jeans of my dreams. Subtle details like the crisscross front pocket on this pair adds instant cool to any outfit.
3. Nike Air Max 95: The new season calls for a fresh pair of kicks. I spotted this particular pair from a street style roundup and have been obsessing ever since.

---
Jodi Taylor
Associate Editor
1. Line & Dot Effie Dress: This "fall" has been unpredictable and warm, and so I've been layering all of my outfits (I hate being improperly dressed). I've realized that a long and flowy dress makes for a great base. This one gets a few bonus points for being leopard print.
2. Adina's Jewels 14kt Hollow Hoops: Small hoop earrings have become the new little black dress. Perfect for any occasion, and they always look good, no matter what. I've been in search of a new gold pair, and these little 14kt guys seem like the perfect pick.
3. JSP x Pleasures Hoody: The best part about layering is that you can bring your coziness to a whole other level. I'm pairing my comfortable dresses with super-cozy and soft hoodies this season, and this JSP x Pleasures one is sure to elevate any outfit with its dope colors.
---
Nandi Howard
Editorial Production Fellow
Part of the series:
WWWRN