WWWRN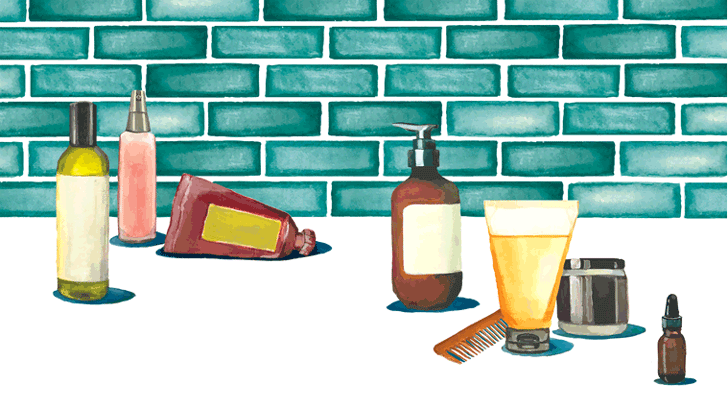 The Truth about Protein-Based Hair Products
What they do, and if it's true they could be bad for you.
You'll find protein in tons of hair-care products that are supposed make your hair stronger and smoother (like you didn't just blow-dry the crap out of it for the last decade) and help it grow out longer without breaking. But, similar to silicone in hair care, there are also pervasive rumors that it might not be good for you—for example, the frequently voiced claim that protein treatments will actually make your hair brittle and cause breakage. (Wait, what?!) Plus, we always wonder, in the face of hundreds of options, is protein even the best stuff you can buy?
To help answer some of these questions, we recently put on our white lab coats and safety goggles and visited the labs of Nexxus New York—a hair-care brand owned by Unilever that uses protein in a lot of its products. We found machines that zoom in super close to measure the actual topography of hair samples; cameras that can see a hair's structure up close, including all those little hair cuticles (or lack thereof, if you've been bad to your hair—see some pics below); automated brushing machines that measure strength; and chemical tests that show how easily your hair falls apart. Basically, a fantasy version of what high school science could have been like.
Microscopic images of the author's hair at its root (left) and tip (right). That's what years of bleaching and blow-drying will do to hair!
The key thing we learned is that hair is almost entirely made up of protein. "Protein is about 90 percent of the dry weight of hair," says Fraser Bell, PhD, who is Nexxus's science insights leader. "Some of the protein types form really hard pieces of hair, which make the hair really strong and robust. Then you've got smaller proteins, which are a lot softer, that hold those harder parts together and give hair its flexibility. They vary in size, so they go from very, very small to really large. Sort of like bricks and mortar, if you think about it. The big ones are the bricks, and the mortar holds them all together and makes sure that they can do their job."
So think of protein treatments, like masks and conditioners, kind of like spackle. When you damage your hair from brushing, bleaching, and blow-drying, the shingle-like cuticles start to break off and the twisted rope-like interior starts to unravel. The protein ingredients in products, which are naturally chemically attracted to the proteins in your hair, fill in the holes and even shield hair from falling apart even more in the future. Though they don't latch on permanently, they can stay through multiple washes.
But Bell's point about protein sizes is basically where the rubber meets the road. Or the molecule meets the follicle, rather. "The small proteins are great for us," he explains. "The small ones can penetrate into hair much more easily and get deep down in the core. Whereas the larger ones, they sit on the surface. When we put them in a product, the large ones don't get in there. They're just too big. You just can't force them through the tiny, tiny gaps that we have in hair."
Hence the pervasive rumor: It is true that protein treatments can make hair feel stiff and brittle, but only if it's not a very good formula. The product has to contain the right protein size, which is something you have to do a little homework to figure out, and there should be conditioning ingredients in there, like oils, to help soften hair at the same time. "If you're working with a high-protein-containing product that doesn't have the right conditioning ingredients alongside it, and it's not optimally balanced, your hair won't feel great," Bell explains. "And that's where people might imagine proteins making the hair feel crisp."
Mystery solved! For a few protein hair treatments we love, click through below:
Part of the series:
WWWRN