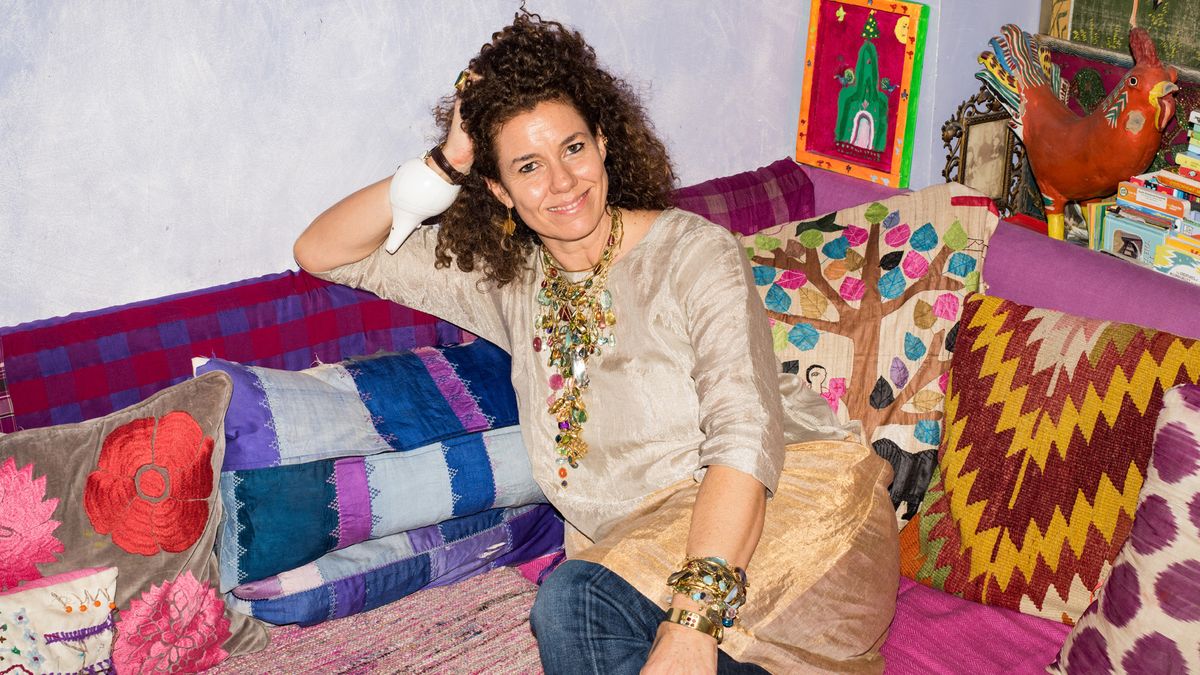 Interiors
Imagine Every Color at the Same Time—That's Pippa Small's London Home
The jewelry designer worked with Tom Ford and Phoebe Philo, and collects treasures from around the world.
Stephanie Sian Smith
When you ask jeweler
Pippa Small
, whose precious objects adorn fans like Angelina Jolie and Kate Middleton—as well as shelves at ABC Home in NYC, Net-a-Porter, and her boutique in L.A.'s Brentwood Country Mart—to describe her pieces, she says: "My jewelry is feminine and organic with warm, rich gold, and soft, rounded pebble gems full of color and stories." This is true, and likely why she has been tapped by fashion houses like Gucci under Tom Ford and Chloé under Phoebe Philo. But her multiple industry awards also show the exceptional lengths Small goes through to create a line that is sustainable and exceptionally ethical. Her pieces showcase
gems
from around the world, and since childhood Small has been visiting these places to understand the communities from which she's sourcing her inspiration as well as her materials.
"The relationship between peoples and their jewelry always fascinated me—the use of local and traditional designs and materials and their meanings," says the Quebec native, who has a degree in anthropology and a master's in medical anthropology. "I also saw that one thing people also needed in these communities was to be able to find markets for their traditional craft, to generate an income and keep these skills and traditions alive."
---
Though her passport shows her frequent travels to far-flung areas like India, Afghanistan, Myanmar, Chile, and Kenya, Small calls London's North Kensington neighborhood home. "It's one of the most diverse boroughs in
London
, with mixed cultures and social housing as well as wealthy bohemian homes. It's full of Moroccan caf
é
s, antique markets, restaurants, and wonderfully planted garden squares, as well as parks and flowery tree-lined roads."
This is where we found Small (along with her twins), who is celebrating her line's 10-year anniversary. We asked how her career began and about some of her favorite things.
How did your line get started?
"I was making my own jewelry and had started to work in India on a gold collection inspired by ancient and tribal jewelry when I was scouted by Tom Ford, and went to consult at Gucci in Italy on jewelry collections. With the money I earned there, I went to Botswana and South Africa and started a project on making jewelry with the San Bushman; we also made embroideries and paintings using their motifs and designs. This was the start of the next 20 years of a nomadic life, where I worked between India as well as with the Kuna Indians of Panama, the Mapuche of Chile, in an area in Nairobi and Cairo with recycled materials, with a fair-trade gold mine in Bolivia. I started working with charity Turquoise Mountain in Afghanistan 10 years ago and in Myanmar three years ago, working to design and keep traditional skills alive, but also, crucially, to provide jobs that instilled self-confidence as well as a safe environment and income. Now I continue to work in Asia and Africa and South America. This has led to an amazing life of contrast between
Paris Fashion Week
and, a week later, working with refugees in Thailand."
Where did your inspiration first get started?
"I was very lucky to have a mother who loved to travel. As my siblings and I were growing up, we were her young travel companions, accompanying her on North and East African adventures and Asian journeys. I was always fascinated by the many peoples and tribes we encountered, their culture, ways of life, and traditions, and the jewelry they wore and why they wore it."
How did you get involved in the community ethics?

"My degree in medical anthropology led me to Borneo, where I was quickly sidetracked by the pressing issues of land rights and cultural right of the tribal and indigenous peoples of this beautiful rainforest region. This led to my next few years where I worked with various local tribal associations and groups on issues around cultural rights, language rights, and the right to self-determination for the minority communities. Land and the protection of the forest was always at the root of all the challenges. But also fundamentally their rights to be different. These issues spoke to me, and I found it fascinating spending time with very remote communities in mountain areas of the Philippines, the forests of Thailand, Borneo, and other parts of the world."

What does a typical week look like for you?

"I love to travel to create something, to learn about a new country culture, history, and political situation. For example, in a three-month period, I went to Kabul to create a new collection, to Switzerland for Davos, the world economic forum to discuss the role of craft in the 4th industrial revolution, in Paris for Fashion Week, in Jordan to start setting up the Syrian refugee project, and then to India and Myanmar for a new collection for spring/summer 2019. The children come with me for longer trips, and I try and make the journey short and effective. If they have to stay in London, I take them to school and then head to the shop. I try and run to museums and exhibitions to seek inspiration in-between."

Do you have any favorite pieces?

"My rough opal Tibetan ring, a ring I made years ago with a large magically multi-colored opal from Australia."


How would you describe the decor in your home?
"It's a cross of Bloomsbury and a splash of Indian Holi festival. The colors, textiles, and collections of objects—from tiles to paintings, wooden toys, and ceramics—are all gatherings of memories from places and times of my life that have been such a part of my journey."
Favorite room?
"The living room, as I can cook, the twins can play, or I can sit and design at the long wooden table and the kids can be making train tracks around the floor, but we are always together and can chat all the time."
Favorite decor piece?
"The old Gothic cabinet that was my great-grandmother
'
s—it must be 700 or 800 years old."
What's your home design advice?
"Surround yourself with what you love, don't follow any proscribed trend or convention; it is your home. I think we tend to see our homes as 'investments' now instead of the most important place for us to feel inspired, safe, to be able to dream and imagine… Let your personality be expressed."
Want more stories like this?
A Jewelry Collection So Good Rihanna Keeps Borrowing From it
25 Colorful Statement Earrings to Amp Up Your Wardrobe
What It Feels Like to Wear Over $1 Million of Jewels