In the Kit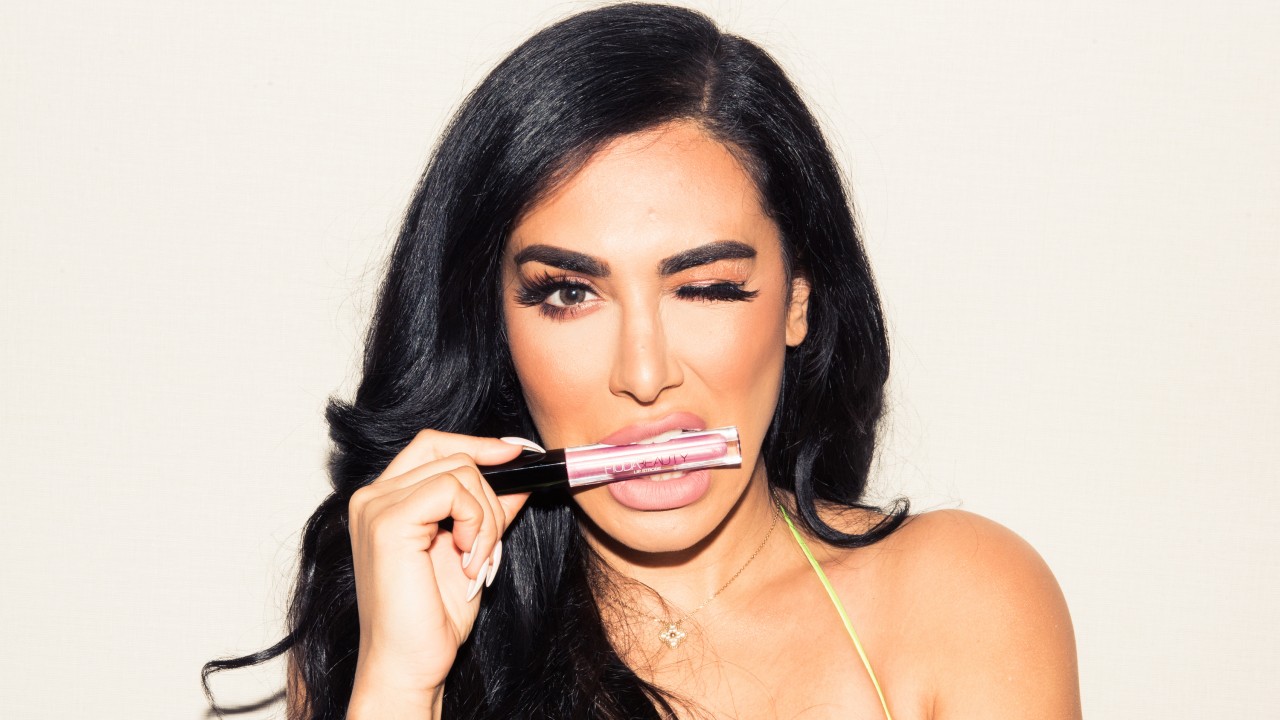 Everything We Found in Huda Kattan's Makeup Bag
Plus, what she told us is the next contour & why she'll always be down to put baby food on her face.
When I blurted out the words "Huda Kattan is letting us rummage through her makeup kit!" just about every editor at the office stopped typing mid-word and blurted out a slew of questions they wanted me to ask her. The Dubai-based Kattan, who was only in NYC for a split second (with a crammed schedule), invited us for a sneak peek at newness from her own line of products and gave us two precious hours to hang out and talk beauty. We talked about how her first career in finance set the foundation (no pun intended) for being able to handle a $200 million business, how putting baby food on her cheeks sparked the best DIY, and why Huda Beauty had a different name when it first launched.
The moment she fell in love with beauty:
"I used to steal all of my older sister's makeup products. One time I accidentally took one of her really expensive shampoos, and I opened it upside down—the whole bathroom smelled amazing. I was like, 'Why does it smell so good?' And then realized I spilled it all. I felt so scared that she was going to be really upset with me, but she was really awesome and gave me all her products. She turned me on to beauty from a very young age."
How she handled her career transition:
"It was very natural. Going into finance was probably not the right choice for me. I did love certain aspects of business, but finance was definitely not one of them. I'm happy now that I've studied finance, because it helps me understand income statements and balance sheets. [Before starting my own company,] I was always trying to be a certain person, always trying to fit in, and then I was like, 'What am I doing?' I'm not trying to fit in anymore. I'm being who I am, 100 percent. There was some magic in that."
Why she started the blog:
"Ultimately, [blogging] came from really wanting to share. I felt like there were always things that would change people's lives if they just knew, they would feel much better about themselves. [At first] I was like, 'Oh my gosh, that's super intimidating; everybody's going to see it, people are going to judge you.' [But] it just never stopped. It was like a detox for me almost. "
Huda Beauty was called something else initially:
"I had a different name [for Huda Beauty], it was The Beauty 411. Then somebody with Beauty 411 messaged me and was like, 'You gotta change your name.' [Laughs] I was like, 'You know what? I think I want to change my name because it's going to be confusing, and I have this real big goal for the blog.' I was walking around Dubai and people were like, 'Oh, you're Beauty 911!' And I was like, 'Oh god, nobody understands it!' I want people to know who I am, so I decided to make it Huda Beauty."
How she learns her DIYs:
"I'm kind of a weird person, if you haven't been able to tell already. [Laughs] When I had a baby, I was like, 'Let me look at these ingredients [of baby food]. Oh my god! This has pumpkin. Pumpkin's great for your skin. Let me just put it all over my face.' So some of it is trial and error. You start noticing certain ingredients that are working. It's almost like Legos, like building different recipes."
Building a beauty brand isn't always smooth sailing:
"Things go wrong with every single launch. Every single launch. We were actually asked recently to do a reality show on that, and we were considering it—people don't really realize almost every single launch has disasters behind it. Getting the products in time, there's a leak here, packaging has been done wrong here, the printing, the name is incorrect, oh my god, this logo scratches off here. As a company and as perfectionists, it's quite debilitating, but we pull it together."
The product that was the biggest labor of love:
"I think the longest we ever spent on a new project was on our foundation that's launching in October. By the time it launched, it was a two-year process. We didn't have skin tones [as reference], so that took us almost a year on its own. It was insane. We were pulling people from hotels, restaurants, literally pulling random people from everywhere. We actually used some of those people in our campaign. It was really cool. It was real."
What's the next trend to be as big as contour?
"I really believe that being unique is going to be major. The past few years everyone was trying to look like celebrities or people on social media, whereas now people are embracing who they are 100 percent and celebrating this online. Contouring will not die, because once you learn how to enhance your features and face shape, you will not go back."
The way she chills out:
"A hot bubble bath, a good book, scented candles, and a face mask."
The beauty trend she hates:
"Non-touring! I don't get it and never will."
What she does right when she wakes up:
"I start and end my day the same—by praying and giving thanks to my incredible family and team."