Travel
From partying in Tel Aviv to exploring Old Jerusalem.
Illustrations
Meagan Morrison
I had no idea what to expect on my first visit to Israel. That said, even as a seasoned traveler, I had a feeling I would be irreparably moved. Friends of mine have been taking trips to the Holy Land for years, from birthright journeys to family vacations, each one of them returning with a newfound perspective on life and their place in the world. Now having visited myself, I can say with certainty that this type of paradigm shift is inevitable, maybe even unavoidable. It is a country on a pendulum swinging between past and present. It is living history.

However, you would be wrong to think that's all there is. In contrast to the unparalleled landmarks, Israel is flourishing with innovation in tech, contemporary design, cuisine, wine, world-class bars, and hotels. I would be remiss not to acknowledge that traveling to this destination requires a certain degree of sensitivity and mindfulness. But safety should not be of concern. Whether you intend to visit for a few days or more, this guide will ensure you get a taste of where this country came from and where it's about to go.


---
---
Where to Stay
---
As a New Yorker, it is always my mission to find travel accommodations that are within walking distance of what I want to see most in a destination. The
David Citadel hotel
is just that; it's located in the heart of Jerusalem with an unparalleled view of the Jaffa Gate leading into the Old City. The hotel's design integrates quintessential elements of Jerusalem that make you feel like you are truly in Israel and can have you at the Dome of the Rock and Western Wall within 15-20 minutes.
In Tel Aviv, there is perhaps no greater location than one overlooking the Promenade of the Mediterranean seashore, minutes away from Carmel Market. Despite being a global chain property, 
InterContinental David Tel Aviv
 gives you access to all of the above. Head to the top floor for a panoramic view of the city, and when you are finished, make a right out the front door to the Shuk for fresh fruits, tasty falafel, and humus. Note: Tel Aviv is roughly an hour and fifteen minutes away from Jerusalem by car.
---
What to Wear
---
While you do need to be mindful in older parts of Jerusalem, particularly the Old City quarters, the dress code is really quite easygoing. If you are visiting in the spring, a light denim or leather jacket over a knee-length dress paired with ankle boots will get you anywhere you need to go. Furthermore, in Tel Aviv anything goes. This is a city that embraces individuality and forward dressing. Think flatform sneakers, mixed prints, voluminous layers, and bold accessories. Head to Hilitmor Boutique in Neve Tzedek to get a real sense of Tel Aviv fashion design and aesthetic.


---
What to See
---
A guided tour through all four quarters of the Old City in Jerusalem is an amazing way to start your stay. It is prudent to have an understanding and appreciation for the complex history of this majestic place. Jerusalem is the birthplace of three major religions, after all, and is monumentally important to so many different people from so many walks of life. A day trip to the site of Masada and the Dead Sea is also an absolute must. You'll drive through the otherworldly beautiful Judean Desert on your way and deepen your understanding of this ever-evolving country.
While in Tel Aviv, a food tour through Carmel Market with
Delicious Israel
is a perfect way to begin your journey. It is wise to hold off on breakfast before you go so you can taste the plethora of culinary delights as you weave through the stalls of the Shuk. From Carmel Market, you can walk to the quaint and trendy Neve Tzedek neighborhood to explore boutiques selling local jewelry and clothes. This area is steeped in history, yet filled with contemporary concepts and designers.
---
Where to Eat
---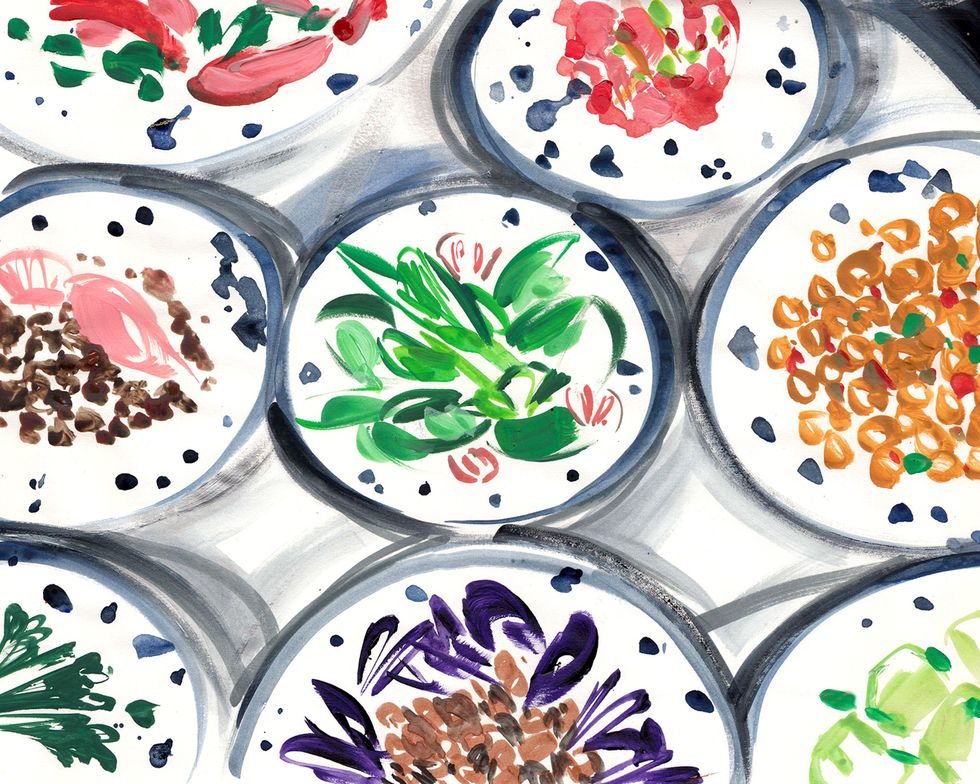 Jerusalem's
Mamilla Hotel
harbors two of the most exquisite dining spots in the city. For a more traditional Mediterranean-style meal, check out
Happy Fish
and start your meal with a shared meze selection. If you're looking for a more cosmopolitan-style dinner with a sparkling view of the Old City, head upstairs to the
Rooftop Restaurant
. The dishes are innovative and surprising for the location, using combinations of ingredients that are uncommon in the region.
When the sun is glistening over the Tel Aviv shore, grab a seaside table at
Manta Ray
for a few glasses of wine and a smorgasbord of Israeli tapas-style dishes. The seafood ceviche is not to be missed. For a communal dining experience that will take you from simmering saucepans of traditional Mediterranean dishes to a bubbling neighboring bar, make sure to reserve a spot at
North Abraxas
.
---
Where to Play
---
For a jaw-dropping panoramic view of the cascading white limestone buildings of Jerusalem and glistening gold Dome of the Rock, head to the rooftop of the Austrian Hospice. Once finished, saunter downstairs for an Israeli beer at the Viennese Cafe. For a nighttime experience you won't soon forget, be sure to check out the hidden speakeasy Gatsby Cocktail Room. Tucked behind a discreet bookcase facade in the heart of Jerusalem, you'll find yourself in a world-class Art Deco-era bar of the roaring 1920s.

In Tel Aviv, expect to fall in love with the glamour of Hotel Montefiore. Book a table outside on the front patio for drinks and light fare that combines French food with a Vietnamese twist. To get a real feel for the vibrancy and youthful culture of Tel Aviv, grab a coffee or cocktail at Rothschild 12, where the beverages and tables pour out onto the streets. Weekends are Friday and Saturday, so anticipate a packed house towards the end of the week.