Makeup
This Makeup Artist Swears By a One-Ingredient Face Mask
Min Min Ma let us in on some of her best-kept secrets and told us just how nice Leonardo DiCaprio's mom is.
Alec Kugler
Imagine being able to say that you had been up close and personal with Leonardo DiCaprio. This dream is a reality for Min Min Ma, and she got up close and personal by way of doing his makeup for
The Wolf of Wall Street
press events. Ma is a celebrity makeup artist who was born in Montreal and now calls Brooklyn home. The second she opened up her home to us one sunny Monday afternoon, we could tell we were going to get along famously as she kindly offered us massive bowls of fresh cherries and watermelon (pro tip: you can always win us over with food). Ma's roster is impressive, to say the least; not only has she worked with Leonardo DiCaprio, but she's also touched the faces of Meghan Markle,
Hailee Steinfeld
,
Zosia Mamet
, and
Troian Bellisario
, yet she remains as humble as ever. As we chatted with Ma—who first became obsessed with makeup in high school, when she used to prep her girlfriends for dates—it became clear just how passionate she is about her profession. Her kitchen drawers and cupboards were bursting with every brand and type of makeup imaginable, and just when we thought we'd seen it all, Ma whipped open her hallway cupboard and pulled out two massive suitcases (one that was filled entirely with eyelashes), revealing the other half of her enormous collection. Read on to find out how she preps for new clients, what face mask she swears by, and the one product she can't live without.
---
Her love for makeup began in high school with a $1 lipstick:

"I asked my mom to buy me this $1 red lipstick. I tried to convince her that I would only wear it on the weekends because I was young, and she's very kind of conservative that way. Also, a friend of mine in school—I think we were 13—stole a mascara, and so that was my first mascara that I used.

"I always did makeup for my girlfriends in high school when they went out for dates. I would grab my mom's makeup and do it on her, too. Then I was in Montreal [and] studying commerce—I was just so bored with school, so I was like, 'Well, I'm just going to move to Toronto and go to makeup school.'"


One of her first celebrity clients was Leonardo DiCaprio:

"I worked with [Leonardo DiCaprio] when he was doing the press for The Wolf of Wall Street. He was great—that was one of the highlights of my career. At the time, when I got the job, I had just started working in the celebrity world. Beginner's luck. His usual makeup artist couldn't make it from L.A., so I stood in for her for the New York dates. He was really nice; his mom was really nice."

Preparation is key in the industry:

"I dabble between celebrity work and lifestyle shoots. When I do celebrities, a lot of [the] time it's early call times because we're doing morning shows, like Good Morning America, or it could just be relaxing the whole day and then I only meet them in the early afternoon for red carpets. What I usually like to do is get my kits ready the night before. With the clients that I work with on a regular basis, I already have somewhat of a personal kit for them. I research what they're wearing or where they're going."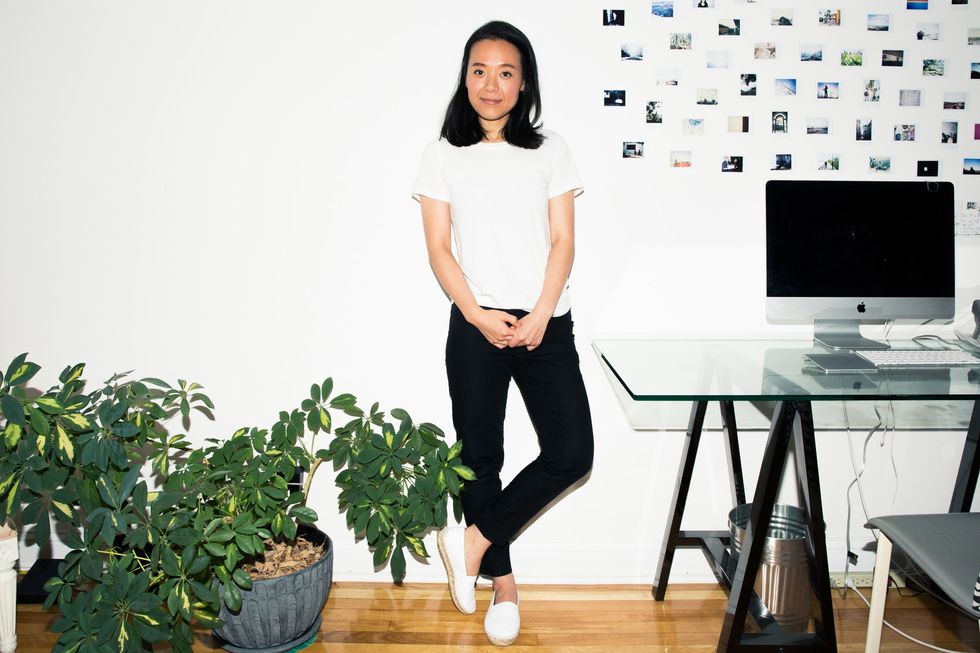 How she preps for a new client:

"If it's a new client, then I do a lot of Google spying. I try not to look too much at those stylized photo shoots because there's a lot of Photoshop involved. I look more at red carpet events, like WireImage and Getty image, because there's no Photoshop—it is what it is. You can still see through the makeup if their skin is good. I also go on their Instagram to see what they like to post of themselves, so that it's how they see themselves."

Her mask of choice is one ingredient only:

"Raw honey. I have really oily skin, and when I was younger [I was] acne-prone. Also if you have dry skin, it's very soothing. I do it in the morning. You have to make sure that your skin is clean because the honey is so thick that it might clog your pores if you have oily skin. Clean your skin properly, and then just leave it on. I eat my breakfast, or whatever, go on Instagram—the longer [you leave it on], the better. I try to use it twice a week—but you can't use it every day."


Zosia Mamet is one of her most chill clients:
"[Zosia] is a client that is so easy. I'm like, 'OK, Zosia, do you want to check [in the mirror]?' Her hallway is very dark, and she's like, 'Oh, it looks great!' I like working with girls who are confident, and they're like, 'We don't want too much makeup.' Just like, a little bit of eye, a little bit of lip. [Zosia's] great, I love her look."
The one product she can't live without:
"I would say a cleanser. You know the Kate Somerville Exfolikate? It's not cheap, it's definitely an investment, but it cures my skin."
Individual lashes are the only way to go on the red carpet:

"Red-carpet makeup is very different from day-to-day makeup. I always make sure that the t-zone is powdered—I love dewy skin, but the dewy forehead is not my thing. I always like to think that the skin is not just reserved for the face; it's the knees, the elbows, especially the chest if you're very pale. Lashes are a good thing—individual lashes. Catherine Zeta-Jones was on the red carpet, I think it was Cannes, and her lashes fell off halfway. There's a bunch of photos of that, so that's why [I go with] individual lashes."

Her job has made her a little OCD in the best way:

"The way you treat your makeup kit and your environment, it's a respect thing. Makeup is such a hygienic, sensitive area. I cringe when I see an assistant come with dirty brushes, unorganized, with powder everywhere. It's not OK. I started carrying myself as a more organized type of artist, professionally, and then it just kind of dived into my personal life. I'm a little bit OCD though. It carries through into my life."