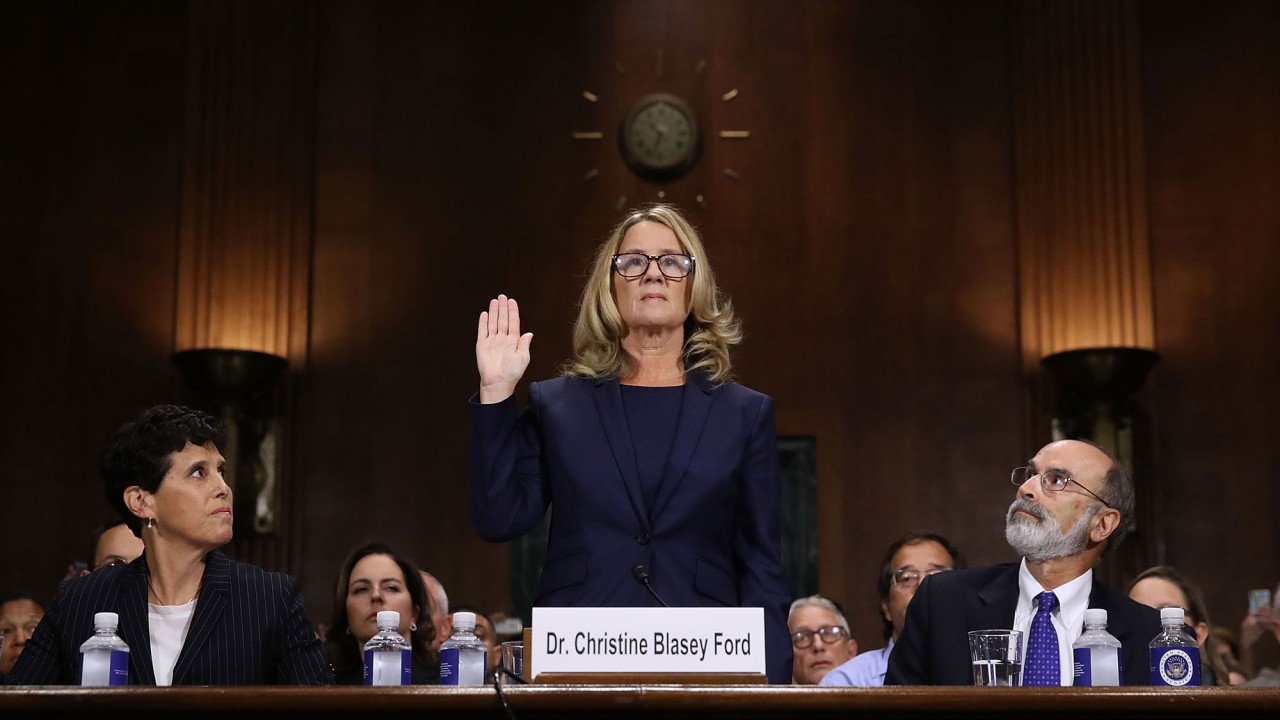 Major Takeaways from the Christine Blasey Ford and Brett Kavanaugh Senate Hearing
What to know about the historic proceeding.
As Brett Kavanaugh and Christine Blasey Ford's Senate hearing raged on in Washington, D.C., today, and Ford testified before the Senate Judiciary Committee about a sexual assault she alleged was perpetrated by Kavanaugh, the Supreme Court nominee, when the two were in high school, the nation watched. The fate of our Supreme Court—and, in turn, our country's future—is suspended in the outcome of this hearing. And it looks bleak.
For those of you who have swaddled yourselves in headphones and blocked all news sites from your phone (we get it), Ford came forward to recount a time at a high school party many years ago, when she went upstairs to use the bathroom—and wound up pushed from behind into a bedroom by Kavanaugh and his friend, Mike Judge, who were both very drunk. This information went public once a letter Ford wrote was leaked to the press. Since then, two more women have come forward with allegations of being sexually assaulted by Kavanaugh, and now, here we are. Read on for key moments from the hearing today.
Ford spoke firmly about disturbing details 
Ford appeared before a Senate inquiry to detail her memories of the attack. In front of a crowded but quiet room, she spoke about what she says happened to her as a teenager. Ford said Kavanaugh forced her onto a bed, got on top of her, and touched her body as he "grinded" against her.
"I believed he was going to rape me," Ford said today. "I tried to yell for help. When I did, Brett put his hand over my mouth to stop me from yelling. This is what terrified me the most and has had the most lasting impact on my life." Ford added that she feared Kavanaugh was "accidentally going to kill me," as she had trouble breathing during the incident.
Ford recounted her strongest memory from the attack 
When Ford was asked what she remembered most from the night of the attack, she paused for a short moment. "Indelible in the hippocampus is the laughter, the uproarious laughter between the two, and their having fun at my expense," said Ford, who is a professor of psychology and statistics at Palo Alto University in California. "I was, you know, underneath one of them while the two laughed; two friends having a really good time with one another," Ford added.
Ford says she's "100 percent certain" that Kavanaugh attacked her
At one point in the hearing, Ford was asked how sure she was that the teenager who held her down and tried to rape her in the presence of another teen was Kavanaugh. "One hundred percent," she said, without hesitation. At another point, Ford said there was no chance that she was mistaken about the identity of her attacker. "Absolutely not," she said, describing chemical reactions in the brain that create indelible memories.
Kavanaugh denied Ford's accusations
Kavanaugh categorically denied everything. He suggested that Ford may have been sexually assaulted, but he wasn't the one who did so. He complained the allegations have hurt him ("My family and my name has been permanently and totally destroyed," he said), and called the allegations "a calculated and orchestrated political hit."
There was a stark contrast between Ford's demeanor and Kavanaugh's
Whereas Ford was quiet and clear, the Supreme Court nominee appeared angry and defiant, often raising his voice and calling the proceeding a "national disgrace."
Following what the Washington Post described as  "...the most bitter Senate hearing in memory..." the Senate Judiciary Committee is scheduled to meet on Friday in advance of a full senate vote on Saturday.
Photo: Getty
Want more stories like this?
Brett Kavanaugh Will Testify About Alleged Sexual Assault & Other Big News This Week
Everything You Need to Know about the Kavanaugh Hearing
The Aftermath of the Manafort and Cohen News