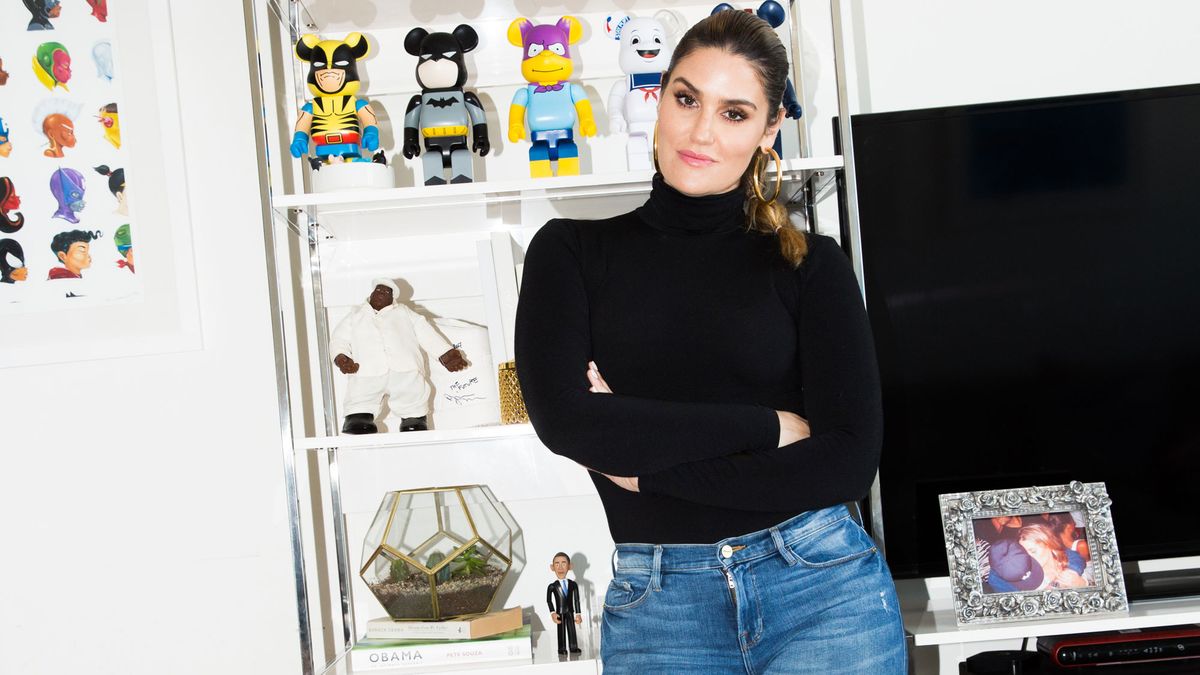 Makeup
How Joanna Simkin Became One of Today's Most In-Demand Makeup Artists
At home with the woman Issa Rae, Vera Wang, and Zayn Malik have on speed-dial.
Alec Kugler
Our shoot with makeup artist
Joanna Simkin
was a
long
time in the making, but such is the case when you're trying to pin down a woman who takes upwards of four cross-country flights a month to work with clients such as
Issa Rae
, Vera Wang, and Lena Waithe. We should also note that she's the groomer of choice for Zayn Malik and a host of other men before they walk the red carpet or step on set for a photo shoot. And when she's not up to her elbows in foundation and eyeshadow, she's busy raising her three-year-old daughter, Noelle, with her fianc
é
, Sean. So yes, it took a while before we could find a date to invite ourselves over, but given her fascinating career trajectory, insane makeup collection, and a surprise visit from Noelle, it was well worth the wait. From the living room of her Brooklyn apartment, Simkin talked her music video background, how she met Issa, and more. 
---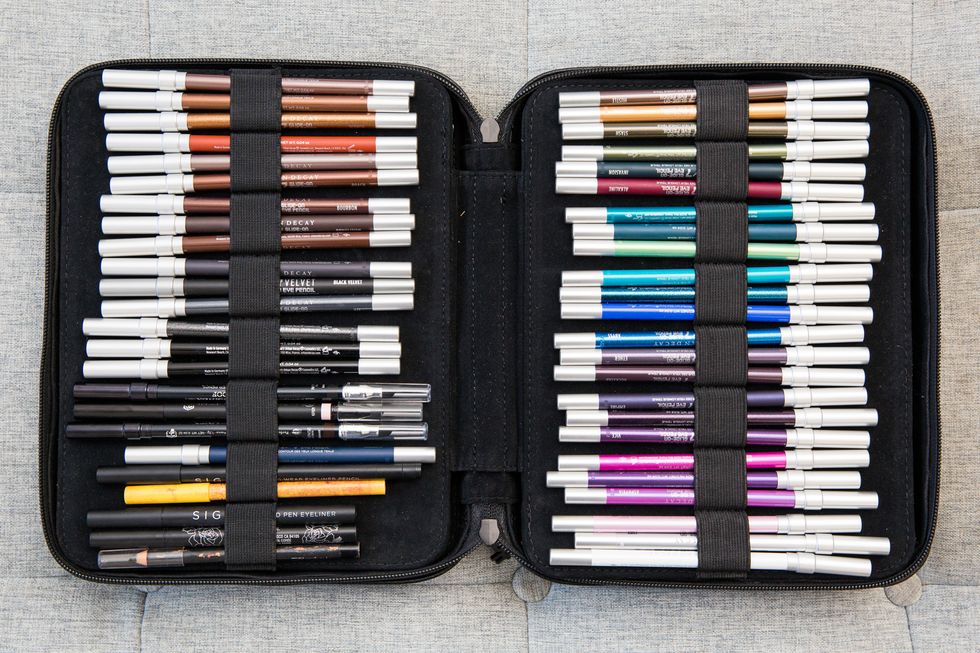 When did you fall in love with makeup?
"When I was in fourth grade, my aunt gave me one of those cheap things that has like, 500 eyeshadows and blushes in it, and I was obsessed with it. My mom refused to let me play with it because she thought I was too young to play with makeup. She literally threw it away; I had a classmate fish it out of the garbage for me."
When did you decide to pursue it full-time?
"I worked at a makeup counter very briefly in San Francisco, and then I moved to New York and got a job in marketing with
Carol's Daughter
, where I was booking photo shoots. Learning that there was a job doing makeup that wasn't working at a makeup counter—now, with Instagram, that's an obvious thing to people—but when I was growing up I didn't realize that. [Later] when I moved to L.A., I just decided, 'I'm not going to get a job, I'm just going to do makeup.'"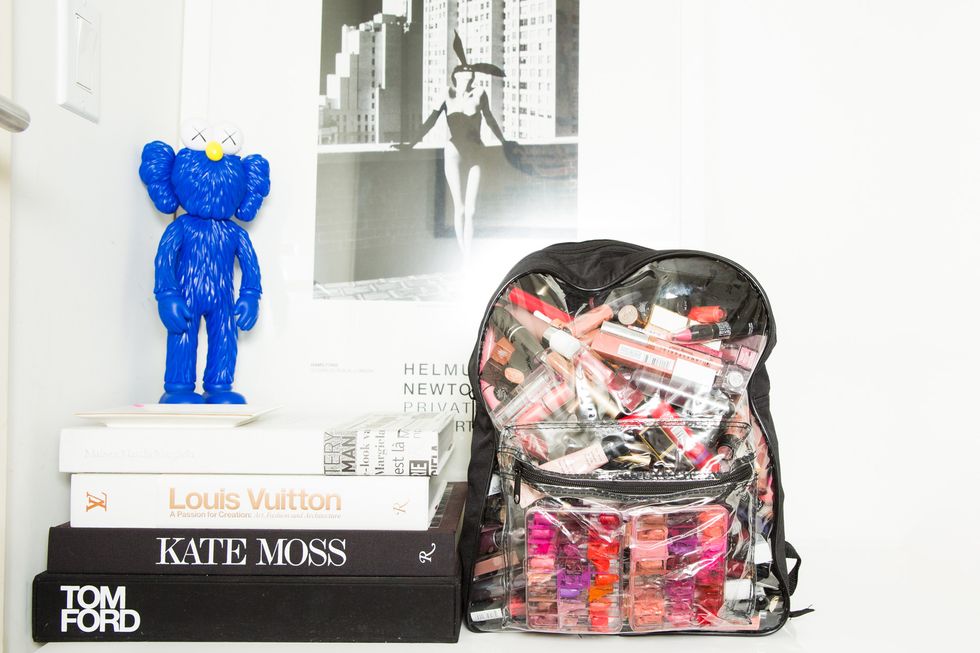 And what was the beginning of your career like?

"After I left Carol's Daughter, all these people in the entertainment industry were still calling me saying, 'Hey, so-and-so's coming out with an album, and we're shooting a beauty scene in the video. Can we put some Carol's Daughter on the vanity?' I'd tell them that I didn't work there anymore, and when they found out I was doing makeup, they'd be like, 'Oh, want to come do the models instead?' It just worked out really well for me. I met another makeup artist, Shannon Pezzetta, who would book me to assist, which was amazing. I learned so much from her and just being on set. I created great relationships with a lot of video producers, and I did probably 100 music videos that first year."

Which ones?!

"I did big ones like Jay-Z 'On to the Next One,' and then I did ones like Plies featuring Ne-Yo ['Bust it Baby']. I did multiple Trey Songz videos and all those Diddy-Dirty Money Last Train to Paris videos. I always tell people that music videos are the best training ground because you learn set etiquette, you learn how to be fast, and you learn how to do every technique on a variety of women. You might have 10 girls and they all have to have a smoky eye and a red lip, but you have an Asian girl, a black girl, a white girl, and a Spanish girl—all with different eye shapes and complexions—so you have to practice your smoky eye on 10 different eyes and do it fast."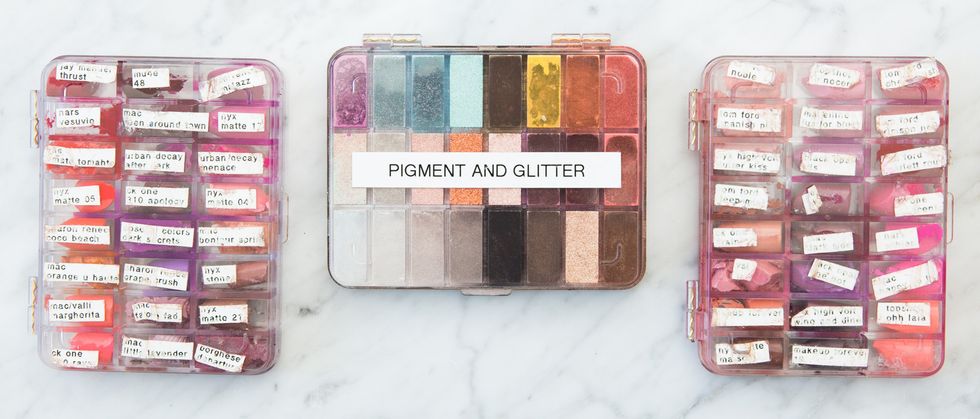 And how did you come to work with so many women of color, because, also unfortunately, a lot of makeup artists who aren't black aren't skilled at working with darker skin tones:
"I was on the hip-hop video circuit, so I learned on black girls, brown girls, Spanish girls, and Asian girls. That's who was being highlighted in those videos."
How did you start working with Issa Rae?
"I met Issa's publicist, [Vanessa Anderson], when I lived in L.A., and we stayed in touch. She kept saying, 'I work with Issa Rae, and I really want you to do her makeup,' and I was like, 'Sure.' I'd seen people on Twitter and Instagram talking about her and how excited they were for
Insecure
, but I'd never seen
Misadventures of an Awkward Black Girl
, so I didn't really know who she was. After the first season of
Insecure
had been shot, Vanessa called and was like, 'Hey, I need you to do Issa's makeup—she has to come to New York to shoot something for HBO.' So the first time I ever did Issa's makeup was at the HBO offices in New York, and it was for that thing that airs at the end of
Game Of Thrones
, that's like 'Hey, I'm Issa Rae. My new show, 
Insecure
, premieres next week on HBO, and you can watch it right now on HBO Go.' A week later Vanessa called back and was like, 'Issa has to come back to New York for a full week of press, and we want to book you for it.' We've been working together ever since. I love working with her."
You work with a lot of men, too. How did that come about?
"I got into male grooming the same way I got into working with women, which was through music videos. I'd be on set, and someone would say, 'Hey, Trey Songz is about to do his close-up, can you groom him real quick?' So it was just a trial-and-error thing. Men can be tough. If a woman has a mishap on the carpet, people get it because they know she's wearing makeup. But if a man has one, it's a big deal. Everyone is like, 'He's wearing makeup?!' News flash: Every guy's wearing makeup on the carpet [
laughs
]."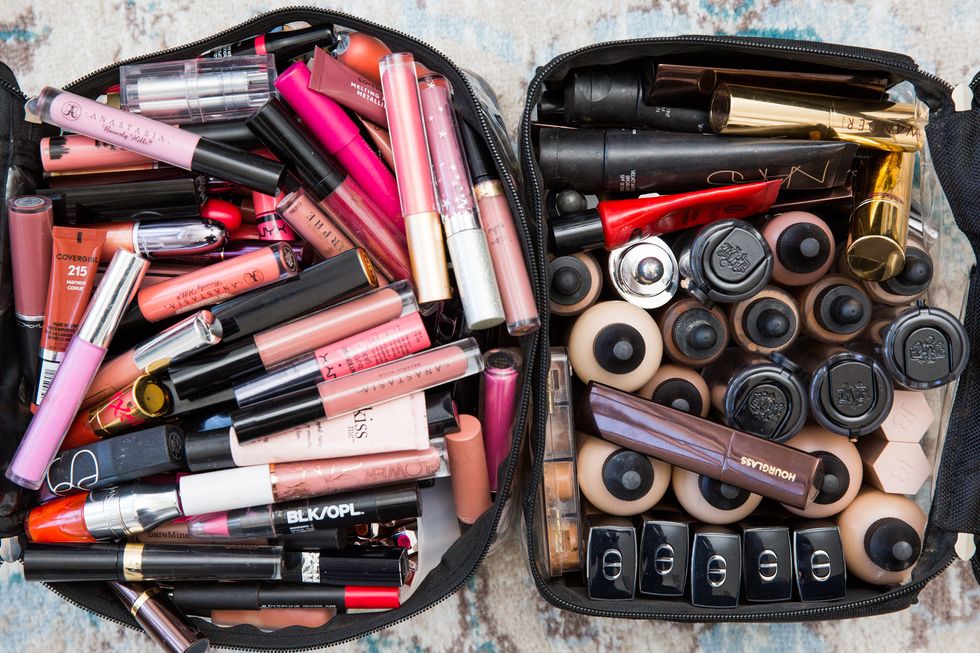 Zayn is another one of your clients. When did you start working with him?
"I was booked to do the dancers for a Young Money video with Nicki Minaj and Jay Sean, and someone asked if I could groom Jay. I met his stylist, Jason Rembert, and we bonded right away and stayed in contact. He texted me like, two years later saying, 'Hey, I have a job with Zayne, do you want to come do it?' I was not remotely a One Direction fan—which isn't even shade; I've told Zayn that a million times, and he's not offended—but I did know it was a big deal that he'd left the band. So I went and asked him what he wanted, and he was like, 'I don't know, I just don't want to look crazy; I have to take a picture.' I got him ready and didn't really think anything of it. Then I went home, and he was the lead story on E! that night. The photo of him signing his solo record deal was everywhere. I was like, 'Oh! People are into this kid. Who knew? [
laughs
].' The second time [I worked with him] I got to set, and
Gigi Hadid
was there getting her makeup done. I was like, 'How did he get her?' It was the video for 'Pillow Talk,' which ended up being enormous. Things just continued from there. Aside from him liking my work, we just vibe. He's a doll."
What role has social media played in your career?
"Social media is probably why I'm so successful, in a different way than people that have just started doing makeup are successful on social media. I didn't start out being a quote-unquote 'Instagram makeup artist' the way a lot of people have. Not that there's anything wrong with that, but because I had a PR background, I understood how to use social media in a very authentic way early. I understood the power of your client reposting you or retweeting you way before that was a thing, and I understood how to craft posts that they'd want to share. And not in a sales-y way, but by sharing fun things like us goofing off on set."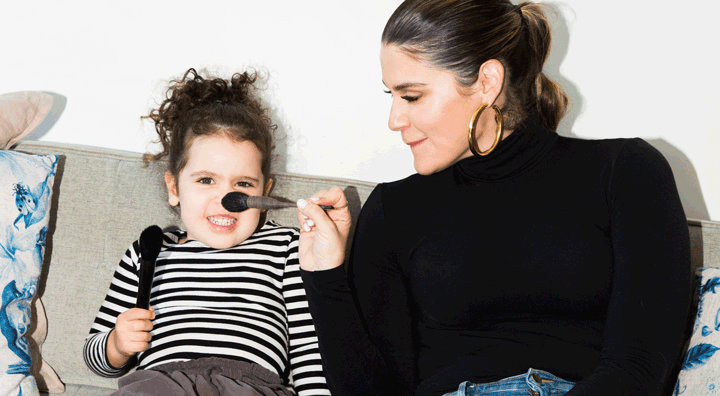 What's your social media pet peeve?
"Nothing irks me more than pages of people who say that they're a makeup artist, and it's literally 7,000 pictures of them airbrushed to death with weird Instagram-y makeup trends. I'm like, 'You're not a makeup artist, you're a makeup enthusiast.' I can't even hate, though. Those people have like, 10 million Instagram followers and are getting deals with brands [
laughs
]."
Who are some makeup artists whose work you really admire?
"Sir John—obsessed.
Patrick Ta
—obsessed. Hung Vanngo—obsessed.
Pat McGrath
, obviously. Tom Pecheux; he does a lot of fashion week stuff, and he's amazing. Val Garland, also amazing. There's a new wave, too, that's awesome. I think this guy Keita Moore is amazing. His Instagram is
@kilprity
; I think he's amazing. Oh, and Mary Phillips. Especially when she did J.Lo; nobody made J.Lo look the way she made her look."
You're a makeup artist, obviously, but also a mother. Anything you want to share about motherhood and how it's changed or inspired you?
"I always say having a kid is the best worst thing you'll ever do. It's so amazing to have someone so happy to see you all the time and just love you so unconditionally. And watching my daughter become a person is so amazing. Also, no one ever told me how funny kids are. She is wild funny [
laughs
]. She's like the funniest person I know. But it's exhausting. And doing it with my job is extra exhausting because I make it that way. I do a lot of red-eyes; I do a lot of put her to bed and then go and catch the last flight to L.A., work for the day, and take that red-eye back, and don't sleep on the plane, and then land and I'm mom again. She just thinks I was out working for the day; she doesn't realize I've flown 6,000 miles and worked and haven't slept. You just gotta be 'on' again, which is a challenge, but she just makes it great. She's the most fun person that I know; she's my best friend. I love her so much."
Want more stories like this?
Meet the Makeup Artist Beloved by Glossier, Rosie Huntington-Whiteley, and Instagram
Taraji P. Henson's Makeup Artist Thinks You Should Wear Blue Lipstick
This Makeup Artist's Brand Is Bound to Go Viral