Prepare to Start Seeing Tambonita's Eco-Friendly Handbags Everywhere
They're even customizable. It doesn't get much better than this.
Designers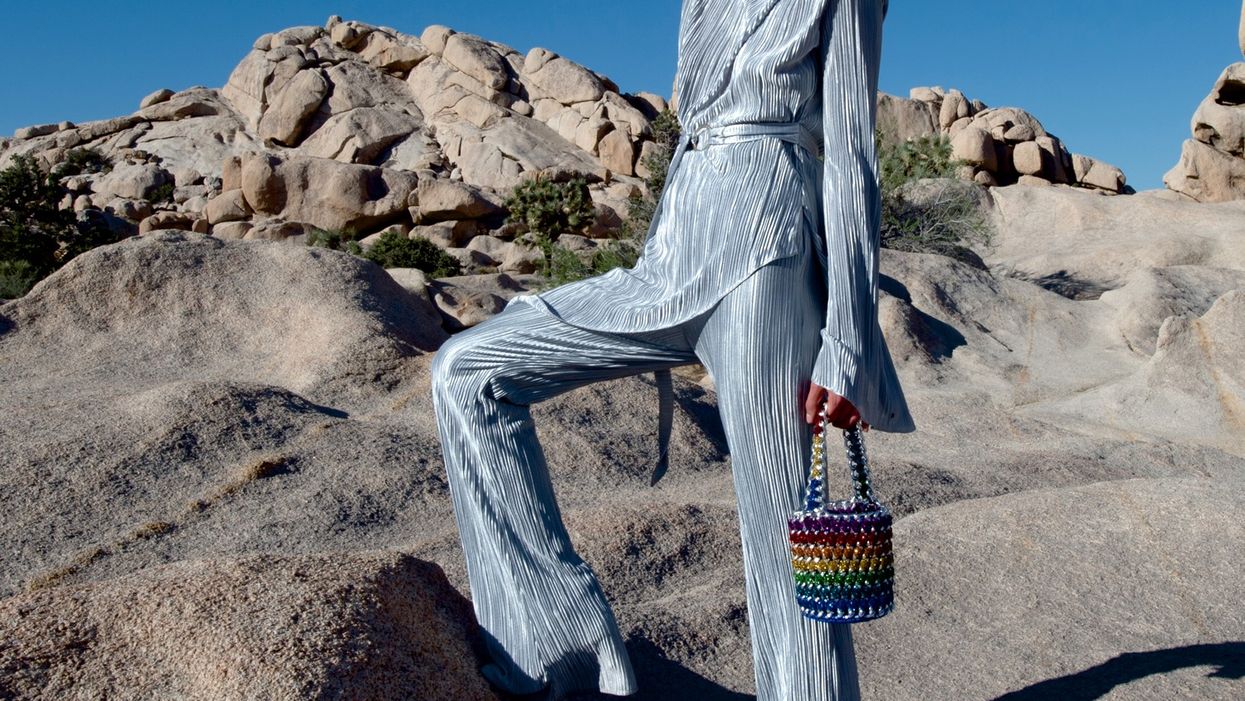 We first came across California-made handbag brand
Tambonita
on Instagram and haven
'
t been able to stop thinking about the woven chain-mail-style handbags and fanny packs since. Founder Tamara Diaz works with local artisans to weave and link each bag. And with sustainability as its ethos, Diaz has even created an upcycling program so that you can get your bag rewoven in new colors and designs so it can evolve with your style.
It all started when Diaz attended Magic tradeshow one year in Las Vegas and met up with Jenni Radosevich of
@ispyDIY
. Radosevich had a booth at the show and was teaching those attending the show how to weave a bracelet together using two chains. Diaz was immediately hooked and continued with her new hobby upon returning home, making bracelets for her friends and her boyfriend at the time. One thing led to another, and Diaz realized with higher quality materials she could use the same weaving technique to create bags. One sublet of her apartment (to bank some cash) and a quick Craigslist ad later, Diaz had created a small collective of artists whom she would work with to bring her newfound brand to life. Today Tambonita counts the likes of Miley Cyrus, Sophia Vergara, and Rocky Barnes as fans. Herein, we get to know Diaz and her brand a little better. 
---
Her first fashion memory:

"I was really big on devouring fashion magazines and making collages. My first collage was a turning point in my life because I found something I loved to do. It became a big hobby of mine and led me to study fashion and become a fashion stylist and designer.

"When I think back, my biggest fashion memories have to do with getting dolled up and ready to go out, figuring out outfits, and doing hair and makeup—that was almost better than the party itself. The whole thrill of crimping our hair, lining our eyes, tying up strappy heels, and transforming ourselves into our own version of a Sex and the City crew was the exhilarating part of fashion."

How Tambonita came to be:

"It was a dream, one that I wasn't sure I would ever reach. I thought being a designer might be too far-fetched. Tambonita happened in my early 30s, when I wanted to create something new and innovative. The art of weaving the two materials together was something I had never seen before, [and] I was impressed with the outcome. This became my new medium—a therapeutic weaving art form that I could apply my fashion forecasting skills to and create sculptures or wearable art forms as well."


It was important for her to work with local artisans in California:

"I wanted to be with the artisans because I was an artisan. I like the idea of collaboration and people working together to create something bigger, like the way art installations are created in Burning Man. I didn't want to be separate. I make the bags with the artisans themselves, and we help each other to improve or expand them into new ideas. It's connecting with people and having my hands on the bags themselves."

And to have a sustainable component to the brand:

"If you own a Tambonita purse, you can send it back to us to have it re-woven in a fresh new color or trim for half the price of the bag (depending on trim). This is a way for your bag to evolve with your style and the seasonal trends and events in your life. I figured that instead of selling you a new bag in a new color you want, I would rather [have the option] to be able to give it a new life. [It's] very good for those who want to eliminate clutter in their closets. We have to be concerned with our environment [and be aware of how] the stuff we purchase affects the planet. We're a brand trying to do our part. We also upcycle CDs and use them inside our handbags—the CD shines through our crochet, creating a super-beautiful unique shine. We have friends [who] donate old CDs to our little studio in Venice."

The Tambonita woman in three words:

"Fierce, stylish, playful."


What a typical day looks like for Diaz:
"I wake up and hug and kiss my little dog, Roxy. [Then I] roll onto my mat for some stretches or a yoga class on YouTube, or I go for a run in my neighborhood, or I bike ride to the Venice Beach boardwalk. My mornings are my time to myself. I make a good breakfast and check my social media and morning texts that came from the biz team on the east coast. Then I either go to DTLA for errands to buy materials, or I go to the studio where the bags are made. It's an extension of my duplex, so I don
'
t have to go very far. I meet there with members of the collective to look over the master list and get started on bag making and reaching our deadlines. We throw on some music and get to work, [and] the day flies by. Lunch is always vegetarian and healthy, [and I have] lots of tea, coffee, and alkaline water throughout the day."
What's next for the brand:
"[We're] exploring new materials, improving silhouettes, engineering designs, creating a solid team of experienced weavers that can work independently [on top of] improving our website, and [adding] direct sales to our website."
Photos courtesy of Tambonita