New Wave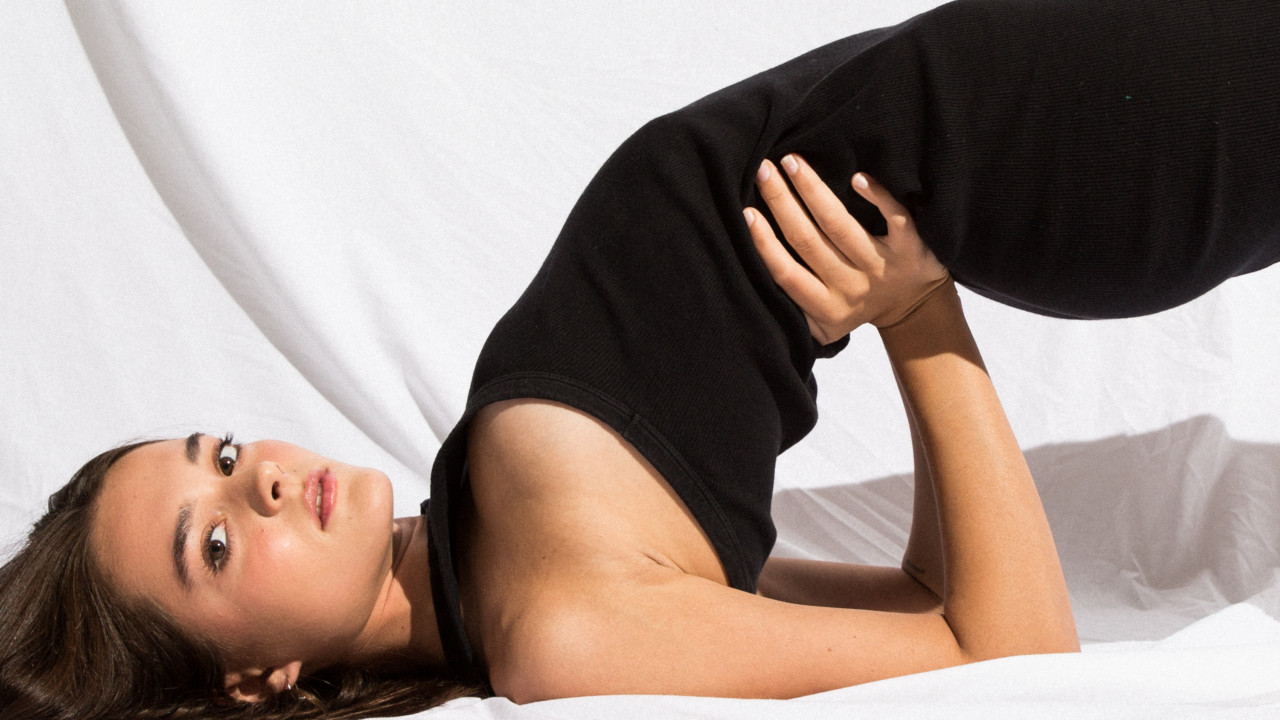 Charlotte Lawrence Is About to Have a Meteoric Rise to the Top of the Charts
The indie-pop singer got real with us about her writing, relationships, and how she knows when to take a break.
There are certain artists who you know are going to have lightning-speed trajectories to the top of the charts right from the jump—you could say it's a little brain tingle that signals your gut. Charlotte Lawrence is one of them. The California native has been on a steady rise ever since her first indie-pop EP, Young, dropped in June of this year.
Lawrence has been musically inclined since before she can remember—singing from age five and taking piano lessons since before she could write songs. "I write, I sing, I play guitar, piano, and drums," she blurts out like a kid picking out their favorite toy. "Drums are new! I'm learning how to play two of my songs on the drums. I feel like it'd be sick." Her first EP dropped only months ago, and she's already set to release her next one in late fall just after she's wrapping her European tour.
You hear the raw openness of a teenage broken heart in her music. And when we sat down with her to talk about starting out in the industry, her personal heartbreak, and her struggle with anxiety, she was just as candid.
It didn't take her long to realize she wanted a career in music:
"I've been obsessed with music since I was little. I've been singing since I was five, [took] piano lessons all my life, and [taught myself] guitar. Then I met this producer who was a friend of my mom's, recorded a cover of "Skinny Love" by Bon Iver, and I was like, Oh my gosh, I love recording. I was 12 years old but knew I wanted to continue doing this. I met my manager, and he set me up with sessions with insane songwriters—I was in a room with the most talented people being like, 'How do I write? How do I figure this out?' Through being put in these sessions and cool environments with such talented people, I taught myself how to write. Since then, I've been writing every single day—five songs a week on average—and just loving it. I love putting out songs and having people connect. Every aspect of being in music is my favorite thing in the entire world."
On her new single, "Stole Your Car":
"This song is super funny because I wrote [it] in a writing camp, and the two songs we wrote before were very sad, deep, heartbreak songs. I came in on this day with this mind-set of 'Y'know what? I've gotten all my sadness out. Now I'm angry.' They were like, 'What are you talking about, Charlotte?' I was in a situation where I wanted what I couldn't have, and I needed this love and attention from a guy that wasn't giving it. I came into the studio and was like, What should I do that's crazy to get his attention? Out of nowhere, I was like, I'm going to steal his car. Everybody was like, 'What are you fucking talking about, Charlotte?' My producer was like, 'We're writing a song about that. That's the song.' It's an angry song, but it has a deeper meaning to me. It's kind of a metaphor for doing something irrational for love."
She's new to the tour life:
"When I toured in America, it was very small, but it was the best week of my entire life. This is the first time I'm going on a real long tour, and I have no idea what to expect. I'm so excited. When I go onstage and I'm singing in front of people, and people are singing the lyrics back to me, that's the happiest I could ever be. It's very scary, but very exciting as well."
But still has a very well thought-out rider:
"I have white wine because I'm legal in Europe, Double Stuf Oreos, and Top Ramen! It's all that I need to survive."
The most surreal moment of her career gave her chills:
"The most surprising [and] surreal moment was when I was onstage in Chicago playing 'Everybody Loves You.' It was the first time that everybody in the crowd knew every single word and was screaming it back at me. It was crazy-surreal. I had chills the entire time. I freaked out."
On if she ever gets nervous to put out music:
"Honestly, not really. Yes, it's very vulnerable as an artist to reveal something so personal, no matter what type of song. To me, I use writing as therapy. I write about everything that's going on in my life. I write about a breakup or a friend or somebody that did me wrong, or someone that I did wrong. It's very much my life. My songs are who I am. I think you have to go past that vulnerability and think of it as something special you're sharing with the world and hope that people can relate to that. My favorite thing ever is when I get messages from people being like, 'Oh my gosh, this happened to me too,' or 'This made me break up with my boyfriend, I'm so empowered by it.' Having people feel the same way is so important to me because growing up, and still to this day, when I listen to music I'll fall in love with a song because I [relate to it]."
There is one album that she currently has on repeat:
"This girl Phoebe Bridgers is insane, and her album, Stranger in the Alps, has been on repeat for maybe four months. I've been obsessed with it and think she's the best writer in the game right now. I grew up listening to Damien Rice and Neil Young and The Beatles, and I honestly think she's on that level of writing. It's insane. I love music, I have so many songs I'm obsessed with, but that's the one album I'll recommend to anybody at any time."
Why it was so important for her to open up to the world about her anxiety:
"For the longest time no one really spoke about it, but so many people were going through it. I started realizing that I wasn't the only one that had these insane panic attacks and felt so alone sometimes. I realized my friends and my parents went through it—so many people. It's so important to speak up about that, because it's a real issue. I have anxiety all the time before I perform. I get so insanely scared, and it helps to speak to people about that and be honest and open because you're never going to fix it or get even close to helping the issue if you bottle it in. It's so important, and it ties back to why I release music and why I'm not scared to. Music, I believe, is this sort of therapy and chills people. It's art, and it's beautiful."
It's led her to not be afraid to tell those around her when she needs a break:
"I'm super lucky, and I remind myself how lucky I am every single day that I'm able to have a career that is also my passion. Not a lot of people get that. I feel so insanely blessed and lucky every single day. I also surround myself with the most amazing people, I have the best friends in the world and the best family. Altogether I'm a very, very happy person, so whenever I feel overwhelmed, it's very easy to speak to somebody or tell my manager I need a break."
On a day off you'll find her in one place and one place only:
"Either in bed watching movies with friends, or just sleeping, honestly. Some would say going out, but realistically no, just sleeping and chilling."
The best piece of advice her parents ever gave her:
"Do what you love, love what you do. Throughout everything, [they said], 'We will always support and help you with your dreams as long as you work hard at them.' I was like, 'Facts, I will.' They're the best parents."