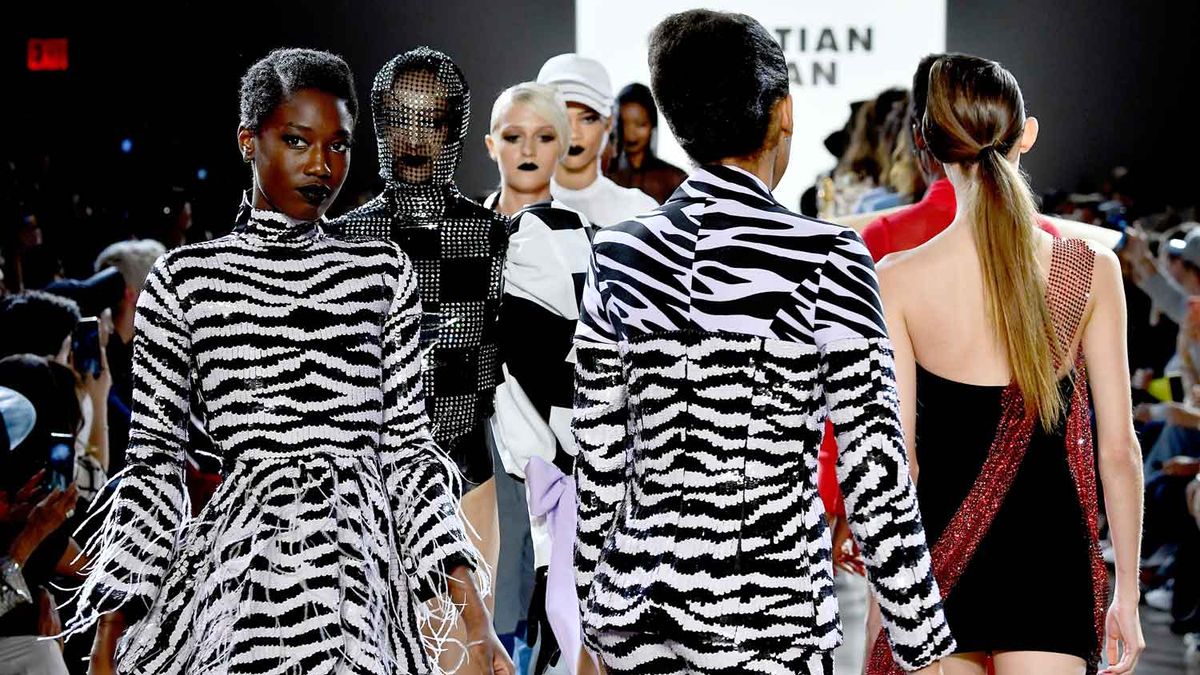 Designers
Seven labels on the verge of greatness.
Another
New York Fashion Week
has come and gone, and as mainstays such as
Marc Jacobs
,
Oscar de la Renta
, and Carolina Herrera showed collections to much fanfare, a few emerging designers—who presented for the first, second, or third time—generated considerable buzz and excitement, too. They're among the best and brightest talents out there, and names you'll definitely want to remember. Ahead, the emerging NYFW designers we can't stop thinking about.
---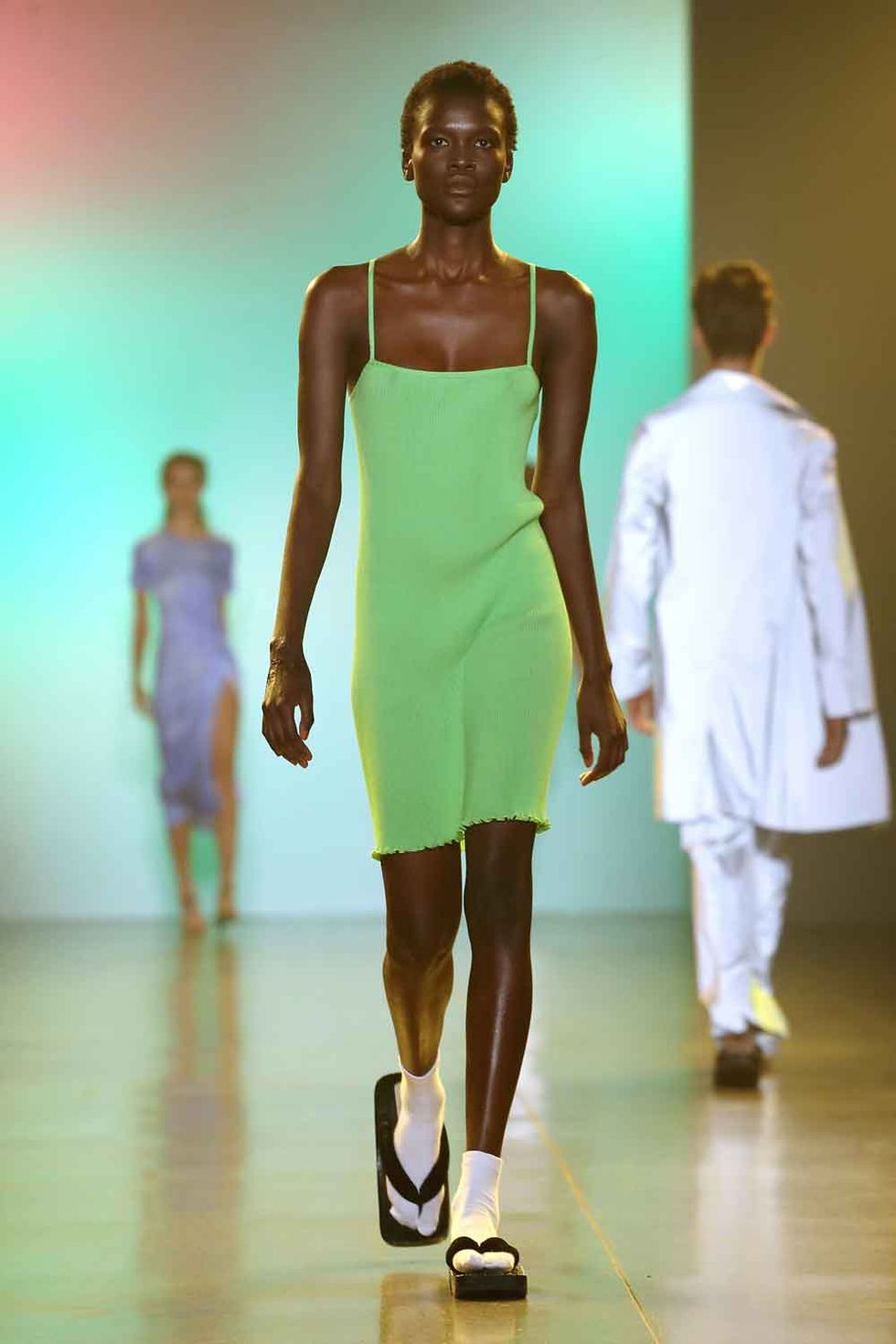 Prisca Vera Franchetti
founded her line Priscavera in New York City just three years ago and has already become well-known for unexpected pieces that fuse elegance and downtown cool together. You might recognize the brand for its sheer flame-printed dresses, tops, and skirts from spring 2018. Retailers couldn't keep the style from selling out, and the look has been seen on everyone from Kelela to cool-girl bloggers like Reese Blutstein.
This season's collection contained anything you could ever want in your wardrobe: silky, metallic ruched dresses, pastel tops, and matching skirts styled under new-wave obi belts, neon tops and dresses, and one especially ethereal-looking lilac button-down skirt-and-top combo printed with white bursts of fireworks. Franchetti also infused the collection with original prints from Wong Kar-wai's 1995 cult film,
Fallen Angels
. "On one side, the neon-lit streets, loud underground subway stations, frenetic fast-paced city, on the other the intimate indoors, the mysterious inviting soft lighting, hazy corridors and morbid, inviting surroundings inspired me," she says of the film. "I was very interested in how effortlessly the two coexist together in an unsettling harmony. I imagined characters from the outcast world, wandering at night through the wet city, crossing paths."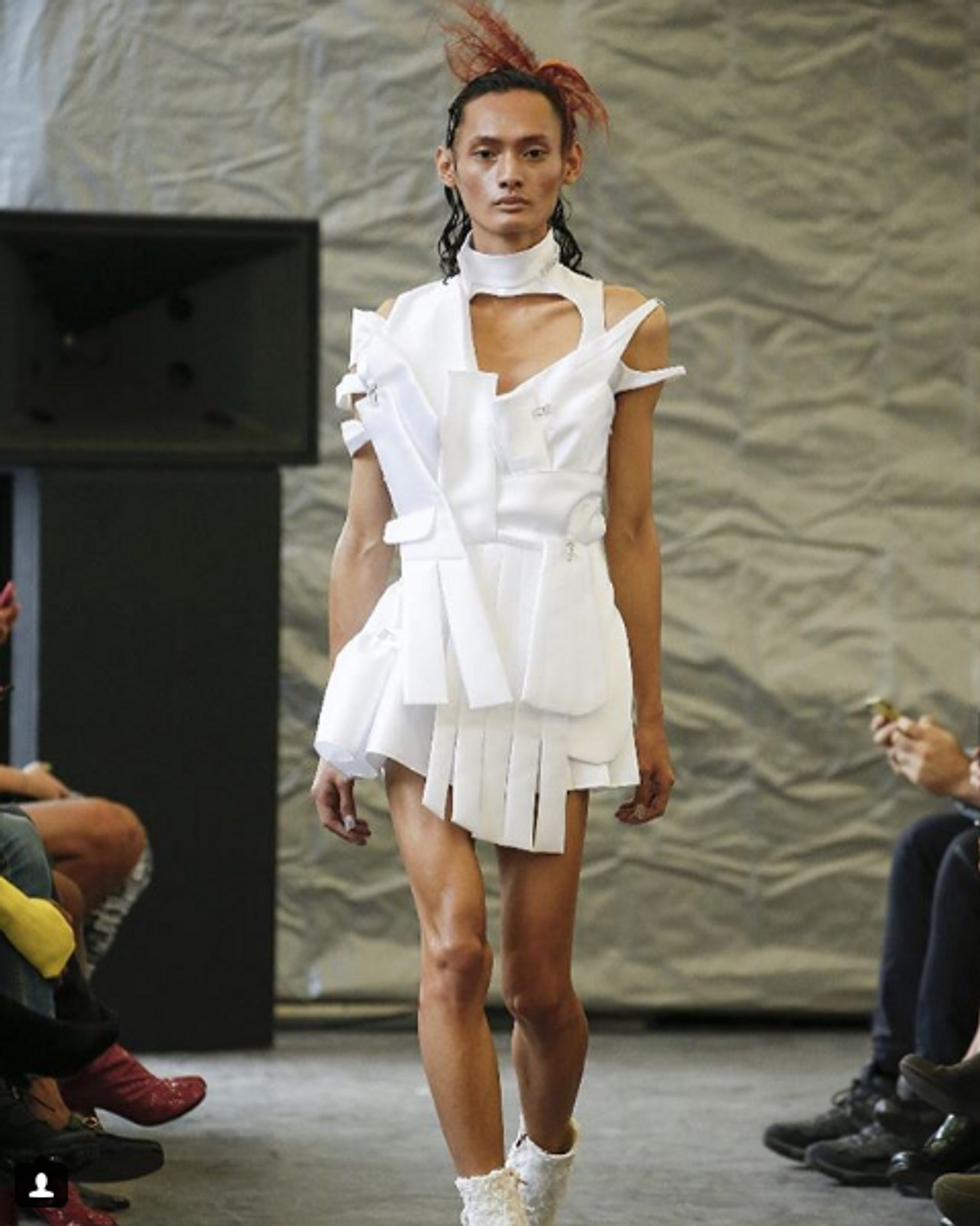 While you might not immediately be familiar with the label Luar, you've likely seen New York-born-and-bred Raul Lopez's work before. In 2006, he founded the eponymous Hood by Air brand with Shayne Olivier, and for the past few years he's been designing under his own label, tackling topics like gender and underground culture, all while challenging the notion of what fashion is. He was also recently named a CFDA finalist.
This season Lopez sent a collection of cloud-like cyber-rave looks down the runway. There were sheer jackets, plenty of oversized cool denim, and blazers reworked with Swarovski crystals—along with exceptional tops rendered from fabric held together with chain or stiff, sculptural corsets, with the most adorable earrings that served as mini coin purses. These felt like just the sort of pieces that Solange, already an avid Luar fan, might wear. "It was inspired by Dante's comedy and purgatory," said Lopez backstage, referencing the mostly white color palette. "I just feel like right now in the world, everyone's fighting to get to the top to save themselves. Society, economics—everything. I was referencing the renaissance era then and now. It's like thotaissance. She's a thot, but she's into the renaissance."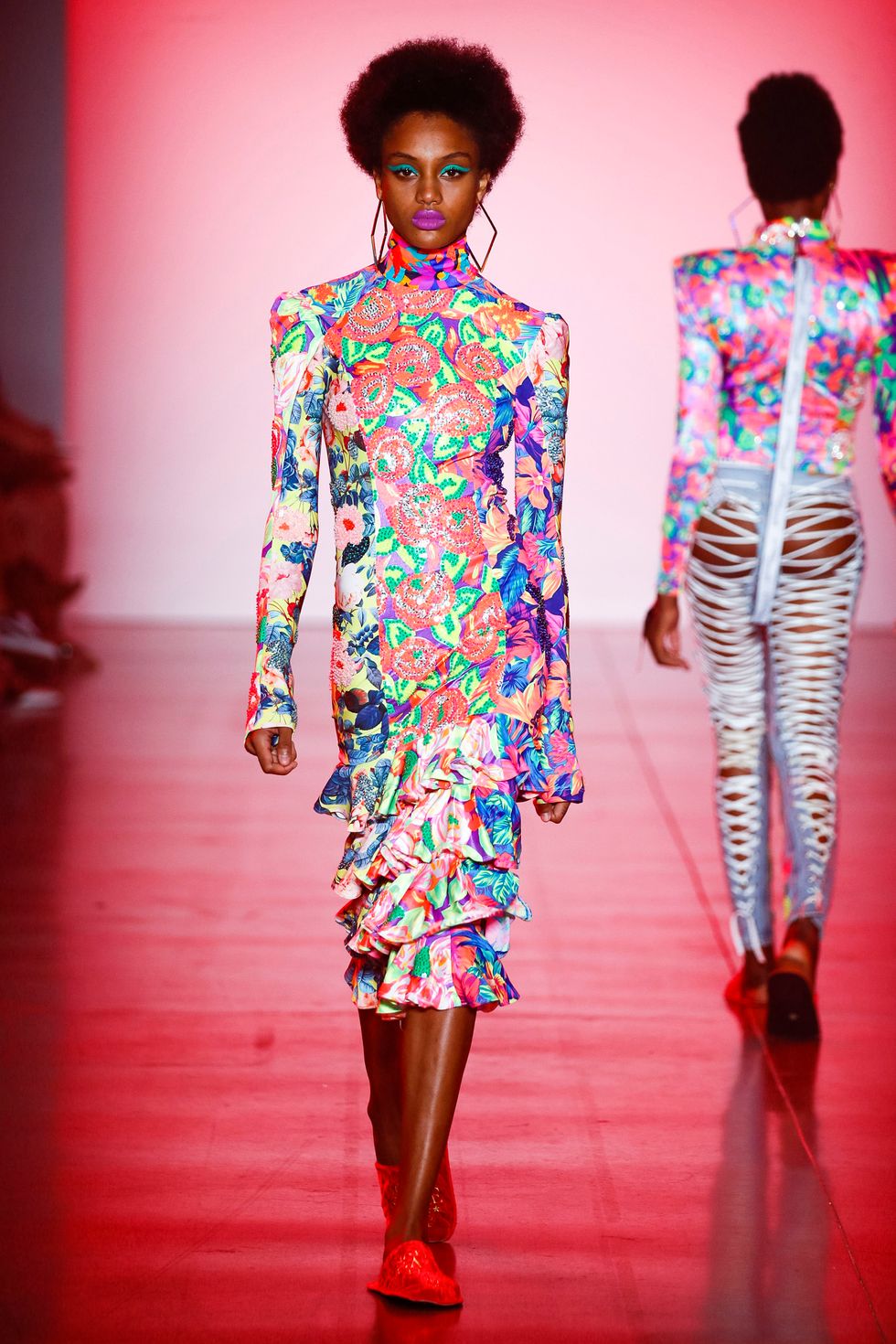 Founded by friends Nadia Napreychikov and Cami Jame in 2010 in Australia, Discount Universe pulls together all the subcultures you can think of, creating one lighthearted mash-up of sequins, humor, glamour, the extreme, and the fantasy in between it all. For spring 2019, the duo presented their first-ever runway show at NYFW—aside from a group show for VFiles three years earlier—inspired by the massive cult following here in the states.
The hand-sequined dress, lace-up pants, and sheer Swiss dot gowns with puffed sleeves were pretty upon first glance, but they also told tales of a very serious and inspiring topic. "The inspiration comes from, first and foremost, being a woman in today's world," said Jame backstage. "Our feelings towards the commodification of feminism and the objectification of the female body, social media, and the internet overlaid with fashion that is sold is the reason why we used literal labels." Make no mistake, underneath all the striking details were strips of fabric that read, "promiscuous," "whore," "hysterical," all words traditionally reserved to describe women. To drive that concept home, the designers also outfitted the non-models cast using Instagram in comfy, silky hotel slippers as opposed to killer heels.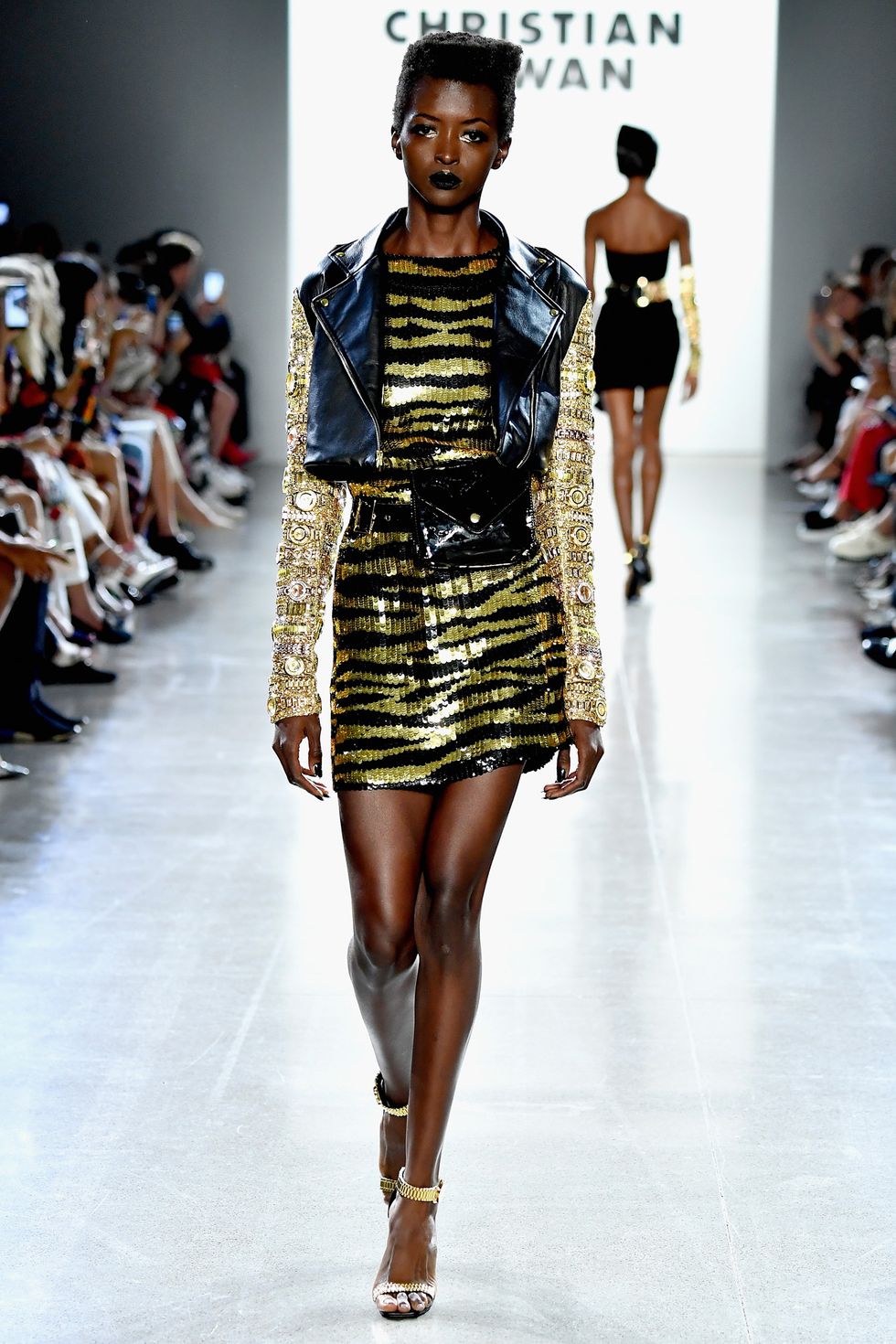 The 23-year-old Christian Cowan has dressed Cardi B almost more times than he can count—in addition to Rihanna, Lady Gaga, Miley Cyrus, Beyonc
é,
and It girls like Hailey Baldwin, Kendall Jenner, and Alexa Chung. His aesthetic revolves around bright colors, sequins, and even dresses that light up. For his second time ever showing at New York Fashion Week just a few days ago, Christina Aguilera sat next to Kim Petras, captivated by Cowan's showy, glitzy pieces. And so it's no surprise that he was also just nominated as a CFDA finalist.
"It's the dream," says Cowan. "When I was 12, I decided I would be a fashion designer and live in New York City, and to be part of such an amazing week, it's a dream." This season, Cowan showed a collection full of exaggerated, structured tulle dresses and reworked suiting done up all in black along with animal-print jumpsuits and dresses, and pastel-hued dresses embellished with massive feathers—all the kind of thing you'll probably see on the next star-studded stage. "My future goals are to create a modern fashion house that is based on inclusion and excitement," he says. "I want to enrich American fashion and create opportunities for more like-minded individuals."
Consider Collina Strada the label you didn't know you needed in your wardrobe yet. Founded in 2009 by Hillary Taymour, the designer has presented nearly 10 times at NYFW, all with an element of performance involved. Take, for example, last season, when she staged a self-empowerment-fueled wedding in which the artist Sasha Frolova made vows to herself. This season, models walked the runway to the tunes of a soothing sound bath.
As for the clothing, most of the pieces are decidedly genderless, non-constricting, free-flowing, and easy to wear anywhere. They are everyday basics that have been tweaked ever so slightly with a bit of craftiness, so that they feel new and effortless. For her spring 2019 collection, there was an emphasis on maxi-length tie-dye dresses, sheer, open tops that can be thrown over anything, and silky white dresses. "With this collection I wanted to focus on a predominantly white palette with a color story that comes from each chakra point in the body," says Taymour. "This helped me create a state of calm and zen, but at the same time symbolizing all the chakras from root to third eye. I have been wearing tie-dye constantly all summer. I just saw it fitting for the chakra colors, and I actually can't wait to wear it."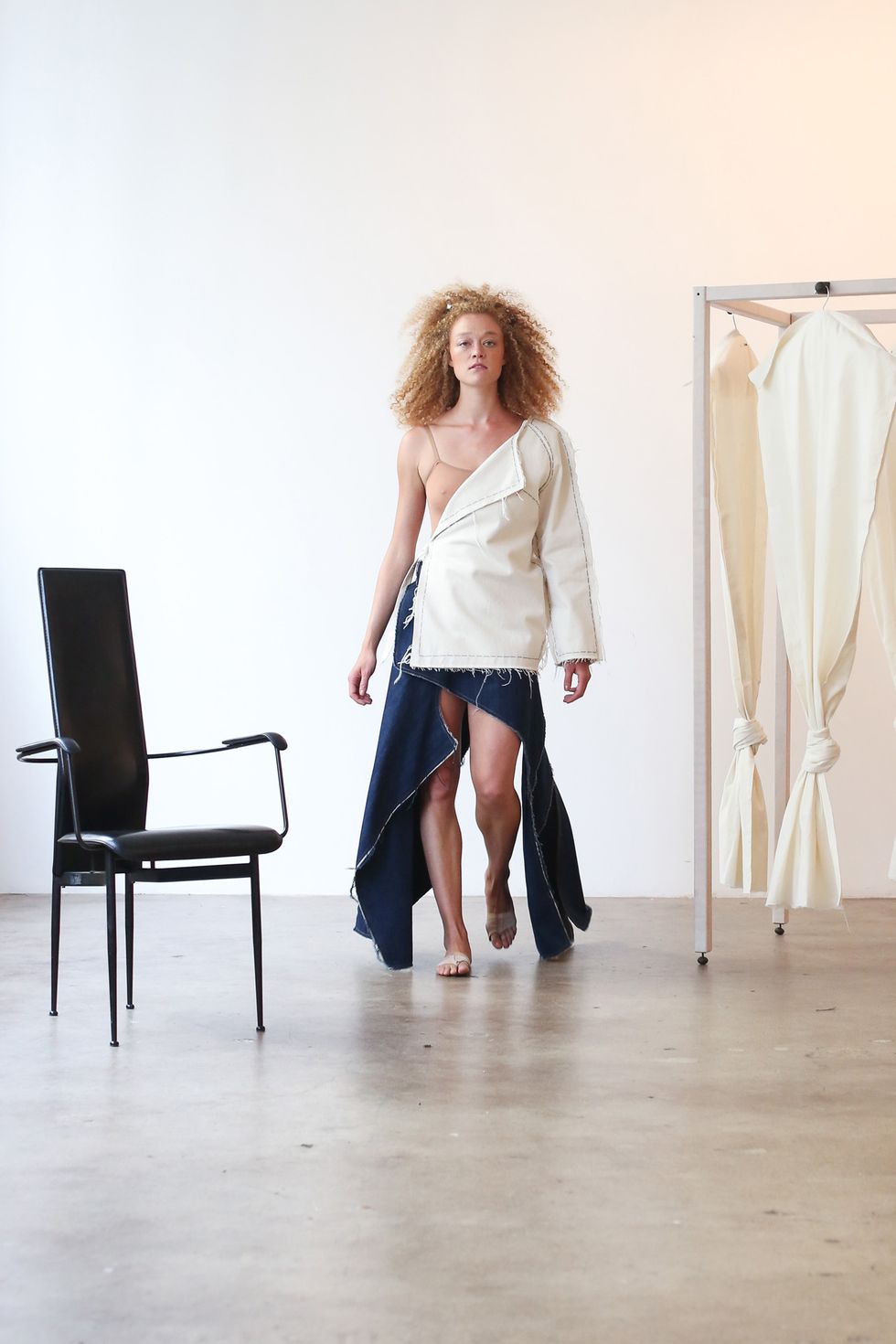 This season also saw the launch of an entirely new label dubbed A Company. Sara Lopez studied couture in Paris under labels including Yohji Yamamoto, Anne-Valerie Hash, and Saint Laurent, before working as co-designer for Rachel Antonoff for five years. A Company is a conceptual womenswear line dedicated to transforming the traditional, classic garments into something new, while revealing the history and DNA behind them.
For the label's debut season, Lopez focused on the art of the trench coat and staged a performance dance piece to celebrate it. All pieces in the collection were made from recycled trench coats which took on new forms—tops, pants, and all. "Traversing a land between art and design, the collection began through the discovery of new forms by rearranging the flat patterns of a vintage trench coat, deconstructing its essential function, and uncovering the curiosity in the innovation of clothing during wartime and the details that remain when their purpose is no longer needed," says Lopez. "This ethos is expanded throughout the collection, exploring the classic work shirt and denim, blurring the worlds between art and fashion, military and civilian, maker and wearer."
Just a little over a year ago, Ji Won Choi was presenting her work as a student at Parsons' annual BFA show. This season, she was chosen as one of three designers to present on the official NYFW calendar in collaboration with the CFDA and LIFEWTR. Her vibrantly hued jackets with rounded shoulders and an emphasis on linear movement certainly stood out, but the story behind the collection was also fascinating.
"This collection is about me taking control of my cultural identity," she says. She grew up in Oklahoma but was born in Korea and has lived in four different countries and traveled to 30 more in the past four years alone. "I grew up rejecting my culture because I felt so different and foreign, but what really helped me embrace my culture was traveling." In fact, the prints on her pieces this season came directly from some of the memorabilia she collected over the years: boarding passes, train tickets, and more that serve as both documentation and modern elements of style.