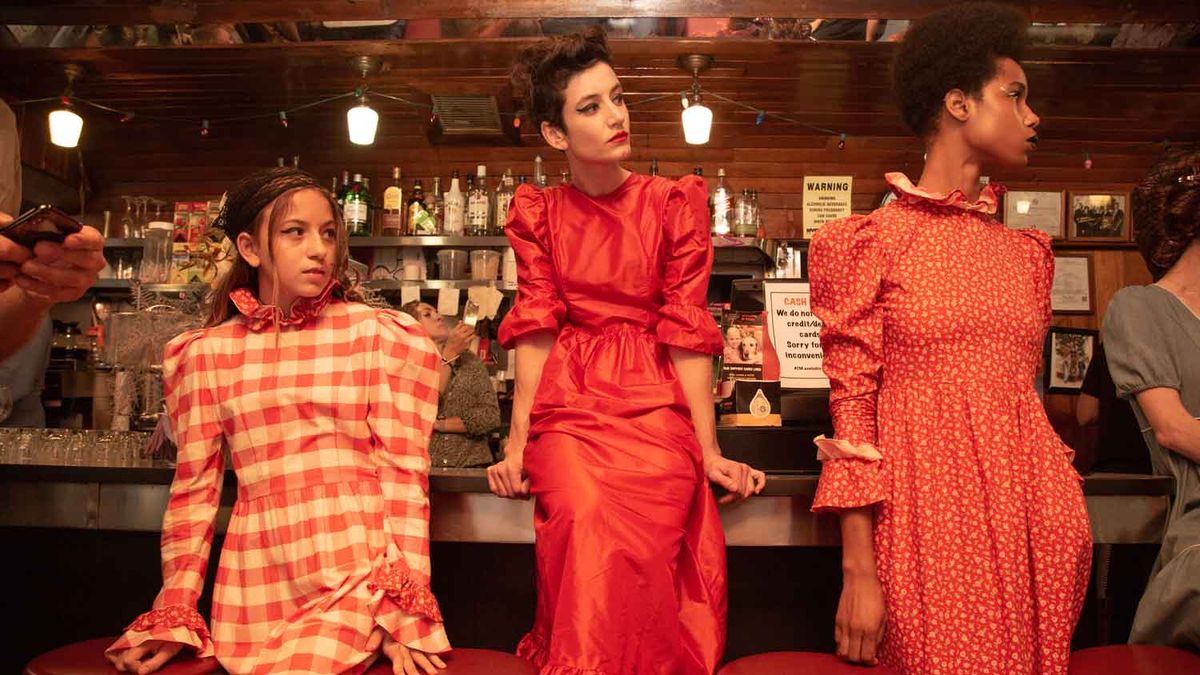 Fashion
Batsheva Will Make You Want to Live in Prairie Dresses
Our chat with designer Batsheva Hay, and a look at the brand's first New York Fashion Week presentation.
Alexey Yurenev
When Batsheva Hay decided to start making
clothing
two years ago, it was purely coincidental. She didn't set out with any particular idea or business empire in mind, other than that she wanted to have one of her favorite vintage
Laura Ashley
dresses remade.
"When I started making the clothing, it was just for me, totally just like a personal wardrobe kind of thing," she says from her Upper West Side apartment, which doubles as her studio space. It's a few days before her first presentation at
New York Fashion Week
, which was held in an old-school diner with models handing out shakes and fries to guests. "Because I had just had kids, I was finding less and less to wear at stores. What I liked was my vintage clothing that I was always wearing, but because it was vintage, it was tearing; it just wasn
'
t in great condition. You know how it is—the fabric gets thin, it tears at the armpit, whatever."
---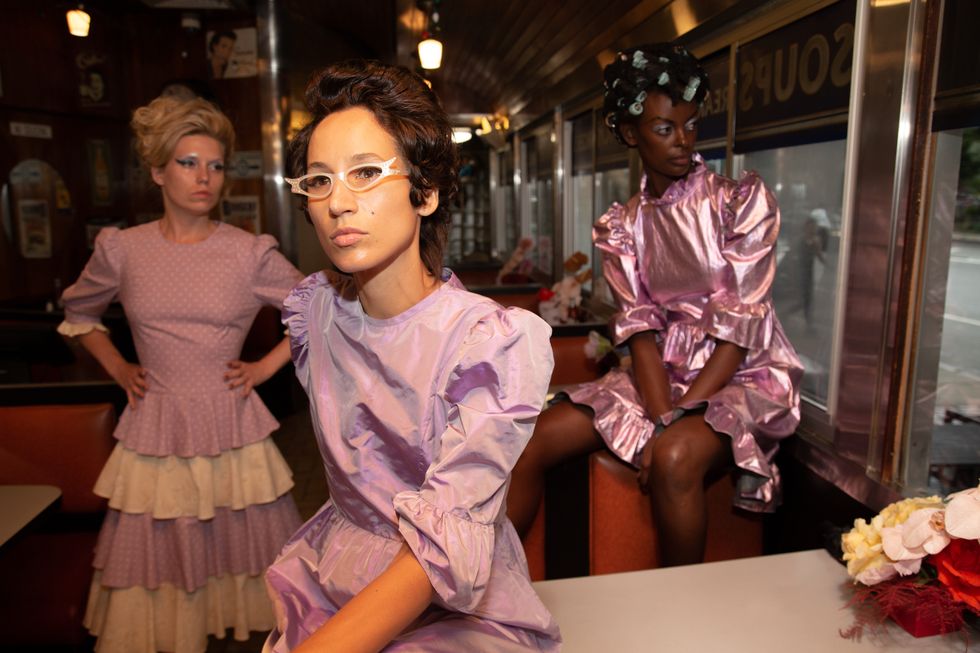 Take a look at any street style gallery, and you'd be hard-pressed not to see at least one editor fashion industry fixture wearing a Batsheva dress. Incredibly distinctive, pieces are almost immediately identifiable by the exaggerated shapes and modest silhouettes, coupled with floral prints on stiff cotton, or apron-like features with quirky details such as heart-shaped pockets. And though the label is best known for the dresses, Batsheva has expanded to blouses, skirts, bags, and even matching headbands. Nearly everything in the collection retails for under $500, and Batsheva dresses have been worn by a rather vast crowd: Lena Dunham, Erykah Badu, and Gillian Jacobs, to name a few.
Back to that first vintage dress: "I just went to a pattern maker in Midtown," says Hay. "While I was just trying to recreate it, I ended up changing so many elements that it looked completely different. I added puff sleeves and added two ruffles at the collar and changed the waist to be higher, just because I finally had the opportunity to actually make exactly what I wanted, you know?" Before this, Hay had looked around at other options only to be met with disappointment. "With that style, cotton-printed, interesting kind of like old-fashioned shapes, I wasn
'
t finding really any of that at a reasonable price. That wasn
'
t something you'd find at Valentino."
Hay's process is still similar to how she went about remaking that first dress. She sketches from her apartment—or sometimes her photographer husband's studio, if she can't concentrate (Alexei Hay, who regularly shoots celebrities and magazine covers)—before bringing her rough sketches to her team of pattern makers and seamstresses. They'll go through the process of making any tweaks to the overall silhouettes of the skirts, tops, and dresses before selecting the final fabric. The business is still small enough that Hay sees every order that comes in from the website. And of course, since this is a fashion line spawned from Hay's general need to recreate the perfect dress that didn't exist, she also dabbles in a good amount of custom pieces too.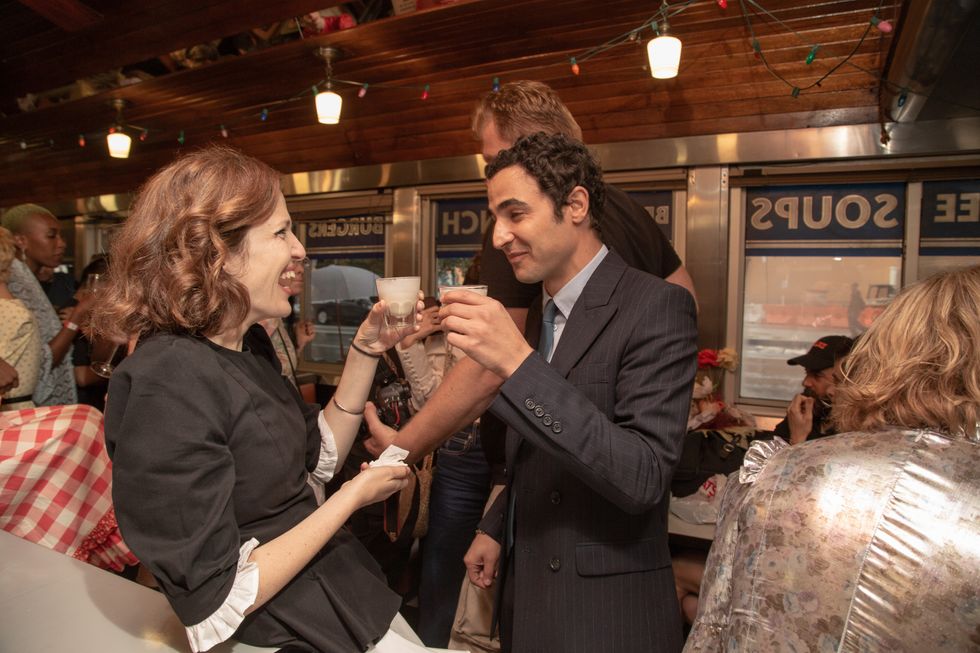 "It
'
s the most fun for me to do because I start with vintage fabrics that I find online or in random markets," she explains. "But when you find them, you can only get like, five yards, three yards, whatever, so I love that process of finding these real, old vintage finds and then seeing what I can make with it. It
'
s usually just one dress, so it ends up being custom. At the same time, it is time-consuming, so it
'
s not the best business idea, but it
'
s kind of my favorite thing to do, so I keep on doing it." Hay has also dressed a few Batsheva brides and dabbled in childrenswear to match its signature prairie dresses for women. "I started making little ones for my daughter because she really liked my dresses."
As a former lawyer (who still practices from time to time to fund her fashion label), Hay's Orthodox Jewish roots and identity are influential to her aesthetics. You won't find any revealing body-con pieces in Batsheva's collections, but you will find effortless, floor-length maxi dresses, or dresses that hit right above the knee with puffed, almost architectural sleeves. "If you see what I post on Instagram, a lot of my inspiration is Amish women and Orthodox women," she says. "I think there
'
s something very interesting about these subcultures—these outsider types of women. It
'
s like the antidote to the Kardashian style that
'
s super flashy. I tend to be the person that would wear the awkward, covered vintage dress that I think looks cool, but doesn
'
t look sexy."