Why Colin Kaepernick's Nike Campaign Has People Torching Their Kicks
Another chapter in Nike's long history of taking a chance and making a statement.
Culture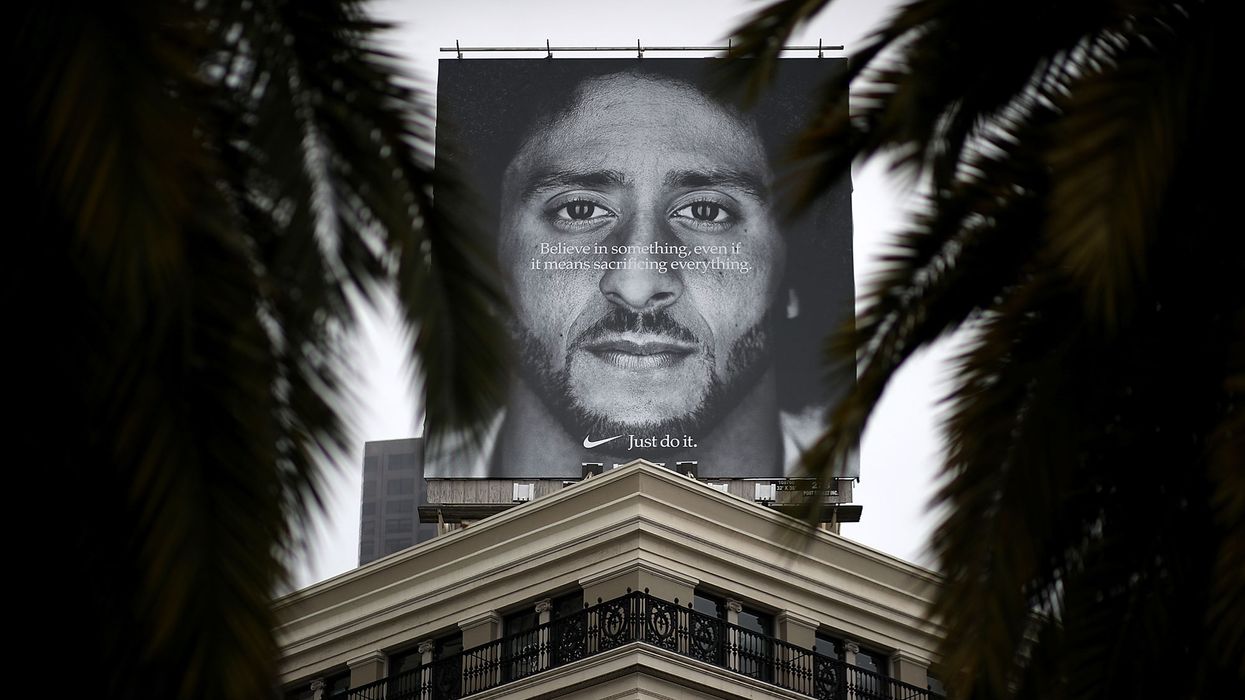 Nike's latest ad campaign
has conservatives taking to social media to set fire to their gear. To be fair, there may be some grumpy arsonists burning their kicks in the privacy of their own homes, but as they say, if you burn your Nikes in protest of the company supporting a renegade fighting for social justice and you don't post it on social media, does it create any smoke?
That renegade is none other than Colin Kaepernick, the former San Francisco 49ers quarterback who began taking a knee for the national anthem in protest of police brutality and racial injustice shortly after Alton Sterling was shot and killed by police in New Orleans in mid-2016. Kaepernick's choice to kneel was a peaceful protest, but it hasn't been seen that way by all. Less than a year after the first time he sat out the anthem, Kaepernick opted out of his contract with the 49ers and became a free agent. No other team has signed him since.
Kaepernick re-entered the spotlight this week when Nike debuted a new campaign featuring his face, with the text "Believe in something. Even if it means sacrificing everything."
Nike's campaign
sends a statement that far outshines a few conservatives torching some clothes and shoes. It's worth mentioning that there are plenty of people who could use those, and donating unwanted apparel would be a much more conscientious way to voice disapproval, but conscientiousness has never been a hallmark of conservative activism. It's also worth mentioning that as far as burning apparel that you already paid for goes, the joke is mostly on you. In any event, Kaepernick joins Serena Williams, LeBron James, Odell Beckham Jr., Shaquem Griffin, and Lacey Baker in his new multi-year deal as part of the company's 30th anniversary of the iconic "Just Do It" campaign.
Conservatives
have spoken loudly
about their view that his move was disrespectful to the flag, the country, and military personnel. Trump didn't like it. But many have praised Kaepernick as a hero. Barack Obama was diplomatic in his opinion: "I want Mr. Kaepernick and others who are on a knee...to listen to the pain that that may cause somebody who, for example, had a spouse or a child who was killed in combat and why it hurts them to see somebody not standing," he
said
. "But I also want people to think about the pain he may be expressing about somebody who's lost a loved one that they think was unfairly shot."
Ultimately, though Nike shares fell about 3 percent yesterday, they quickly recovered a percentage point. In the long run, this is a business decision from the sportswear conglomerate, aimed at attracting young, educated, socially conscious and—it can't be forgotten—
cool
people to their brand. Whether this is also a choice of true social activism
is debatable
, but no matter—either way, it sends a clear message of support.
This isn't the first time "Just Do It" went political. As the
L.A. Times
points out, two headline-catching examples happened back in 1995, when Nike used their platform to spotlight women athletes' rights with its
"If You Let Me Play" campaign
, written and produced by women. The same year, they featured Ric Munoz, a Los Angeles marathoner who was HIV-positive.
"Nike is a huge business," Philadelphia Eagles defensive end Chris Long
tweeted
yesterday. "They've calculated risk. They may even have reason to believe this will make the brand more popular which means the guy burning his white air monarchs is in the minority. Bitter pill to swallow, I'm sure. Good luck [with] the protest. Bet they anticipated it."
Yesterday, the NFL released a statement seemingly in support of Kaepernick, though their actions have said otherwise. "The National Football League believes in dialogue, understanding and unity," President of Communications and Public Affairs, Jocelyn Moore,
said
. "We embrace the role and responsibility of everyone involved with this game to promote meaningful, positive change in our communities. The social justice issues that Colin and other professional athletes have raised deserve our attention and action."
As Kaepernick's former teammate Eric Reid put it in an op-ed for the
New York Times
last year, before he, too, became a free agent who is likely unemployable because of his choice to stand up for justice: "It should go without saying that I love my country and I'm proud to be an American. But, to quote James Baldwin, 'Exactly for this reason, I insist on the right to criticize her perpetually.'"
As for me, I've had my eye on
this pair of Skylon IIs
. Now seems a pretty good time to hit "buy." 
Photo: Getty
Want more stories like this?
California Wildfires Continue to Devastate the Region
The Sneakerheads' Guide to Landing the Rarest Pair of Nikes
This Mother-Daughter Duo Share a Passion for CHANEL & Sneakers