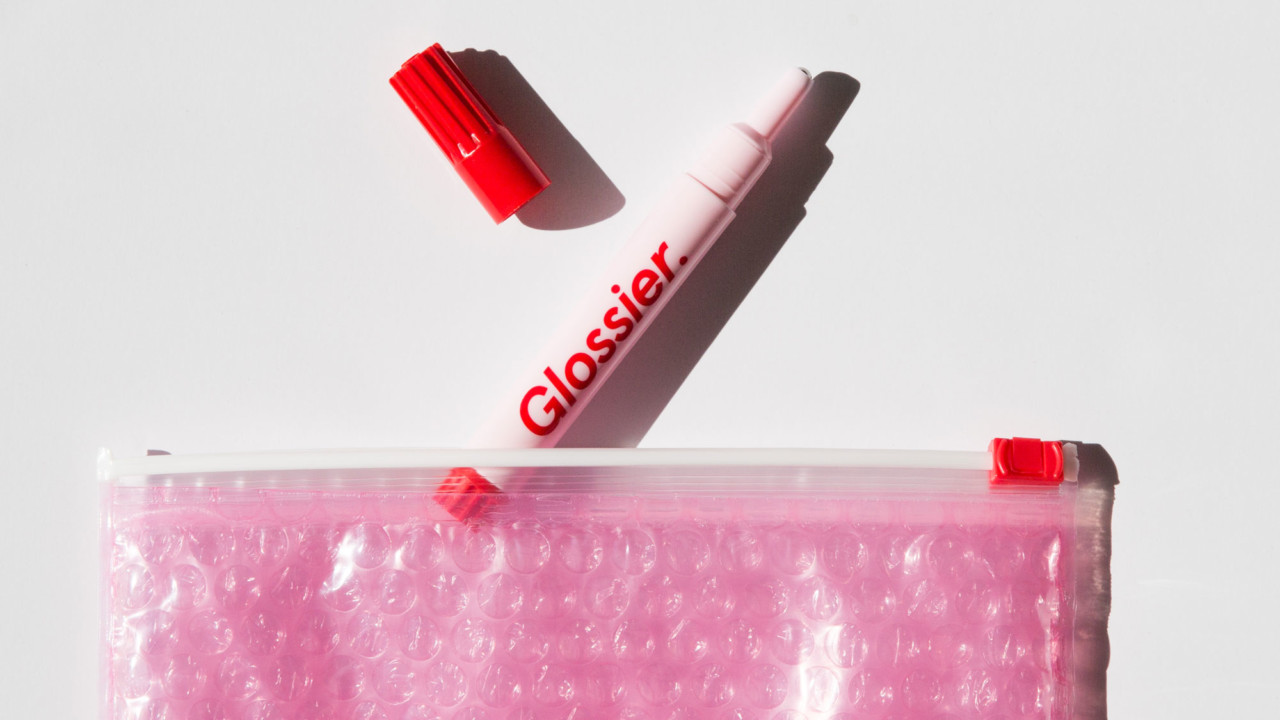 Glossier's New Launch Is Perfect for Acne-Prone Skin
Why we're excited for the brand's latest skin-care product.
Since Glossier's ethos is founded on having fresh, glowy skin, it only makes sense that the beauty powerhouse has launched a new product to help combat blemishes: Zit Stick. Launching tomorrow, September 6, conveniently in time for New York Fashion Week madness, the "breakout eraser" is a portable spot treatment containing a blend of acne-fighting ingredients like benzoyl peroxide (BPO) and capryloyl salicylic acid, as well as calming glycerin and niacinamide. Glossier claims pimples can start to reduce in size after three hours and testers saw more than half their pimples gone in 24 hours. The niacinamide is also found in the brand's Super Pure serum and helps to fade post-inflammatory dark spots with long-term use.
The stick (which admittedly looks a bit like a Tide-to-Go pen, so double-check that before grabbing it out of your bag) has an antimicrobial stainless steel tip, which you roll onto the skin after twisting the end to dispense the formula. Although it appears white out of the packaging, the gel-like treatment goes on skin clear, ideal for wearing under makeup. (Editor's note: Benzoyl peroxide can bleach fabric, so if you're using it before getting dressed, wait until it is completely dry.) And if you're applying during the day rather than just at night (Glossier recommends three times a day for the best results), be sure to use that sunscreen, since BPO also increases your skin's sensitivity to the sun.
Although Zit Stick has a relatively high formulation of active ingredients at 5 percent, we were happy to find that our skin didn't feel overly dry or irritated after application. We still recommend applying a moisturizer afterward to keep your skin hydrated—especially if you're using it multiple times a day—as parched skin can cause an increase in oil production and, ironically, lead to clogged pores. Like really any acne treatments, this isn't an instant fix for pimples, but the double whammy of benzoyl peroxide and salicylic acid has us thinking that Zit Stick is darn close. We predict it will be one of our favorite products in the ongoing battle for blemish-free skin.
Want more stories like this?
How Glossier's Newest Launch Is Different from Their Other Products
Our Producer's Super-Simple Anti-Acne Skin-Care Routine
9 Product Ingredients That Make Beauty Editors Cringe