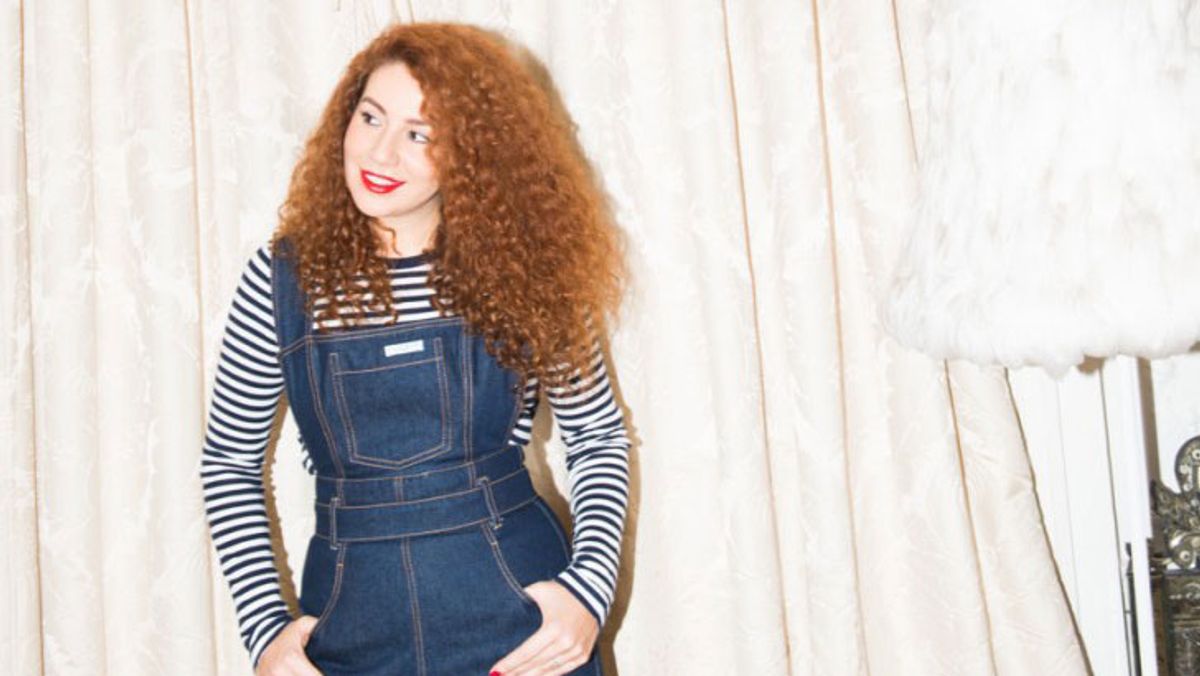 Hair
It all started with an international move.
Since moving to New York, a lot of things have happened I didn't expect. Like how hard I'd fall for huge drugstores the size of small European countries, for example, or the convenience of express subways (it's the little things). But most notably (and vainly), it gave me better hair.

In the move from London, I packed my entire life into the back of a shipping container, but hadn't bargained for the fact that none of my electrical appliances wouldn't work over here. So redundant were the microwave and kettle, but more troubling were my hair dryer, straighteners, and all other heat styling that wouldn't fit into American plug sockets. Rather than going out and buying the whole lot again, I resolved to finding a plug adapter. But several weeks ticked by, and I still hadn't gone out of my way to pick one up (a bed took preference, oddly enough).

When I did come down to it, I hesitated. In the month or so I'd spent freeing my hair from my numerous torture devices, it had thrived. The frizz that surrounded my hairline had miraculously started to grow, and my hair in general felt thicker, looked shinier, and was all-round more swishy. The reason being, heat stylers sap moisture from hair, which leaves it more prone to breakages and split ends. Plus, if you dye your hair like I do, the dryness from heat causes cracks in the follicles, which lets the color escape, leading to fading and dullness.

Refreshingly, we've seen a rising trend in effortless beauty. That's to say not only looking effortless, but actually being effortless to do. Backstage at Victoria Beckham, Chloé, and Barbara Casasola, hair was styled with very low maintenance to look "air-dried" and natural.

I knew New York is the city of liberty, freedom, and opportunity—I hadn't realized it would be the city of great hair, too.


---
Tips for letting hair dry frizz-free
For natural waves…
Start by raking a palm-full of mousse through damp hair, and braid loosely. This is particularly good if you're prone to frizz, as it keeps hair clamped down while it dries.
For bouncy blowdry waves…
The key is to sleep with your hair in a twizzled bun (multiple buns if you have shorter hair, to get a more even bounce) with little or no product. Before electricity was invented (we're going way back here), this is exactly how women used to tame and style their hair, so if it worked for them…
If you have tight spirals and coarse hair…
The key is in hydration, and this starts in the shower. Apply your conditioner before shampoo (yes, this will take a bit of getting used to), as vigorous cleansing can over-dry hair. Conditioning prior puts a protective film over hair before shampooing to make it more resilient. Rinse in cooler water if you can stand it. Too hot will strip hair of natural oils and cause frizz. Keep an oil in your purse to rub through the ends as it dries.
For volume…
If your hair tends to dry flat and lank naturally, the first thing it might need is a good cut. Long, heavy hair is weighed down, which is why it loses volume. Long, choppy layers will have it drying with more lift. Additionally, try to use less product whilst it's drying. This may sound counterintuitive, but too much product can also weigh hair down, so it's better to let it dry clean (preferably tied up or braided for texture and bounce), and then tame and style with product after.
For sleek hair…
Hydration, hydration, hydration! As well as a mask once a week, leave conditioner on the ends for about sixty seconds every time you wash (not too close to the roots, as this can weigh it down). Keep hair twizzled into a bun as it dries, and then smooth flat when dry. If you're worried about frizzy halos or flyaways, use fingers to clean the hairline and brush down any baby hairs. The natural oils in your hands will keep smoothness.
Want more stories like this?

What it's like to Start Losing Your Hair at 23
Why Doesn't Anybody Want to Talk About Dandruff
When Beyoncé's Colorist Speaks, We Listen