Slash Objects Is the Home Decor Brand Making Recycled Rubber Chic
Get familiar with it.
Decor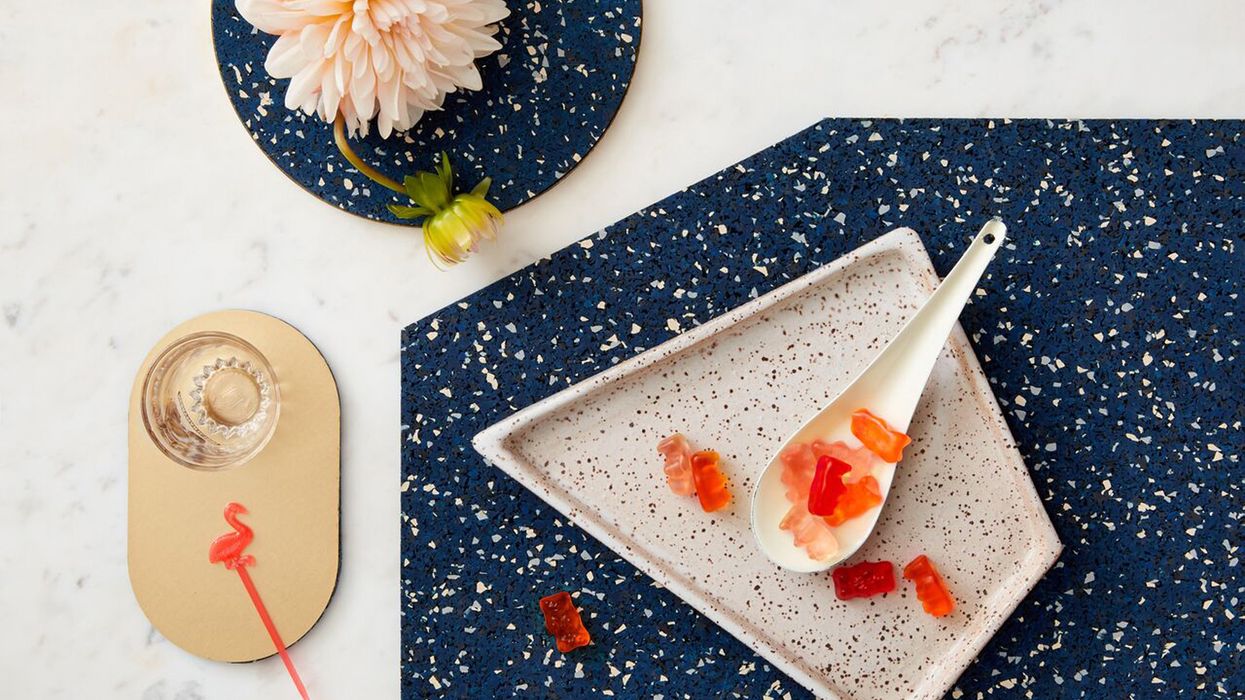 In 2018 we saw a rise in a much-needed conversation around
the environment
, certain materials
'
impacts on it (
and us
!), and what we can do to help. (Ahem, get a rid of your
plastic straws
and
start recycling your disposable coffee cups
.) We still have
a long
way to go, and Arielle Assouline-Lichten is among those actively doing something about it.
About three years ago, the interior designer was working hard to run her own design firm,
Slash Projects
, when she had the idea to create home goods using recycled rubber—the same speckled rubber that we're familiar with from our high school gym floors (you know the one). Mixing the post-consumer recycled rubber with US-sourced marble and brass, Assouline-Lichten presented to the world her line of sustainable homeware in 2016. Not only are the pieces sustainable, but they're incredibly chic. Think a
full-length mirror
held up by a beautiful block of marble, or perfectly blue speckled
rubber coasters
.
Two years later the Brooklyn-based designer is still going strong with Slash Objects, and for good reason. We called Assouline-Lichten up to chat about her production process, why she sources locally, and what's next for the brand. Hint: It involves a bed.
---
The brand came about thanks to a few samples that were lying on her desk:

"I started Slash Projects about five years ago, and Slash Objects in 2016. I was working on a new construction building, the project was moving really slowly—it still hasn't even been built—and I was getting a little frustrated with that. One of my roles as the interior architect on the team was to work on the the gym—design a luxury gym, essentially. I had all these gym floor samples on my desk made out of recycled rubber. I thought it was a really cool material to work with, it has a lot of different texture, it's really functional, sustainable, and the whole time I was thinking to myself, 'What else can I do with this material?' At the same time, the building we were working on used a lot of marble, brass, and steel. I had all the samples sitting next to one another, and I felt they complemented each other so beautifully that it led to creating Slash Objects."

What it's really like to work with recycled rubber:

"It's been a challenge finding ways to have it adhere to the other materials that we're working with. It also was a challenge finding ways to get the rubber cut in the best possible way. A lot of manufacturers had never worked with this material before and were wary of taking on a new material. They didn't want to test glues, they didn't know how it would work, and so it took almost a year of research, development, and testing—a lot of which I did in-house."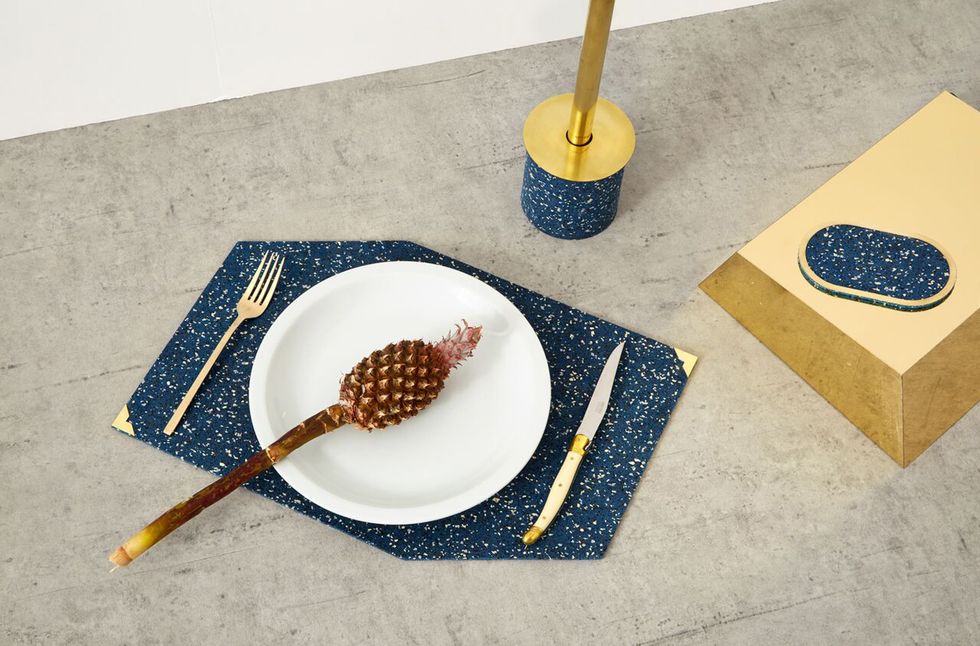 Photo: Courtesy of Slash Objects
On sourcing her materials from the U.S.:

"Almost everything is sourced in the U.S. The rubber comes from Pennsylvania, and it's made of different recycled pieces. Almost all of the metal work is also done in the U.S., either in Brooklyn or New York State, some of it in the Midwest. I try and do local fabrication for a few reasons. On the one hand it's so much easier to work with people who are nearby, and then to be able to communicate how to work with these new materials, it's very iterative, so finding someone to do that means you either have to be persuasive or go and see them in person to get them to take on the project."

There are more sustainable materials to come:

"We have our eye on and are testing a few other sustainable building materials. My vision is to work with a new existing sustainable material every few years or every new line. Basically use our skills as designers to transform it into something that it wasn't before. We have a few we're still in the research and testing phase with, and I'm hoping that in 2019 we'll be able to come out with a new range of pieces that use another material that is sustainable."


Her latest collection:
"The
Coexist Collection
is really about playing with materials. We have large blocks of marble that are suspended in space, hovering above a steel or brass cube, our flash standing mirror has a block of marble with a mirror standing straight in the middle of it, and our coexist coffee table has a slab of marble that's pierced through with a brass leg. The idea was to create a bit of tension between the proximity of the stone, the mirror, and the metals. Really play each material against one another and also use some of the natural properties of the materials like the weight of the stone or the strength of the steel to balance each other out."
Keep your eye out for an upcoming bedroom collection:
"We're currently working on a bedroom collection that will be coming out in the spring with more cozy pieces. There is a daybed in the works and some lighting projects. I'm hoping we're going to be a bit more domesticated and introduce some upholstery. The daybed will definitely be on display this spring, and I think that's going to be a knockout piece."
Photos: Courtesy of Slash ObjectsWant more stories like this?
Wardrobe.NYC Founders Talk Luxury Staples and Hint at What's Next for the Brand
How Procell Vintage Became a Gold Mine of Inspiration for the Fashion World
The Cool Shoe Brand Even Rihanna Can't Stop Wearing