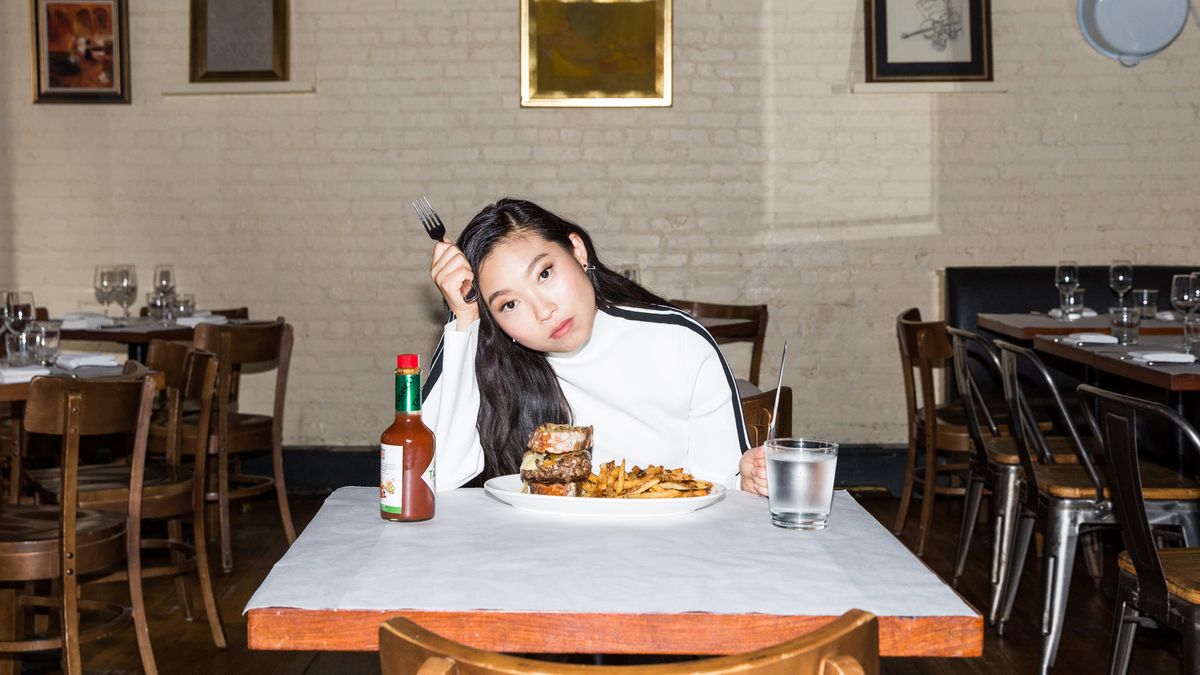 Celebrity
The most relatable interview we've had yet.
Alec Kugler
Producer
Monique Kamargo
It's been quite the year for Nora "Awkwafina" Lum. The Queens-born actress, while already a recognizable face thanks to her viral music video "My Vag," which actually
cost her her job
at a publicity firm, has now paved an indisputable path to success. And its significance doesn't bypass Awkwafina, who takes her role of representation of Asian stories on the big screen (and beyond) to heart. She stole scenes and watches with her sleight of hand alongside
Rihanna
and Sandra Bullock in
Ocean's 8
and most recently played the role of a hilarious, wealthy bestie in hyped-about 
Crazy Rich Asians
.
With a bite out of a Greenwich Village's
Left Bank
burger in her mouth, Awkwafina tells us it's only the beginning—there's more of her to come. Between bites, we peppered her with some hard-hitting rapid-fire questions and played a round of 
would you rather
and
hot or not
. Let's just say it's worth scrolling down.
---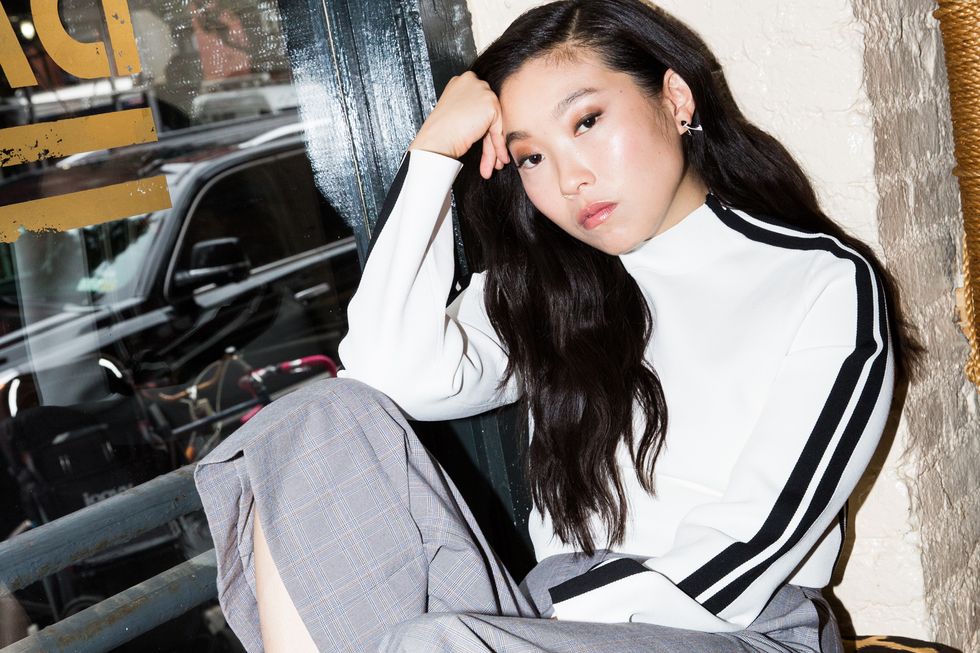 The not-so-crazy story behind her stage name, Awkwafina:

"There's really no story [with my stage name] Awkwafina. I picked it when I was 15 or 16 [when I] started rapping. I went to post my first video, and the director, Court Dunn—who really helped me out in the beginning—was like, 'OK, well, what name are we going with?' and I was like, 'I mean, Awkwafina probably.' I suggested that we change the spelling because I didn't want it to be confused with Aquafina. We spelled it in such a way that we realized later, it sounds like awkward. Pretty funny it worked out."

Ocean's 8 vs. Crazy Rich Asians press tour:

"Ocean's 8 was so much fun, hanging out with those ladies was the time of my life. Ocean's 8 was my first; it was my first really big [press tour] with junkets, it was really like, crazy. You really feel like there's an energy. I think that with Ocean's 8 there was a moment, and with Crazy Rich Asians, it was another moment that was tangible. There's this overwhelming support. Wednesday, we got off our technical publicity duties and we went back to the theater in Union Square [in New York] and crashed two sold-out shows back-to-back. It was incredible. It's a very emotional journey."

How she plans to help move the needle forward on Asian representation in Hollywood:

"Asians and minorities differ from the majority in that when they do something they have to represent their city. When I was first coming up, I really just wanted to be known as an artist. I think all artists share this thought; they want to be known as an artist, not as the Asian, you know? Although that is a valid want, I soon realized that there is a responsibility that comes with what I'm doing. Over the years I've come to terms with that responsibility, and I know how important it is, and so the only thing that I can do in my power and in my career is to take roles that progress us further as people. That means not taking roles that knock us, that set us back, that is not well thought out, well written. These are things that are very basic, and in my career and I'll never do anything for money that sets us back."


Would you rather...
Dasani or Aquafina?
"Oh man, that's such a horrible question—I'm going to get sued [
laughs
]. Aquafina."
Be a rich kid for life or a pickpocket?
"A good pickpocket that always gets away with it and never gets caught."
Never being able to say the f-word again or never being able to eat a hamburger again?
"Oh my god, never being able to say the f-word again. I need burgers! I've already trained myself not to say it, so I'll be good."
Sneakers or heels?
"I think we all know the answer to that, and that is sneakers because heels are not healthy."
Go-to karaoke song?
"'Dreams' by Fleetwood Mac or 'Hey Ma' by
Cam'ron
."
What Rihanna lyric best describes you?
"The only one I can think of right now is 'Shine bright like a diamond,' and I don't know if that describes me [
laughs
]. Actually, no, 'work, work, work, work, work.' That describes my life right now."
If you were ever to be on
The Real Housewives
, what would your opening line be for the show?
"Let's see: 'Some people say that I'm slippery, but really I just fell in the toilet,' and then I would do a little spin."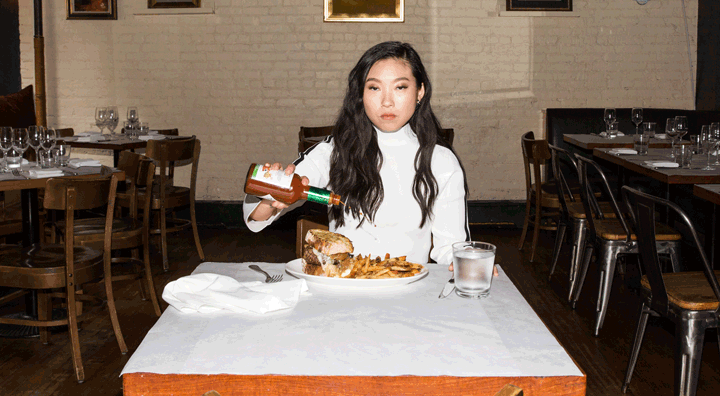 Hot or not...

Coffee:

"Hot."

Vacation:

"Hot! Very hot."

Rachel and Nick's sex life:

"I would imagine hot, but that's weird, but also hot. I'll go with hot."

Dating a partner with the same sense of humor as you:

"Hot."


How do you prep for a red carpet?
"I mean, I'm blessed with a team that really helped me out. I remember when I went to my first press shoot, I was wearing mom jeans and a stained white shirt. I wake up, sometimes I'll put on a face mask on the day of and some under-eye strips. I use SKII, or Skyn Iceland—shoutout to Emma Roberts, who introduced me to this amazing Charlotte Tilbury Dry Mask that you can use up to three times. Other than that, you know, brush my teeth. Really just wake up and shower."
What's the best piece of advice you've ever been given?
"Through my grandma—I don't know if it was advice or a statement, but: Life is only a series of ups and downs, it's never in the middle."
What's next?
"I just wrapped up three projects. One that was filmed in Spain, directed by Alice Waddington, called
Paradise Hill
, and it stars Emma Roberts, Eiza Gonzalez, Danielle Macdonald, Milla Jovovich, Jeremy Irvine, and me. Then I did my first lead role ever. It was a movie for Big Beach Films, it was written and directed by an Asian-American woman named Lulu Wang. That filmed in China, and that's coming out hopefully this summer, and I just wrapped my pilot for Comedy Central. So right now I'm chill, but in September I'm going to take over."
Want more stories like this?
Fiona Xie Wore $500K Worth of Jewels to the Crazy Rich Asians Premiere
Pierre Png (and His Abs) Steal the Show in Crazy Rich Asians
Issa Rae Shares How She Preps For a Sex Scene