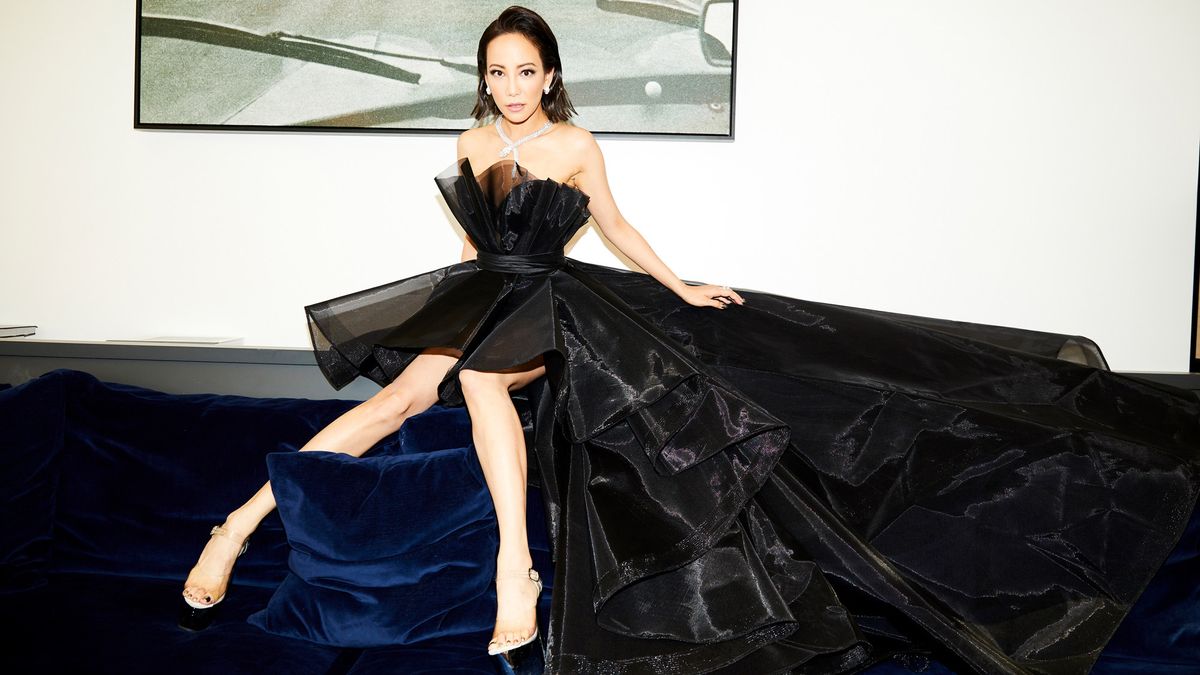 Celebrity
Fiona Xie Wore $500k Worth of Jewels to the Crazy Rich Asians Premiere
Here's what it was like in her hotel room before the *jade* carpet.
Tristan Kallas
"It's such a long story, where do I even begin?" asks
Fiona Xie
. We're at the Kimpton Everly Hotel in Los Angeles, and 33-year-old Xie is getting ready for the premiere of
Crazy Rich Asians
, in which she plays gold-digging actress Kitty Pong. My question? How Xie came to be cast in the film, which, when it opens this week, will become the first Hollywood movie with an all-Asian cast since
The Joy Luck Club
25 years ago.
"It's funny, because I retired [from] acting for a little while because I worked too much and needed a break," Xie says with a laugh. "I was focusing on my fashion store in Shanghai. Then a friend of mine, Arissa, reconnected me to Jaeson—who is now my manager—he told me John Chu [the director] was in Singapore casting the film. He said, 'John will love you. You two have to meet.'"
Xie, however, was hesitant about the role. "Kitty is really fun and bubbly, but she's also outrageous. People in Asia are more proper, so it was a risk."
---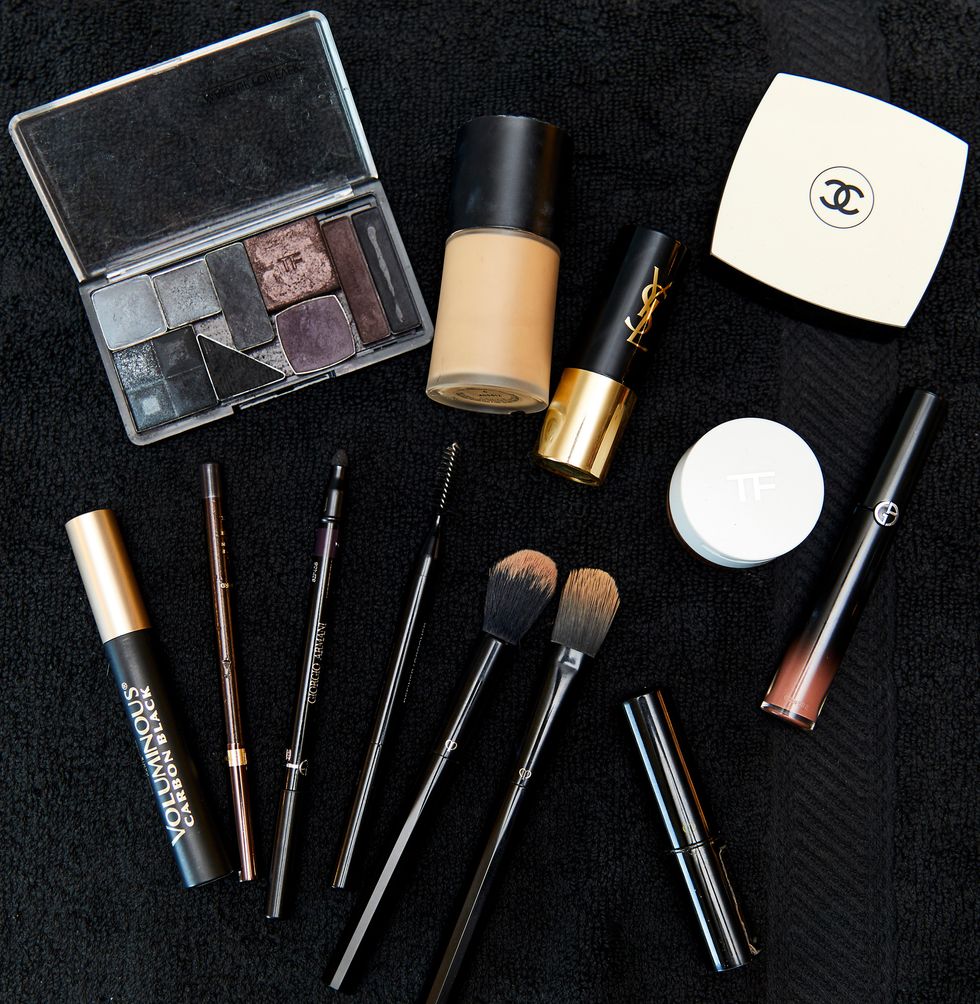 Xie eventually flew home to her native
Singapore
and took the meeting—a meeting she left with an official offer for the part. "I said no," Xie remembers with a baffled laugh. "I'm probably the only person who has ever said no to a big Hollywood film. But John explained that while Kitty's role in
this
film isn't big, she becomes epic in books two and three. And I would be signed on for all three... He said I had to do it, and I'm so glad I did."
We're interrupted when the doorbell rings with a flower delivery, and we check the time: 4:00 PM. Only an hour before Xie has to head to the jade (not red) carpet. Her hairstylist, 
Castillo Bataille
, and makeup artist, 
Adam Breuchaud
, zoom about as we continue our interview, all the while surrounded by half a million dollars
'
worth of Bulgari jewels and a custom-made Jessicacindy dress.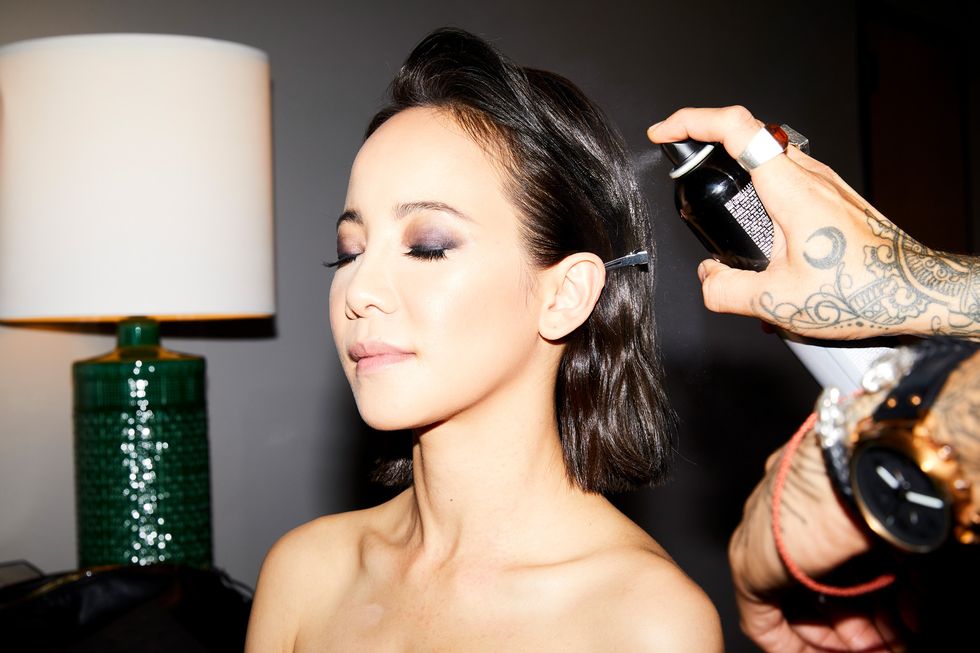 Tell us about your dress:
Xie:
"I'm wearing a custom gown by
Singaporean designer Jessicacindy
. It's a Singapore film, so, I had to wear a Singapore designer. It's a national day for us on the ninth, so in a way, this premiere is like a national celebration for us as well."
Were you involved in the design?
Xie:
"Not really. I just trusted the designer and my stylist, Martin. It's been such a blessing. Sometimes you have to learn to let go for things to come together."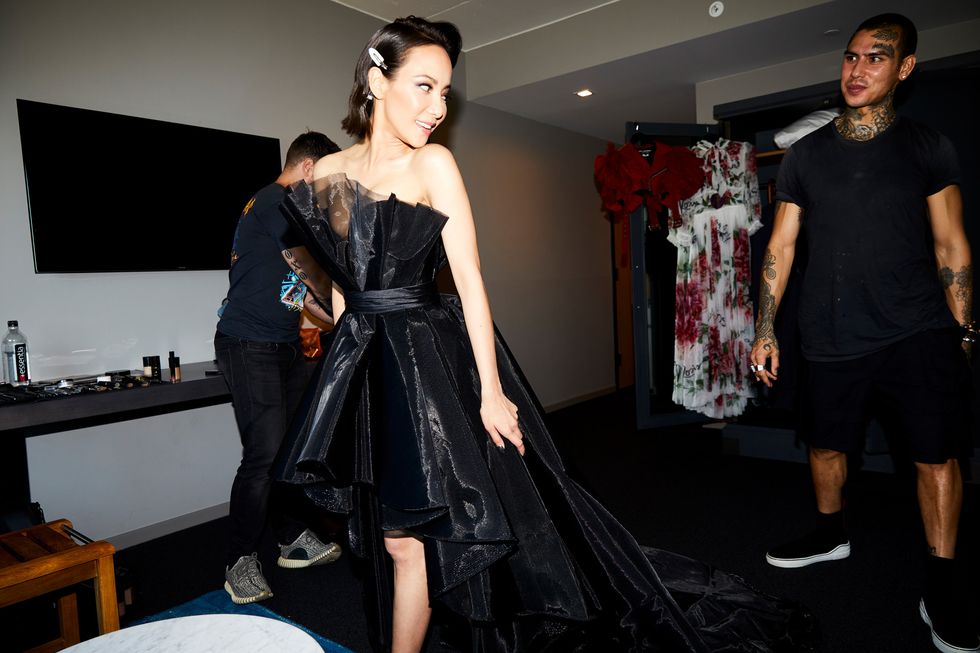 Did you always know you wanted to wear this particular dress? Or were their other options?

Xie: "Um… I actually have two other outfits with me—another dress and a jumpsuit. Do you want to see them? Which one do you think I should wear?"

"I actually think we should stick with the Jessicacindy. It's dramatic, but also simple and classy. When you're wearing a half-million dollars in jewels, you want to let those sparkles shine."

Were there any other outfits that bit the dust?

Xie: "In book two, Kitty Pong appears at this auction in a black latex dress with two hound dogs by her side. So Kevin Kwan, who wrote the books, wanted me to walk the carpet in a latex dress with two huge dogs. He literally sent me a website for Hollywood dog rentals. Now that I think about it, I actually wish I had done it."

Now back to those jewels… How were you able to convince Bulgari to loan them?

Xie: "Kitty gets what Kitty wants. [Laughs] Bulgari was really supportive and kind. They said, 'Yo, we want to make you shine.' It's Crazy Rich Asians. It's my first time on the jade carpet. I'm representing Singapore tonight, so I need to shine."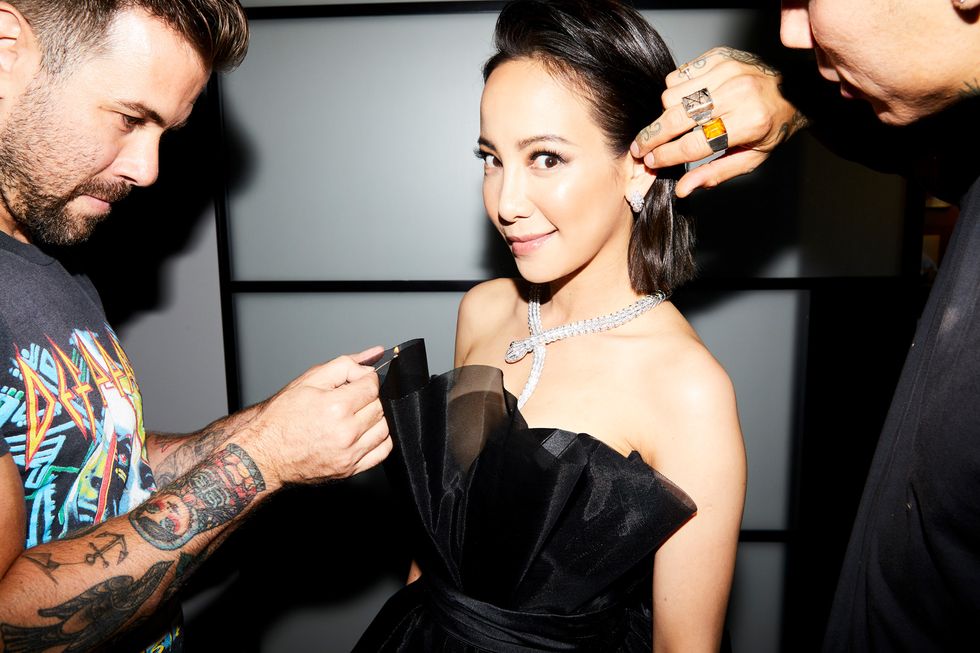 Are you carrying a bag?

Xie: "Probably not. It feels too fussy. I'll just put my phone in my cleavage! [Laughs] But if I do bring a bag, I'll wear this sparkly one from Louboutin that goes with the jewelry. Although I also have this Fendi. Bucket bags are really in right now."

Tell us about your eye look:

Breuchaud: "I wanted to keep the eye smokey without pulling attention from the jewels and the dress. The look is a mixture of earthy purples from a few different Dior and CHANEL palettes. And then for mascara, we used Voluminous Carbon Black from L'Oréal. It's a classic mascara from the '90s."

What about the skin?

Breuchaud: "We moisturized and primed with La Mer Moisturizing Lotion, which gives the face a nice glow without too much shine. Then we mixed Armani luminous silk foundation with the new YSL Fond de Tint stick."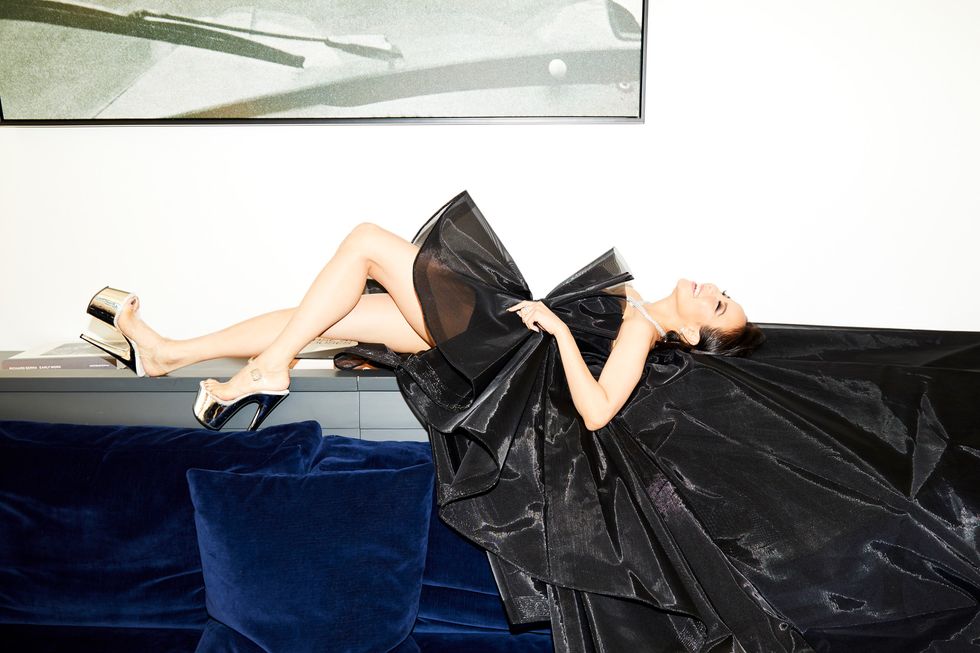 What about this lip look?

Breuchaud: "We wanted to keep things long-lasting but nude, so I used Armani Ecstasy Lip Lacquer in 205."

What are you wearing while you get ready?

Xie: "I'm actually wearing a Fendi bib. It's this really great dress I wore a few days ago to Michelle Yeoh's [who plays Eleanor] birthday party. I wanted to feel pretty while I was being made up."

Castillo, walk us through the hair:

Bataille: "We really wanted to showcase the jewelry, so I swept the hair off the face and tucked it behind Fiona's ears. Then we went for a full wet look. It's a million degrees in Los Angeles right now—it wasn't worth fighting the heat. This is a slick, tousled look. Modern and fresh."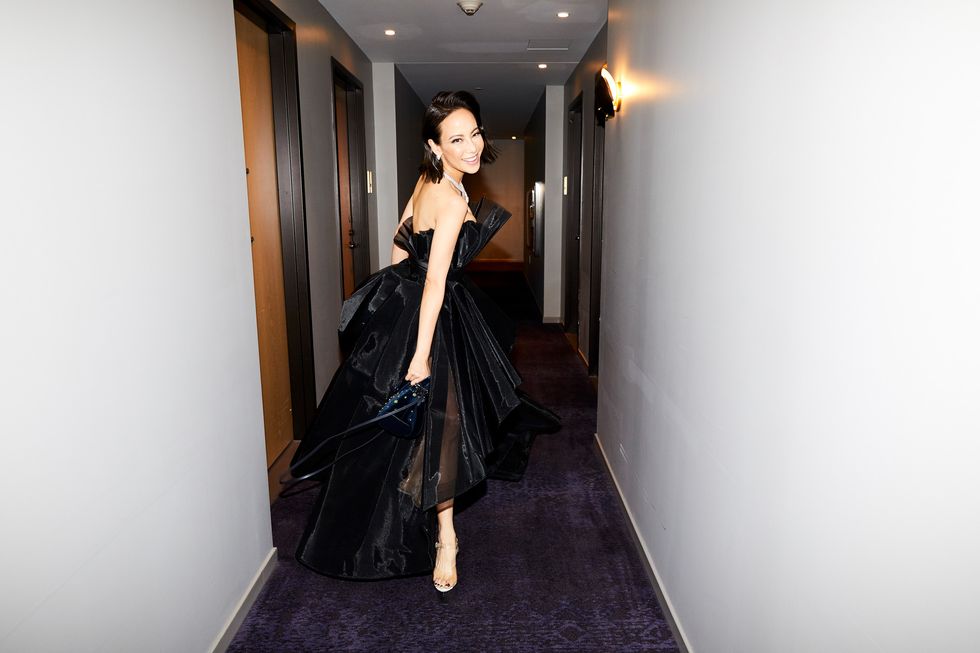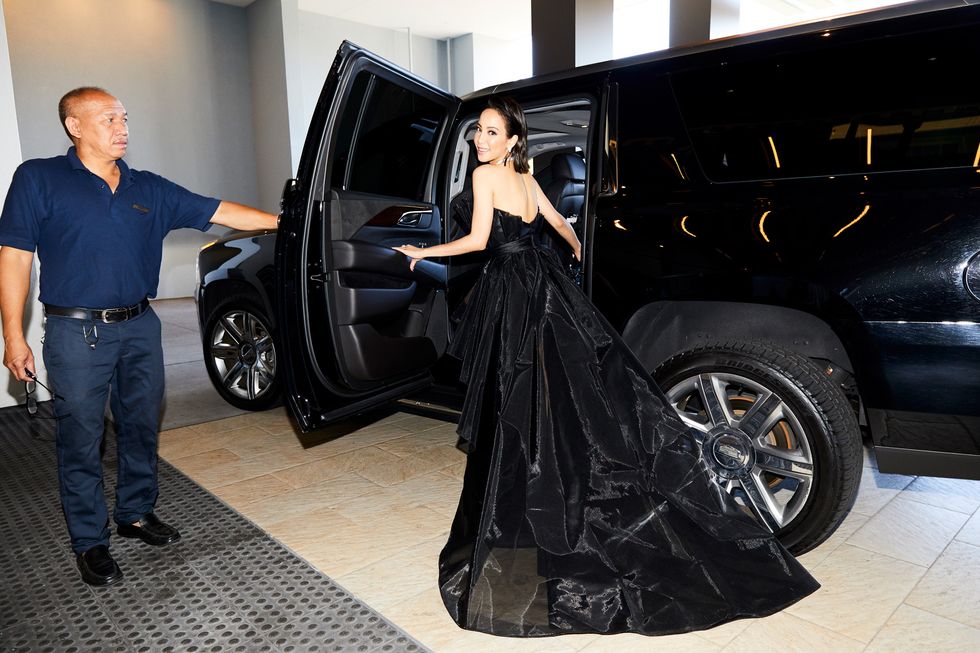 What products did you use?
Bataille:
"We started with Bumble and bumble prep primer and thickening spray, then I added a style extender/hairspray combo from Amika. To finish it off, we added Tancho, which is a high-grade vegetable pommade. Samurais used to wear it, which felt right for the occasion."
Is there anything about this look that makes you nervous?
Xie:
"Hell no, I'm just ready to make history. I'm excited for the movement. This film is going to break boundaries, and I'm just excited to be a part of it."
So are we ready to go meet the other actors downstairs?
Xie:
"Maybe we could lower the neckline?"
Xie grabs a pair of scissors and cuts off the top of her dress. Then she burns the hem with a match in order to mach the original finish. And you know what? It looks perfect. A risky move, but the right one. We head down to the car
.
Want more stories like this?
This New K-Beauty Collection Will Give You Rich Girl Skin
Rihanna Keeps Borrowing from This Giant Jewelry Collection
Ashley Graham Invited Us Over to Get Ready for the Met Gala