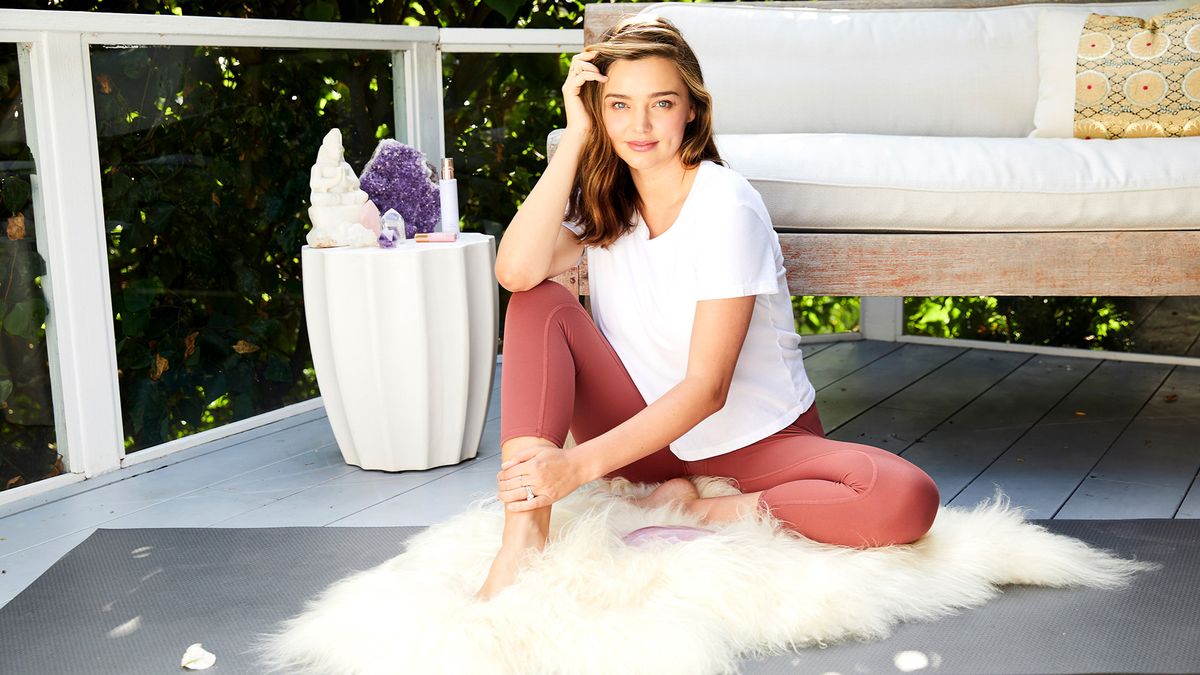 Models
The model-turned-entrepreneur adjusts to life with newborn son Hart.
Tristan Kallas
The world stops when you step into
Miranda Kerr
's Malibu home. Located just an hour north of Los Angeles, it may as well be a different planet. There are ocean views,
crystals galore
, and dedicated spaces for both
yoga
and
meditation
.
But the house also feels remarkably
normal
. Childrens' drawings dot the fridge. The scent of
home-cooked salmon
wafts from the kitchen. If it weren't for the stunning Damien Hirst on the living room wall, you wouldn't know you're in a celebrity's home. It's the kind of place where one can imagine all the warm family dinners Kerr will enjoy with sons Flynn and Hart as they grow up.
We caught up with
the supermodel
and
Kora Organics
founder three months after giving birth to Hart, her first child with husband and SnapChat founder Evan Spiegel. Here's how Kerr is adjusting to life as a "new mum."
---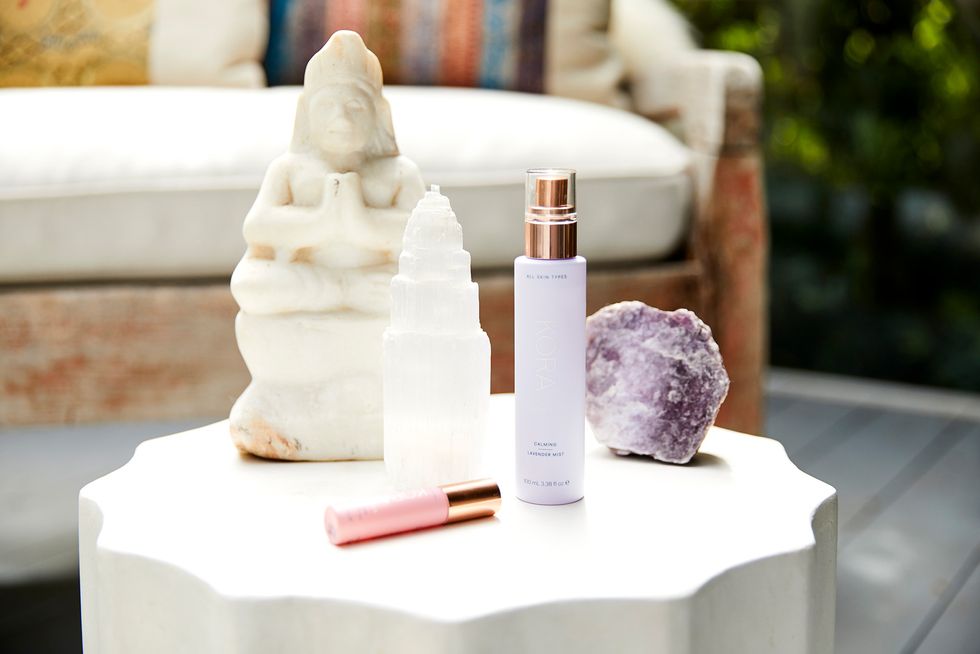 What time do you wake up in the mornings?

"My husband wakes up at five-thirty every morning, so I'm usually up with him."

Holy hell! Did you always wake up that early?

"Um…no [laughs]. But I also have the kids. Hart is sleeping until right about the same time as Evan—around five-thirty or six in the morning. Flynn, who is seven, sleeps until about six-thirty."

What's the first thing you do in the morning, besides remembering the days when five-thirty was still nighttime?

"Kiss my husband, open the blinds, then I meditate while Evan is in the shower. It's my moment to myself while my sons are still asleep. I practice transcendental meditation where you're given a mantra. Everyone has a different mantra, and you're not supposed to tell anyone. It's sacred and just for you."


Does your mantra change?
"You can update it after a certain amount of years, but the one I have right now is working for me."
What about yoga?
"I love yoga, but I haven't had much time for it during the week [since Hart was born]. Evan and I do yoga together on weekend mornings."
What's your morning bathroom routine?
"I cleanse, mist, and moisture religiously. I always use my
Kora rose quartz heart sculptor
, which I keep in the fridge overnight. I find it's really good for puffiness, and my face gets
really
puffy. I also use
eye oil
that has a rose quartz roller. As for makeup, I must have Kora luminizer and
RMS 'Un' Cover-Up in shade 22
. I put a drop of face oil in the little concealer pot, then apply it all over my face like foundation."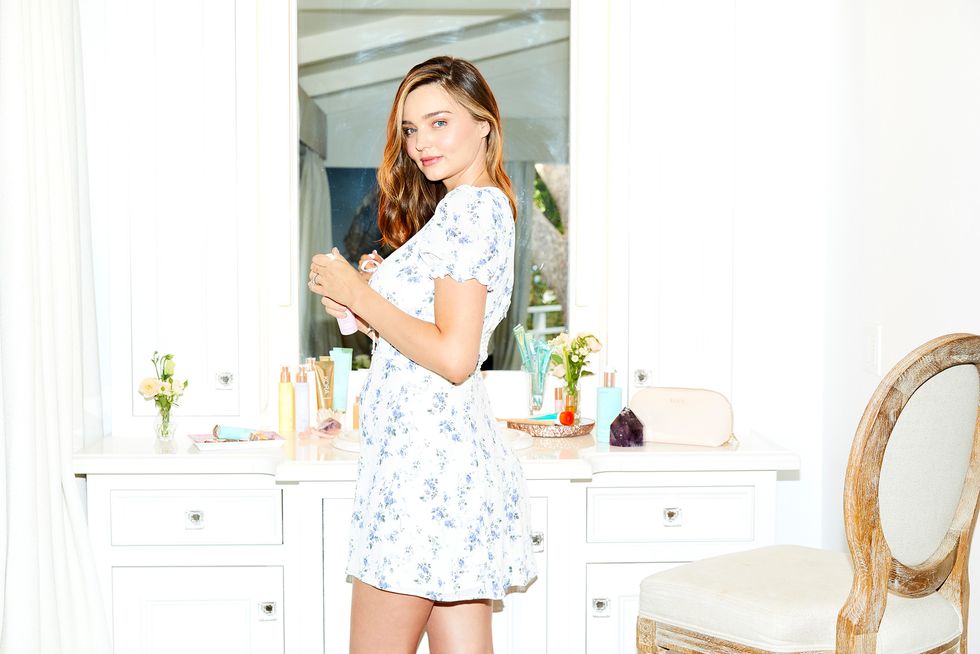 What do you eat for breakfast?
"I always start my day with fresh, cold-pressed celery juice. I make it at home. Then for food, have you heard of
Surya Spa
? It's an Ayurvedic spa that makes this bread that's vegan and gluten-free. I've been having that with ghee on top. Sometimes instead I'll have cooked millet with a poached egg on top. And, this is very bizarre, but I often cook the millet in chicken bone broth."
Do you drink coffee?
"I like tea—all types of tea. I have a turmeric tea that they made for me at
Orchard Street
, this place in Australia that makes tonics. Sometimes I just drink hot water. It's super hydrating, which is good because I'm breastfeeding. I feel like water hydrates me quicker when it's hot."
What do you do after breakfast?
"I drop Flynn off at school. Then I have meetings and conference calls for Kora. I'm lucky in that we've been able to work from my home since I gave birth—I often like to multitask and wear my favorite new mask while I'm on calls:
KORA Organics Turmeric Brightening & Exfoliating Mask
. It's an at-home instant facial that I spent over a year developing with our lab."
Who watches Hart if you have to step away for a moment?

"Evan's mum is here, and that's such a help. And my mum came for about six weeks after he was born. My cousin is also here right now."

What do you normally eat for lunch?

"I love salmon and usually have it a couple times a week. I'll generally steam it with vegetables and quinoa, then add a homemade soup on the side. My favorite soup at the moment is zucchini/coconut. You literally steam zucchinis, add fresh coconut water and meat, then blend it and reheat everything on the stove."

And in the afternoons?

"I pick Flynn up from school. Sometimes I do an activity with him or take him to a playdate. Then there are more work meetings and conference calls. To be honest, I do more work between 12:00 and 7:00 PM than I do in the morning. And, of course, I spend a lot of time with Hart. He is still young, so I breastfeed him about every two to three hours. Diaper changing, feeding, burping, and cuddling take up big chunks of my day right now."


Sounds dreamy. Are you able to fit in any exercise?
"I have a couple different trainers that I do yoga and reformer Pilates with. To be honest though, I've been taking it easy and just doing light yoga and a lot of walking since Hart was born. It's important to be kind to yourself and [your] body—to have time to rest and recover after birth. I usually take the little one for a walk in the pram in the afternoon, then swim with Flynn in the pool around six o'clock. After that, I take a bath. I'm ready to get back into the grind though, and plan to kick up the exercise these next few weeks. Cardio on the bike and reformer Pilates will be my go-to."
Tell us what's on the menu for dinner:
"It varies depending on if Evan is home for dinner or not. We rarely go out. I love to be home and cook. I am definitely a homebody! Evan's favorite meal that I cook, and mine as well, is my
Turmeric Slow-Roasted Chicken
. I actually made it for him on our wedding day."
Do you have any dietary restrictions?
"I try to eat organic when possible and stay away from processed foods. But I also try not to be too strict and follow the 80/20 rule—meaning I eat healthy 80 percent of the time and am more lenient the other 20 percent. Life is for living; it's OK to indulge once in a while. I find that the more you try to restrict yourself, the more you want it. Have a couple bites of the chocolate, just don't eat the whole block at once!"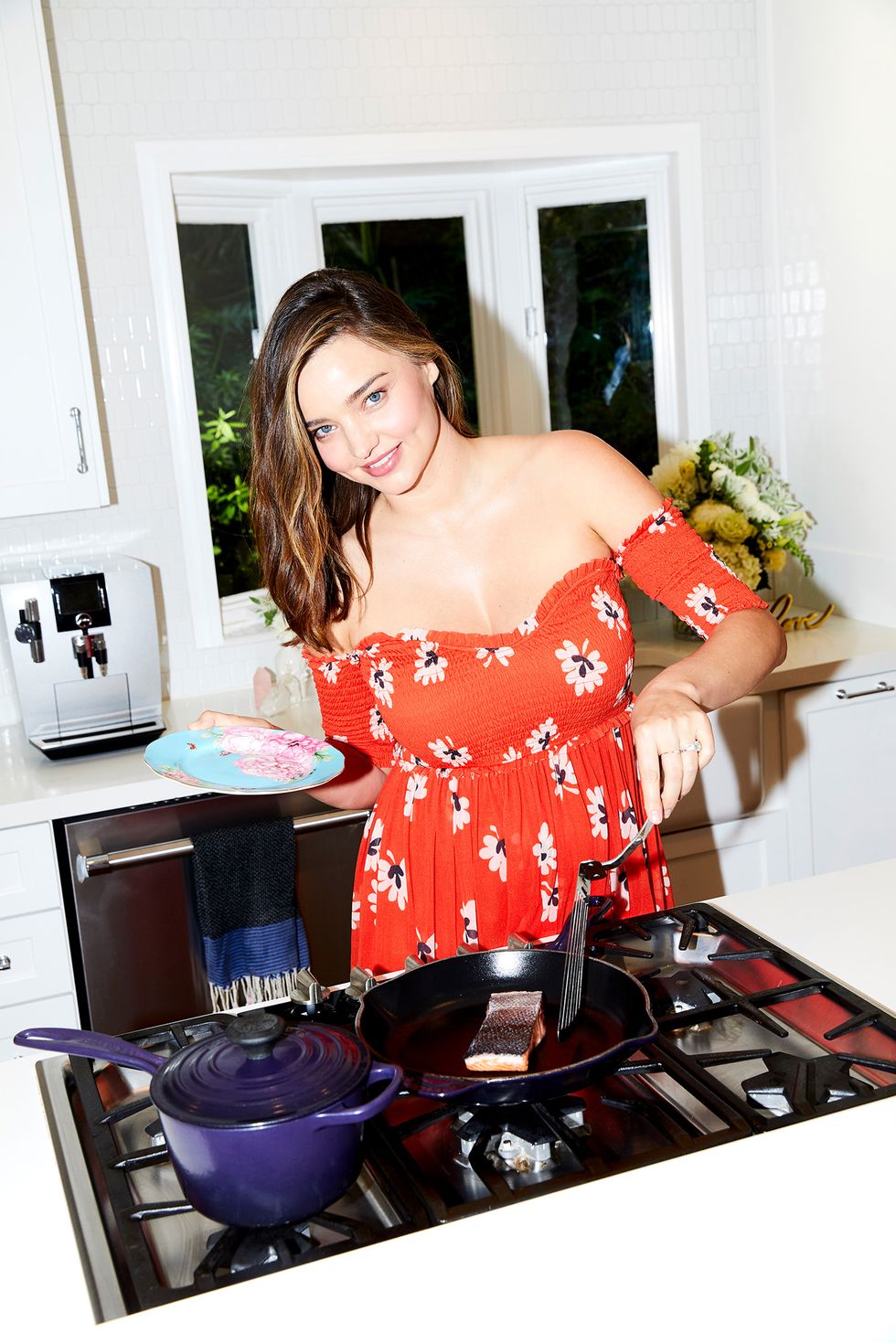 If you could only eat one thing for the rest of your life, what would it be?
"Papaya with lemon."
Do you get to relax at all in the evening?
"Once both kids are asleep, I like to do a meditation. I honestly rarely watch TV, but lately I've been enjoying
West World
with Evan. It's literally the only TV show I've watched in a couple years! When it's time for bed, I put my phone on airplane mode so I won't be distracted by any alerts, emails, or texts. When you run a business, it's sometimes hard to put down your phone. I find airplane mode really helps when I need to disconnect. I often also have a cup of chamomile tea before bed."
How do you get your skin ready for sleep?
"I wash off all my makeup before bed, no matter what. I like to use the
KORA Organics Cream Cleanser
at night. It's great for removing makeup. I double-cleanse to ensure all is removed. Then I mist my face with our Calming Lavender Mist, as it's very soothing and relaxing—I also mist my pillow with it. I follow with a combo of the KORA Organics Hydrating Moisturizer mixed with a few drops of the Noni Glow Face Oil. Last but not least, Noni Radiant Eye Oil. I also like to lather my skin with the
Noni Glow Body Oil
, especially around my tummy or any areas where my skin stretched during pregnancy. It's important to nourish and hydrate your skin after pregnancy, as well as while your skin is retracting back to normal."