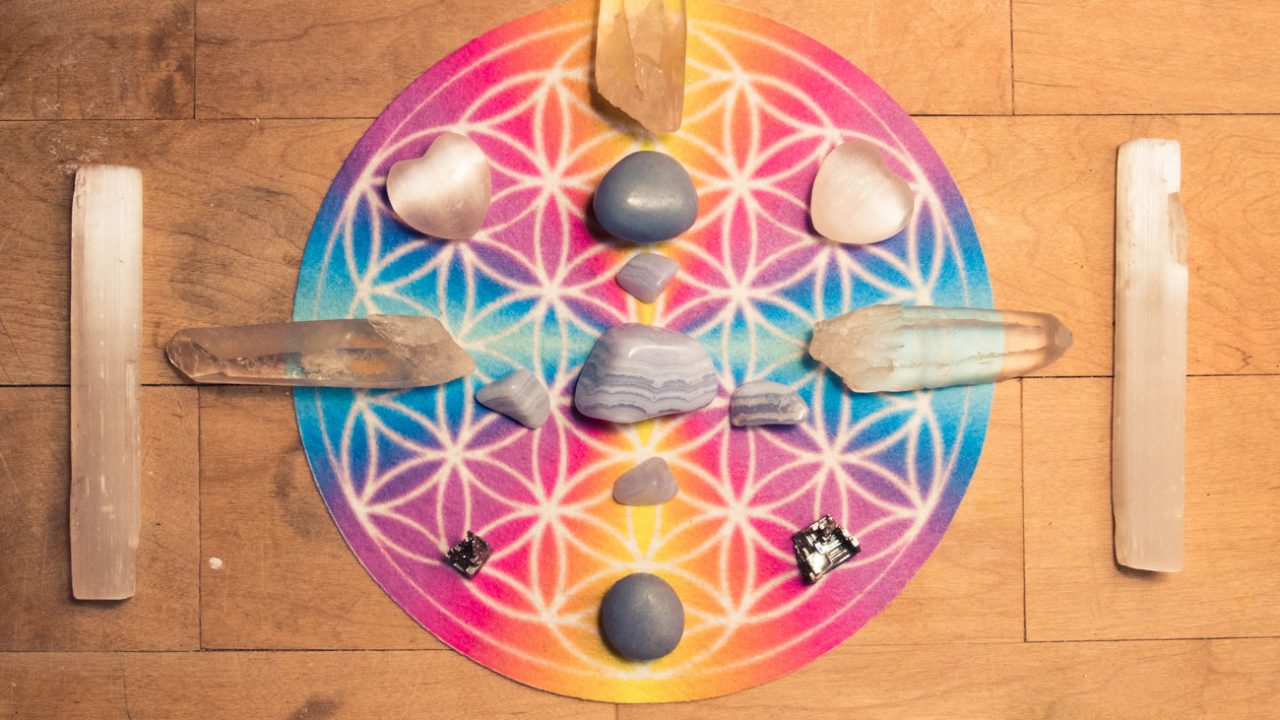 How to Choose the Right Crystals
Get the most out of your new obsession.
We know: more than anything, crystals seem like the trendy desk, dresser, and bedside-table accessories. Here in Cov HQ, there are many scattered on desks beside succulents and cups of millennial pink pencils that never get used (eye roll). That said, in our ongoing quest for exceptional aestheticism (as inspired by Pinterest), we've stumbled across some very positive side effects of our crystal obsession.
Okay, so we're kind of joking. We knew that the whole point of crystal-collecting has to do with harnessing the energy that these rocks possess. But there's a method to the magic—it's not just about whether you prefer the look of amethyst over quartz. So we asked Devi Brown, founder of retail and lifestyle brand Karma Bliss (she's also a radio and TV personality with a knack for getting the likes of Kanye West and Kendrick Lamar to bare their souls), to break down exactly which crystals we should be looking into according to the intentions or positive changes we'd like to see in our lives. So, for example, maybe you're looking for love, or perhaps more money (to fuel your Gucci obsession).There's a crystal for that—multiples, in fact. Allow Brown to guide your crystal collecting, below.
Rose Quartz: "Also known as the 'love stone', it turns the heart towards love and helps in recognizing love. It also aids in releasing past emotional traumas."
Rhodonite: "Also known as the 'stone of self-worth,' it encourages fearlessness and creates a stronger sense of self."
Green Aventurine: "Also known as the 'stone of luck,' it attracts abundance and favorable outcomes."
Garnet: "Encouraging strength, stability, and financial gain, garnet is helpful for prosperous outcomes in business."
Citrine: "Also known as the 'stone of success,' citrine provides tremendous aid in creativity and manifestation."
Mookaite Jasper: "This crystal helps one realize their full potential and boosts intuition when making decisions, as well as giving positive energy in the workplace."
Turquoise: "This stone enhances trust and kindness. Known across time as a securer of friendly regard, turquoise is good for strengthening bonds."
Pink Thulite: "This helps one to open up in crowds, grow self-esteem, and connect with others without fear, as well as aiding in combating against self-sabotage."
Amethyst: "Amethyst promotes divine connection. It helps to identify hidden causes behind emotional patterns, addictions, and behaviors."
Flourite: "Stimulates the brain, helps to enhance learning and mental activity and clears your energy to help one make better decisions."
Lapis Lazuli: "Lapis lazuli enhances spiritual progress and inner vision. It's known to be a stone for clairvoyance and shifts consciousness."
Labradorite: "Excellent for protection, labradorite is known as the 'stone of magic.' It strengthens inner power and is connected to all chakras."
Carnelian: "Good for vitality and sexuality, it enhances energy levels and is useful for detoxing."
Poppy Jasper: "A stone of perseverance, it aids in healing and is known to help with allergies."
Aquamarine: "Cooling and soothing, aquamarine helps to calm anger and hysteria while also quieting the nervous system. It also assists in releasing unhealthy thoughts."
Lepidolite: "Lepidolite helps with relaxation and stress relief and aids in keeping emotional stability and detachment from drama."