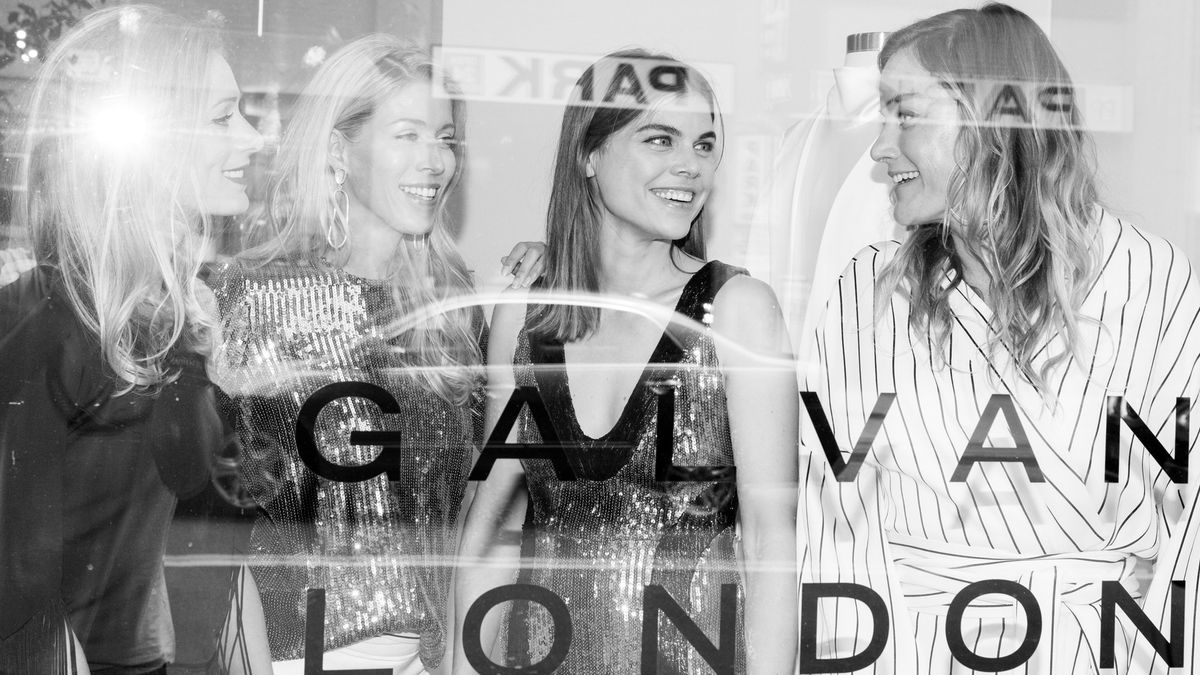 Career
Meet the four founders behind the modern eveningwear brand.
Alec Kugler
A tale as old as time: You have an important function—with a dress code that reads as cryptic as the DaVinci Code—and nothing in your closet will work. The four founders of
Galvan London
—Katherine Holmgren, Carolyn Hodler, Anna-Christin Haas, and Sola Harrison—have played out that same narrative, which is why they took matters into their own hands and created a contemporary-yet-classic-yet-slightly-edgy evening line that somehow meets all those ambiguous dress code guidelines...and then some. "For years we spoke to one another about the lack of eveningwear that felt fresh and modern but also timeless. Every time we received an invite for an event—black tie or low-key—we faced the same scenario. Finally, we decided to do something about it," says Holmgren, Galvan London's Commercial Director.
Despite working from all corners of the world and at taking the lead of different branches of the company—Holmgren in New York, Düsseldorf-based Haas at the helm of design, Switzerland-born Hodler as special partnerships director, and Harrison the L.A.-to-London-based creative director—they've found a harmonious cadence that has resulted in a successful brand and landed them a famous fanbase of names like
Rosie Huntington-Whiteley
,
Sienna Miller
,
Rihanna
,
Gwyneth Paltrow
, and Jennifer Lawrence. "From the start we made sure that our roles were separate yet complementary, and we've worked hard to keep it that way," Hodler tells us. "As the team has grown, our roles have become narrower and more focused—thank goodness! In the beginning, we were each doing 10 peoples' jobs and were stretched far too thin. But in the last year, the company has grown from 15 people to 41, including a great CEO," explains Haas.
We found the perfect moment, when they were all in one place, to sit down with them to talk about the challenges and triumphs of building a global business, their "accidental" transition into bridal, and what we're going to see next from Galvan London.
---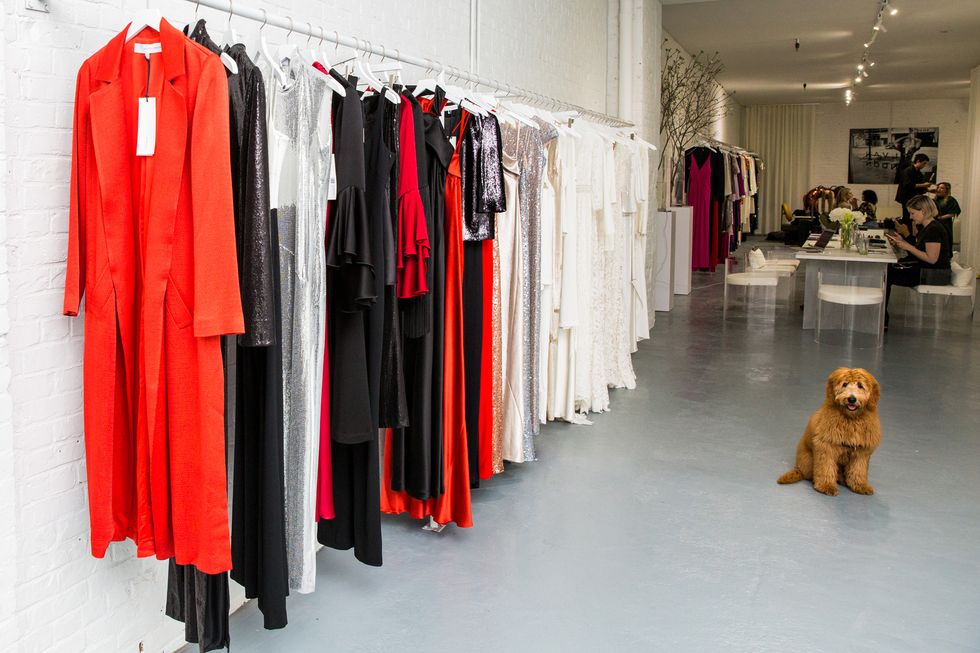 What have been some of the biggest challenges to overcome?

"Since we live in different places, we have to work doubly hard to stay constantly in touch. Thankfully, FaceTime and Dropbox have revolutionized how businesses can function today. And when we're all together, the energy is even more incredible." —Holmgren

What were some early-day struggles of the brand?

"Convincing stores like Neiman Marcus, Bergdorf Goodman, and Matchesfashion.com to take a chance on a completely unknown brand and launch us our first season." —Haas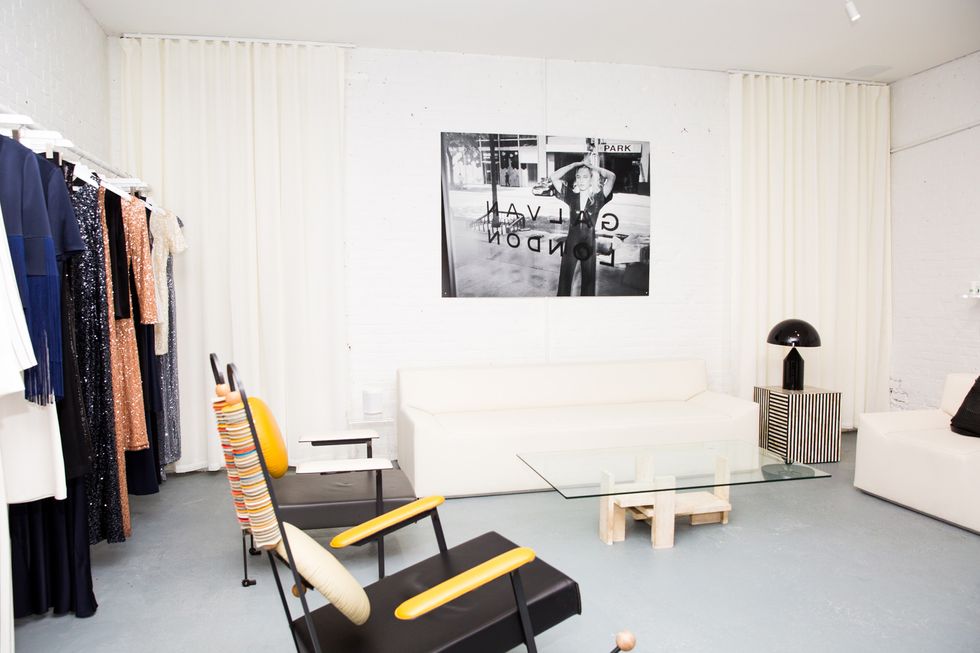 What does the creative process look like?

"Anna (Design Director) and myself (Creative Director) are the core team for the design process. Working closely together from the initial idea, mood, and concept for each season, Anna is the expert in refining the design from beginning to end, while I bring a modern touch and perspective to each collection." —Harrison

Launching bridal feels like a natural progression. Was that something you planned on from the beginning?

"We started doing bridal almost by accident. Our all-white dresses and jumpsuits were snapped up quickly as alternative bridal outfits, and clients started asking us to make their favorite styles in white. Since our factories are situated locally in London, we were able to accommodate most requests and soon found a made-to-order bridal business on our hands. We noticed quickly that brides were desperate for outfits to wear to the rehearsal dinner, Sunday brunch, or late-night party. We only started designing lace wedding gowns when it came time for each of us to get married." —Haas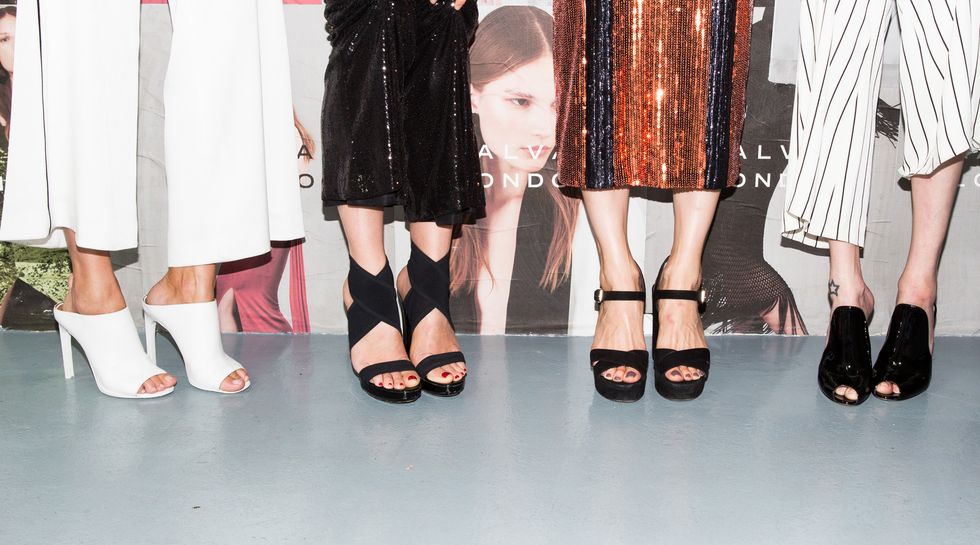 And how would you describe the Galvan bride?

"Effortless and radiant. She wants to feel special and unique in a minimal and effortless way. Being able to choose from a stunning lace dress or a clean and crisp piece, the Galvan Bride is always dressed in a glowing and distinctive way." —Harrison

What's next?

"Handbags are launching this autumn and will be our next big adventure—stay tuned!" —Hodler

Where would we find you at a wedding?

Katherine Holmgren: "Being spun around the dance floor by my husband."
Carolyn Hodler: "At the bar with friends."
Anna Christin-Haas: "At the snack bar."
Sola Harrison: "On the terrace with a newly found friend."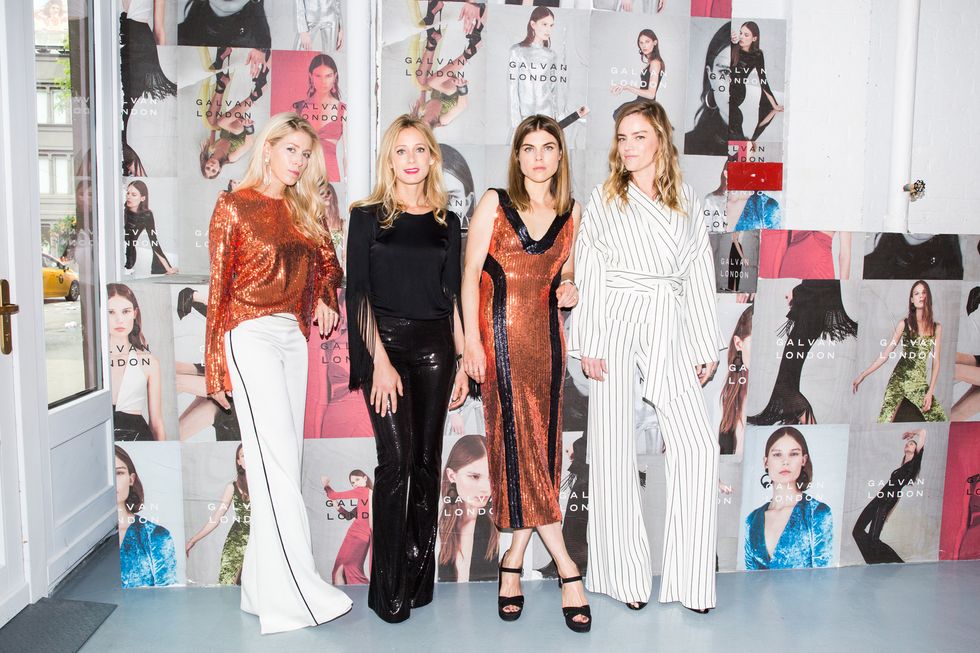 If you had a signature cocktail, what would it be?
Katherine Holmgren:
"Aperol Spritz."
Carolyn Hodler:
"A margarita."
Anna Christin-Haas:
"Vodka tonic with fresh lime juice."
Sola Harrison:
"Rosé with ice."
Your ideal evening look?
Katherine Holmgren:
"A Galvan corset jumpsuit, paired with one of our silk trench coats and velvet Prada platforms (definitely the comfiest high heels around right now). I'd be ready for anywhere that the evening took me."
Carolyn Hodler:
"One of our signature jumpsuits. I love the comfort & elegance of them. I would pair it with one of our evening jackets and a chunky Gianvito Rossi heel."
Anna Christin-Haas:
"Our Galvan high-waisted Vesper pants paired with a Galvan mustard mirrored pailette top. It feels effortless and comfortable, perfect to wear all night."
Sola Harrison:
"Our pinstripe suit in Resort, and a bag from our much-anticipated collection of evening bags."
Want more stories like this?
How to Start a Fashion Line without Any Design Background
Couturier Iris van Herpen on the Future of Sustainable Fashion
Two Friends Ditched Corporate America to Make You Better Underwear