Studio Visit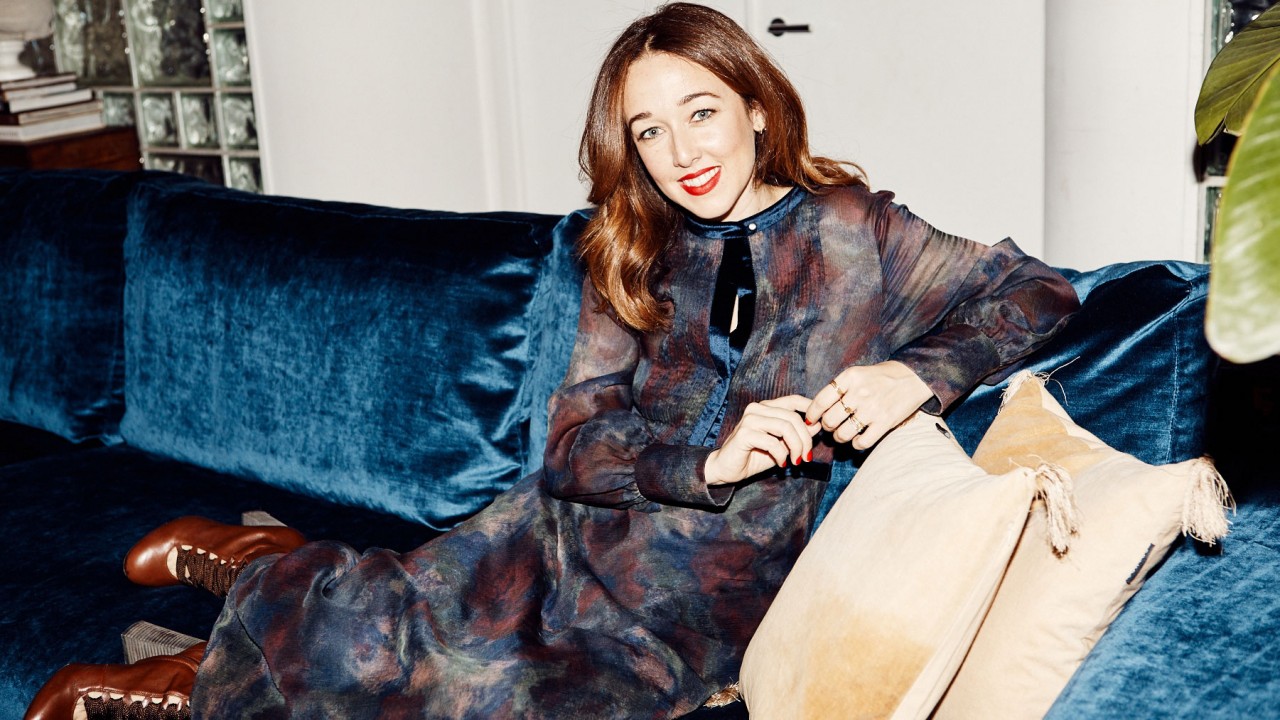 The Spanish Designer Making Clothing You'll Want to Wear Forever
Alejandra Alonso Rojas creates seasonless pieces inspired by the women in her life and her *two* original Picassos.
It would be fair to say that in fashion, it's next to impossible to get it ~right~ the first time around. Even if you do (and it's rare!), at one point or another, every designer has to take a step back, rethink, and evolve. For Alejandra Alonso Rojas, her inaugural brand, À Moi, was the younger, experimental collection—the prelude to her most recent eponymous line. Now her namesake collection, which launched in September 2016, feels somehow more mature and authentic to her—handwoven and dyed knits and exquisitely tailored pieces, all of which allude to bygone years, make up the sophisticated collection we want to make up our entire wardrobes. We caught up with the designer in her home studio to talk about the women who have so deeply influenced her collection and style, Spanish tradition that's woven into every piece, why nothing compares to vintage couture, and how she's trying to bring that lost art back with her collection. Plus, how her two original Picassos are a daily inspiration.
Creativity has always been habitual to her:
"There was always something inside me, something very natural. I always wanted to work with my hands and have been knitting since I was four. My mom and my grandma are very much fashion people—they love clothing. I was making little dresses for dolls when I was three years old with my mother. I always wanted to dress them or style them instead of just playing with them. I was also painting since I was very little. I guess at the beginning, I didn't know if I was really going to be into fashion but definitely was going to be in a creative career."
The trailblazing women that are her muses:
"Spain has always been, for many years, a very conservative country, but the women in my family have been very pioneering. My great-great-aunt was the first female pilot in Europe. My grandma went to college, as well as her sisters to French schools. They were living in rotation between Spain and France, even during the regime of the dictatorship. My great-aunt was a surgeon here in New York. My grandma has always been an entrepreneur—she has an advertising agency—and loves fashion. Their closets were to die for, but also the energy and the passion and their strengths in a country that was very conservative were something that inspired me. They raised me that way, and I really appreciate that. They are super sophisticated, elegant, and beautiful, so they are definitely my biggest muses."
Her love for the lost art of couture and tailoring & where she finds it:
"Since I was very little, I found inspiration by looking at archival pieces in my mom's or grandma's closet. I think of it as finding treasures in a way. I travel a lot, and I love to get lost and find amazing, beautiful vintage stores and just find these treasure that were made by tailors or couture designers. I get inspired by these pieces, colors, embroideries, techniques that, you know, now people don't do so often.
"My favorite vintage piece is my grandma's Balenciaga wedding dress that he made for her. It's a three-quarter-sleeve lace gown with these big bows at the bottom. It's shorter in the front than in the back—it was really modern for the time. It's really feminine, sophisticated, and simple but beautiful."
Why color and fabrics are integral to her creative process:
"A big part of my creative process is going into the archival pictures of my family and capturing the mood from my childhood. From there, I create my own fabrications—developing thread, fabrics, yarn. Color is really important for the brand and is a big part of the development process. We come across colors in some of the imagery, and we really work on that color palette to nail it down. Then we dye all of the leathers and fabrics in those colors. At the same time, I am sketching or even painting for the custom prints—it's really from the material to the finished piece. I love to pay attention to every detail in each piece—it doesn't end until the collection is hanging on the rack on the day of the presentation."
How Spanish sartorial essence is woven into every piece in her collection:
"[Spanish style] is what I have been growing up with. My dad was always in a suit from Monday to Friday for work. I have been to the tailor with him since before I can even remember. I think seeing that more elegant or traditional approach to tailoring and fashion, that has become such an important part of the DNA of the brand."
On mixing vintage with her pieces:
"There are finishes or techniques that are like history, fashion history. I love going back through archives and seeing how vintage pieces can be worn with a more modern approach. It inspires me so much."
On her two original Picassos:
"My family loves art. My uncle is an art collector, and he knows how much I love Picasso, so when we got married he showed up in New York with the two Picassos. These are part of a complete series, and [my uncle] has the other ones. It's very special, and I love having them in the middle of the house and the studio because we are always looking at them. He is probably my favorite artist of all time, so it's very inspiring."