Marian Cheng on Her Successful Career Jump from Fashion to Dumplings
Mimi Cheng's co-founder on epicurean traveling, the influential women in her life, and her guilty pleasure. In collaboration with Forevermark Diamonds.
Shopping
So often you hear of success stories of individuals changing their careers at the drop of a hat, jumping into unchartered waters, and heading in a completely new and unforeseen direction. Such was the case for Marian Cheng. Cheng began her career with a fast-paced internship at Dolce & Gabbana, quickly transitioning and joining the team at Burberry. But Cheng's real dream was starting a dumpling restaurant, a passion that grew from a childhood lunchtime staple. She joined forces with her sister, Hannah, to open what
'
s become everyone's favorite New York dumpling spot:
Mimi Cheng's
.
While Cheng grew up traveling and being surrounded by food, opening up a restaurant, dumpling-focused or not, was still a new and intimidating experience. But all you need is one quick convo with the entrepreneur to realize that she's a woman with a whole lot of drive and perseverance. Which is probably why, after some worldwide research trips and an apprenticeship at cult salad chain
Sweetgreen
, Mimi Cheng's sold out of dumplings within the first two hours of being open. Talk about success served with a side of soy sauce.
We caught up with the restaurateur to chat about her career shift, how she rewards herself for reaching a personal goal (hint: it's shiny), what forever means to her, and of course, dumplings. 
---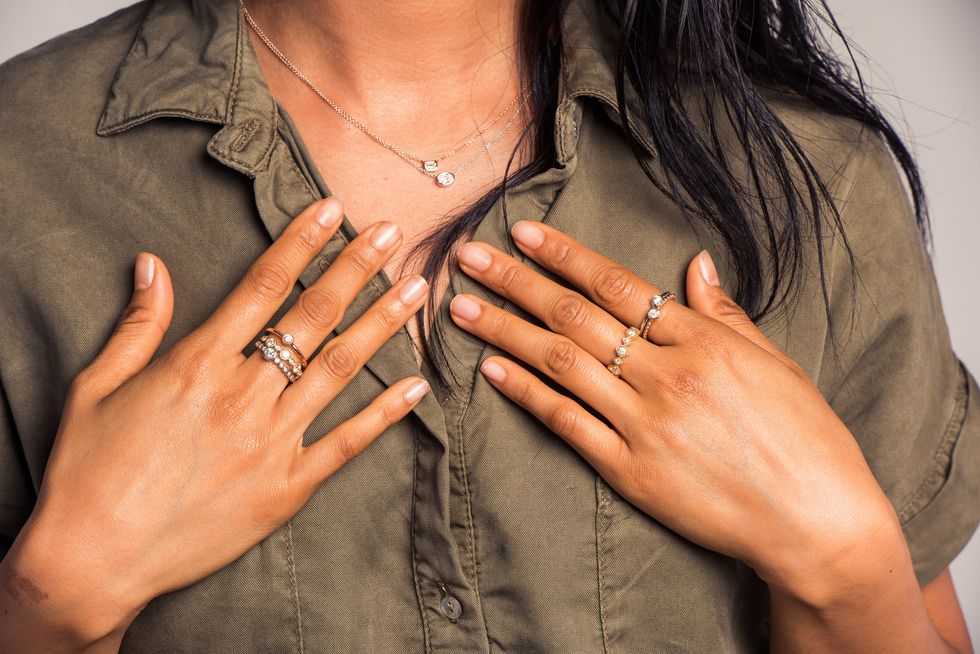 Her three best qualities:
"Adventurous, trustworthy, determined."
How these characteristics have carried her throughout her journey:
"Being adventurous, I am a naturally curious person. I love broadening my experiences and taste palate, and I embrace spontaneity along with the unknown. When traveling, I will try indigenous foods—even fried grasshoppers or reindeer heart (not to say I enjoy it all, but I
'
ll at least try it). I am a person of my word. If I commit to something, I will execute it to the best of my ability. This goes along with determination. Despite obstacles that may arise, I am persistent and determined to get a favorable outcome. These characteristics all permeate personally and professionally—I don't differentiate or compartmentalize characteristics for different parts of my life."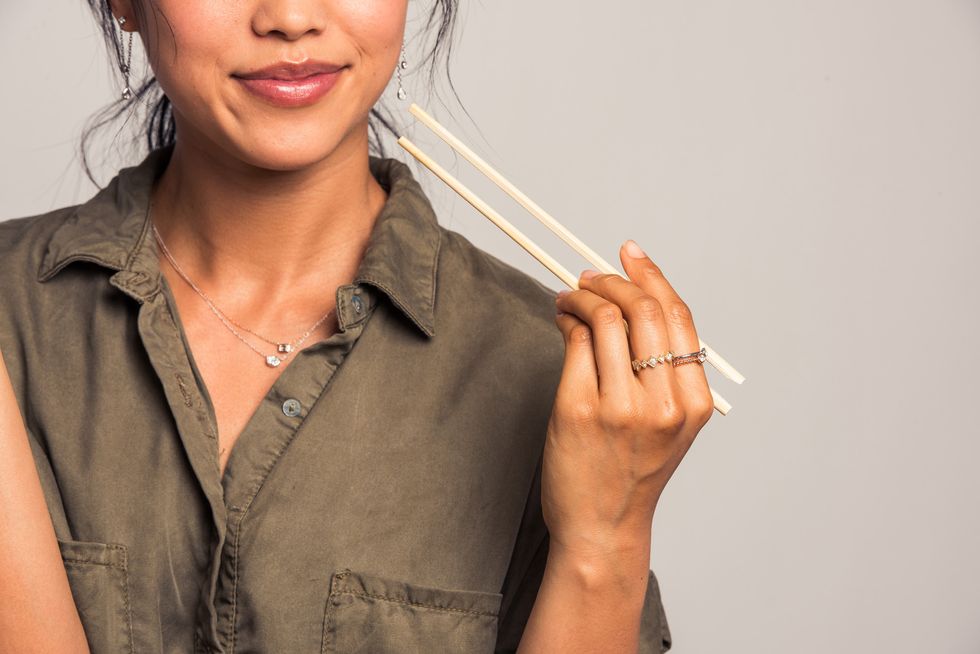 On her transition from fashion to the hospitality industry:

"I've always loved fashion, but I told myself that even if I do love fashion, I don't need to necessarily work in it. For me, the dumpling restaurant was a dream. You can only talk about an idea for so long before you either have to execute it or you have to move on, so it came to the point when we just decided to hop on board.

"[It was] super scary because you have no idea what you're doing, and you have no experience in it at all. Luckily, we knew some amazing people who have restaurants in New York and who told us to get experience in the industry first."

Why they chose dumplings:

"My sister and I grew up with my mom being an amazing cook. She doesn't use measurements when she cooks, but we grew up on the namesake dumpling—the Mimi Cheng dumpling; it's organic chicken and zucchini. When [our mom] moved to the west coast, there became a void of that in our lives. That's when we started learning how to make [them] ourselves, and that was our route to the restaurant."
A ton of their research was done by way of travel:

"We were lucky enough to grow up traveling with our family, so we were able to explore and expand our palate with all different types of cuisine. Before we opened the restaurant, we definitely traveled to further see what kind of dumplings there were [and] what kind of setups—since we didn't have restaurant experience, [we were] trying to figure out what kind of kitchen operation, equipment, and setup we needed."

And she stays inspired by keeping her friends and family close:

"My mom, sister, and business partner, Hannah, and my best friends [inspire me]. They are all strong, independent individuals who are full of soul. They radiate integrity, ethics, compassion, encouragement, spunk, and wisdom. A special memory over the years is an article my mom's friend published in the newspaper about her titled '911.' It parallels her to the emergency line, in which those who know her or even of her could call her for help, and she'd come to the rescue."


The qualities her friends admire most about her:
"They would say my kindness and my optimism."
A few of her most rewarding moments:
"One is definitely working with my sister. Another is, we've been so grateful with the community we have through the restaurant. We've been open for four years now at our East Village location, so we have families come in that are celebrating birthdays, their kids
'
music recitals—there's even people on their first date to an engagement, and now we're part of a wedding reception. The everyday moments and the big moments [are] really special."
How she treats herself for reaching a goal or milestone:
"One of the ways is with jewelry—understated, minimalist jewelry. Also, champagne is always good [
laughs
]. We like to take different trips as well. Our most recent trip together was to Taipei and Tokyo, and we also went to L.A.."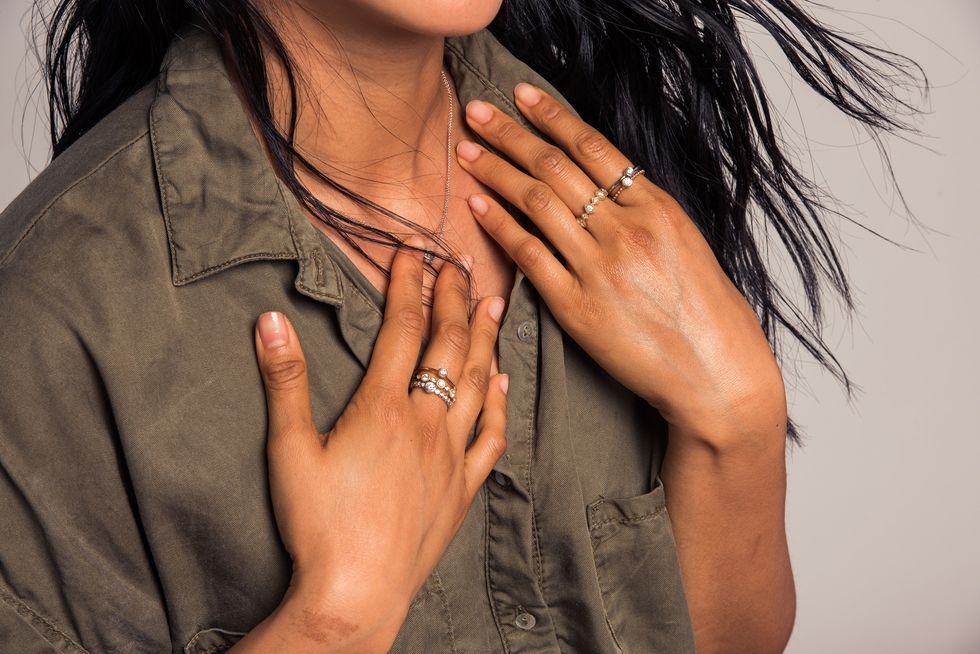 Her guilty pleasure:
"My guilty pleasure is pasta. I love Lilia and Pasquale Jones. I love red sauce, so something with red sauce and something with a little spice."
What forever means to her:
"Forever means an infinite amount of time that goes beyond this life on earth."
The advice she would give to those looking to open their own restaurant:
"I don't think it's enough to just love food to sustain opening a restaurant. You need to be very obsessed over it, you need to have the grit and perseverance. And you need to get industry experience or get yourself a business partner that has the experience you need in order to operate a restaurant."
Want more stories like this?
Stephanie Mark Believes in Honesty, Hard Work, and Treating Herself
Yoga For Bad People's Founder Just Unlocked the Secret to True Wellness
Jessica Springsteen Is a Champion Equestrian with a Goldfish Cracker Addiction