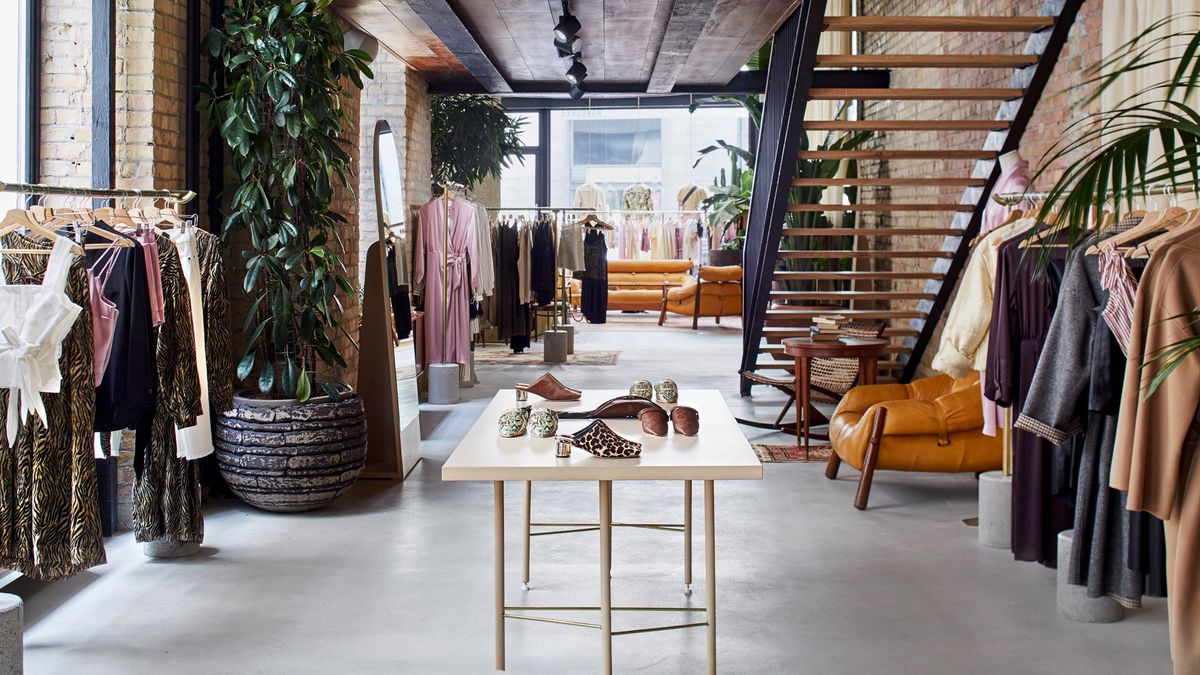 Interiors
Shopping meets espresso meets live music at Sandra Sandor's cool new shop.
Dan Glasser
On a quiet Friday afternoon, Nanushka's new flagship store is clearly the most Instagrammable place in Budapest. The two-story shop has a built-in café that serves espressos and fresh juices, and there also happens to be a live performance by an acoustic guitar player. Scattered throughout the store are the vegan leather wrap dresses, croc-effect belt bags, and neatly arranged casual satin and cotton separates which the brand has become best known for—all alongside plenty of mid-century modern furniture.
The designer, Sandra Sandor, is hanging out in the newly opened boutique with her adorable dog, who is sporting a mohawk. If you didn't know better, you might mistake her for one of the effortlessly cool fans of the brand—not the founder of one of the biggest labels coming out of Hungary right now.
Nanushka
is one of the only Hungarian fashion labels stocked by retail giants such as Net-a-Porter, MyTheresa, and Revolve, having just made its stateside debut earlier this year during New York Fashion Week in February. A few months ago the brand landed on the west coast with a pop-up shop in L.A. through
Platform
.
---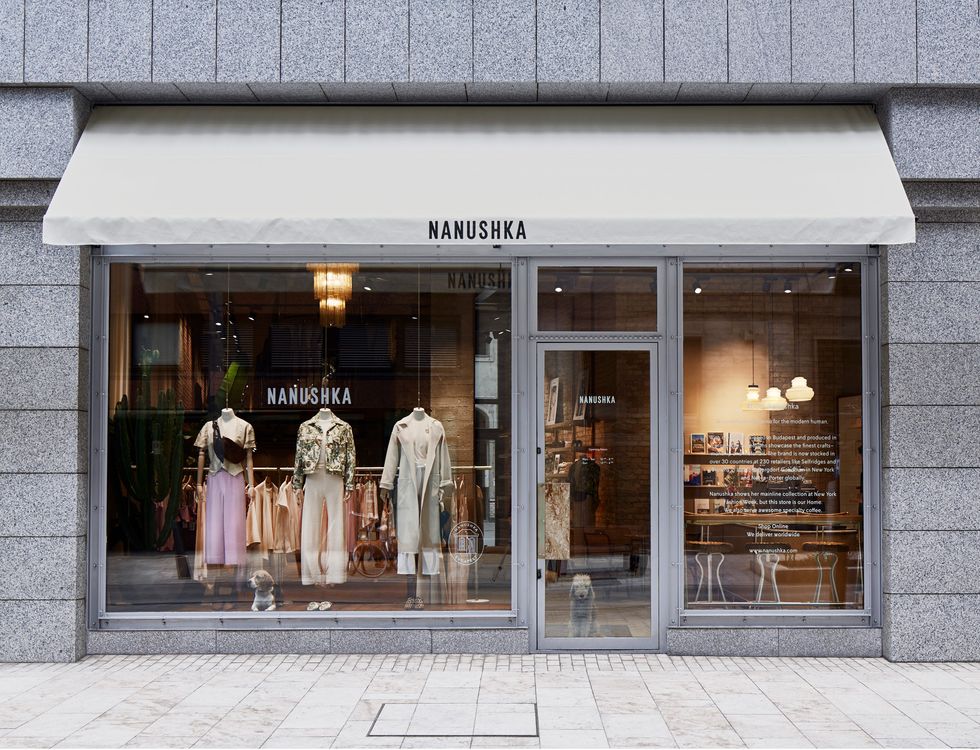 The story of how Nanushka has exploded in popularity began in 2006, when Sandor decided to launch her line after graduating from London College of Fashion. Her mother, who was a childrenswear designer in Hungary, inspired her to start the brand and produce it all in her native Hungary. "When I finished my studies in London, then I came back to Budapest to set up Nanushka, it was interesting because I didn't want to work for anyone and I didn't do any internships anywhere," she says with a laugh. "I just wanted to develop pieces into a collection, and I really wanted to do my own collection. My mother, with her network, she really helped me, like with seamstresses, pattern cutters, even a little atelier space."

That little atelier and office space has slowly grown to house nearly 70 employees and plenty of mood boards. Polaroid photos of models and the occasional swatch of vegan leather or trimmings can also be found throughout the space. The brand does all of its own sampling in the atelier, which puts it in a unique category. And there are more racks than you can count, with covetable new pieces ranging from silky dresses to quirky printed pants.


Though the brand puts an emphasis on sustainable faux leather (there are no harmful chemicals used, so it has REACH certification, which in Europe is a regulation for the production of fabrics) and fabrics such as blush-colored satin, part of its popularity likely has to due with the fact that they make something for literally everyone: You can be super feminine in one of the label's polka-dot maxi dresses, downtown cool in a satin slip, or even do tomboy style in some of the oversized denim button-downs and minimal, structured pants. That's part of the reason why Gigi Hadid wore a black satin silk slip from the brand, yet Uma Thurman and Caroline de Maigret, who have completely different styles, also relish Nanushka. Net-a-Porter's fashion director, 
Lisa Aiken
, and MyTheresa buying director
Tiffany Hsu
are also fans.
"What I think is special about us is that we're not only looking at aesthetic values," says Sandor. "Of course they are really, really important, but we're also looking at functionality and practicality, and this has been always a really important brand value for me from the beginning."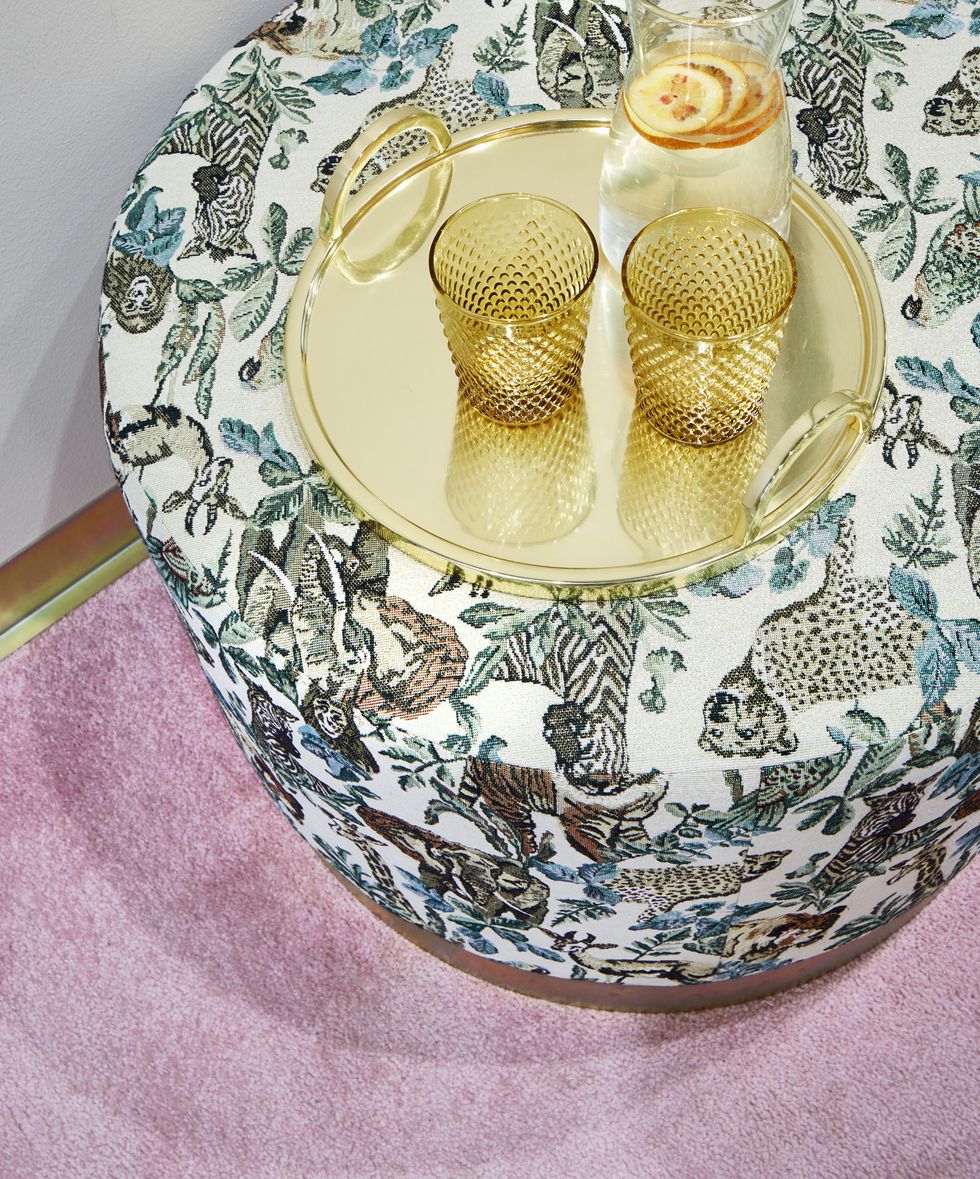 Thinking about the overall message of the brand, Sandor muses, "It's a 'this looks more expensive than what it is' vibe, you know what I mean?" Everything from Nanushka retails for under $700, and most of the pieces sell for under $400—but it's true, the vegan leather in particular does look real and very expensive. "Basically to put it in one message is hard, but we also have this saying that this is from the Bao House movement. 'If an object is made to function well, it will by definition be beautiful.'"
As for Nanushka's biggest inspiration, it has a lot to do with Sandor's roots. "I love to mix wild western with far eastern elements, and I think this is something that really is typical of the brand," she says. "It's really important for me always to mix clashing cultures, but when you see the final collection or the result, there's harmony within them in a way." Right now, that's just the kind of combination the fashion world needs—it's an unexpected, wearable line that's somehow unlike anything else out there, and it also works on nearly everyone.
Want more stories like this?
How to Start a Fashion Line without Any Design Background
This Brazilian Designer's Jewelry Doubles as Home Decor
Women Should be Able to Dress Like the Boys