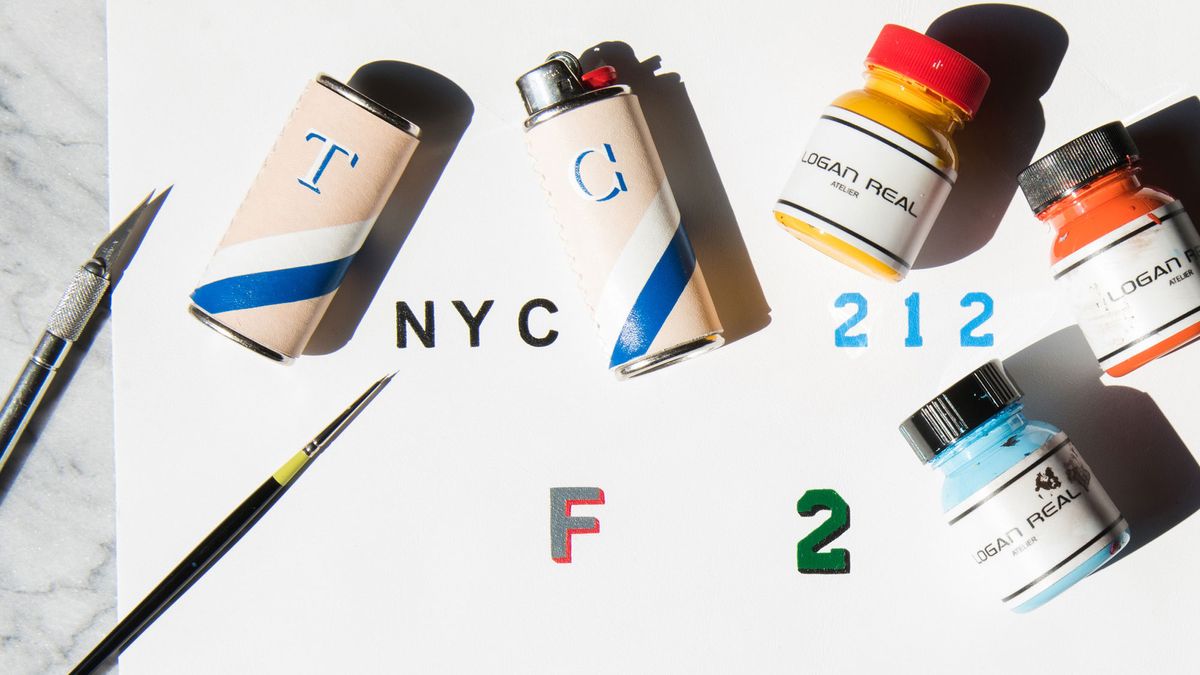 Career
When Drake & Kendall Jenner Customize Their Louis Vuitton or Goyard, They Call Logan Real
How the artist turned a hobby of painting leather goods into a career.
We're fully entrenched in the era of collaborations, when unexpected brands are joining forces to create never-before-seen and often ultra-exclusive pieces to much hype. It's also ushered in a desire for one-of-a-kind pieces, fully customized to suit each individual's fancy. Customers are expecting more—and we're all for it.
Logan Real
has known this for over a decade. The Miami-based artist has built his entire career on hand-painting original works onto his clients' luxury leather items, from customizing sneakers in his early days to intricately painting colorful illustrations and monograms on Louis Vuitton and Goyard for Drake and Kendall Jenner. Most recently, Real collaborated with Coveteur (that's us!) on a customized leather (!)
lighter sleeve
. We visited his studio to see how it all came together and talk shop on his dream collaborations, how he turned a hobby into a career, and why he decided to foray into creating his own products.
---
The item that sparked his interest:

"The first item I painted on was a pair of Chuck Taylor sneakers. I was a senior in college. I started painting on sneakers because I thought it was unique—I've always loved art and fashion."

When he knew it could be a career:

"I never knew I was an artist until I started painting on products. My whole life, I would always look at products and in my mind say to myself 'Oh, this would look cool if it had this added to it.' It wasn't until I actually started painting that I realized I could make this into a career. I knew if I dedicated myself to this craft, I'd be successful."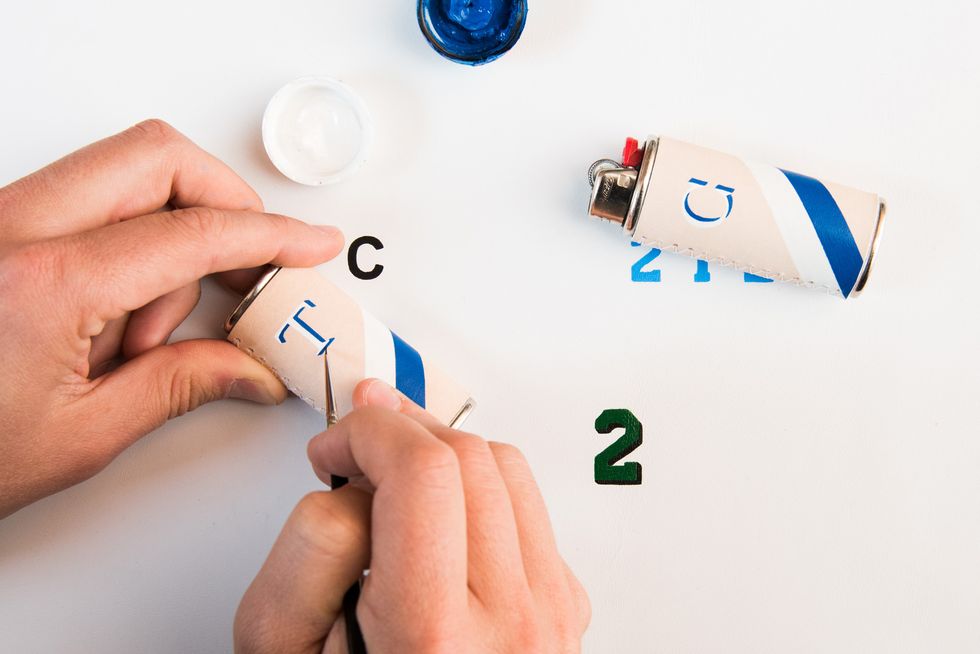 He faced some hurdles at the beginning:

"Some of the early-day struggles I faced was accepting that nine out of the 10 doors I knocked on were going to be closed. Understanding and accepting failure was an early struggle for me—I'm such a perfectionist. It wasn't until I started to embrace failure that I was able to begin overcoming obstacles and realizing every challenge in growing a business is a lesson. I've been painting on products for about 13 years, and 10 of those years I worked two full-time jobs [at the same time]. Finding consistent business was also challenging, along with building credibility within the fashion industry."

What kept him going:

"Patience, persistence, belief, hard work, consistently educating myself, and adapting to trends. I'm a self-taught artist with no formal training, and I've built my business on my own without mentors or financial investments."


His biggest career highlights so far include Kendall Jenner:

The first 10 years of my career, I was blessed to work with designers and brands who really taught me a lot about the industry. I started my career painting on sneakers, which lead to working with designer Rebecca Minkoff, painting initials on handbags. That started a three-year relationship, which allowed me to perform live monogram events at every major department store around the United States—the exposure was priceless. I then moved on to work with Mark & Graham, Kenneth Cole, Ralph Lauren, Michael Kors, Kendall + Kylie, Nancy Gonzalez, Master & Dynamics, Buscemi, Tod's, Dolce & Gabbana, Holt Renfrew, Bergdorf Goodman, Saks Fifth Avenue, Nordstroms, Neiman Marcus, Hirshleifers, Alchemist, Readymade Japan, and recently PUMA."

The most exciting request he's ever gotten:

"Painting zombie faces on legos. It made me smile!"

His dream customization project:

"My ambitions are to collaborate with progressive and innovative modern luxury brands, while maintaining my artistic core values: simplicity through detailed precision. At this moment in my career, I'd be intrigued to work with Alessandro Michele at Gucci or even Jonathan Anderson at Loewe. But my dream customization project would have to be Hermès and Moynat."