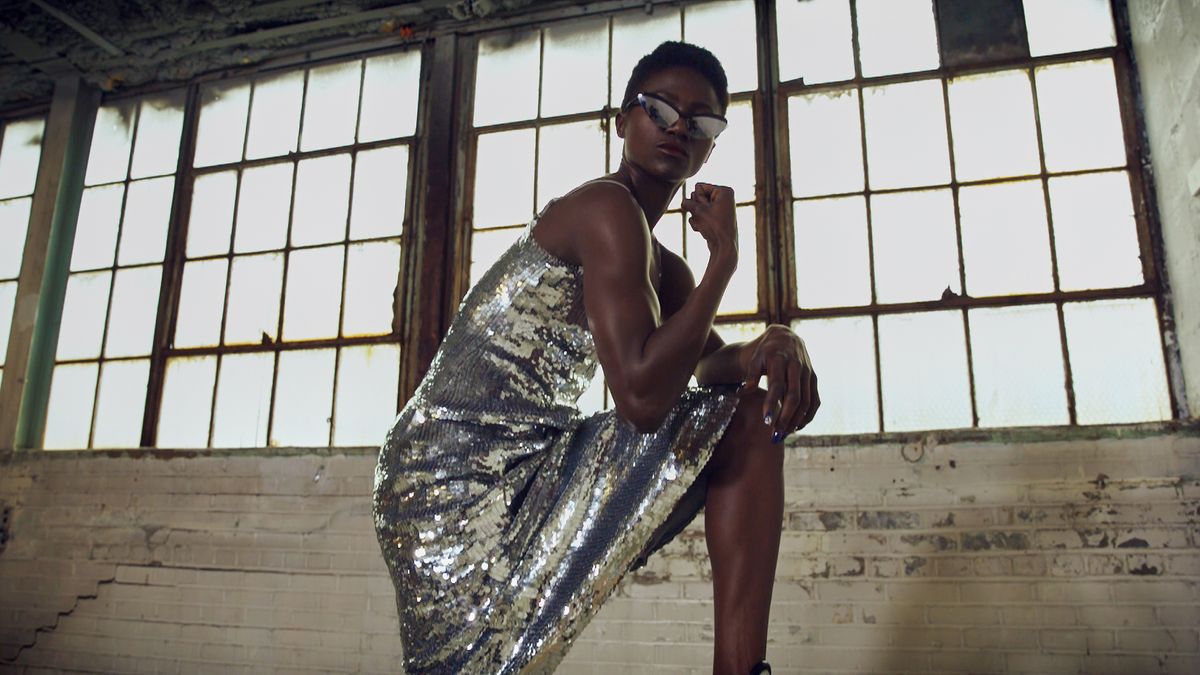 Series
The decorated athlete talks training, competing, and plans for the future, while modeling a few winning looks.
Meagan Wilson, Tara Gonzalez
Lena Melnik, Nick Kholkin
Makeup
Marie-Josee Leduc
Hair
Corey Tuttle
Twenty-seven-year-old
Tori Bowie
is an Olympian, world champion, and, perhaps most notably, the fastest woman in the world. But on a rainy Monday morning in Long Island City, as she stretches and poses for a fashion-meets-workout photo shoot, Bowie describes herself in much simpler terms. "I'm just a country girl from Mississippi," she says, her Southern accent confirming that she couldn't possibly be from anywhere else.
It was in her small hometown of Sand Hill where Bowie, who entered foster care at two and was later raised by her grandmother, was "kind of forced to do track and field," as she puts it. Her basketball coach at Pisgah High School insisted that she run track in the off-season to stay in shape, and despite a rough start (Bowie was initially kicked off the team for refusing to wear the tiny uniform shorts), she thrived, winning five state titles and earning a scholarship to the University of Southern Mississippi. There, she majored in psychology and social work while competing in the 100- and 200-meter dash, as well as the long jump, triple jump, and 4 x 100 relay.
---
Jumpsuit, Gucci; Shoes, Gucci; Earrings, Jennifer Fisher.


"College was the best time of my life," says Bowie. "The best time of my life. I wasn't focused on sports at all, I was just enjoying the moment." Eventually though, graduation rolled around, and Bowie needed to focus on something. "I honestly didn't know much about the Olympics or the World Championships or anything, but I got this offer from the Olympic Training Center in Chula Vista, California, and they were like, 'As long as you hit the standard, you can stay here for free, the food is free, you don't have to pay the coaches…' and I was like, 'You know what? That sounds like what I need to do' [laughs]." The decision to move to California wasn't difficult, but getting there was a challenge. "I'm going to be honest," she says, "it was so hard to come up with the plane ticket money. But somehow I ended up getting the 500-and-some dollars, and I moved out to Chula Vista."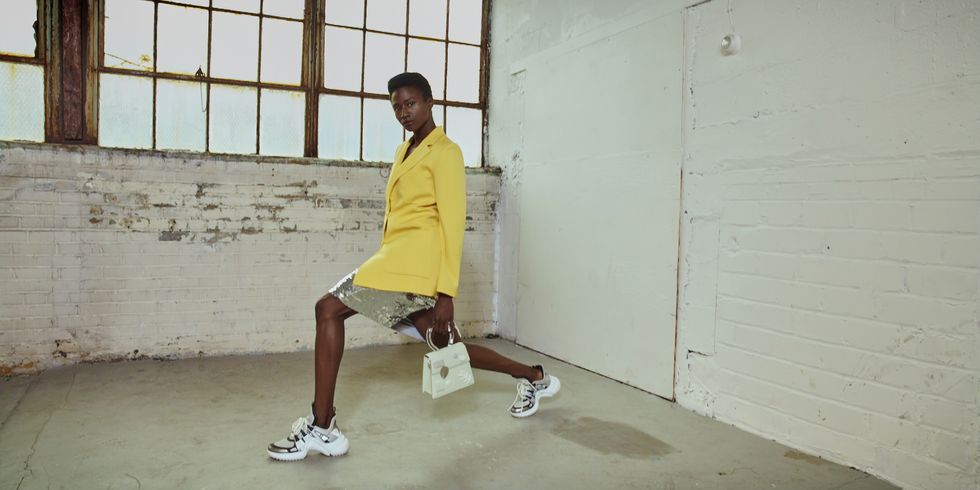 Jacket, Oscar de la Renta; Dress, Oscar de la Renta; Shoes, Louis Vuitton; Sunglasses, Louis Vuitton; Bag, Benedetta Bruzziches.


Two years later, in 2015, Bowie placed third at the World Championships in the 100-meter dash and, at the 2016 Olympic Games in Rio, she landed on the podium three times, winning gold in the 4 x 100, silver in the 100-meter, and bronze in the 200-meter. "I felt like I was dreaming the whole time," Bowie says of the experience. "From the moment I pulled up to the village to the time I got on the medal stand. To this day it still seems unreal."

Her next feat—a first-place finish in the 100-meter dash at the 2017 World Championships—would crown Bowie the fastest woman in the world. "I always felt like I was the fastest, even though the results never showed it and I never got the gold medal [laughs]. But I still felt like that in my heart," Bowie says. "I told myself, 'I'm going to continue to do this until I get that title.' Now I have it, and it feels amazing."


Jacket, Valentino; Dress, Valentino; Earrings, Jennifer Fisher; Sunglasses, Poppy Lissiman.


Today, Bowie lives in Clermont, Florida, training five hours a day with a mix of sprints and weightlifting, followed by massage sessions with a chiropractor. On Saturdays, she likes to binge-watch Lifetime movies—a pastime she asks us not to judge. We don't.
Track and Lifetime marathons aside, Bowie has delved into fashion, named yesterday by 
Sports Illustrated
as one of the
top 50 most stylish athletes in the world
, modeling for
Valentino's 2018 resort campaign
, and recently appearing in
Vogue
. Today, she's doing some warm-up exercises—dressed in Gucci, CHANEL, and Louis Vuitton. Next up? Her own line of headscarves, similar to the colorful ones she wears to keep her ever-changing hairstyles in place as she breezes past the competition. "I finally found my stitcher, which was the hardest part," she says. She's mum on most of the details, but she does share that she wants to stay away from silk; it has a tendency to slip off when you're running a million miles per hour.
Jacket, CHANEL; Skirt, CHANEL; Boots, CHANEL; Sunglasses, Etnia Barcelona.