Fitness
Less time than it takes to down a margarita.
Renée Rodenkirchen
We're big (huge!) advocates for living a
healthy lifestyle
, but we also advocate balance and, well, we love to indulge. Carving out time for those indulgences ranks just about as high on the priority list as
sweating it all out
. So when a workout comes along that a) doesn't take a huge time commitment, b) can be done by a pool, and c) results in flat, super-toned, and strong abs, we're all for it.
Astrid Swan
, trainer to Olivia Munn, created a regimen that checks all the right boxes. Don't say we never look out for you!
---
Do the following five moves for 30 seconds each for four rounds!
---
MOVE 1:
STANDING KNEE DRIVE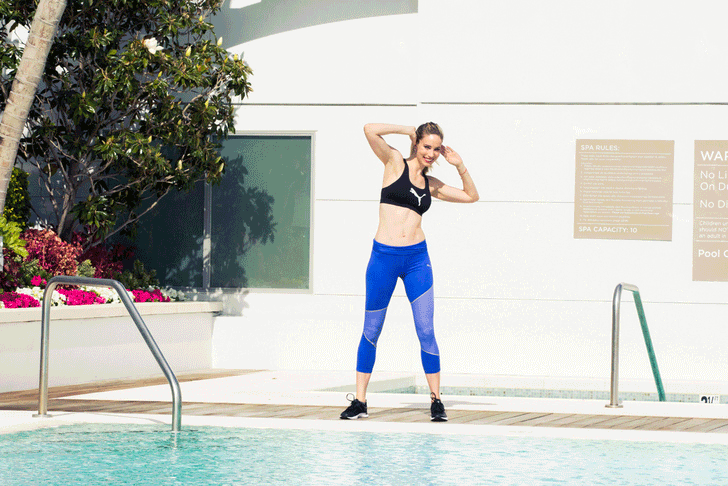 "Start by standing tall with your hands behind your head, keeping your elbows wide. Drive your right knee up and out to the side, crunching your right elbow down to meet your knee. Inhale when you stand tall, and exhale as you bring your knee up. Do this move for 30 seconds and then repeat on the other side."


---
MOVE 2:
DIAMOND CLICK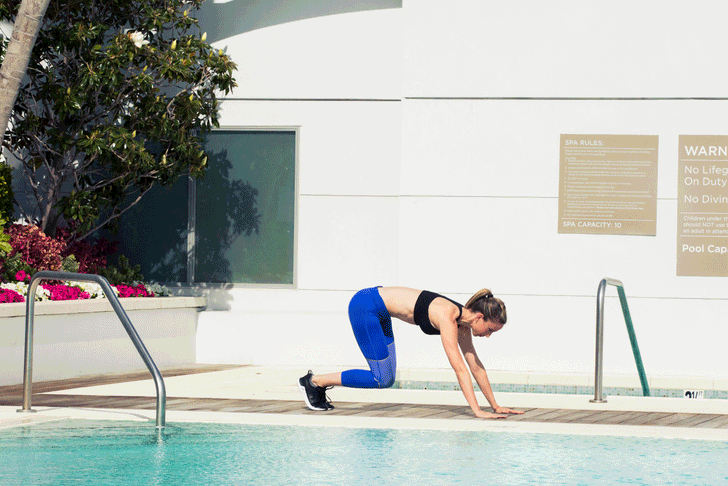 "Start in the plank position with your hands lined up under your shoulders. Shift your body weight forward as you jump your feet in the air, clicking your heels up into a diamond shape. Try to hold for one second before landing softly back into the starting position. Do this for 30 seconds."


---
MOVE 3:
BUG DOWN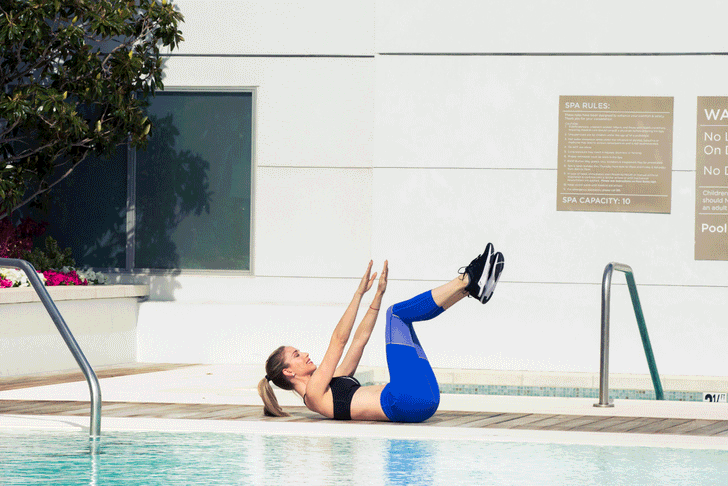 "Lay down on your back with your knees up in tabletop position. Extend your arms straight up, and hold your shoulder blades hovering above the ground. Extend one arm back as you extend your opposite leg forward. Return back to starting position, and switch sides. Continue to do this movement, alternating back and forth between opposite arms and legs. Be sure to keep your back pressed flat to the ground. Do this move for 30 seconds."


---
MOVE 4:
V UP TWIST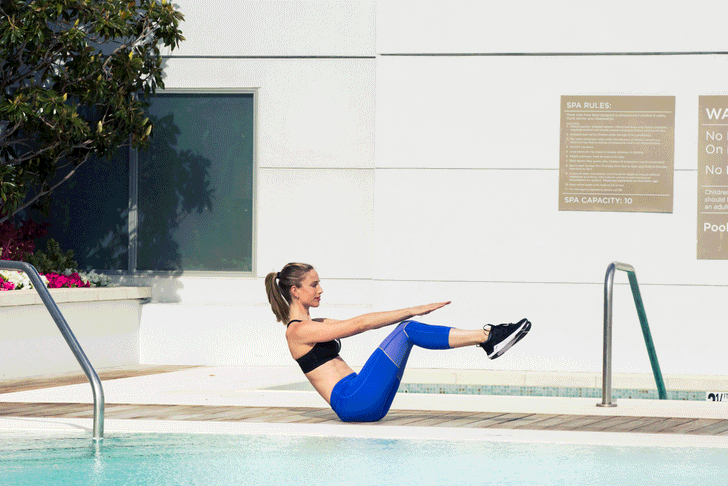 "Start in V sit position, balancing on your sit bone with your arms extended out in front. Twist to the right and then the left. Return to center, inhale, and lower your body down, keeping your shoulder blades off the floor. Exhale back up to V sit, and repeat. Do this for 30 seconds."


---
MOVE 5:
FIGURE 8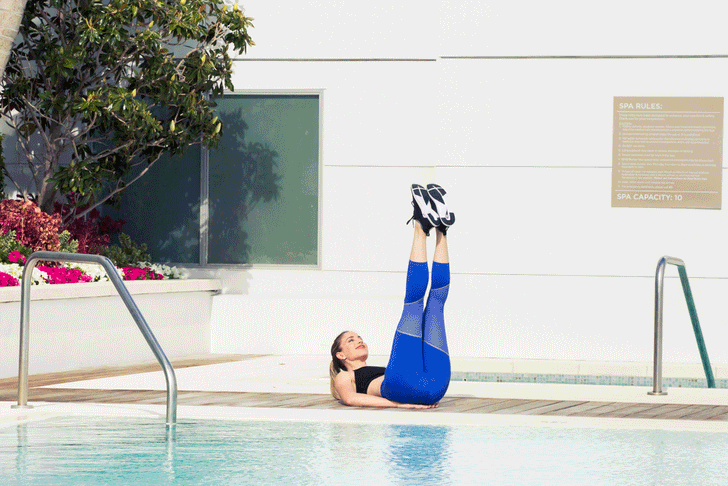 "Lay on your back with your hands under your tailbone for support, and hold your shoulder blades up off the floor. Hold a crunch. Extend your legs up and point your toes. Draw the number 8 with your legs. Repeat this motion for 30 seconds."


---
BONUS MOVE
ROSCOE
"Holding on to a weight with your arms extended at eye level, roll up into a full sit-up position. Roll down in a c-curve slowly and with control. Repeat rolling up and down for 30 seconds."