WWWRN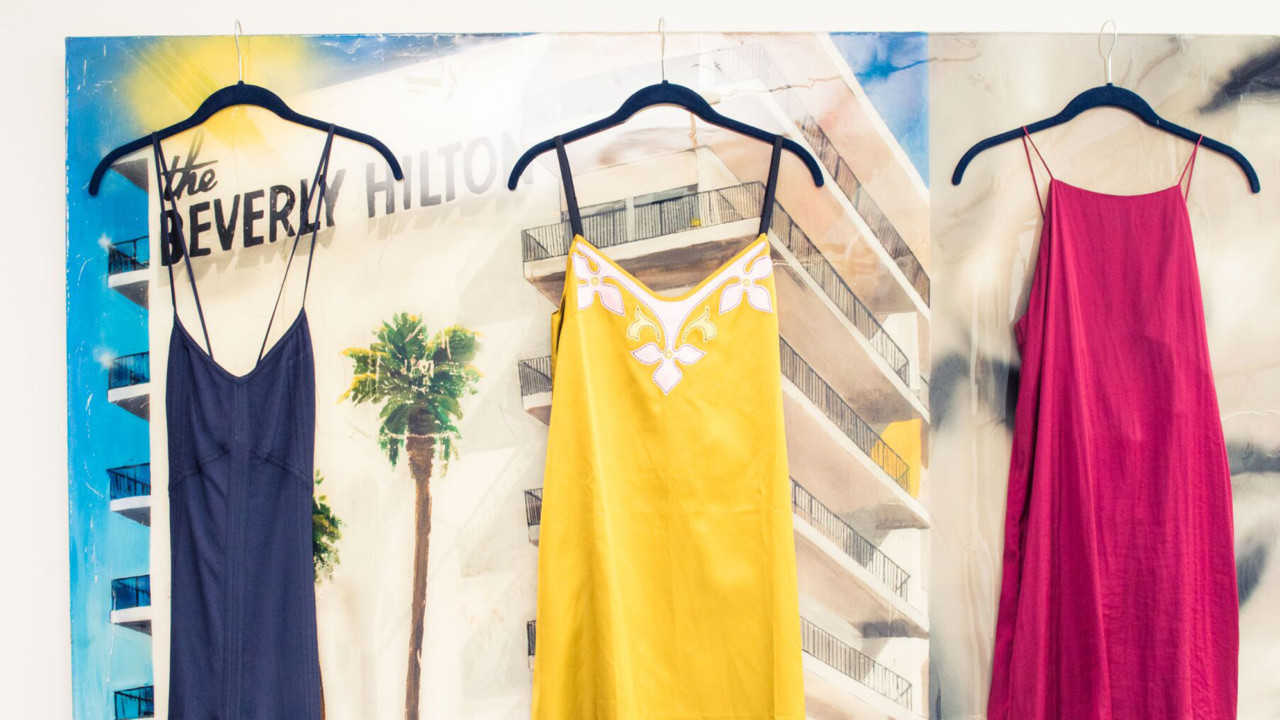 18 Stylish Summer Dresses to Help You Beat the Heat
We swear, you can look cute in 95 degree weather.
If you've left your apartment in the last 72 hours, then you know that it feels like a particularly aggressive sauna outside. Remember back in February when we were all dreaming of summer? But in the spirit of the holiday weekend, we're overpowering the urge to do nothing but complain about the heat, and instead make plans that involve a cute summer outfit. That means sundresses, the ultimate champion of the warm weather wardrobe. You couldn't dream up a more versatile style in terms of fit, color, length—the list goes on and on. Here are the 18 dresses you'll catch us wearing until September.
---
Hannah Baxter
Editor
1. Réalisation par The Jeet Flower Power Dress: I already own two Réalisation par dresses (although not the most famous skirt on Instagram) and they've quickly become closet staples. I swear by the brand's wrap dresses in its signature silk crepe, so why not add one of the new silhouettes to my summer rotation? I adore this flower power print and the high neckline—with sneakers it's perfect for daytime; swap out for a pair of black mules and I'm ready for a summer rooftop party.

2. Paloma Wool Finca Dress: Aside from wanting every. single. piece from Paloma Wool, this Finca dress in pink and white checkered print is a definite add-to-cart moment. The low back is essentially built-in air conditioning for this ridiculously hot July, a must for the sweaty humans among us. It's elegant and fun, a tough combination, so I might as well snag it in all three colors, right?
3. Rachel Comey Chernist Tie Front Cotton Dress: To me, summer style means emulating an Italian moviestar on the riviera at all times—wildly printed shift dresses, flashes of exposed skin, and piles of gold jewelry. Once I snag this Rachel Comey stunner, I'm more than halfway there. Now someone just buy me these Wolf Circus earrings, please and thank you.
---
Ivanna Martinez-Gonzalez
Social Media Associate
1. AMUR Maia Gown: I'm someone who likes a longer but fitted dress for the summer, so maxis and midis are my go-to. This printed floral dress has breathable fabric and slits near the midsection, so no need to constantly be fanning yourself. The soft ruffles on the dress give the silhouette a soft, feminine flow. I also really like that the dress is made out of sustainable fabrics. A Mindful Use of Resources, indeed. Get it?
2. Les Filles Du Nord "Knot So Fast" Dress: This dress immediately makes me want to pack my bags and head out to Mérida. The dress tailors to your top half, letting the bottom half do its thing—AKA flow magically whenever you walk. I also like how the rope material subtly wraps around the halter top to the mid-section. The neutral sandstone color also helps you style with a million other pieces, a plus when patterned dresses are saturating your closet. With summer plans that juggle between beach bonfires and city rooftops, this dress is going to be busy with me.
3. Olmos Y Flores Maxi Dress: You can never go wrong with a white maxi dress—and you can REALLY never go wrong with one that makes you feel like a goddess. This one by Olmos Y Flores is handmade and I love how the design is embroidered and elegant, but casual enough to pair with sandals (or barefoot). I am a sucker for ivory, cream, and sandstone in the summer, so having a simple colored dress like this one lets me comfortably wear it more than once. The one accessory I'd pair this dress with? Without question, the iconic Olmos Y Flores palapa sombrero. Need I say more?
---
Katie Becker
Beauty Director
1. Borgo de Nor Dahlia Dress: The girly subtle blush tone and sweet butterflies are offset by a seriously plunging sexy neckline that will show off my nicely-fake-tanned décolletage.
2. Ganni Polka Dot Georgette Wrap Dress: I love this psychedelic green. It makes me think of my vintage shopping days when I was growing up in Seattle. Like I Love Lucy on acid.
3. Madewell Ruffle Floral Print Dress: This sky blue looks so fresh and breezy. I see myself wearing this during a shopping day in Brooklyn Heights followed by a walk on the promenade.
---
Leah Faye Cooper
Editorial Director
1. Rhode Resort Nala Pineapple-Print Cotton Dress: If I had to wear one silhouette all summer it would be this—short, voluminous, and *slightly* dramatic. And don't get me started on this print; it's perfect!
2. Zimmermann Helm Botanical-Print Linen and Cotton-Blend Dress: Ruffles and tiers are two of my favorite things, but what really makes this dress stand out is that it's airy and not cut too close to the body. If I'm going to endure the disrespectfully steamy NYC summers, I need to at least be in something breathable (that's also very high fashion, obviously).
3. JW Anderson Pleated Striped Cotton-Seersucker Mini Dress: I picked another short dress—shocker! This one is great because it's seersucker—a requisite summer fabric in my opinion—but much more elevated than a lot of seersucker pieces. Catch me twirling home in this after a night of rooftop cocktails.
---
Jodi Taylor
Associate Editor
1. ATM Anthony Thomas Melillo Leopard Print Mini Dress: Leopard print has my heart this summer and I've been on a month-long mission to find the most ~perfect~ leopard print mini dress. Thankfully, that hunt stopped today.
2. Kenzo Satin Midi Dress: If you know me, you know I'm obsessed with yellow. So much so that I should probably stop buying it, but I straight up can't. Look how flattering the pleated panels and flowing layers. How can I not?
3. Unravel Project Long Boxing Robe: Some will look at this as a robe, but I personally think it's a great dress option. Add a slip and a pair of pumps and I'm ready to summer party hop.
---
Noah Lehava
Senior Editor: Health and Wellness
1. Marques Almeida Two Tone Linen Halterneck Dress: If only buy clothing if I can picture multiple scenarios to which I can wear it. I love that this dress can be dressed up with a strappy heel or worn with sneakers to the office.
2. Reformation Jojoba Dress: I'm a diehard Reformation girl. To me, they make the quintessential summer dress and each design fits as if it was made just for me.
3. Vanda Jacintho Panneau Dress: Vanda's silky sheaths are the perfect beach coverup but fancy enough for post-sun Aperols.
Part of the series:
WWWRN