WWWRN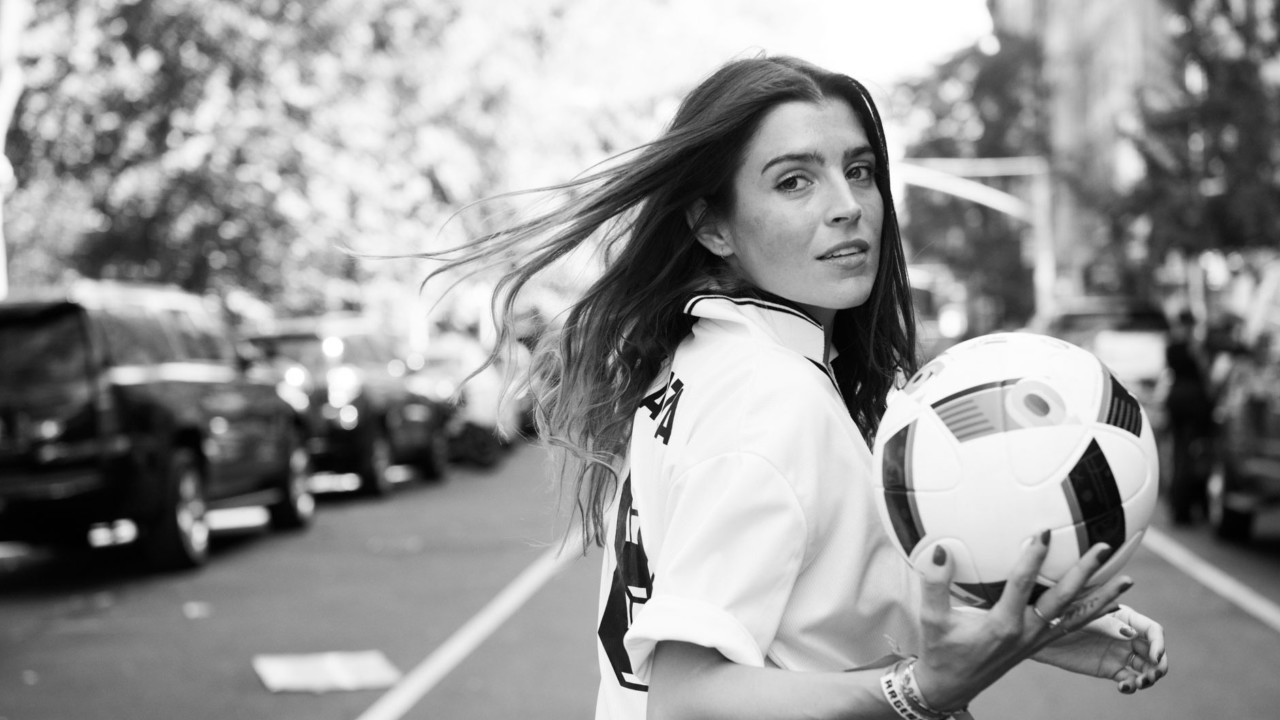 15 Sporty Celebrity-Approved Pieces We Would Wear to a World Cup Match
Elevate your game day outfit.
Even if you're not the biggest soccer fan, there's no denying that the hype surrounding the World Cup is incredibly contagious. In our dreams we'd be sitting right on the goal line, close enough to watch our favorite teams sweat it out (these are good-looking men, y'all). But just because you're a sports fan (or just hopping on the bandwagon—we won't judge), that doesn't mean you have to throw on a baseball cap and a jersey—unless, of course, that's your vibe. So we decided to pull a little styling inspiration from our favorite sporty celebrities. Think Jordan Dunn, Sporty Spice, and more. Check out the five outfits we'd rock at a World Cup match below.
---
Hannah Baxter
Editor
1. Alexander Wang Bra Top with Chain Straps: Melanie C knows her way around a bra top, and I am HERE for it. Obviously Alex Wang is a master at the luxe athleisure game, so anything from his new collection would be perfect to wear to a soccer match. I'm partial to this crisp white style with chain accents.

2. Miaou Morgan Plaid Flared Pants: Plaid cropped trousers with more chain detail? Sign me up! My World Cup look definitely leans '90s, so Mel would be proud. I won't go as low as her style though—high-waisted or bust.
3. Gosha Rubchinskiy White adidas Originals Edition Copa Mid PK Sneakers: Dope sneakers are a must, obviously, and I'm really feeling this adidas and Gosha Rubchinskiy collab. The knit is super comfy, and the neutral tones tie the entire look together. I'm ready to cheer on France from the stands!

---
Jodi Taylor
Associate Editor
1. Kappa Side Stripe Track Pants: When Mel C wasn't wearing adidas track pants, she was in Kappa. All the damn time. Coziness is always my go-to, so it only makes sense that I'd wear track pants to the World Cup. Full disclosure: I also own about four Kappa tracksuits (Mel would be proud), so this one is really true to my style.

2. GCDS Cropped Tank Top: You'd be hard-pressed to find a picture of Sporty Spice where she isn't wearing a crop top. My kind of gal. This GCDS ribbed crop is the perfect fit for the Kappa pants.

3. Krewe Irma Mystic Sunglasses: Sunglasses are a must when watching outdoor sporting events. Catch me cheering from the sidelines with these babies on.
---
Katie Becker
Beauty Director
1. Gucci Appliquéd Satin Jersey Bomber Jacket: I'm choosing a different Spice Girl, Victoria Beckham, the one who has sports viewing in her blood. While I wouldn't copy that haircut for a million dollars, I will take this outfit, starting with a stellar bomber jacket.

2. Madewell High-Rise Denim Boyshorts in Tile White: Button-Through Edition: I take issue with short shorts most days, but with the high waist on these (and coupled with the long sleeves of the jacket), I'll take these Madewells. I bet they are super comfortable and stretch enough so that I can eat a lot of bar food and have some beers.

3. PUMA x MAC ONE Classic Sneakers: While VB chose to match her shoes to her shorts, I'm a little sick of ice creams at the moment. I'll opt for these nude Pumas made in collaboration with MAC (I am the beauty director, after all).
---
Leah Faye Cooper
Editorial Director
---
Ivanna Martinez-Gonzalez
Social Media Associate
1. adidas Mexico Home Jersey: Fútbol! World Cup season is my favorite because for a whole month, my family (and the world, to be honest) watches this one universal sport EVERY day. I, of course, definitely lean in for the Mexico jersey. Call me superstitious, but I sleep with my jersey the night before a big game. We beat number-one-ranked Germany last week, so I think it's working!
2. Outdoor Voices 3/4 Warm-Up Leggings in Flamingo: Any OV messenger rep can attest to my obsession with these new leggings (yes, I was so eager I had to message them on the launch date for these). I'm in love with these leggings for their "Rosa Mexicano" vibrant color, perfectly popping with my jersey! Sporty Spice would approve.
3. Gala Is Love Juliette M Hoop Earrings: Sporty Spice may be sporty, but she's also really into her bling. I always go for hoops whenever I'm pairing a super casual look, just to give it a bit more of an edge. These are also made in Mexico, by a Mexican designer. Like I said, I'm really superstitious!
Part of the series:
WWWRN