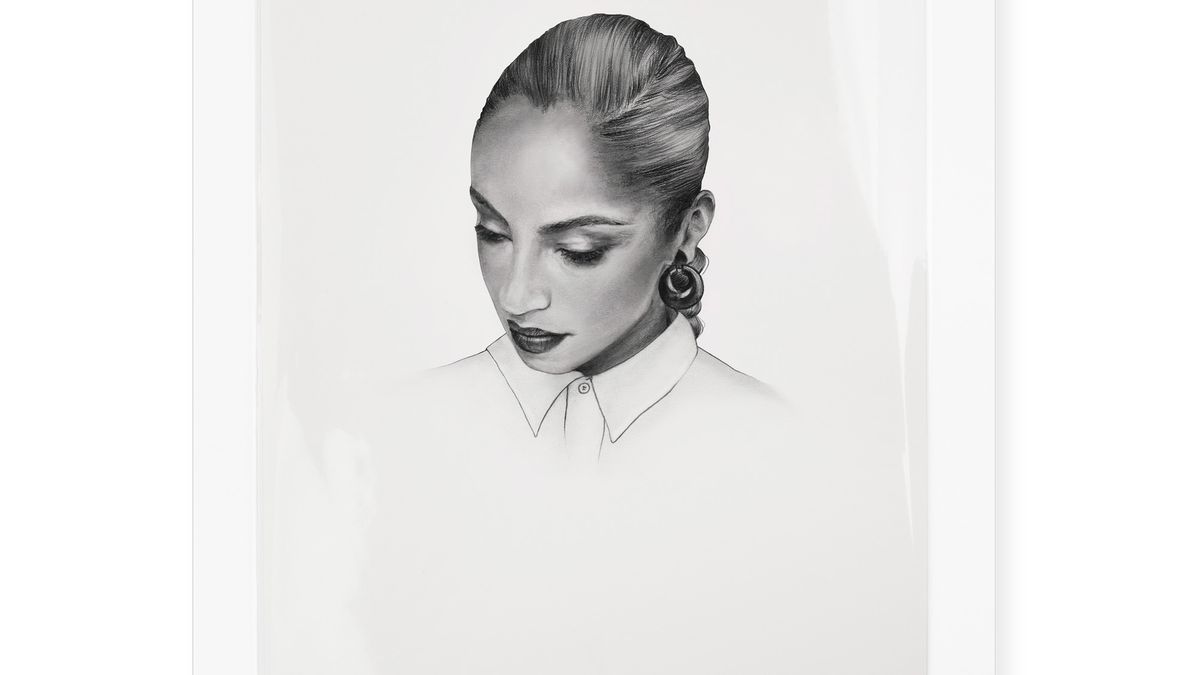 News
Set an Alert for Tomorrow's Sade Collaboration Before It Sells Out
You'll regret it if you miss this one.
In early 2017 we took you inside the closet of 
Easy Otabor's
closet, then the RSVP Gallery buyer; he's since moved on to focus on his own brand. Back then he told us about a clothing brand he was in the early stages of launching:
Infinite Archives
. "I was always taught by the people that I came up with that you need to inform people and you have to want to know about things—things should have a story,"
he said about wanting to create pieces with meaning
. "Let me make a brand that informs people about the past."
Now, a year into its tenor, the brand is selling out with every t-shirt drop and has garnered stockists in L.A., Copenhagen, Chicago, Japan, and Berlin. The latest drop is in collaboration with a very talented Canadian illustrator,
Georgia Bayliss
(you've most likely come across one of her perfectly penciled fashion-inclined sketches on Instagram), and focuses on the year 1986 and the 
very
iconic
Sade
. 1986 is the same year the famed singer released "Is It a Crime" and "Never as Good as the First Time," and the year her album
Promise
made it to the
US Billboard 200
where it remained for two weeks.
Otabor's vision was to not only showcase a strong woman from the year, but to also partner with a strong female from our current time, which is why he approached Bayliss for the collaboration. The two creatives put their heads together and designed one print and one t-shirt, both showcasing a Bayliss-sketched Sade. Releasing tomorrow at 3:00 PM EST, the pieces (there are 45 signed and numbered prints and a ~limited~ amount of shirts) are available on a first-come-first-served basis at
infinitiearchives.com
and all stockist locations.
Keep scrolling to read about how the two creatives met and where they would take Sade for lunch.
---
How did the two of you first meet?

Georgia Bayliss: "We met over Instagram. Easy reached out about my work and mentioned he had some ideas for Infinite Archives that I could potentially get involved with.

"I was really inspired by Easy's development and concept of Infinite Archives, so I was eager to collaborate with him and the brand. After hearing about the specifics of the project, I was even more excited to be a part of it."

How did Sade become the woman that the collection focused on?

GB: "Easy was really focused on presenting strong and iconic women that were prominent in '86. He had a list of women that he felt would fit the the project, but ultimately decided on Sade. From there, we looked into imagery that would present her in the way we wanted and also in the most appropriate way for apparel and print.

"I love to draw female portraits—it's how I started drawing. So for me, Sade was already a perfect subject. More than that, though, she imbues strength and sophistication but also a kind of transparent softness. These kind of characteristics in women are qualities that I really enjoy depicting through illustration."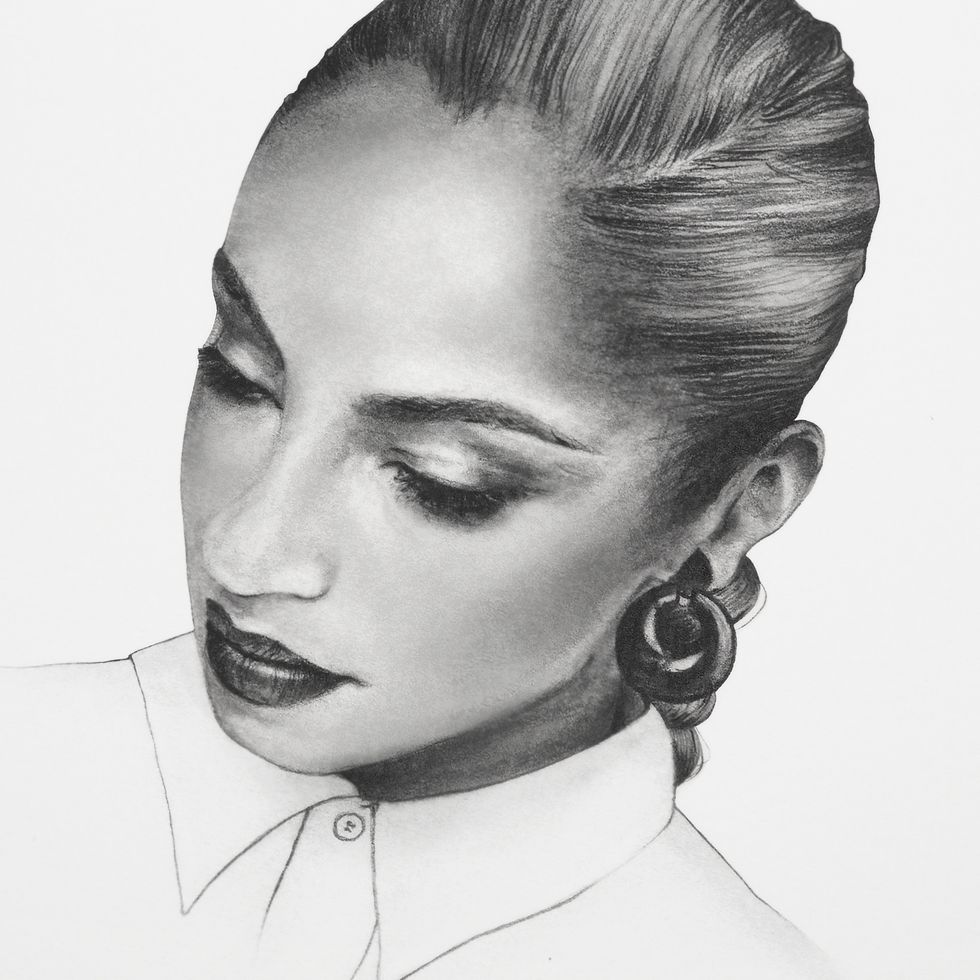 Photo: Courtesy of Georgia Bayliss
Easy, why was it important for you to team up with a female creative for this project?

Easy Otabor: "Simple: I was raised by a strong, powerful woman—my mom—and I helped raise my two little sisters. I want them to have the same opportunities that I have in life."

What was the creative process like for this project?

GB: "Easy definitely knew what he was looking for from the beginning—he had the general concept down before we had our first call. From there, we collaborated on reference images. We were hoping to create something recognizable but a little more obscure [instead of] a classic image everyone has seen a million times."

What are your favorite Sade songs?

GB: "I love the whole Diamond Life album. And, of course, 'The Sweetest Taboo.'"

EO: "'The Sweetest Taboo.'"
How long did it take for the pieces to come together?

GB: "There were a lot of firsts for me with this project, so it was important to take the time to get it right. This is the first time I've worked with Easy, the first time I'll be releasing prints in collaboration with someone else, and the first time I've been so closely involved in the design and development of my work on a garment.

"The way Easy has chosen to release IA projects complements the way young creatives work today. We had the time and freedom to develop it until it was perfect. It didn't feel like work, it felt like a passion project."

If you were to take Sade to dinner, where would you take her?

GB: "I would definitely let Easy decide on the restaurant."

EO: "[Laughs]. I would probably take her to Jon & Vinnys."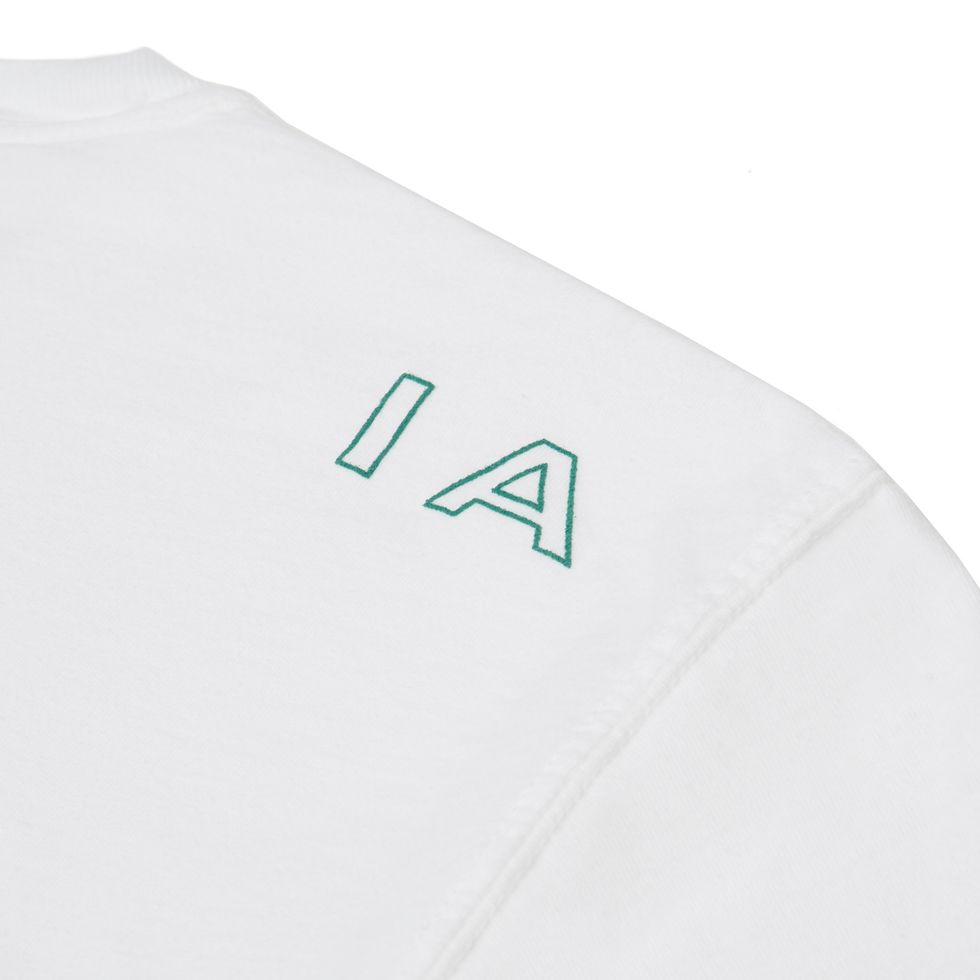 Photo: Courtesy of Infinite Archives
Why do you think Sade resonates with people as such a cultural icon while she is still alive?
GB:
"For me, I think for the same reasons that I enjoyed drawing her. She has depth that is perceived through her music and persona. It feels authentic, and that's what has carried her influence through. Authenticity is refreshing. It's rare within our current culture, and I'm sure it's a big part of why young people are gravitating towards her today."
What was your favorite part about working together?
GB:
"It's been really amazing to collaborate with someone who is so supportive and appreciative of my work and art in general. This project is a great artistic addition to the way Infinite Archives is representing timeless and iconic moments, people and imagery."
EO:
"I would say the same—we took our time on it, and nothing felt forced."
Top photo: Courtesy of Georgia Bayliss
Want more stories like this?
Inside Easy Otabor's Close
t
14 Successful Women on the Age They Found the Hardest
How 5 Successful Women Start Their Workdays