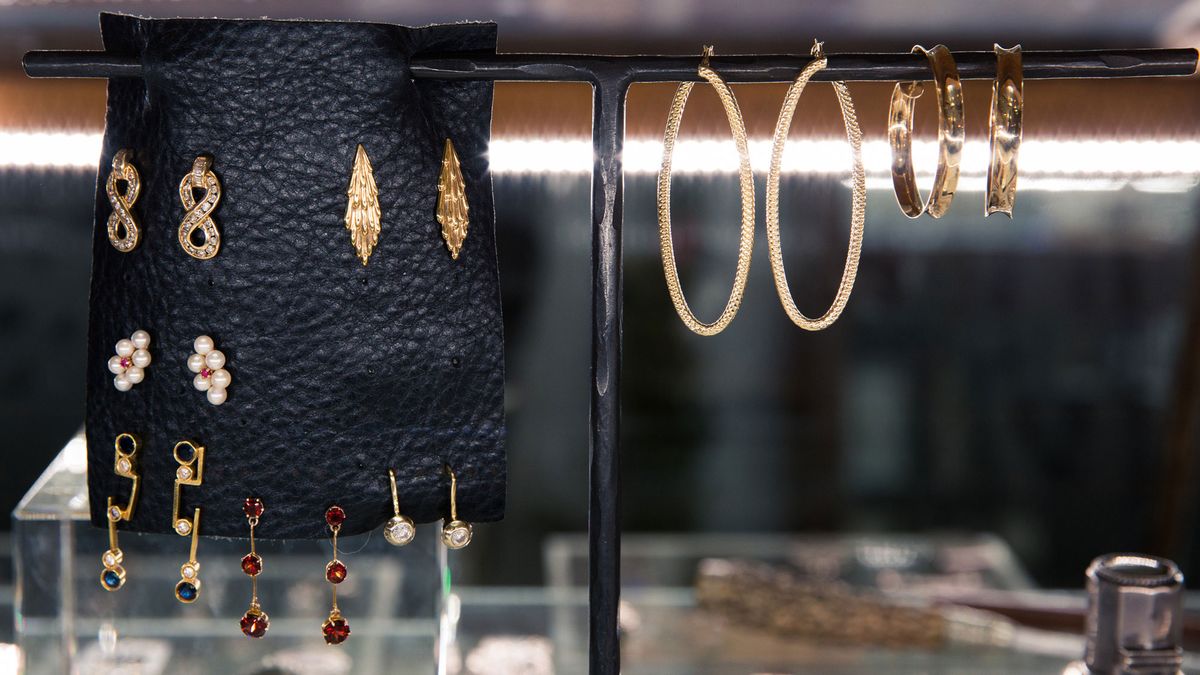 Career
It stocks every under-the-radar brand fashion insiders love to wear.
Alec Kugler
It wouldn
'
t be a stretch to say that we're living in the golden age of
tattoos
and
piercings
. Take a stroll down any street in New York, L.A., London, or, say,
Buenos Aires
, and you'll find a variety of people—old and young, male and female—sporting everything from a subtle gold
septum ring
to statement
tattoo sleeves
trailing down their arms. It's never been more acceptable, or desirable, to
decorate your body
with an artist's designs. Few people understand this better than industry veteran
Lori Leven
, the founder of both
New York Adorned
tattoo studio and
Love Adorned
fine jewelry and lifestyle shop in New York's East Village.
Even if her name isn't familiar, if you follow the world of body art (either on
Instagram
or in real life), you've seen the impact of her artful aesthetics—
curated ears
,
tattoo artists
with months-long waiting lists, hands stacked with vintage treasures.
"
Elegant dirtbag," Leven says, laughing, when we ask how she would describe her target demographic for each store. "Good shoes, good sunglasses, lots of gold, and don
'
t worry about combing your hair." Otherwise known as the fashionable urban millennial.
---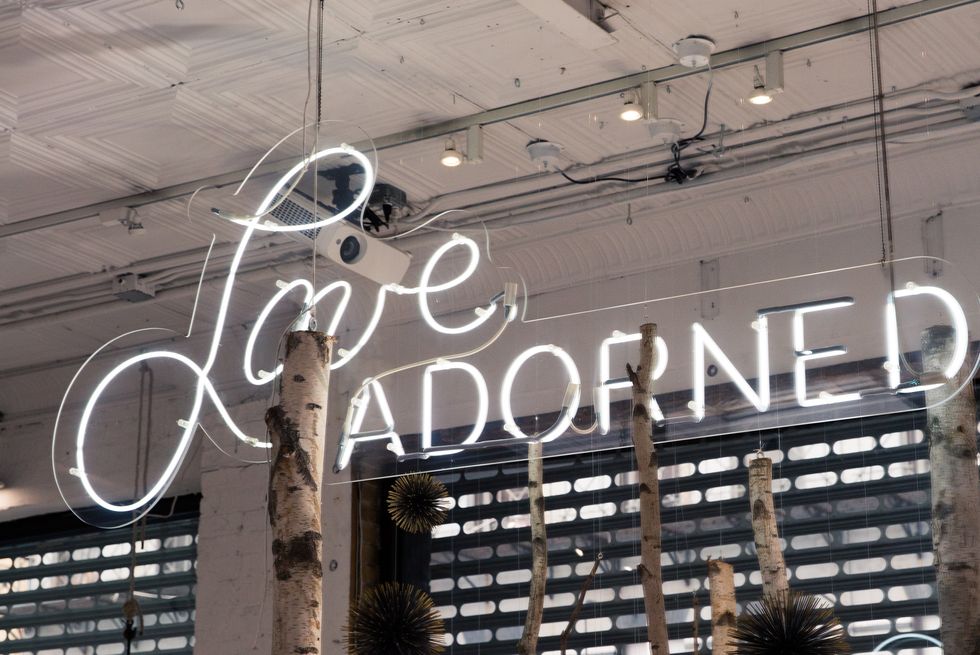 We stopped by
Love Adorned
on a freezing winter afternoon, just before the shop doors opened to a stream of customers searching for that perfect piece of jewelry. The atmosphere is dreamy, to say the least, from the custom cloud light fixture to the sparkling glass cases which house Leven's latest designer discoveries and one-of-a-kind pieces. "I first started traveling in
India
25 years ago, and one man in particular was super lovely to me and would take me around, but generally I'm self-taught [about jewelry]," she says as we meander through the store, admiring a necklace here and a bracelet there. "[My favorites are] unusual diamonds,
certain opals
, a range of sapphire colors. Something that has great character."
It's hard to believe now, but the concept of Love Adorned was originally a front for her first tattoo shop back in the early '90s, when tattooing in New York was still illegal. "I had East Side Ink, which was like a co-operative," Leven explains after sifting through a tray of
stunning gold rings
. "I had moved to California, and I got a job at a shop as an assistant. There were so many great tattoo artists pushing the envelope. When I decided to come back, I was like, 'This is crazy.' Everybody was working out of their apartments because tattooing was illegal, so one of my close friends and I started East Side Ink on St. Marks."
After three years and moving the shop to 2nd Street, the founder decided she needed some sunlight (she had been working out of a basement) and more space, so she opened
New York Adorned
, the now cult-favorite tattoo and piercing shop. "I was like, 'What else am I interested in that I can have as a front?' I decided on jewelry, because I happened to have been collecting [it] and traveling around the world. Some of it I'd wear, but most of it I just thought of as cool art and design." Eventually the tattoo space was overrun with customers, so Leven opened a jewelry store first in Brooklyn, and eventually founded her shop on Elizabeth Street, where the current Love Adorned resides to this day.
"I always call myself a 'high-end hoarder,'" admits Leven, and truthfully it would be easy to lose an entire afternoon here shopping for trinkets. "I'm very interested in new designers and helping to develop people's careers that I believe in." With designers like
Lola Brooks
and
Elizabeth Street Jewelry
mixed in with her favorite vintage pieces, there is truly something for everyone, from the most indie bohemian to classic minimalists. "[Jewelry] has intrinsic value," she explains. "A $500 sweater on the first day of the season ends up being an $80 sweater in the sample sale. Gold and diamonds will always be
gold and diamonds
. They'll go to your child and then to your grandchild. It's heirloom."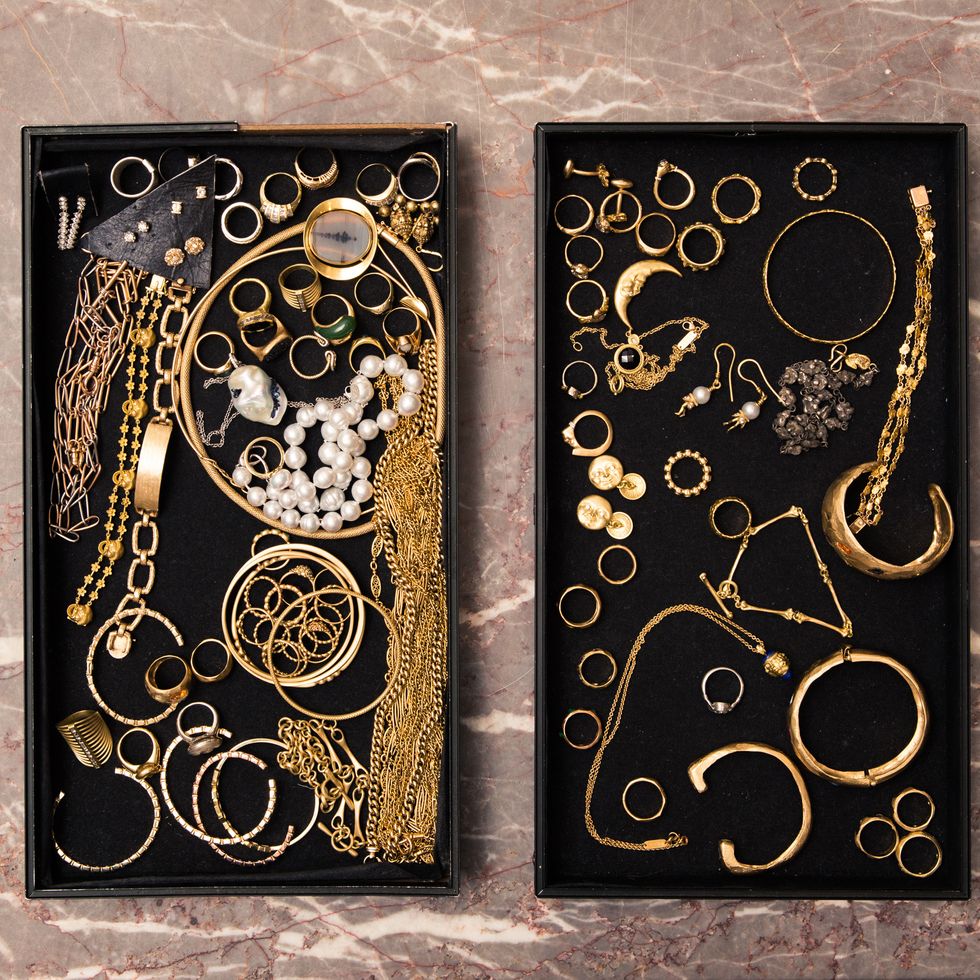 At noon sharp, Loved Adorned opens, and as the crowd of customers files in, a case of
delicate diamond rings
catches our eye. "Women are always more open to diversifying, whereas men are a little bit more afraid," Leven says of the engagement ring shoppers. "They're like, 'I need to get her a regular diamond, and I want
the Four C's
,' and [we're] like, 'OK, yup, the Four C's are very valid. Can you show me a picture of her?' Then they show you this picture of this super cool chick, and you can see that she has character and she's going to want her ring to have character. You have to somehow make them understand that he's buying it for a human, and not from an ad campaign. What we say is, 'When in doubt, ask her best friend.' That's always the most satisfying thing, because they're so scared. They're so excited, and to be able to help someone in an important time in their life like that, I always think is cool."
Want more stories like this?
This Cult-Favorite Jewelry Brand Mixes L.A. Minimalism with French-Girl Chic
What to Do When You're Engagement Ring Isn't...You
We Let Social Media Convince Us to Get a New Piercing