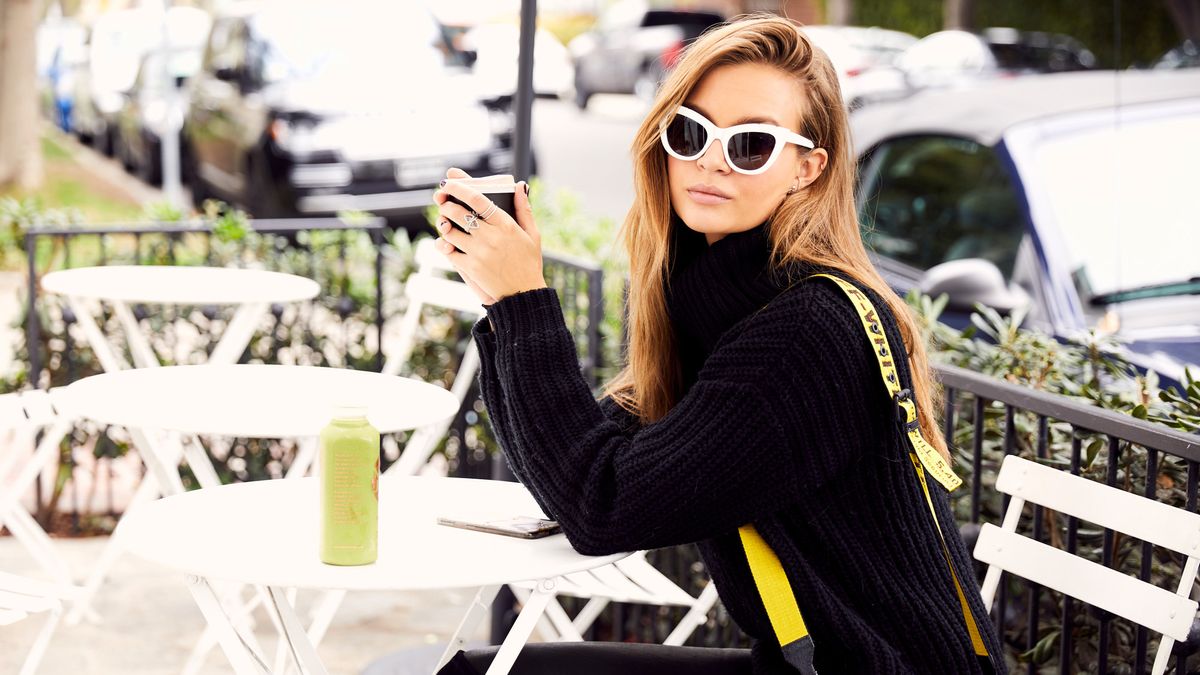 Models
Josephine Skriver's Best Kept Beauty Secret Is the First Thing She Does in the Morning
And throughout the day.
Tristan Kallas
By now, we've spent so much time hanging out with Josephine Skriver—we were there to see her
get her Victoria's Secret wings
; we've done an intense
toning workout together
; we had a
good 'ol girls night
with burgers and face masks in Paris; we *even*
talked salad bars at Coachella
—we should probably get some friendship bracelets. As much as we've zig-zagged around the globe for quick, often very glamorous (what would you expect?), meetups, it wasn't until Skriver asked us to join her for a day in L.A that we got a real peek at the life of a supermodel and the newest face of Maybelline. As it turns out, all the usual suspects were on the agenda: a high-intensity boxing workout at
Aerospace LA
(because looking like *that* takes
hard
work), a pit stop at
Moon Juice
, and lots of exploring (by foot).... and that's all before 10 a.m. Yes, she's a morning person. And after reading below, you might become one too.
---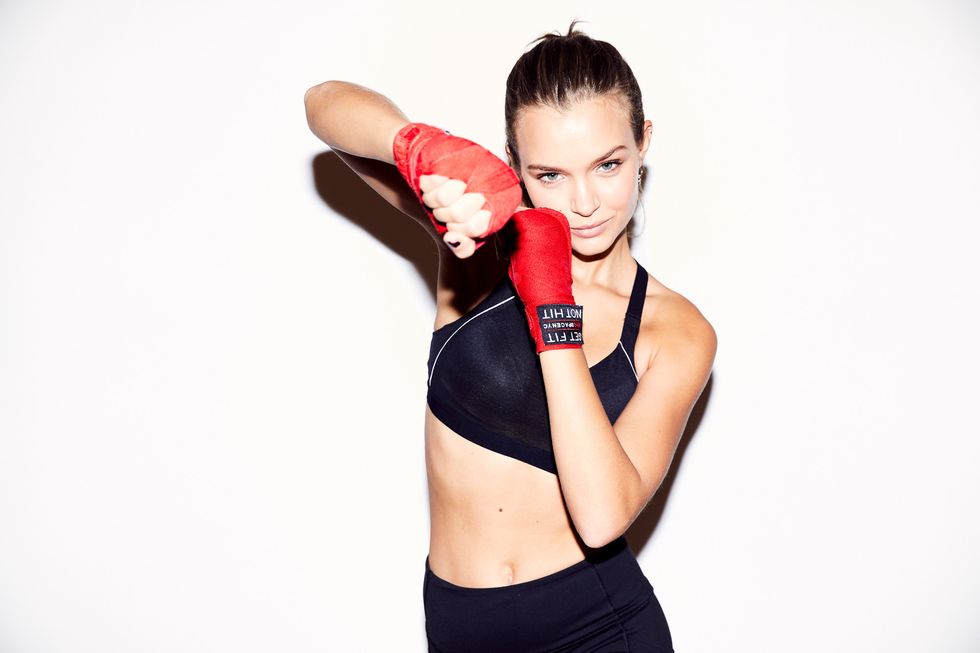 Before anything else she….

"I always have a bottle of water next to my bed and that's the first thing I chug. I think it's super important to stay hydrated and nothing clears my skin up more and gives me energy like water."

Why the hours before everyone else wakes up are the most important:

"My mornings are just for me. I like to wake up pretty early. My boyfriend is a night owl, so those are my hours to just be with myself. I usually wake up three or four hours before I have to be at work, so that I have that time to sit with my coffee and think about the day. If I'm stressed I like to write down goals. Things that I have to do so that my brain doesn't have to fully scramble around everything—it's good to put down on paper and see what the day is all about.

It's also when she gets her workouts done:

"[After my coffee] I go to the gym and that's an hour just for me. I love a high intensity [workout]. I love anything weight related. I think that changed my body more than anything. But I also love boxing or going for a sprint or a run. I love breaking a sweat and being active."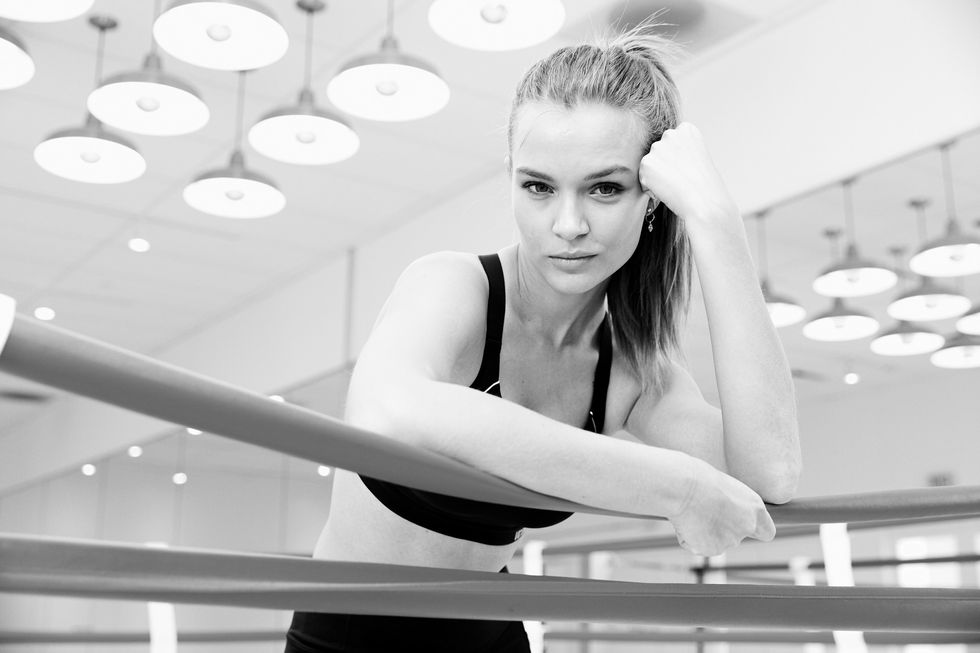 The love/hate relationship she has with this exercise:

"Nothing will give you a better workout than burpees. It's a full body move and I hate them more than anything, but I can't not love them because they do so much. When you're just in your hotel room and there's no gym, just see how many you can do.

"My trainer used to have this thing that every minute you're late you would have to do 10 burpees. One time I was stuck in traffic and had to do 100 burpees before we could start the workout. I felt like it took me a whole hour and it was hell [laughs]. I was so sore the next day. I was never late again."

The exercise that's her biggest challenge:

"I'm weird in the sense that the more [an exercise] hurts, the more I like it. I just get frustrated when there's stuff I can't do. I had a really, really hard time learning how to jump rope. For a good year and a half to two years I just refused to do it. I wasn't even good at it in school. It was never my thing! But there was one trainer that was really patient with me and he tapped into my competitiveness and taught me. I'm still not great at it but I can manage to workout with it. I think it's like that: if there is one workout you do not like it's probably because you should practice it more."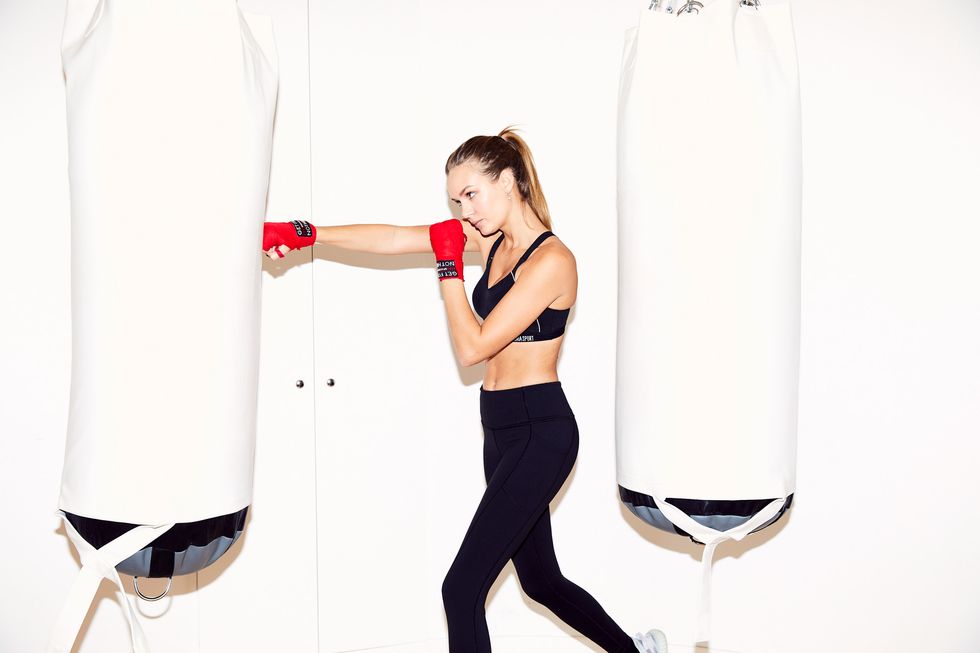 After her workout...

"I go back, get ready, and have my breakfast at home. I prefer to have my breakfast at home because at work people start doing your hair, doing your makeup and then eating breakfast can become complicated."

A typical breakfast always includes:

"Some version of eggs and veggies. Sometimes scrambled, sometimes an omelette, sometimes sunny side up, anything you can do with eggs [laughs]."

Her on-the-go fuel up:

"It's really important to fuel up and usually when I'm on the go, I'm having a protein drink or a juice or anything that has energy in it. I took you guys to Moon Juice and I think they are just fun. Their dusts are really good and I mix them into my coffee in the morning. I'm getting kind of addicted to it! Last time I was there I bought three or four dusts and two lattes, so I spent at least three figures, which is kind of embarrassing [laughs]."

It all happens before 10 a.m.:

"Usually my day starts at this point. Either work happens or I see friends or go shopping. I'm a pretty active person, so even on my days off, I like to stay active. I love to bike everywhere, I love to go on an evening run. In L.A., especially—my friends think I'm crazy—I have to walk or bike everywhere, even if it takes me a day to do it. It's a really cool way to people-watch and see the world, and get some activity."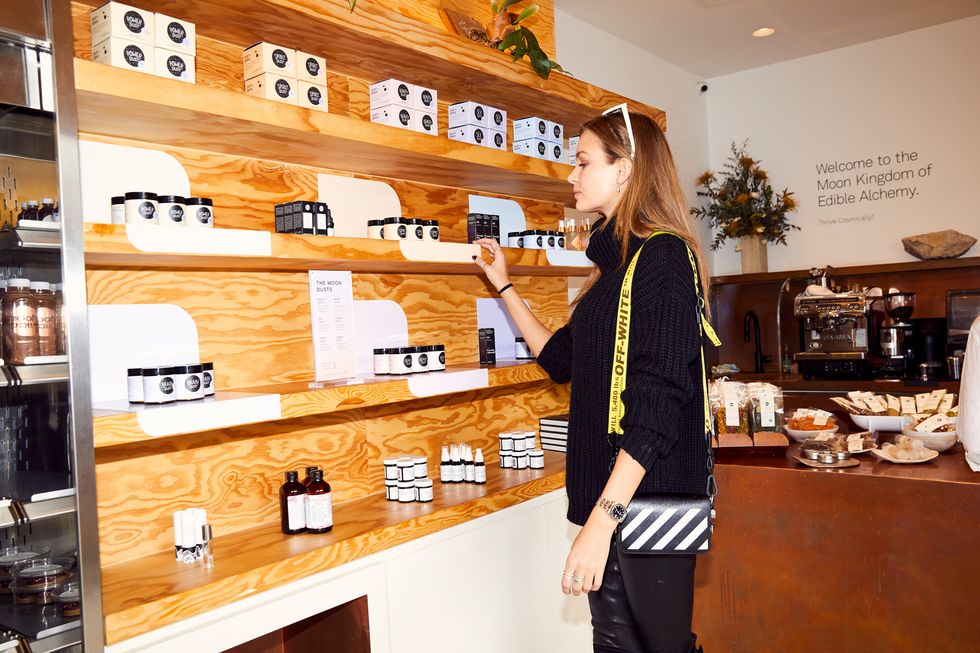 She does it when she travels too:

"I always have my running shoes with me. It's not necessarily that I'm going for a run, it's more about taking a casual stroll around. It's a really fun way for me to explore a city. I rather get lost and try to find my way back."

The first thing she does when she gets home:

"I take my makeup off. I work so much in the industry and I want to make sure that my skin is really good and that I'm hydrated. It's a time to relax. I've already done my workout in the morning, done my work, and I'm free when people call, to see friends or to go out, or to sit and watch Netflix and fully get sucked into it at night. I love that my evenings are free. There's nothing better than being a morning person in my perspective."

What she's binge-watching on Netflix:

"I'm all about the Marvel show right now. I'm such a fantasy nerd."

What's usually on the menu for dinner:

"It's takeout or room service a lot of the time. If I have a night at home and I'm able to cook dinner, it's really nice because I love being in the kitchen. I've always loved cooking. One of my favorite things to do is make a roasted chicken. It takes forever to make, so it rarely happens. Or I like to make steak. I got this new cool machine that cooks it perfectly."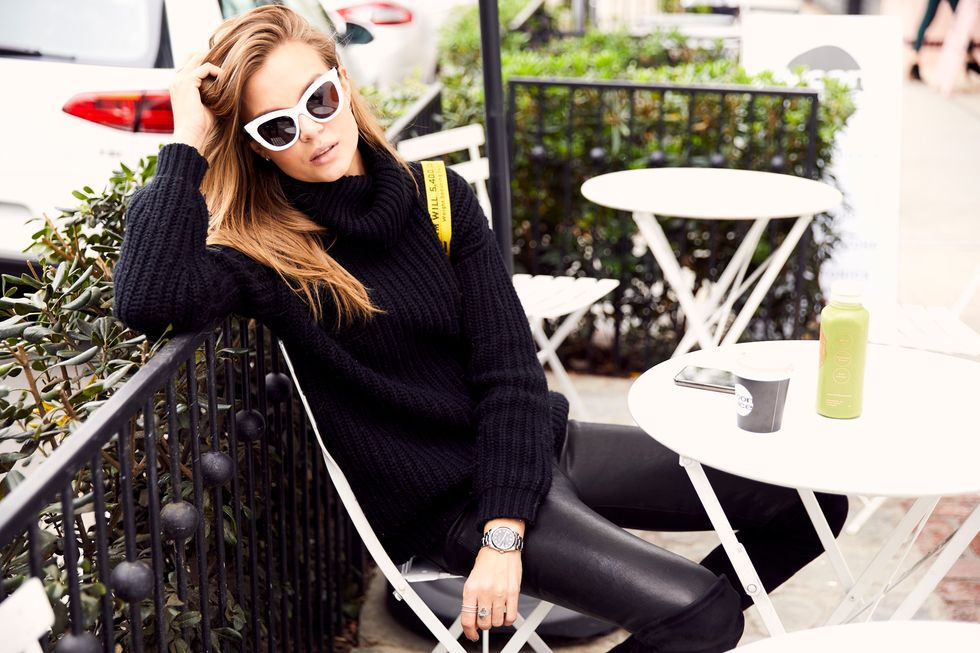 A typical room service order when she's on the road:

"I'm always about protein and veggies at night. Carbs for me are usually in the morning or during the day when I can still burn it off. In the summer, I usually find that I want salmon or chicken or steak with some veggies."

Her last meal ever would be:

"I'm a simple girl. I still think nothing beats a really good steak. I love BBQ—sitting on a porch somewhere and hanging."

Her nighttime routine:

"I wash my face with water and mild soap. Then I put a serum, moisturizer or oil depending on if my skin is dry or super oily. My skin changes a lot with traveling—sometimes it's extremely dry, sometimes it's really oily, so I have different creams for each situation. I make a point of not doing anything but washing my face in the morning. I think you develop natural oils throughout the night and I don't want to strip my face of everything. I try to keep it to a minimum. I think the key is to make sure you do not leave your makeup on."