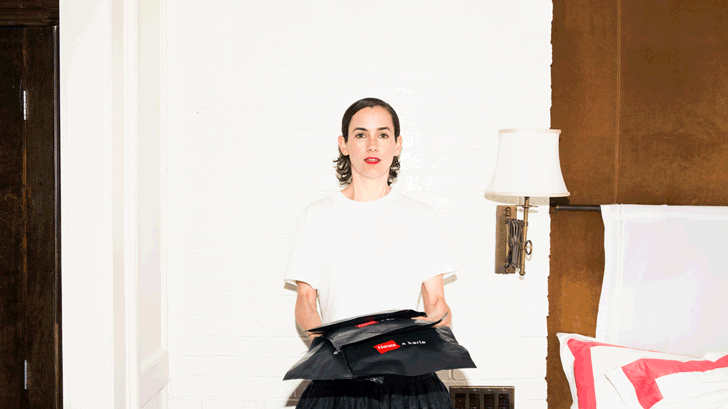 Fashion
Karla Welch on fashion, politics, and how to wear a white tee.
Alec Kugler
One may assume it was the room service iced coffee that had
Karla Welch
jumping on the bed when we photographed her in New York City (fresh off a red-eye from L.A., no less), but having chatted with the powerhouse stylist, we think it was the high from having just launched her
Hanes x karla line
that was responsible. "I haven't had enough time to properly reflect on it, but I'm really proud," Welch said between takes. And for good reason. Inspired by the longline white tee she designed with Hanes for Justin Bieber—a signature piece during the Believe tour and a wardrobe staple of Bieber's ever since—the seven-shirt collection includes classic, cropped, and sleeveless styles, and is already being worn by
Zendaya
, 
Karlie Kloss
, and
Tracee Ellis Ross
, among a slew of Welch's other celeb clients. Oh, and did we mention the campaign? Starring Bieber,
Kaia Gerber
, and
Joan Smalls
, it was a literal labor of love shot by Welch's husband, Matthew. "[We] worked together the whole process, and I was so grateful to him," Welch says. "I couldn't wait for everyone to see the images."
Here at Coveteur HQ, we couldn't wait to see how Welch would style her shirts. This is, after all, the woman who dressed Ruth Negga in that impeccable Valentino for the
Oscars
, put Sarah Paulson in plunging custom Prada at the Emmys, and landed at number one on
The Hollywood Reporter
's 25 Most Powerful Stylists in Hollywood list—so yes, we were taking notes. Our afternoon was a deep dive into optimal white-tee dressing, but also one that included talk of Welch's former career as a maître d
'
, her love of Instagram, and what she's working on next.
---
Her thoughts on her
Hollywood Reporter
nod:
"I'm super pragmatic, so I was like, 'OK, great!... Now I have a job to prep.' But I'm super proud of the year that I've had, and the [
Hollywood Reporter
party] was such a fun night because I got to be with all of my peers. There's a group of us that are really close. We're competitive because you want to get the girl or the job, but there's so much room for everyone, so it was just a great celebration."
The best part about her job:
"I love fashion, and I think designers are artists
—
I know they are. To be able to work closely and develop relationships with Pierpaolo [Piccioli] or Nicholas [Ghesquière], and to have a dress made for a client—I'll never get over it. I make sure my girls understand how baller and special it is, and to not ever take it for granted. I think that my favorite part of the job is that I get to be a conduit for designers—to make sure [my work] is how they envision their look to be."
What her personal white tee collection looks like:

"I fully cleaned out my closet, and I only own my own white tees now! But I probably had like, 50 before. And they were all trash, but I kept holding on to them. So now I have two of each of mine to start."

How Hanes x Karla came about:

"When I created xKarla, the idea was that I didn't want to wait for a brand to come to me and say, 'Hey, do you want to be an ambassador?' I feel like it's a new way to collaborate where I say, 'I want to make this, I'm going to find someone who it makes sense for me to make it with.' So that's what this is."

Her tips on caring for a Hanes x Karla tee:

"I'm so hard with [mine]. I just wear them, wear them, wear them. If it's not dirty, I'm not going to wash it, so I don't wash after every wear. I think you should wear stuff and let it bag out a bit. And then machine-wash. Sometimes I air-dry, sometimes I just throw [them] in the dryer. They're tough. You can beat these ones up."


What she learned from working in the service industry:
"I was a ma
î
tre d
'
 and a sommelier at a restaurant in Vancouver, and I loved it. I think you meet someone and you know they've been a waiter or a server. There's something that makes you a better person, and you just have a better understanding of things. Service is important."
Why she loves social media:
"I love teasing my husband because for the longest time he told me, 'You need to be on Instagram.' I was late to it, but now I love Instagram so much that he's always telling me to put my phone down. It's fun to share. Especially for me, because I'm an introvert, but I'm an extroverted introvert, and there is such a thing as that. It's this amazing way to [talk] to people who I'd probably be too shy to say hi to. For better or worse, online is very much where our community is, and that's how we get our news and connect with other people."
Why she's vocal about her political beliefs:

"I think it's so unfortunate and not thoughtful when people think that someone has to just be one way. We're all humans. Why should thoughts on politics be limited to politicians? Please—that's half the problem we're in right now. I've never felt like I shouldn't be able to speak up. I've always been a voice, and I'm never going to stop because I have a brand or because I have followers. I want my followers to know what I believe in, and if I can educate or shed some light on things that are important to me, than that's a good reason I would use my forum. I think what's going on in the world is crazy and wrong, and if we don't use our voices, we're screwed."

Her next move:

"We have another drop coming in Japan, so stay tuned. It's going to be another Hanes thing—it's going to be something awesome."

Click through to see how Welch styles four of her Hanes x Karla shirts.
1 / 4
The Crop
"I love [this skirt], it's so gothy-girly. [This] to me is how I'll wear [the crop]. I love it with a full skirt or a cool high-waisted pair of trousers. And Vans. I love my classics; Vans are a classic, a white t-shirt is a classic, a nice skirt is a classic."
Skirt, Valentino