Mary Katrantzou on Sustainable Fashion, Branching Out of RTW, & the Most Ambitious Dress She's Ever Made
Plus, we take a look at the past decade of her career.
Designers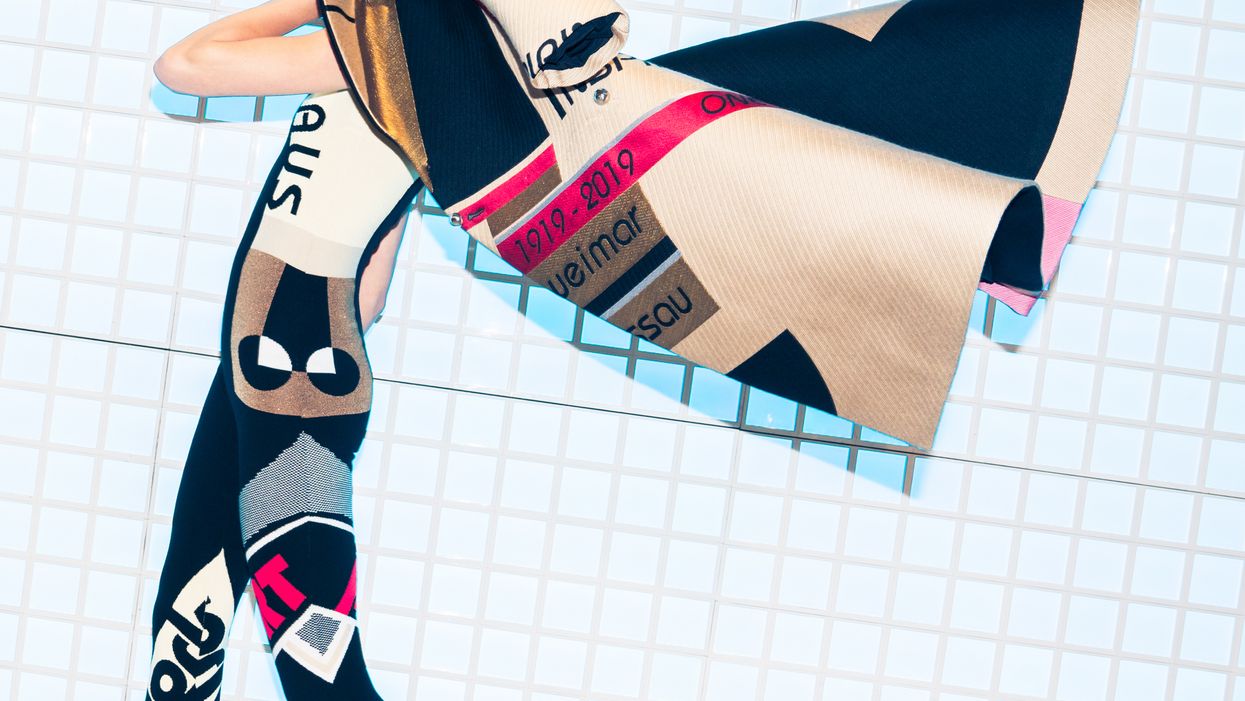 It's been 10 years since
Mary Katrantzou
debuted her kaleidoscopic prints and intricate embroidery, which have become synonymous with her brand. Can you believe it? A look inside her closet and a crazy-fun weekend wedding (for Cov alum
Erica Pelosini
) in Cannes later, and we've found ourselves sitting across from our dear friend in the middle of Hudson's Bay The Room. We caught up with Katrantzou in Toronto to walk through 80 painstakingly curated pieces from her archives that are on display here through June—a nice sampling of the 180 designs from her decade-long career she showcased in her first solo exhibit at the Dallas Contemporary Museum this January. Although we got distracted by the exquisite work and details of her pieces up close, we did squeeze in some talk about how technology is fueling the change for sustainability in fashion, the most ambitious piece her team has ever worked on, and what her next collaboration will be. 
---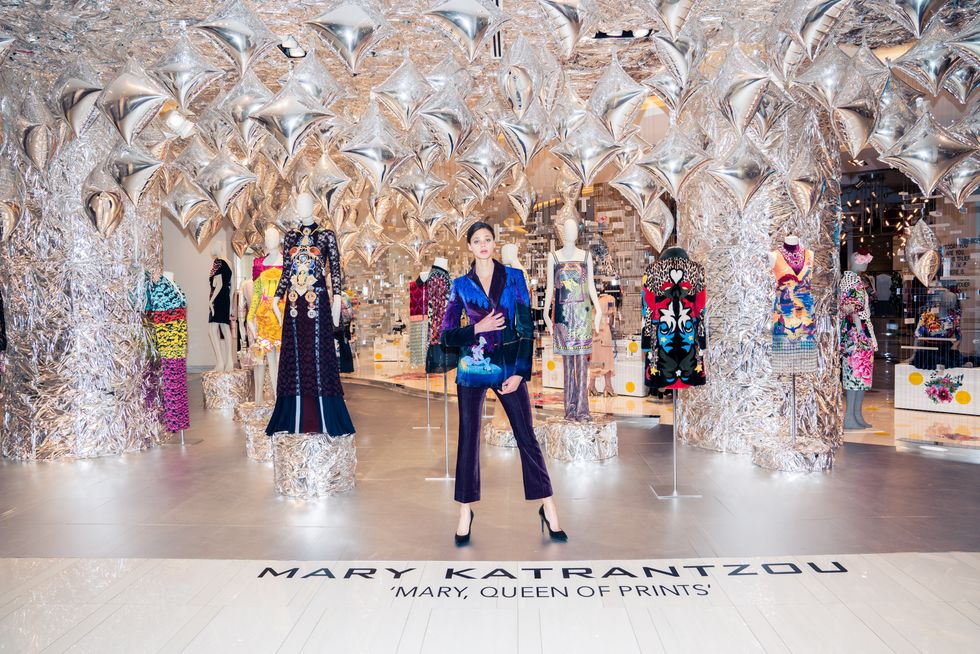 On the mini-exhibit at The Room:

"We did a solo exhibition at the Dallas Contemporary Museum in January, and it spanned over three months. It was 180 pieces from the archive and was blocked in colors. We were trying to find a thread throughout my work because everything is so thematic, so we decided to do it by color [for the Dallas exhibit]. I think the selection process at The Room was looking at what we exhibited at Dallas and trying to represent as many collections as possible so that you can [see] the evolution from season to season. It's pretty amazing to see them all together because it doesn't even feel separate. There's clearly a consistency that you don't realize [as a designer]—there's a brand DNA there that we didn't recognize until we did the exhibition."

How looking at her past collection when building the retrospective inspired her next one:

"We realize that a lot of my work has been around this idea of collecting. So the theme of the collection is collection for September. It feels like every season we've done in the past is a piece of a larger puzzle. A lot of those collections were based on the idea of jewelry or perfume bottles or postage stamps—objects of art that have been around this idea of collecting. A lot of the techniques and the silhouettes have evolved through the years, so it's kind of nice to revisit, and say we want to take the idea of postage stamps but do outwear this time. It's kind of showing an idea from the past from a different perspective. It's reappropriating a lot of those ideas and adding new ideas to it.

"I think every designer should look back at their work as a challenge to understand their brand DNA. Ten years is kind of a good benchmark for every designer to say 'OK, let's look at what has happened. Let's take that forward.'"


How technology is helping the movement towards sustainability:
"The beauty of technology is that it's constantly advancing. Any innovation that happens in fashion is focused on the innovation that's happening in textiles. A lot of the fabrics now are so reactive, so it allows you to build silhouettes and techniques, and you can push the boundaries of what some of these [textile] mills have been doing for hundreds of years. It's pretty amazing how you can digitize an image these days to so many different techniques and what you can do with precision engineering. Because my work is so image-led and had to do with perfectly placing that print, embroidery, or that jacquard on the body required precision engineering. Now that everyone is focused so much more on where the clothes are coming from, and whether they did in a sustainable way—fashion is not the most sustainable industry in the world—it's kind of amazing what these advances in technology are allowing you to do. What we've always done with precision engineering is limit waste. Obviously, it's baby steps in the grand scheme of things, but the fact that you can be in London and see what your factory is doing in Italy via an app is amazing. You can actually guide their cutting machine on your phone."
The piece that has taken her the longest to create:
"We just did an amazing piece that Cate Blanchett wore to Cannes [Film Festival]. It was inspired by the paint-by-numbers story, which was from spring/summer '18. It was all based on this idea of nostalgia and the coloring books you used as a child that becomes the creative building block to your creative ideas as an adult. Cate's stylist Elizabeth Stewart had her try on the dress last October, and she knew she wanted to do something special. We were waiting on confirmation that Cate would be going to Cannes, and in January it was confirmed that she was going to be leading the jury. We started creating this dress [right away], and it's probably one of the most ambitious pieces we've ever done because it's 15 meters of hand-embroidered paint-by-numbers. The weight needs to be carried with an under-crinoline construction, and it needed to fit Cate perfectly, so we had to do two fittings. It took four weeks straight on to be hand-embroidered, and then it took another week to construct it. I'd say that is probably one of the most intricate pieces we've done.
"We have one displayed here that we call 'The Beast,' and it's again a paint-by-number, and a very special friend and client of mine ordered that bespoke. It's because their silhouette is so impactful, but also they are fully hand-embroidered. It's amazing that both pieces exist in the world: one in Cate Blanchett
'
s private collection, and the other that a very good friend of mine owns."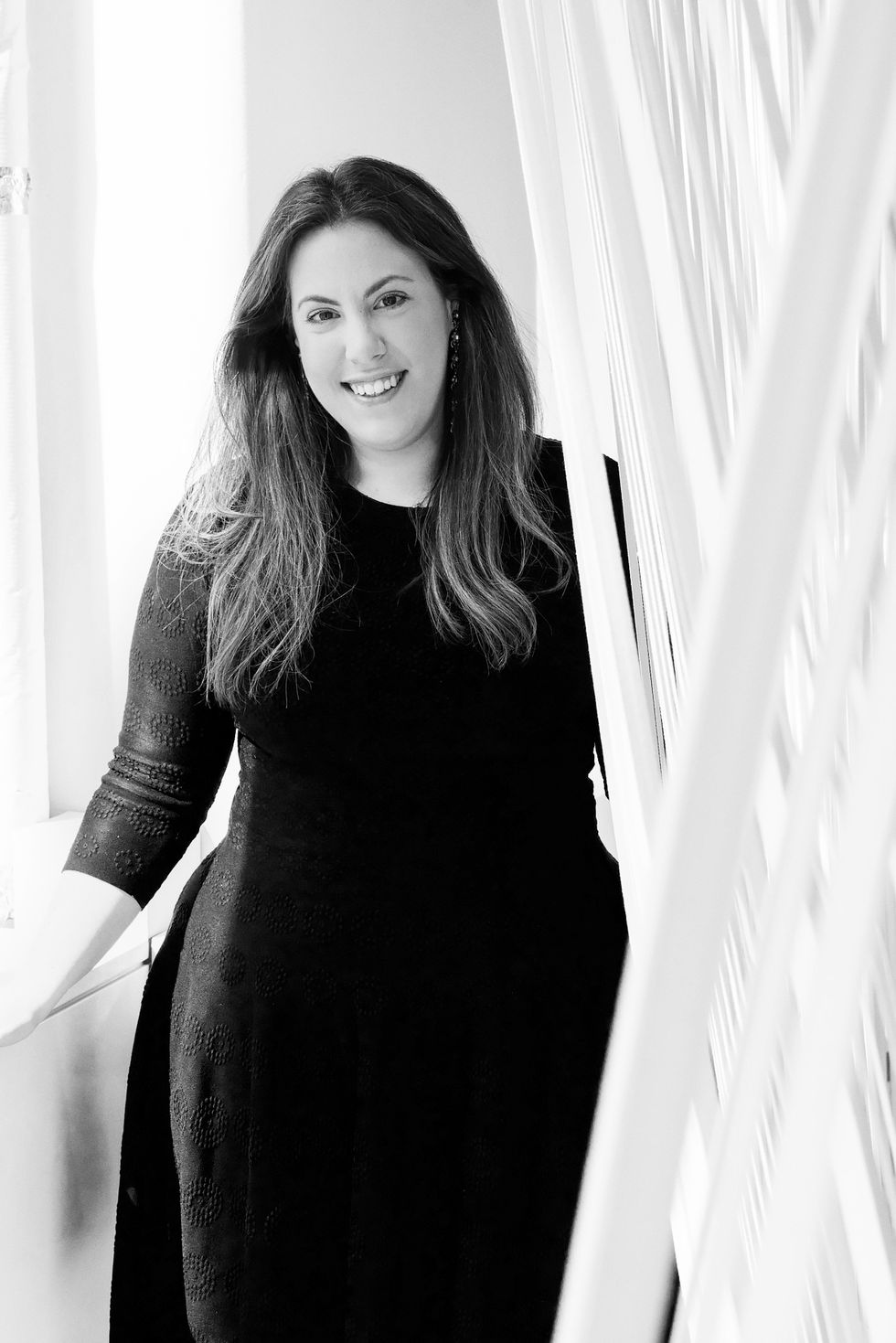 What her creative process looks like:

"It's changed through the years. When I started, it was mostly about the print, and that defined the silhouette. Now it's a lot more about having a complete range, where the image is an important part of the narrative. My collections are usually quite thematic, so I don't start with a time period or a muse; I start with the inspiration, which is usually an artist inspiration that kind of defines the collection.

"Last season it was about the beginning of Modernism—so taking it from the arts-and-crafts movement and William Morris' textiles up to Bauhaus via Pointillism, and how it changes. William Morris and the decorative nature of his designs, and the more pragmatic and pure vision of Bauhaus, are both parts of my work. At the beginning of the collection, we were trying to bleed one into another. We put a lot of images up on a mood board, trying to cross the gaps between the two. And you find a lot more similarities and synergy between the two as you do it. We were looking at Victorian tiles and how they were very similar to a Bauhaus building and bringing that into the collection. Then I'll sketch and do different collages with a lot of the imagery on the body to see how it fits and scales. We will take those collages, and it will inspire everything that we do with the silhouette and textile design. Then it's back and forth between myself and my team. I'll do something and I'll give it to my print team, and they'll continue the design or they'll find a reference and give it to me, and I'll place it on the body."

Her next collaboration will be outside of her wheelhouse:

"Every collaboration you do, you do it because you want to understand more about that medium. It's not only creating brand awareness beyond your audience, but it's also about doing [a collaboration] with a leader in their field. When we did Moncler and Moose Knuckles, it was about doing a perfect piece of outerwear, and we would never be able to do it at that kind level [on our own].

"At this point, any collaboration you take should be something that offers a diversification of your own product. I don't know what would be an idea one—probably something within interiors or gifting. We have this idea that we want to do for our 10th anniversary. Working on a different product that has inspired the collection, because a lot of the collections have been inspired by objects, so we want to turn that on its head and take the object that inspired a print."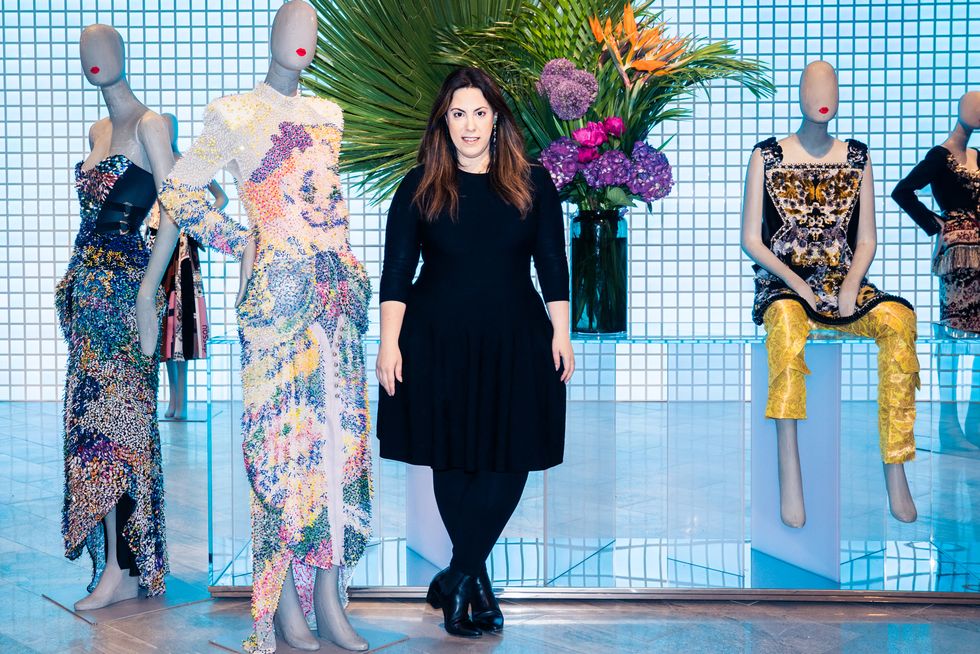 The first thing she does in the morning:
"I look at my phone. Check if any urgent email or text message has appeared. And usually I'm late, so I get dressed and run out the door. If not, I'll send a couple of emails to my team of things we need to go through that day."
Her ultimate breakfast:

"There is never a breakfast [
laughs
]. I think the only breakfast I have is when I'm traveling, but not today! Avocado and toast would be my favorite with a side of scrambled eggs—if I ever had the possibility of having it. But at home, it's usually coffee."
Favorite room service order:

"I love a mac and cheese, and when I'm being healthy I like a cobb salad."
If she was to wear one color other than black:

"I do wear color when I'm on holiday. I think that's how I define work life and holiday life. When you make so many decisions with color every day, you just want a uniform. And when I'm on holiday, I want to feel like I'm not working, so I go all out!"
The last thing she screenshotted:

"
Jane Fonda
wearing my design at Cannes [Film Festival]."
If she was bartending a party, she'd make...

"A Moscow mule or a gin tonic. My go-to these days!"