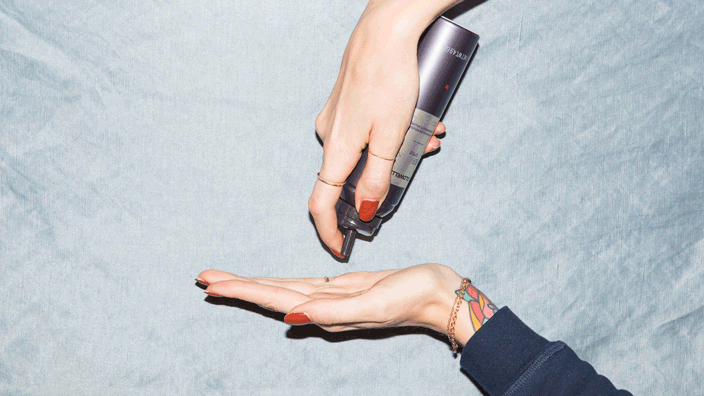 The Thing Most People Get Wrong about Hair Products
And what your Hermès scarf has to do with it.
The most important lesson I ever learned about hair when I first started covering beauty was this: Your hair is really fabric. It's not alive—what's damaged and broken does not grow back no matter how many antioxidants are in the formula—but it can be treated to become smoother, shinier, and brighter. Almost like sending a silk blouse to the best dry cleaner. Hair can even be patched back up in areas that have been too worn away thanks to ingredients that can fill in little microscopic potholes in your strands (more on that later).
This is why, earlier this spring, I ended up at the enormous Ratti silk scarf factory near Lake Como in Italy. I'm not allowed to disclose exactly which brands commission their scarves with the famed 73-year-old house, but their racks upon racks of floor-to-ceiling silk scarf archives spanned a room the size of a suburban grocery store, and pretty much all the biggest luxury designers were accounted for. Running my hands across the edges of the thousands and thousands of scarves as I walked through the aisles, it did feel for a moment a bit like stroking a long row of thick, healthy hair. No wonder, then, that hair care brands use extracted silk proteins in their products.
"Silk proteins are used not only for their lightness, but for their tensile strength," says John Moroney, a stylist, educator, and global creative director for Goldwell, the hair-care brand hosting us for this trip. "So your hair is coated in something that makes it stronger, but still flexible." In the case of the brand's new Kerasilk styling line, silk is infused along with keratin so that it can take dry, highlighted, over-blowdried hair like yours truly's (it's frizzy-curly, too!) and make it, indeed, look and feel silky. You can find silk proteins in other brands like Briogeo, Jen Atkin's Ouai, and cult-loved indie French brand Iles Formula, and some silk proteins, like the ones in Goldwell, are "cationic," which means they are actually attracted to damaged parts of the hair through negative and positive charges. Essentially, this is how a formula can patch up little breaks and broken spots in the hair.
But even the finest silk in the world is not resilient to anything you throw at it. You don't, for example, throw your Hermès twilly into an old industrial dryer on full heat or leave a scalding iron sitting on it, but that is basically what we do to our head fabric (new word for hair—trademarking it!) when we rip through a blowdry or hold our flatiron on a bit too long. Add to that the damage of bleach and the naturally porous, dry nature of curly hair, and you have an explanation for the tortured ball of fluff I call my curly bob.
While it was wise to chop my hair short last year and start air-drying my natural texture (I had had the ultra long hair and three-times-a-week blowout for years—it was basically straw on the ends), it took me forever to figure out how to style my curls so that they look more like a sexy but messy Kim Basinger and less like a poodle on a static-y carpet. A couple tricks I learned: I now always use a mask instead of a conditioner (my favorite is Christophe Robin Regenerating Mask with Rare Prickly Pear Seed Oil); apply said mask with a comb and also to comb through while rinsing as well (this helps promise a smoother coating of ingredients); wait until my hair is about halfway dry before applying styling products; and, as now I've come to learn, use mousse. When I got back to my hotel room, I found a collection of teeny tiny sample-sized hair products including the new Goldwell Kerasilk Style Bodifying Volume Mousse. I remembered the advice I had gotten a few weeks earlier from hair guru Mark Townsend, who styles the Olsens, Gal Gadot, and Dakota Johnson and had told me not to fear the mousse, no matter what '80s connotations it used to have.
Well, he was right. Once my hair is halfway dry, I take a blob of mousse, carefully squish it between both hands (without crushing the blob entirely) and then rake my hands and fingers through my curls from the bottom up. The result: defined curls that I can manipulate into waves by tugging on them as they dry, and from-the-roots volume rather than puff. Plus, Moroney tells me, the silk offers my hair a buffer from heat damage, and I usually touch up my hair on the second and third days with a T3 curling wand. While I have the big mousse can back at home now, that teeny one has since come in my toiletries bag home to New York, then France, Los Angeles, and, just this week, even back to Italy, so I can travel the world static-y poodle-free.
Want more stories like this?
3 Short Hair Makeover That All Look Totally Different
I Cut off 14 Inches of Hair—and I Blame It on Margot Robbie
One Editor Shares Her 11-Step Sunday Hair Care Routine