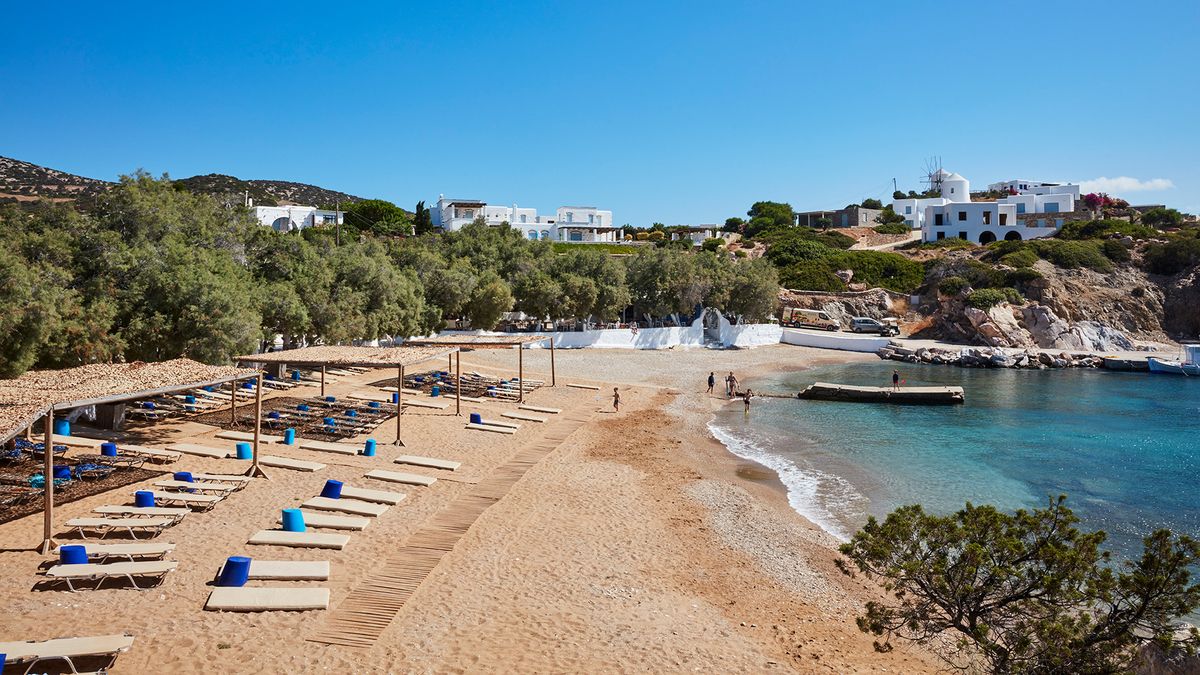 Travel
Antiparos makes a case for skipping the big islands.
Let's be honest: There are few more picture-perfect destinations than the Greek islands. The combination of whitewashed buildings and cobblestone streets set against the bright blue sea (the Aegean, the Mediterranean, or the Ionian, depending on where you are) is so beautiful, it's almost hard to believe it's real. But if you don't believe it now, once you visit, you—and all of your Instagram followers—definitely will. The big question, then, is
which
Greek island to hit up (after all, there are
more than 200 inhabited islands
in the country).
Search the best ones to visit, and you
'
ll likely find a handful of recurring favorites: There are the big, iconic destinations like Santorini and Mykonos, and the small, more low-key options like Naxos, Corfu, Crete, and Paros. But head one nautical mile off the coast of Paros, and you'll discover an even smaller island: Antiparos. This tiny haven (which has been visited by the likes of Madonna, model
Iman Perez
, and designer
Ulla Johnson
) with a population of only about 1,200 offers all of the beauty of the Cyclades, without the tourist frenzy. In fact, it's almost impossible to
not
feel totally relaxed and rejuvenated while lying in the sun with a cocktail in hand. Pack your Cult Gaia, Le Specs, and your Araks
bikinis
, and get ready to bliss out with this guide to our Antiparos favorites.
---
---
STAY
---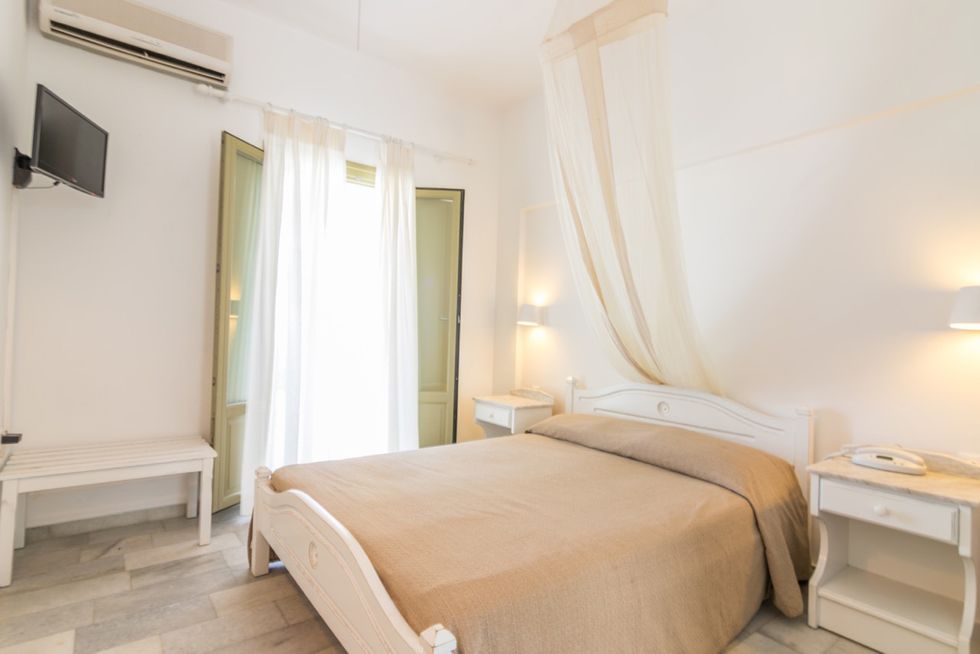 Photo: Courtesy of Artemis Hotel
Artemis, a family-run hotel, definitely has the feeling of being a casual, inviting retreat free of stuffy bellhops and generic lobby music. You're likely to be greeted by Jason, the adorable yellow lab who loves napping right in the open entryway, and Olympia and the rest of the staff have a way of providing the customer service you'd expect from a nice hotel (including local tips on where to go around the island) while also making you feel like you're all just hanging out at home. All of that adds to the charm of the whitewashed property that sits steps from Antiparos port. The rooms are perfect in their simplicity: They're almost all white—the walls, curtains, and slightly distressed wooden bed frames and nightstands with neutral bedding and tile floors, all coming together to create a calming space to rest your head after a day of drinking rosé and enjoying the breeze on your terrace. There's no pool, but you won't miss it with the wealth of beaches on the island.


Antiparos, as a whole, is supremely chill, but if there is a "scene," it's at Beach House. The stylish and tiny (there are only nine rooms!) boutique hotel is kind of like the Soho House of the island. It's perfect for people-watching (both Ulla Johnson and Iman Perez have been there), but also just as good for zoning out or diving into your latest read.

Beach House is tucked away in the secluded Apantima Bay about five miles from town, and you can spend all day lounging on the sun beds and swimming in the calm waters (this sheltered cove is free from northerly winds). If you're missing your weekly Barry's class, rent a kayak or stand-up paddle board for some exercise and aquatic exploring. Once you're done, cool off with a fresh juice or a couple of cocktails, and shuffle over to the beachside restaurant when you're ready to nosh.


---
DO
---
The Blue Island Divers shop, just steps from Artemis Hotel, is tiny and frill-free, but the PADI-certified dive center has everything you need for an adventure under the surface of the Aegean Sea—namely, awesome instructors who know what they're doing. Gary and his team seem like they just might spend as much time under the water as they do above it, yet they know very well how to teach and guide newbie divers who are still trying to figure out how to breathe underwater. Of course, if you're an experienced diver, they can also take you to discover what lies even deeper on an advanced dive. Either way, the bright blue waters, aquatic life, and wrecks off the coast of Antiparos are well worth the excursion.
Beach Hopping
Antiparos is surrounded by crystal-clear, turquoise waters (like Evian!), and you'll have your pick of plenty of beaches to enjoy them from—whether your goal is to make a solid dent in your Goodreads reading challenge (or just catch up on a few celeb memoirs), take naps in the sun with the ~real-life~ version of your "ocean" sound machine, or actually swim.
Walk just five minutes from the port for the sandy shores and shallow waters of Psaraliki (which actually encompasses two neighboring beaches, Psaraliki I and Psaraliki II), or head to the south end of the island to swim slightly deeper at Soros Beach and take in the views of the uninhabited Despotiko Island from Agios Georgios Beach. Rent a bike, scooter, or ATV from town to easily navigate the island and bounce from spot to spot.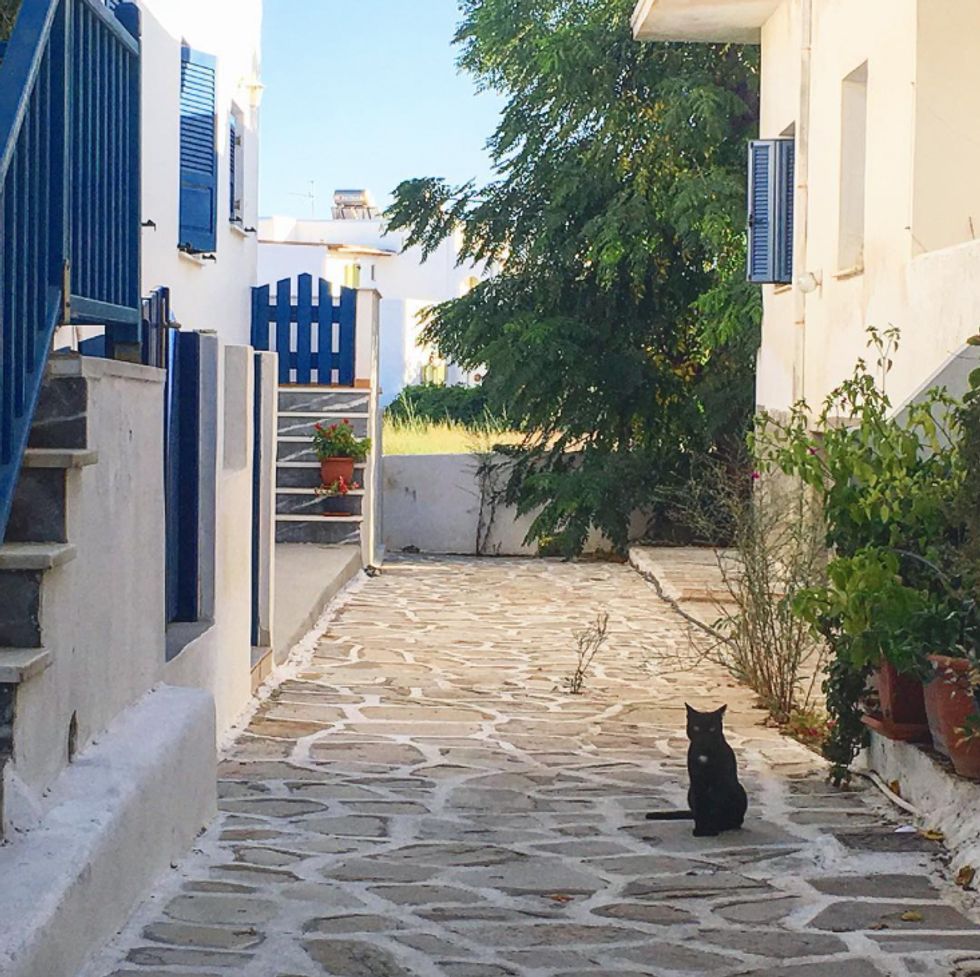 Photo: Courtesy of Instagram/@emmawebsta
It's worth taking a break from the beach to stroll along the main cobblestone street that runs through the center of the miniature, picturesque town. (After all, this is where you'll get those so-beautiful-they-look-fake shots.) Admire and casually pose for "candids" in front of the Cycladic white-and-blue buildings accented by bright pink bougainvillea, the fresh octopus drying in the sun outside the many casual eateries, and the ultra-relaxed goings-on in the platia, or square.


Step back in time and get your (somewhat) educational fix for the trip with a visit to the Cave of Antiparos, which is about a five-minute drive inland from Apantima Bay (home of Beach House). Walk down the 411 concrete stairs to feel your glutes burn and explore the stunning stalactites, stalagmites, and inscriptions dating back all the way to the Stone Age.
---
EAT
---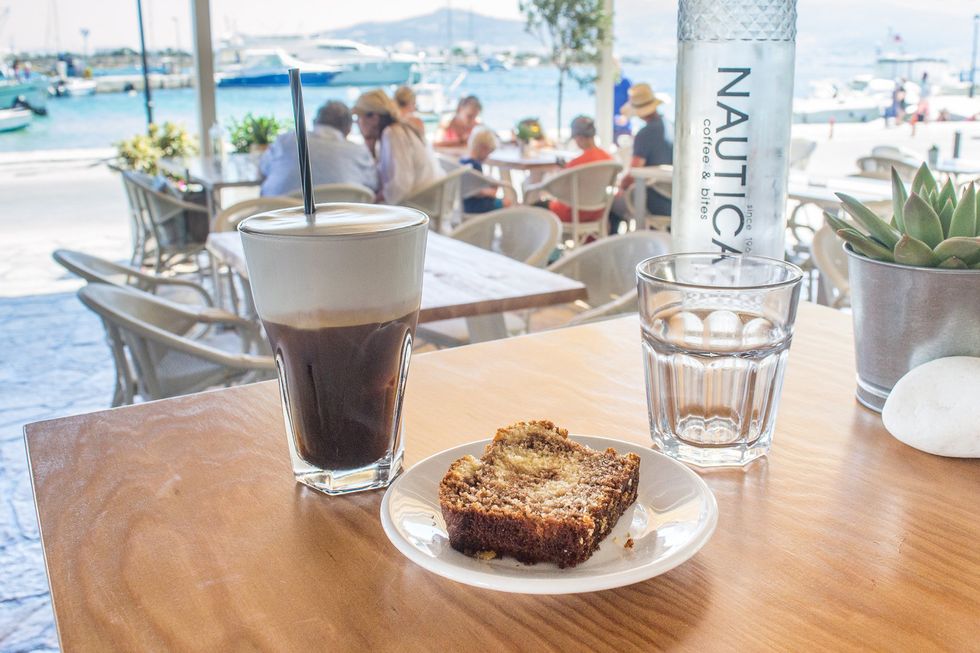 Photo: Courtesy of Nautica
There can't possibly be a better way to start your day on Antiparos than by grabbing a seat (or perhaps a wicker egg swing—though admittedly they're better for photo ops than dining) at this open-air café. Eat breakfast while you admire the harbor views and think about how #blessed you are to be on this magical island. Sip on a frothy iced latte and fuel up with a pastry, Greek yogurt, or omelet.


Italians may get most of the credit for pizza, but Greeks do a damn good job with it, too. At least, they do at Lollo's. The beachy-chic restaurant, which is right next door to Nautica, offers the same stellar view and similar laid-back, Cycladic vibes as its neighbor, but a totally different menu. Enjoy a leisurely dinner of thin-crust pies—the toppings, from tomatoes to prosciutto, are fresh and oh-so-good. Wash it down with a crisp white wine, and finish it off with some dessert pizza. (Apples and cinnamon? Don't mind if we do.) Make a reservation in advance, though: This place fills up fast.
Come for the people-watching; stay for the food. Cafe Margarita is situated right on Antiparos' main drag, making it easy to sit and observe the passers-by—and maybe keep an eye out for a celeb or two—while enjoying a fresh sandwich for lunch (the small veranda offers plenty of shade), or pasta and seafood for dinner. The atmosphere is perfectly casual—one of those places where it feels so right to stop in with your hair still salty from the ocean.
When you get woozy from too much sun at Soros Beach, head approximately one minute inland to Taverna Peramataki. This little family-run spot has a spacious, covered terrace perched high enough so you can enjoy a stellar sea view while you eat. Taverna Peramataki oozes unassuming charm (including in the form of handwritten menus) and serves up tasty local fare like stuffed tomatoes, souvlaki, and oven-roasted pork.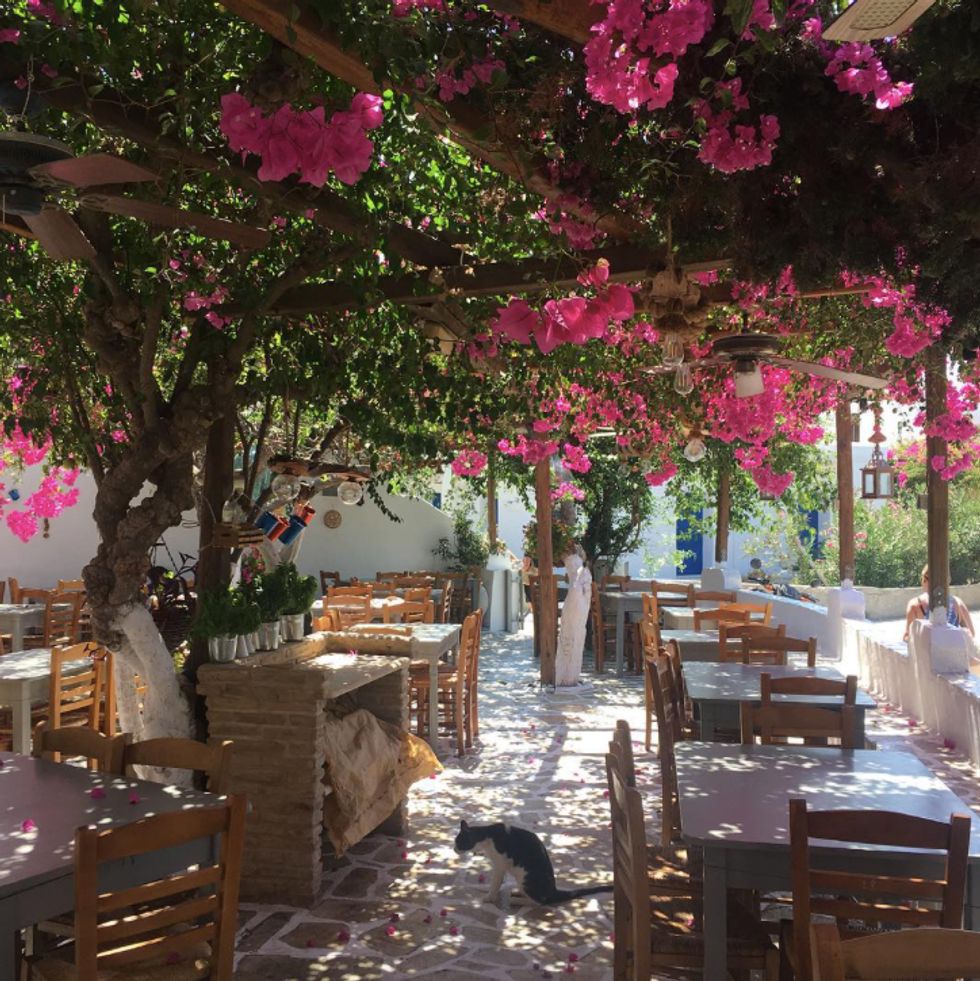 Photo: Courtesy of Instagram/@stefigiro
This traditional Greek restaurant, steps off of Antiparos's main street, is worth it for the atmosphere alone. There's something almost magical about dining under a canopy of bougainvillea and fruit trees lit by fairy lights in glass pendants hanging from the branches. In fact, this spot brings us right back to the so-beautiful-it-seems-fake thing. It just might even make you feel like you've stepped into the cheesiest rom-com with the ~most romantic~ sets.


Stroll down to the western end of the pedestrian street for dessert (or a midday cool-down snack) at Vicky's. The plethora of flavors of homemade ice cream (like cream cheese and salted caramel) offered are made with fresh, local ingredients and well worth a daily—or maybe twice-daily— visit. Hey, you're on vacation.


---
SHOP
---
Skip the cheesy airport souvenirs (although we do love a tacky tee), and head home with something that you can't find at home. Mariliza offers a solid selection of well-curated pieces made by Greek designers—including the owner, Mariliza Dimakou, herself.
Top photo: Courtesy of Beach House Antiparos