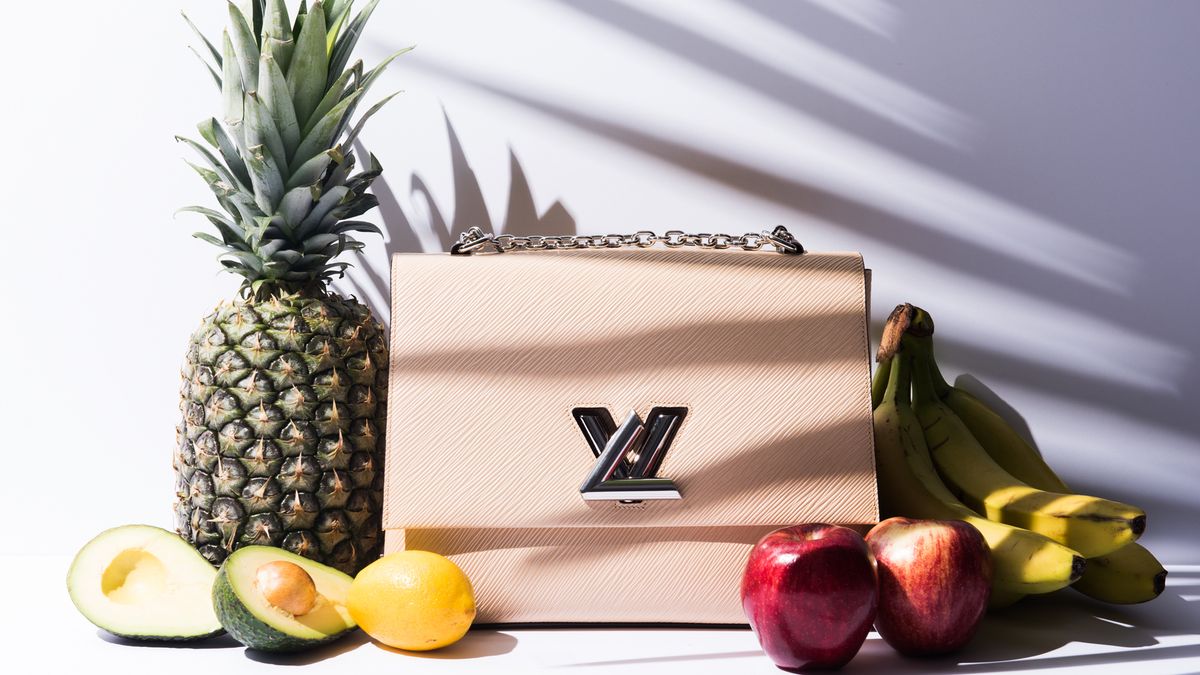 Fitness
Dr. Passler gives us 21 tips on how to get motivated and stay focused.
Meagan Wilson
Falling off the healthy wagon happens to the best of us. It's due partly to the fact that we have a strong love for tequila and pizza (and karaoke)—things that don't lend themselves very well to getting up at the crack of dawn for a workout, especially when consumed together. But life's all about
balance
, right? And while we do like to treat ourselves to these late-night treats every so often, it's not that big of a deal if we stay on track the other 80 percent of the time. To ensure we're doing just that, we turned to none other than our favorite (who also happens to be
Adriana Lima
's
,
Bella Hadid
's
, and
Amber Valletta
's
favorite) nutritionist, 
Dr. Passler
(the same man who led us through a
21-day cleanse
), for a list of tips on how to stay healthy and motivated this summer.
---
One Tip for Getting Back Into Your Routine
On Jonelle: Pajamas, Morgan Lane; Rings, Catbird; Hair, Angela Soto; Makeup, Andriani. Shot on site at 6 Columbus, a Sixty Hotel.
"People fall off their 'routine wagons' for so many reasons—from job stress to changing family priorities—but they stay off their routines due to procrastination. The best way to break that habit when it comes to getting ready for the summer is to use positive memories and emotions. I'll often tell my patients to spend five minutes before they head out to the gym to remember the last time they felt great."


Two Tricks to Get Out of Bed Earlier
On Jonelle: Pajamas, Morgan Lane; Necklace, Baker & Black Rings, Catbird; Hair, Angela Soto; Makeup, Andriani. Shot on site at 6 Columbus, a Sixty Hotel.
1. "Sleep with your window shades open, and wake up the way our bodies were designed to
—
by the rising sun."
2. "My favorite recommendation to help overcome repetitive snooze-button-hitting is to put your alarm in the bathroom on high with the door open. When it goes off, the ceramic tile in the bathroom acts like a sound amplifier. When you hop out of bed and run to the bathroom, your blood will be pumping. After all that, you'll probably be awake."
Three Tips to Stay Motivated
On Jonelle: Pajamas, Morgan Lane; Rings, Catbird; Hair, Angela Soto; Makeup, Andriani. Shot on site at 6 Columbus, a Sixty Hotel.
1. "Meditate every morning upon rising for five minutes. Focus on the feelings you want to experience during the day ahead."

2. "Give well-deserved compliments to your friends and co-workers. Verbally recognizing others will have positive benefits for you as well."

3. "Take a 10-minute break. Go to the park. Take off your shoes and walk in the grass. This process, known as 'earthing,' has been studied to reduce stress and inflammation while improving sleep quality."


Four Rules to Stay on Track with Healthy Eating
1. "At least half your plate must be non-starchy veggies."

2. "You should only consume foods that are no more than one processing step away from the way mother nature made them. For example, tomatoes are in the form that mother nature made them. High-quality tomato sauce with nothing but herbs added to the tomatoes is one processing step away from tomatoes."

3. "Drink spring or filtered water instead of soft drinks."

4. "Never eat a snack or a meal that is predominantly carbs."


Five Snacks & Supplements to Keep You Going
Jewelry, Baker & Black
1. "Nuts are a perfect blend of proteins, carbs, and healthy fats to keep you fueled up throughout the day. Eat them as between-meal snacks for the best results. But don't consume more than a palm full at a time."

2. "Nut butters with celery not only contain the benefit of nuts, but electrolytes to hydrate your muscles for greater stamina."

3. "Never overlook the benefit of a high-quality multivitamin for energy and focus. Its B vitamins and magnesium help with energy production, while its antioxidants fight vitality-robbing inflammation."

4. "Huperzine A is an herbal concentrate that has been studied to improve focus and memory."

5. "Rhodiola is an herb that protects the memory centers of the brain from stress and free radicals."


Six Ways to Stick to Your Workout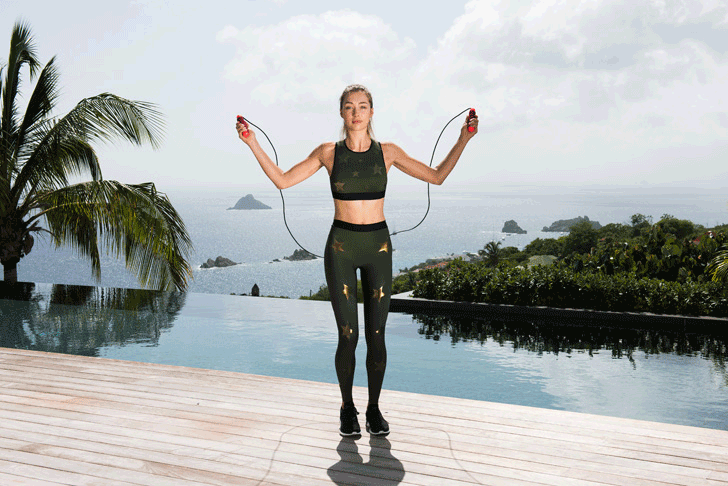 On Penny: BANDIER Ultracor top, bottoms; and APL TechLoom Pro Cashmere shoes. Shot on site at WIMCO Villas.
1. "Put your money where your abs are! Hiring a personal trainer and setting up scheduled appointments with them one month in advance is my first recommendation. By making this investment, you've made a commitment to yourself."
2. "Find a friend in your neighborhood or at work that needs to get back to the gym as well. State your physical goals and when you plan on attaining them to each other. Then schedule regular weekly gym time that works for both of you. Having an accountability buddy is a technique proven to boost gym attendance."
3. "Have a specific workout routine before you start your workout. Floating around the gym without a plan is the fasted way to lose focus and become unmotivated."
4. "Compress your workout routine. Most people at the gym spend 30 to 90 minutes and jump between cardio, free weights, and machines. The latest research indicates that HIIT (High Intensity Interval Training) might get you the same or better results in as little as 12 minutes. Check out the almost endless supply of HIIT videos on YouTube, but please run this type of training by your medical doctor to see if it
'
s right for you before you start. It's intense!"
5. "Make sure you breathe with each exercise movement. Too many people hold their breath during exercise, and this will significantly reduce your muscle strength and stamina."
6. "Keep your eye on internal conversations in your head. Thoughts that contain the words 'I can' will actually improve your stamina, where 'I can't' will do the opposite. Thoughts are powerful friends or enemies. It's your choice."
[Editor's Note: As ever, we are not doctors or medical know-it-alls. And everybody is different, so make sure to check with a doctor before trying anything new.]
Top photo: Bag, Louis Vuitton.
Want more stories like this?
Demi Lovato on the Fitness Routine That Gives Her Confidence
Bella Hadid's Nutritionist's Surprisingly Simple Approach to Wellness
What Happened When We Ate like Bella Hadid & Adriana Lima for 21 Days