Skin
Peach & Lily's Alicia Yoon shows us exactly how to do it.
Alec Kugler
At this point we all know that Korean beauty products are far and away ahead of the game. But there's a whole lot of technique that comes along with the product. And, frankly, it's about time we started learning—especially when it comes to the elusive face massage that everyone with good skin seems to swear by. But we had to know: How the eff does one massage their face, and if we do it, will we have skin like Alicia Yoon, the founder and CEO of Peach & Lily (ultimate Korean beauty source)? So we did what we almost always do. We called Yoon herself and had her demonstrate three different massages in GIF form so that we can imitate them in our bathrooms and maintain pristine youth forever. Honestly, though, compared to the zillion anti-aging creams out there, we're feeling pretty good about this option.
---
How to Start:
"If you really want to do a full-blown massage, you would cleanse, tone, and then go directly into using a massage cream. You would then wipe that off and cleanse, tone again, and do the rest of your skin-care routine.
"If you want to incorporate massage into your daily routine, use a cream mixed with argan oil, and use that after serums as a last step. Or, use a really generous amount of a silky serum to massage.
"All of these techniques are good for drainage, muscle stimulation, and circulation and, therefore, anti-aging."
Massage 1
"Koreans are obsessed with the V-line—which is your chin to your ears—so that it's not sagging and it looks like a V. This massage is for your lymph drainage and circulation—the toxin buildup in your lymph system really affects how your skin looks."
1. "Right behind your ear, by your jaw, you'll feel a node. You don't want to press too hard, but massage it out, which gets rid of the stagnant pool. If you press too hard, you'll crush it and it won't move. Keep it really light."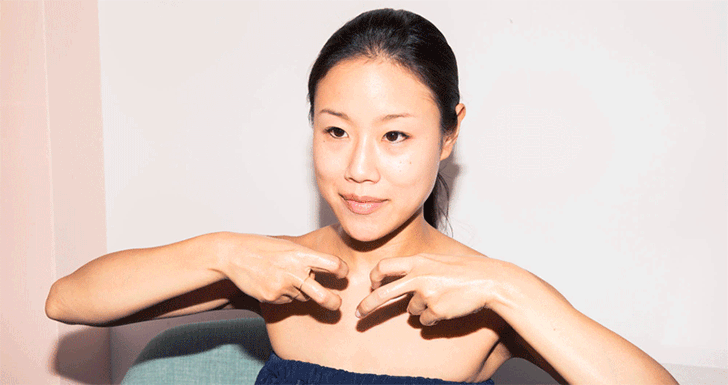 2. "For the V-line, make a claw with your knuckles, and use harder pressure."
3. "You always end by very lightly helping to drain." Brush your fingers down your neck.
4. "Use your thumb to tug and pull up your fingers along your jawline. Then drain. End with a sweeping motion across your collarbone."
Massage 2 
"This is a pressure-points massage. The best way to do it is to keep your hands still and drop your head into your hands to massage—that's the right amount of pressure. This massage will relieve tension and help boost circulation. If you don't have enough blood flow, all the products in the world won't help because you're not getting nutrients to your face."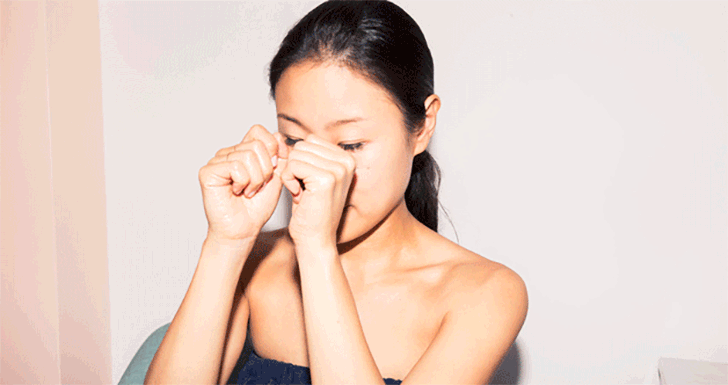 1. "Press into the space between your eyebrows with your thumb knuckles."
2. "Press into your temples with your index and middle fingers."
3. "Press quite hard on either side of your nose."
4. "Press hard under the cheekbones—almost to the point where it hurts. That will get your blood flowing."
Massage 3 
"This massage is for both lifting and draining."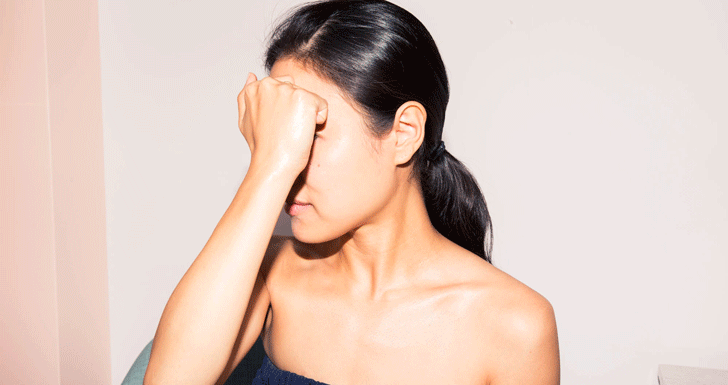 1. "Take your knuckles and rub them across your forehead. Make sure you have lots of product on your hands. This area will be very stimulated, and it will relieve tension. Then vigorously lift the muscle up. Then drain everything by brushing your fingers down your neck."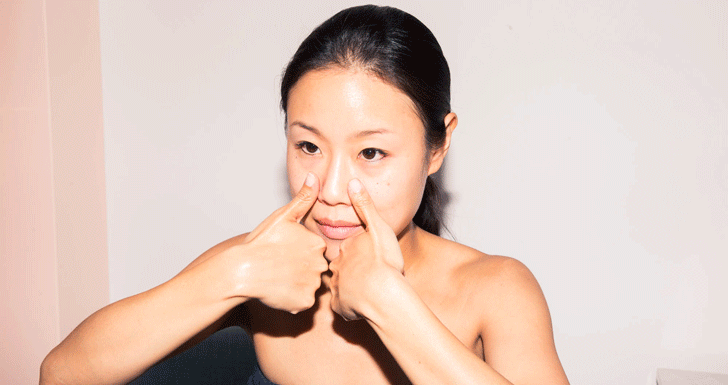 2. "Press on the pressure points on either side of your nose, and then sweep up your cheek."