WWWRN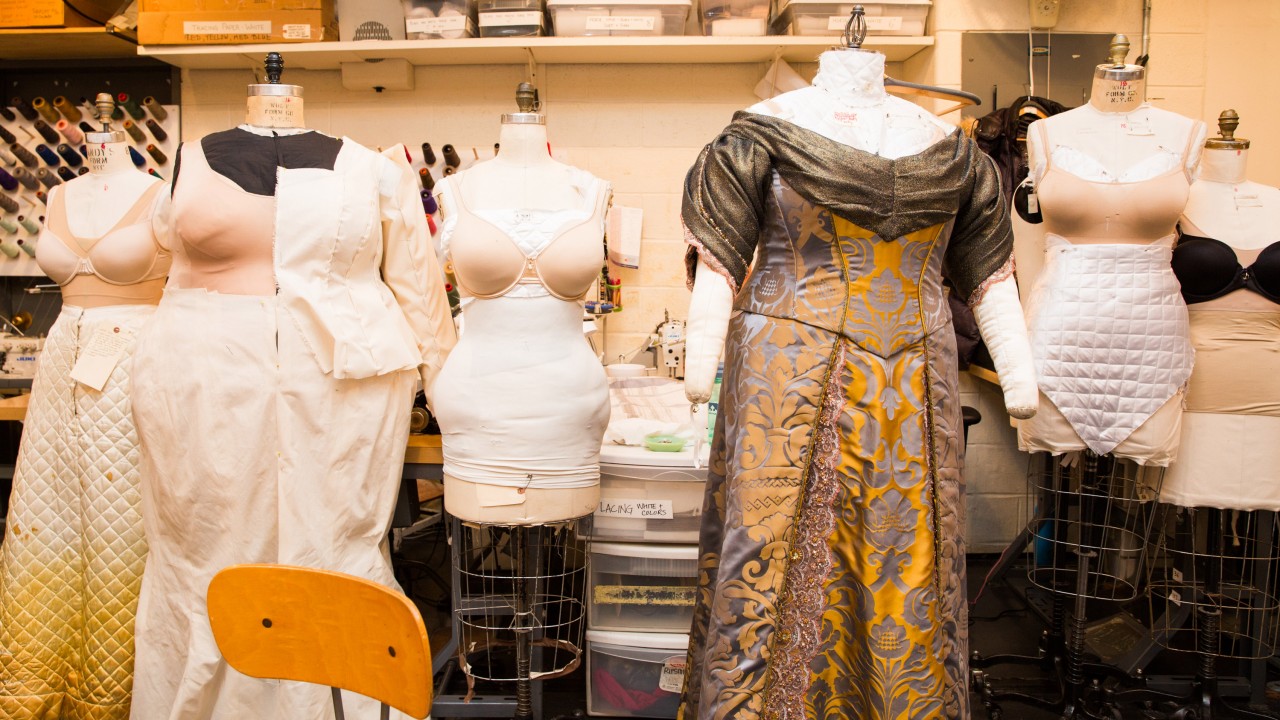 The Met Opera's Costume Shop Proves Satin Will Always Be a Go-To
Plus, we learned the merits of Western wear and sparkly embellishments.
Ah, the theater. There's something magical in the drama of it all. It's hard to put a finger on what exactly creates that ephemeral magic, but we have an idea that the elaborate costuming has at least something to do with it. Part of the fun—for performers and viewers alike—is all the wonderful and wacky outfits that come to life under the spotlights. Because of this, we decided to go behind the scenes at the Metropolitan Opera in NYC to see how their team creates looks for one of the greatest stages in the world. After visiting both the wig and costume shops, we were even more enchanted by the process than expected. The amount of detail and precision that goes into every look is insane! That being said, we gathered some major style inspiration from our visit. See our three takeaways below, which include adding satin finishes, embellishments, and Western wear into your wardrobe.
1. SATIN FINISHES WILL ALWAYS BE LUXE
The Met Opera makes costumes for a lot of period pieces, and there seems to be one common thread throughout them all...literally. Silk has been considered the go-to luxe material for centuries, and that won't be changing anytime soon. From the 18th century to 2018, satin and silk finishes have been—and always will be—a win.
2. HOP ON THE WESTERN TREND
Western wear is having a moment, and the Met Opera is perfectly on trend. Once we saw these kitchy cowboy boots in their costume closet, we knew we needed to add a pair into our rotation. Just like everyone else in the fashion world, we plan on channeling a bit of the Old West this season. From turquoise-encrusted bags to shiny boots to an Andy Warhol print sweatshirt, we want it *all of it*. Our spring style icon? John Wayne, for sure.
3. GET EXTRA AF WITH THE EMBELLISHMENTS
It's no surprise that the costumes at the Met Opera were loaded up with rhinestones, sequins, lace, and glitter. For the performers to make a statement from the front row all the way to the highest balcony seats, their outfits have to literally shine. We suggest taking some cues from the pros and adding a little bit of *sparkle* into your closet. Maximalism is vert in right now, so who's stopping you from being extra AF? If you're a beginner, try grounding all those embellishments in a neutral, like classic black. That way you can pull it off at any time of day and still manage to stand out.
Part of the series:
WWWRN