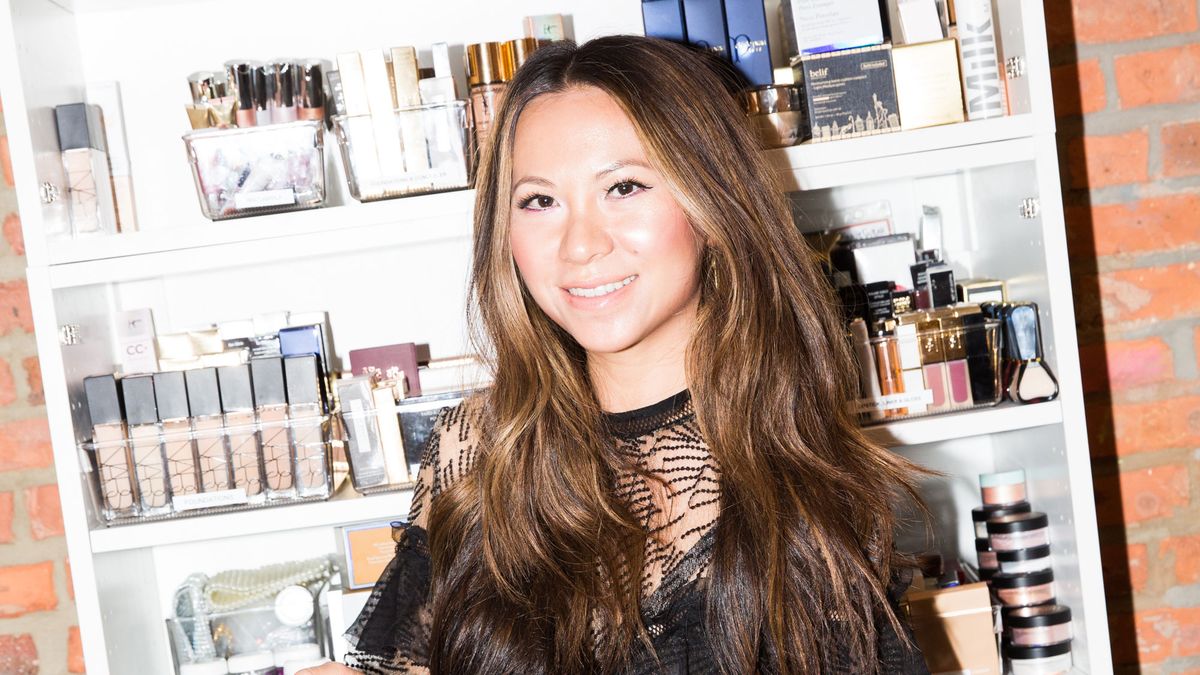 Makeup
The Makeup Artist Who Broke Instagram with Her Dewy Highlighter Technique
We raided the beauty closet in her West Village apartment.
Alec Kugler
Hannah Baxter, Monique Kamargo
Thanks to cult-favorite beauty brands like Glossier, Becca, Fenty, and more, highlighter has become one of the most treasured products in a makeup kit. But there is one artist who has taken our love of a good highlight to the next megawatt level. If you haven't already seen Nam Vo's Instagram videos or followed her trademark hashtag #dewydumplings, please put down your beauty blender and take a few notes. The industry veteran has cultivated a rabid audience in the span of just a few months, going from around 10,000 followers to nearly 100,000. After deep-diving into her 'gram and watching her apply the signature "Nam Vo Glow" to both models and herself (she has her own ring light in her apartment for maximum reflection), we knew we needed to witness the highlighter hypnotism for ourselves.
The impressive six-shelf beauty closet is the first thing we notice after she invites us into her West Village studio. "I literally gave away five suitcases full of makeup," she says while we scrape our jaws off the floor. Neatly labeled trays of foundation, blush, lip colors, and eye colors dot each row, with a custom Beautyblender jar labeled "Queen Nam Vo" sitting front and center. And of course, there are the highlighters. So many highlighters. "Highlighting gives people 'glowgasm,'" she explains after pulling out a few of her cutest bras for a shot (she's equally obsessed with lingerie). "It hits all the marks because it's oddly satisfying. You see light. It's something magical; it's like sorcery on the face." Vo herself is glowing like an angel under the spotlight, and she encourages us to open, test, and explore her makeup and skin-care bounty. In between demonstrating her application technique and complimenting our own glowy cheekbones (rest assured we upped our game for this shoot), the artist gave us the scoop on her growing popularity, her love-hate relationship with Instagram, and of course, her top five favorite highlighters.
---
1 / 29
"It's so weird, [in] the last two years, my career has completely changed. The whole industry has completely changed. I came to New York with nothing, and it was my dream to do Italian Vogue and work with Steven Meisel. My dream has changed. [laughs] I want to be doing the advertising in Italian Vogue."