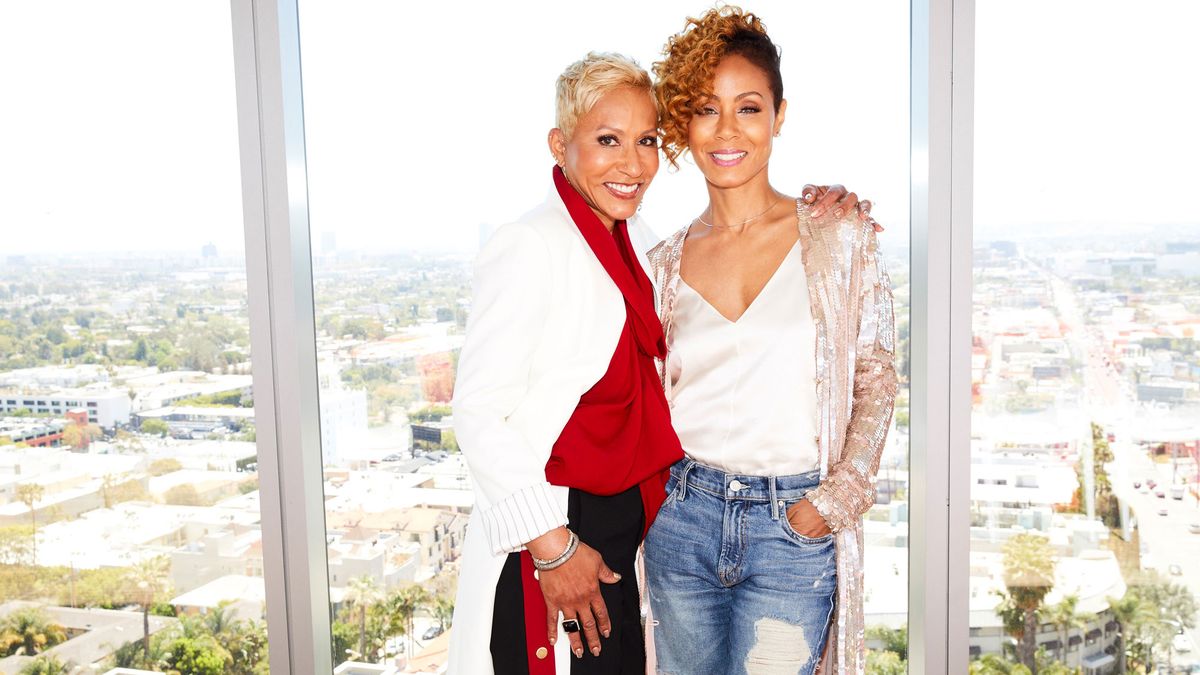 Celebrity
Jada Pinkett Smith on Parenting, Rebellion, & Learning from Willow and Her Mom
Getting candid with the actress and her mother, Adrienne Banfield-Norris.
Tristan Kallas
Stepping into someone's home instantly draws the proverbial curtain. In our case, some pretty incredible closets and homes lie on the other side of the threshold. But the most important thing that happens when stepping onto someone's home turf is the conversation—because it can get real, real fast. Jada Pinkett Smith, her daughter, Willow Smith, and Jada's mother, Adrienne Banfield-Norris, took it to another level. Last week the three generations of women officially opened the door to their home to millions of people for a no-holds-barred roundtable for Facebook Watch series Red Table Talk. The 10-episode run will touch on a whole slew of topics from sex to relationships and other subject matters that have impacted their family.
We got in on the action at their L.A. luncheon to get candid with Jada and Adrienne about their parenting styles, what always got Jada and Willow in trouble, and the Mother's Day gift they will always remember.
---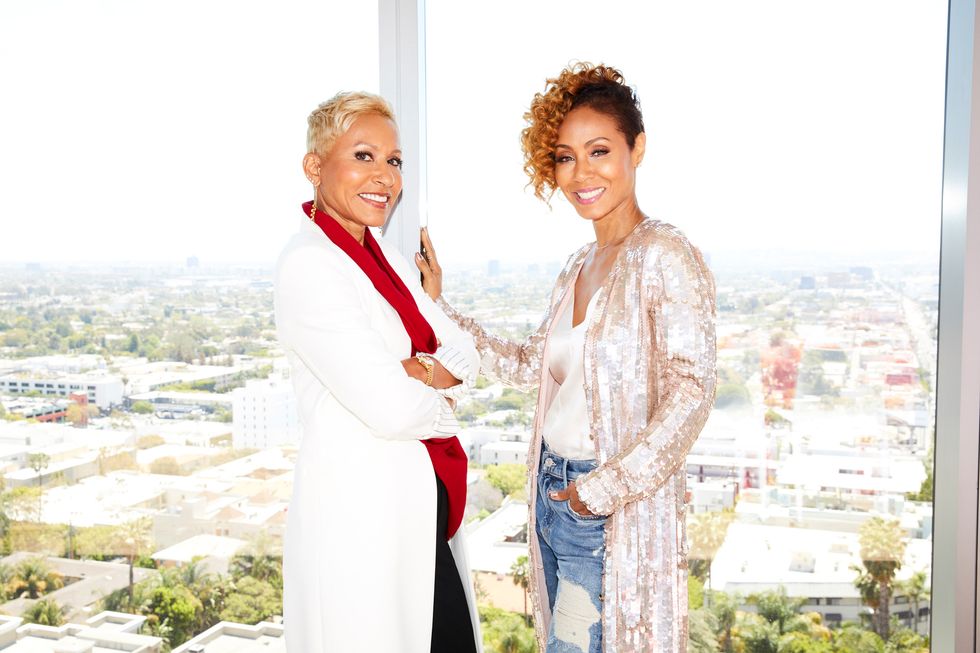 How would you both say you're alike and different?
Jada Pinkett Smith: "I would say we're both fierce in our attitude. We are alike in that way. I would say we are different in how we relate to the world. My mother is very concerned about what people think, and I'm not [laughs]."
Is there anything your mom doesn't know about you, Jada?
JPS: "I don't think too much now, after being at the [Red] table. Through this journey, I think we've learned more about each other. I think we pretty much put it on the table [laughs]. Real talk."
So you never got a tattoo or a piercing behind your mom's back?
JPS: "I never had to. My mother did not mind that. I could get piercings... Look, she took my daughter to get piercings. Willow has all the piercings on her body because of her grandma."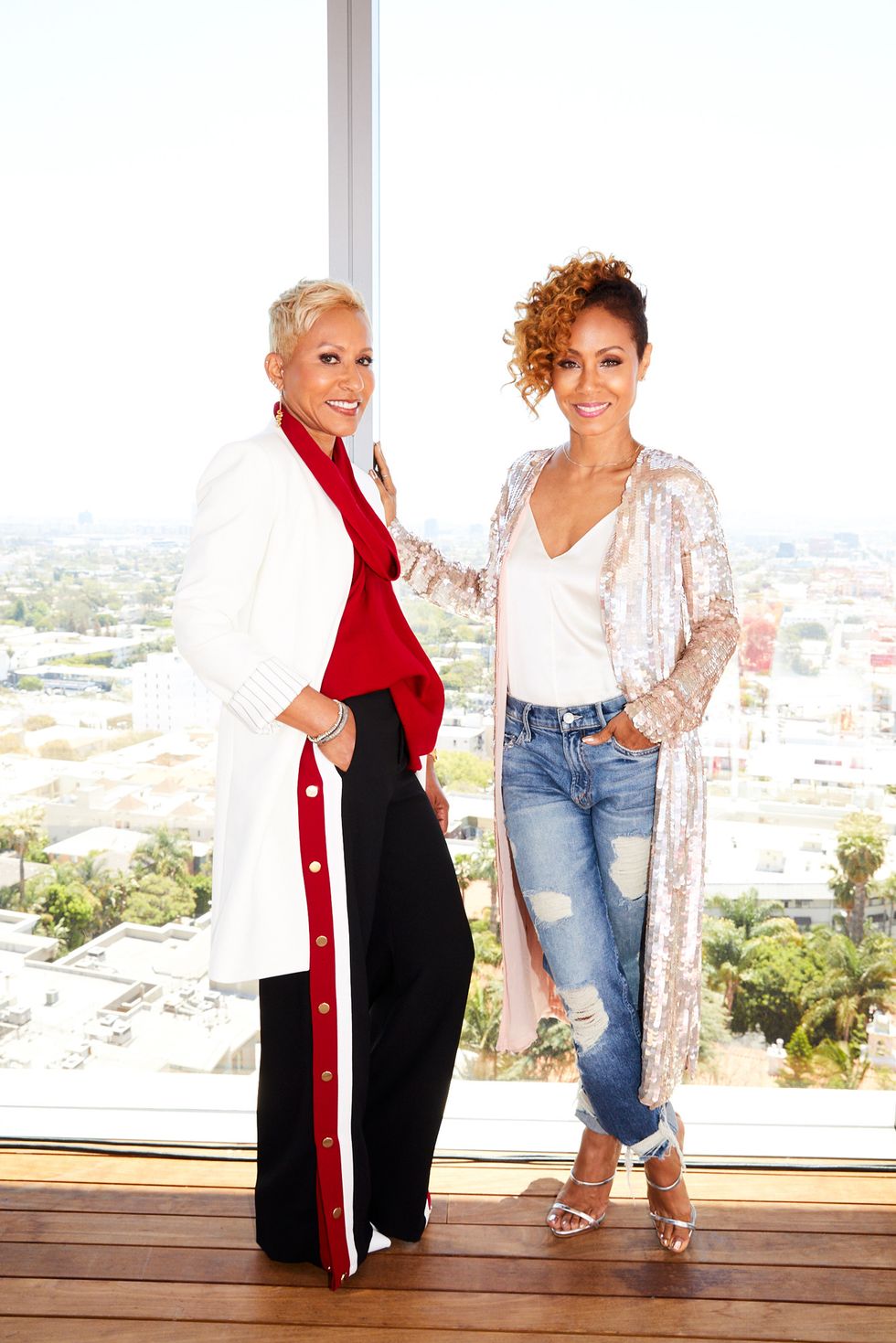 Wait, so has Willow ever gotten anything behind your back?
JPS: "Well, yeah. She was with her grandmother, and then she came home with some metal bar."
Adrienne Banfield-Norris: "No, she got that on her own! I didn't take her to [get] that."
JPS: "OK, you didn't take her for that?"
ABN: "Yeah, but we got some piercing [together]. I like piercings [laughs]."
JPS: "I didn't get a tattoo until I was really grown. Willow's still getting tattoos. I'm sure she will get another one."
You must have gotten in trouble for something as a teenager; what was it?
ABN: "She went to New York. She told me she was going with the school, and she was not going with the school. She went with her friends."
JPS: "I went with a friend of mine at the time, Josh Charles, who also went to Baltimore School for the Arts. He was an actor as well. He was doing the movie Dead Poets Society. And so me and my girlfriend Corey went to New York to see him because he was on set."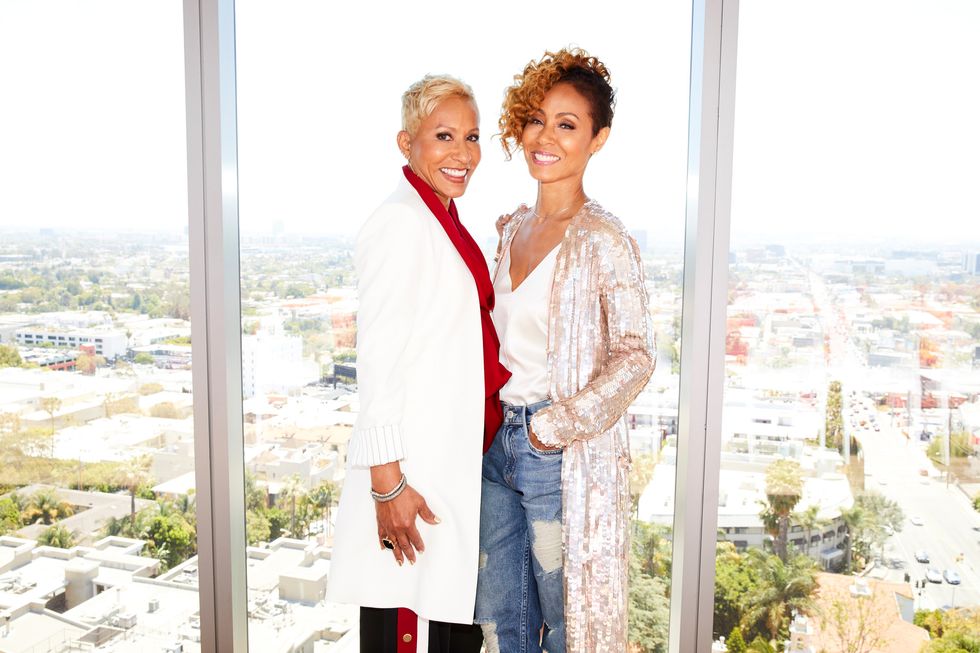 So it was for a boy...
JPS: "Oh no, no. Josh and I were good friends. Literally, it was because our friend was doing a movie. I wanted to go see if I could get like, 'YOU GOT A JOB! GET ME IN THERE!' [laughs]. That was what that was about.
"Willow, she doesn't really do anything. She's at home all the time playing her guitar and learning music. She's not a party girl. I got very lucky. And she's about to be 18, so guess what? If she turns into a party girl, well then….she's grown! [laughs]"
ABN: "Kids have to have limitations, but I just feel like in my life, I had so many, and it caused so much rebellion. There has to be an open line of communication. We've grown in that. The parenting is different. Even better."
JPS: "Yeah, so there's no pressure, so nothing is going down. There are no limitations, we can talk about pretty much anything. So it's easy-breezy with Willow, in that way.
"I was always sneaking around doing a whole bunch of shit I had no business doing. I just didn't want that for Willow. It's too dangerous. When I think about how I risked my well-being, being out on the streets late at night, nobody knowing where I am, doing all kinds of like... I don't want that [for my kids]."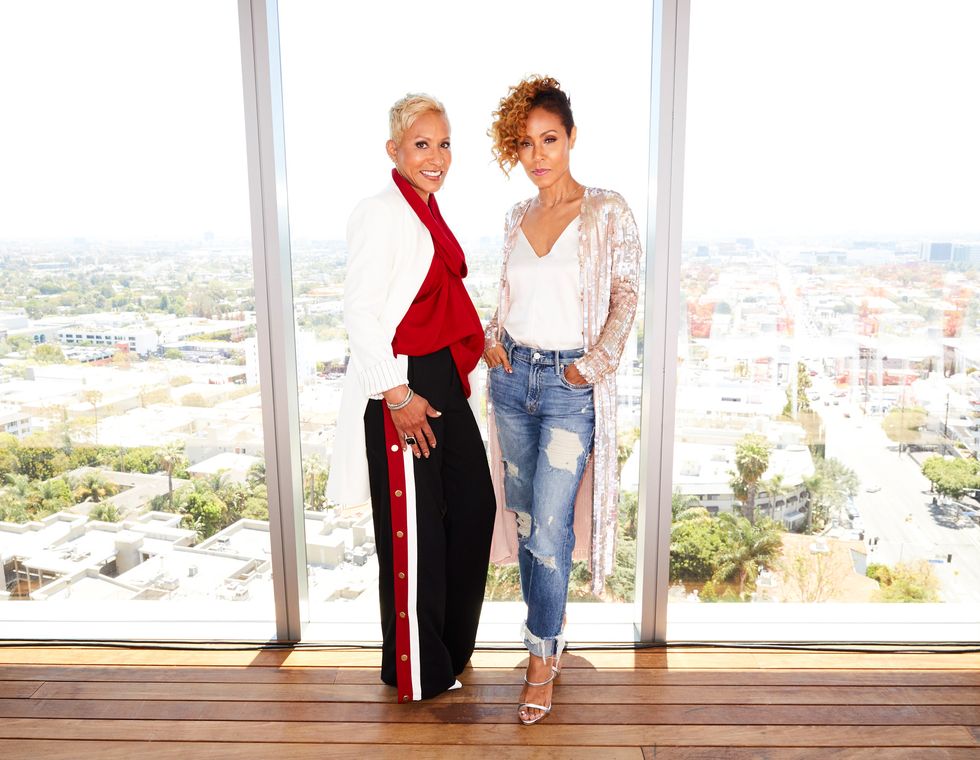 What's the best thing you've learned from one another?
JPS: "Being a witness of my mother's journey and her strength. She just continues to unfold and discover herself, and get happier and stronger. From the beginning of my life, with regard to what I've been conscious of, as far as her journey, and to where she is now, it's been a remarkable journey to witness. It always gives me the understanding that growth, happiness—and that journey toward it, that work toward it—never stops. I mean, Ma, you're going to be 65 this year. She got remarried. She's in a new relationship that has brought her so much happiness and joy. It's just never over. The journey doesn't stop. She keeps it live; she keeps it vibrant; she keeps it sexy. She just keeps it real. She's having a good time."
Was there a Mother's Day gift that was the most memorable?
ABN: "I think for me, one of the best gifts that I got Jada was our trip to Bali."
JPS: "Oh, that was such a great trip."
ABN: "It was just a great trip; a great time for us to spend together."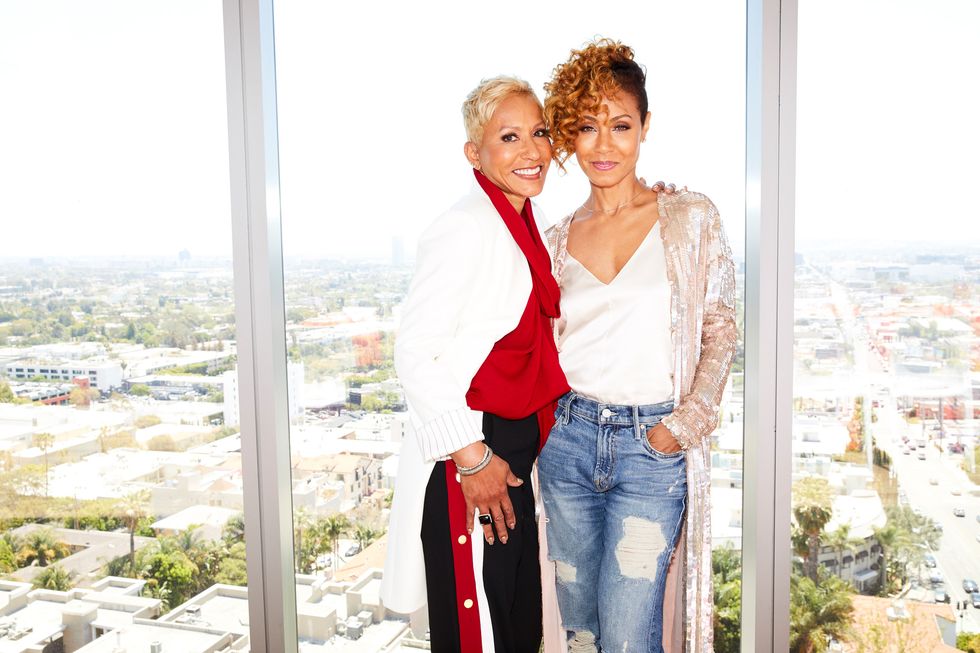 Is it rare for you to find time to go just the two of you?
JPS: "Yes! Especially since I've had children."
ABN: "The kids are always with us, and that's great, too. But that's why this was just so special."
JPS: "We got to white-water raft together. We did a whole lotta stuff. We went to the rice fields and almost got lost [laughs]."
What do you want to go down as your legacy?
ABN: "I don't know if this is how I will feel two years from now, but right now what is on my mind is: I am not my mistakes, and my mistakes don't define me. Somebody posted that on Instagram the other day, and I could just so relate to that because I've made so many mistakes in my life. But that's not who I am."
JPS: "I guess the legacy that I'm working towards is just freedom. Freedom to be. All around! [laughs]. You feel me? All around. Just free from attachments, free from expectations, all different kinds of constructs. Freedom through and through. And just to live in pure, utter love. And if you got that, you got everything."
Want more stories like this?
Busy Philipps on the Most Disgusting "Diet" She's Ever Tried
Shaq Checks TMZ Before Getting Out of Bed Every Morning
Victoria Beckham & Shaq Talk '90s Style and Her New Reebok Collab