Shopping
Olivia Lopez (aka @lusttforlife) on the Power of Perfume
Meagan Wilson
Director of Photography
Gabe Harden
Market Assistant
Daniella Deutsch
Memory is inextricably tied to scent, and there's almost nowhere that rings more true than sunny California. The sea salt in the air, the scent of sprawling wildflowers—even the smell of poolside SPF lingering on sun-kissed skin is enough to instantly recall dreamy days and nights spent on the West Coast. Which is why there was no one better to take us for a cruise along idyllic Laguna Beach—soaking in the California sunshine and reflecting on some of her dreamiest scent memories—than Olivia Lopez (who you may know best by her immaculately art-directed Instagram handle, @lusttforlife). As a Jo Malone London ambassador, she served as the perfect tour guide as we made our way along the coast bringing the three fragrances from their latest 'Blossom Girls' collection—Nashi Blossom, Plum Blossom and Sakura Cherry Blossom, outfitted in neon chartreuse, bright orange, and magenta bottles, respectively—to life.
An Orange County native, Lopez had no shortage of dreamlike recollections of hazy days and nights past. In a moment of total serendipity, she even shared with us that last year she'd spent time with her family hiking around the exact same spot we were shooting. You know what they say—just follow your nose.
---
What's Your Scent Personality?
How growing up in California has influenced her aesthetic:
"My style is pretty versatile. It's reflective of my environment, so when I am home, it's very much relaxed. I'm always opting for pieces that are a little bit more light, just easy, breezy California style. Growing up in a naturally beautiful environment has made me a little bit more conscious about organic beauty. I'm pretty streamlined—I don't wear makeup on most days. And if I do, it's very minimal. I try to keep things fresh with my fragrance and beauty choices."
Her special scent memories from native blossoms around California:
"What I've been noticing walking around lately is I've started smelling all the wisterias that have been blooming. I really love that scent. I love the smell of lavender. When I was last in Ojai, I remember all the lavender fields were in blossom and that smelled amazing. Ojai is heaven for the senses because everything is in bloom. You can almost smell the earth. It's really pretty—you pick up on all of those natural floral scents in the air."
On the importance of a perfume wardrobe (and having a scent for every occasion):
"I definitely think perfume sets the mood a little bit. I have different perfumes for different occasions. And depending on who I'm spending time with, I'll try to complement my perfume based on what I think the person will vibe with [laughs]. For a day spent outdoors, I love the Nashi Blossom cologne—it has a lot of personality, without being too overwhelming."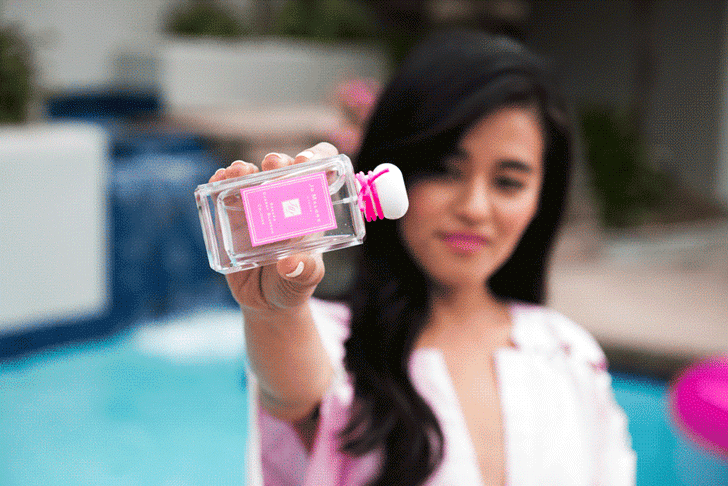 How she first started wearing Jo Malone London:
"I actually discovered Jo Malone London through an ex-boyfriend! I was dating a British guy for a couple of years, and of course it's so embedded within British culture. It's like everyone in the U.K. has a Jo Malone London candle or product at home. I just fell in love with their scents. They have a huge array of fragrances. I first started out with their candles. I have massive ones on my table at home that I light every night."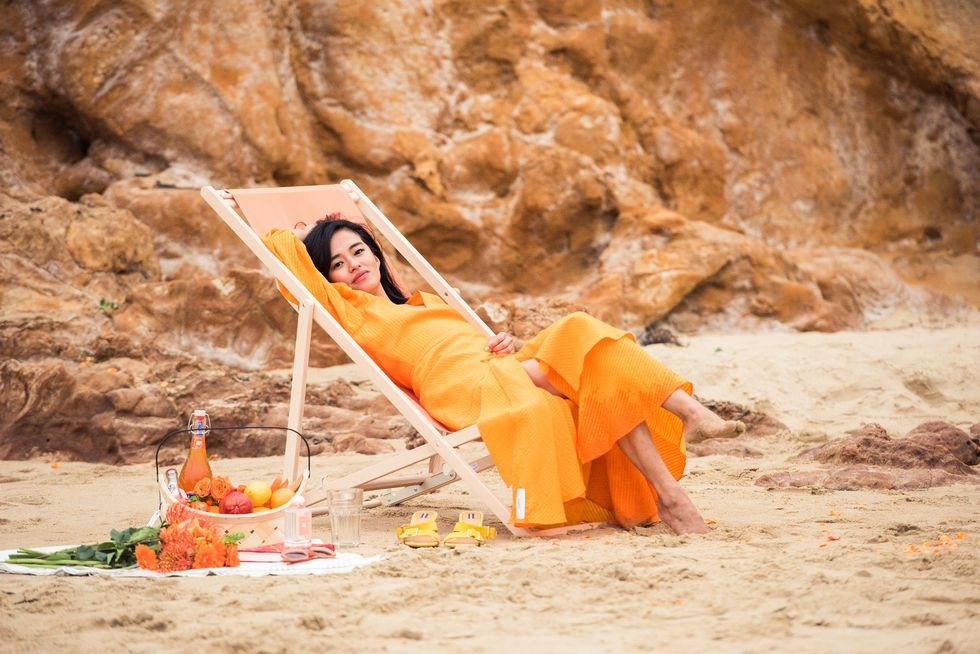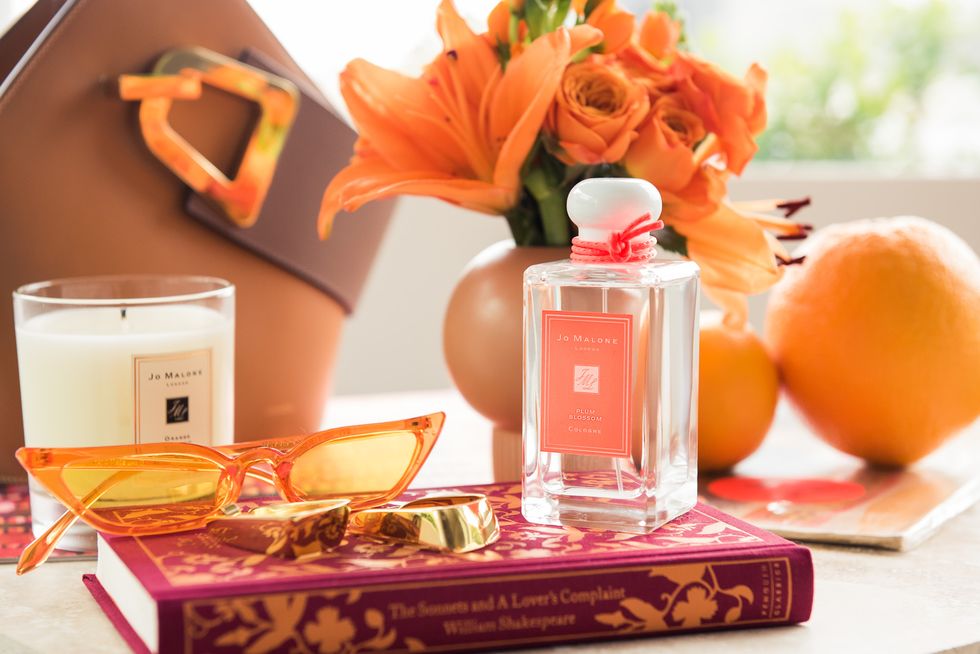 Her ideal beach day:
"It's funny because I grew up in Orange County by the beach, but I'm not somebody who goes to the beach to hang out. I'm more active when I'm on the beach. I'm either surfing or running, or doing some sort of activity in the water. I'm a high energy person and I get bored easily, so laying on the beach has never been something that came naturally to me."
"If the waves are nice, I'll try to surf. I'm a terrible surfer, but I'll probably catch a wave or two. I love bringing a picnic basket, some books, a couple of friends, and then catching the sunset. I'd probably end up wearing the Plum Blossom cologne—it's nice and light for a day outside, but lingers and stays on the skin all day long."
Her trick for the perfect dreamy drive along the coast:
"I have a 'California' playlist on my phone. It has Youth Lagoon, Joni Mitchell, Delta Spirit, and Best Coast. It's really nice for driving down the Pacific Coast Highway as well."
Her favorite tip for combining different fragrances:
"I love layering a fragrance, and a body scrub. Before going out and getting ready, I'll wash off with the Jo Malone London Geranium & Walnut Exfoliating Shower Gel. When I'm all freshened up, I layer on my favorite floral scent. The scrub is just a little bit of scent on my skin, and then the cologne is a bit stronger. Right now, I love Plum Blossom from the Blossom Girls collection."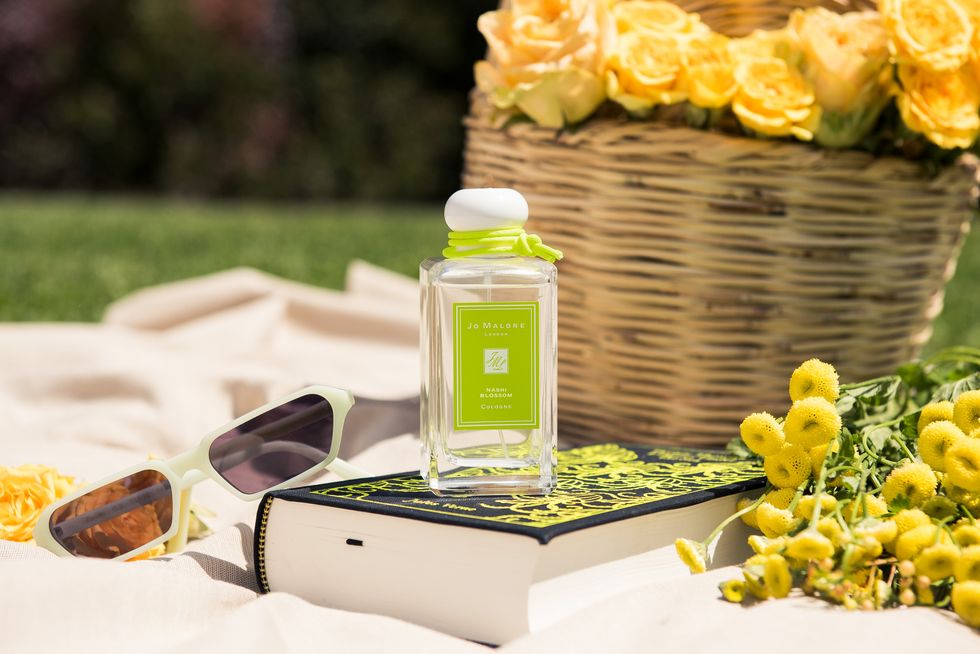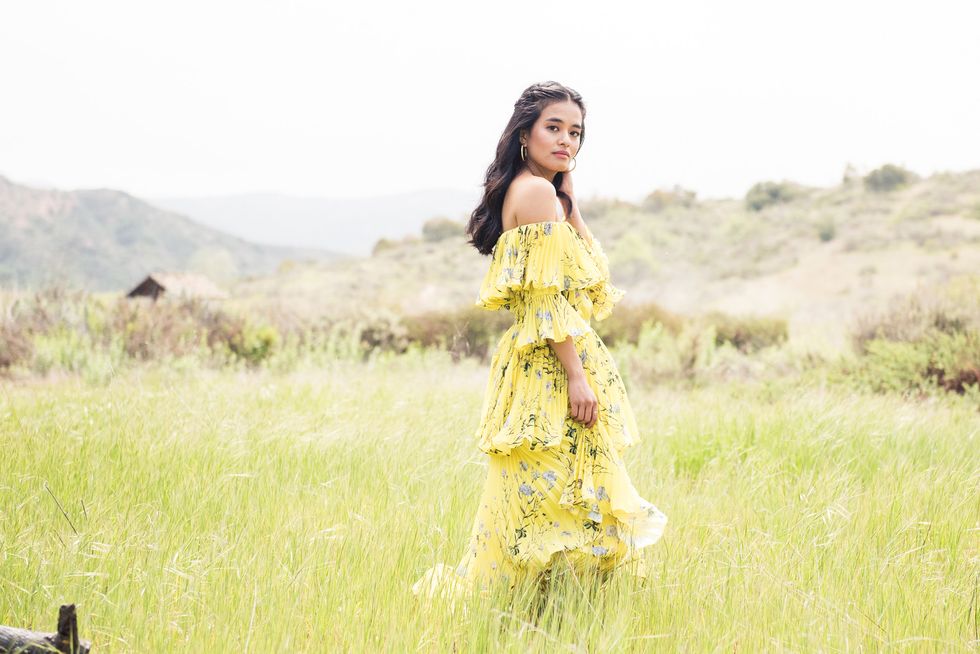 On her dream day hanging poolside (yes, rosé is involved):
"Usually at pool parties, we have a couple of fun things going on surrounding the pool. We'd be grilling, we'd be having rosé by the pool, and we'd be playing games. I'd wear something like the Sakura Cherry Blossom cologne—it's girly and feminine, with just a little hint of citrus that makes it perfect for day time."
Her favorite hikes around L.A.:
"I definitely love hiking in the spring in L.A. I've been on the trails that we visited a couple of times. This is the time of year that I'm heading to Griffith Park, or heading to Malibu Canyon Park. And it's definitely one of my favorite weekend activities. I usually go right around sunset when it's cooled off a little bit. And you get a really spectacular view when the sun starts to set."